Phoenix Real Estate
The 5 Top-Selling Communities in Phoenix
Knowing the best areas to buy a home is useful information, and finding out which neighborhoods are selling the most homes is even better. These neighborhoods tend to be well-balanced in terms of location, amenities, and home prices, which make them popular among homebuyers.
Here's a list of five of the top-selling Phoenix communities from November 2016 to November 2017, according to Neighborhoods.com. So if you're on the hunt for a new home, you may want to check out some of these hot Phoenix communities.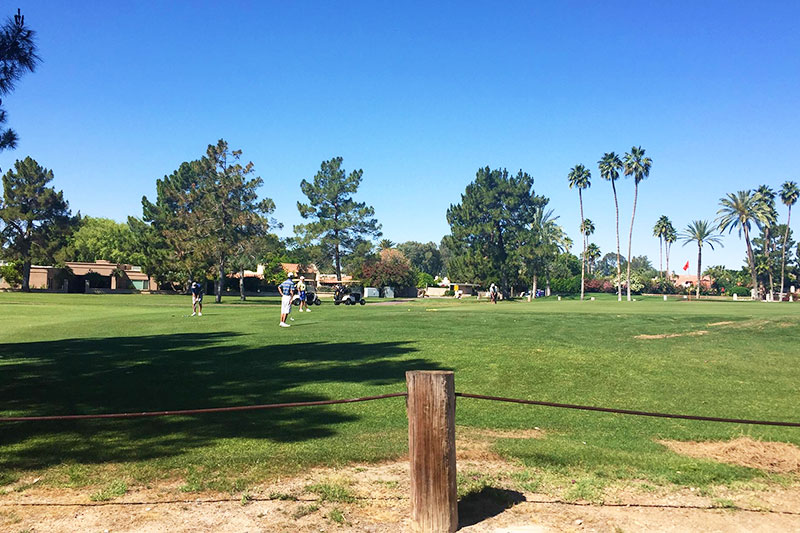 Neighborhoods.com's top-selling community is Camelback East Village. Camelback East Village sits adjacent to Paradise Valley and Scottsdale. The neighborhood is bordered by Northern Avenue to the north, Grand Canal to the south, 7th Street to the west, and 64th Street to the east. It's one of 15 urban villages within the city that offers a wide range of housing styles and price points. Homebuyers will find spacious single-family homes featuring historic architecture on large lots with mature landscaping. The area also has a selection of condos located along the primary core of 24th Street and Camelback Road. Homes are priced starting below the $100s and go up to the high $8 million range.
The area is filled with entertainment options, major department stores, and dining establishments, as well as numerous parks and outdoor recreation like Papago Park, Los Olivos Park, and Granada Park. Camelback East Village is also home to multiple elementary schools and two high schools, making it easy for families to send their children to a local school close to home. With plenty of outdoor activities and urban comforts, Camelback East Village will remain one of the most popular neighborhoods in the city.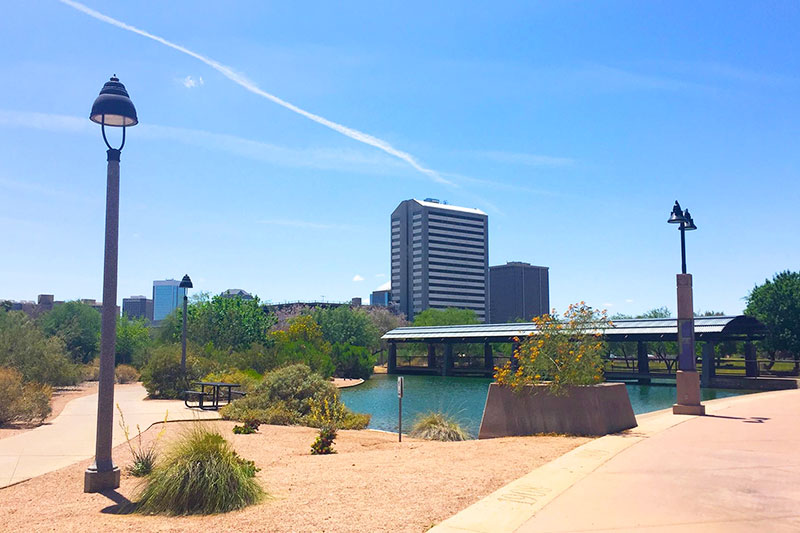 Encanto is a historic neighborhood offering a small-town charm and a 222-acre park. Encanto is also known to have diverse pubs and bars in the southern portion of the neighborhood as well as immaculate and well-maintained homes. Homebuyers will find a combination of modern and historic homes including contemporary condos, ranch estates, and Tudor-style homes. The median sale price in this neighborhood is in the low $200s, and Encanto's prime location just west of the downtown area makes it an attractive and popular neighborhood for homebuyers. Residents can also find plenty of shopping options in the Park Central Shopping Center.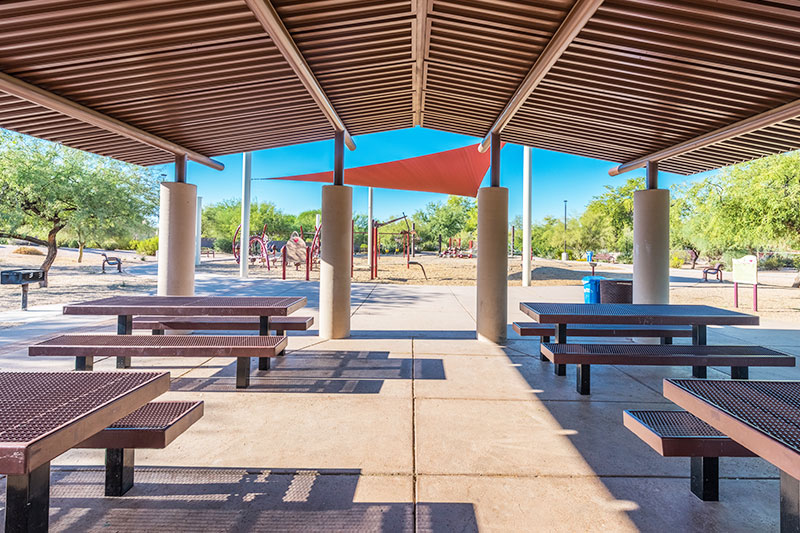 Located in the beautiful northeast desert of Phoenix, Desert Ridge is an upscale community comprised of 5,700 acres and more than 50,000 residents. Desert Ridge features a wide selection of one and two-story single-family homes and condos that come in a variety of architectural styles. Desert Ridge is another popular neighborhood in Phoenix thanks to its wide-ranging price points, home styles, and prime location.
Families flock to this community for its top-rated schools ranging from kindergarten to 12th grade. The centrally located Desert Ridge Marketplace offers trendy shopping, casual and fine dining, and fun events like free live music. Homeowners in this community have quick access to the 101 freeway, and they're just 20 miles from Downtown Phoenix. Residents are also near attractions like the Cave Buttes Recreation Area and the Wildfire Golf Club at the JW Marriott, offering two championship golf courses.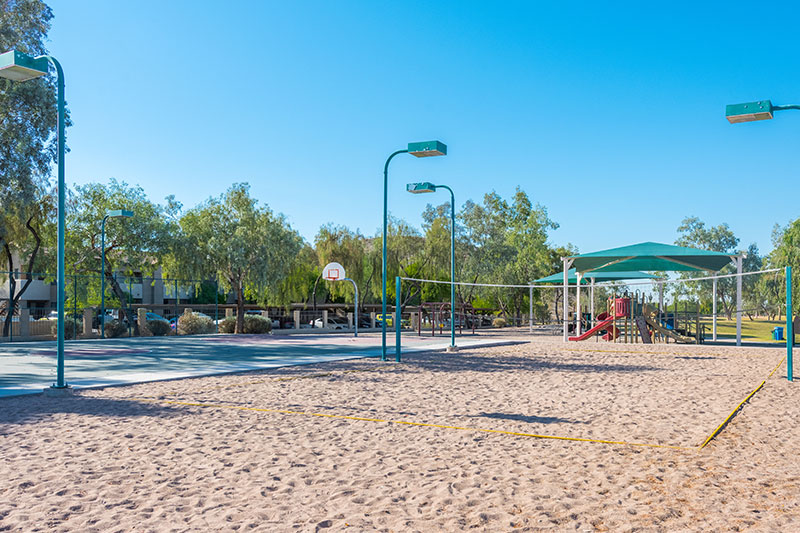 This mountainous community features a variety of parks, playgrounds, sports fields, recreation centers, tennis courts, and swimming pools. The community also offers top-rated schools within the Kyrene School District. Mountain Park Ranch provides plenty of activities and events that bring all residents together such as the Festival of Lights, 4th of July Parade, Halloween parties, winter celebrations, and other special events. Easy access to hiking trails and nearby shopping and dining also make this community a desirable choice among homebuyers.
Mountain Park Ranch is sprawled across 2,700 acres and consists of nine smaller subdivisions. Many of the homes in this neighborhood were built between 1985 and 2008 and include condo, townhouse, and single-family designs. The median sale price is in the low $300s.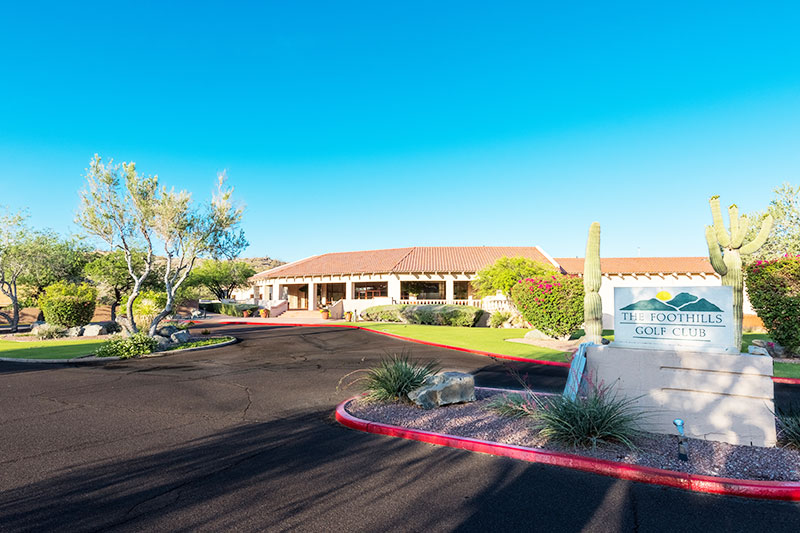 The Foothills community has easy access to the I-10 to the south and mountain ranges to the north, with a wide selection of homes ranging from attached houses to one- and two-story single-family residences. Many of the older homes have been remodeled with modern upgrades while newer homes have been built as recently as this year. Homebuyers will find homes ranging from 698 to over 8,000 square feet with prices starting in the mid $100s.
Desert Foothills Park is often full of residents taking advantage of the ball courts, walking paths, and multi-purpose fields. South Mountain Park is nearby and provides additional walking and biking trails. The community also has a commercial hub with plenty of eateries, as well as two schools and a post office. The Foothills Golf Club is at the heart of the community and offers a par-72 championship golf course with fairways, lakes, and bunkers. The Foothills Golf Club also houses the popular Sunset Grill.