Los Angeles Local Life
The 6 Best Running Trails in Palm Springs
For many locals in Southern California, Palm Springs is the ideal weekend vacation destination. Located in the desert, this resort city is rich with hot springs, reputable golf courses, and a multitude of all-inclusive hotels and spas—all on top of daily sunshine. While Palm Springs is a popular getaway for residents in surrounding regions, the community itself is seeing a rise in new residents.
With constant sunshine and dry weather, going for a run around Palm Springs can be challenging without proper hydration and preparation. However, for both novice and experienced runners, Palm Springs is still considered a great place to explore running trails. Whether the trail is a tour around the bustling Palm Springs life or a tranquil and scenic view of the hot springs and desert, runners are sure to have an enjoyable experience.
Here are six of the city's best running trails.
Palm Canyon Drive
For a first-hand look at Palm Springs and what it offers in terms of mountain views as well as memorable landmarks, try out running along Palm Canyon Drive. This road is located towards the western end of Palm Springs, spanning approximately 6.5 miles. This running trail is great for any kind of runner, and it's also a good opportunity for visitors and new locals to browse the best parts of the community during a run.
Although there are several ways you can run along this flat and beautiful path (there's no set route), the traditional route starts from the city center at Palm Canyon Drive and Tahquitz Canyon Drive and reveals a scenic mountain range down to Agua Caliente Indian Reservation.
South Lykken Trail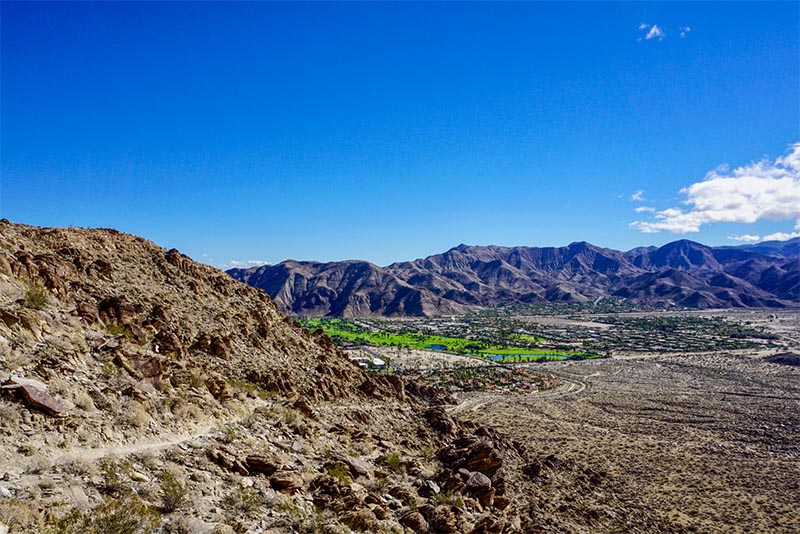 For runners who enjoy running on hills, try out South Lykken Trail, which offers a 3.5-mile roundtrip route starting from the foothills from South Palm Canyon Drive or Mesquite Ave. From there, the route gradually inclines up to 900 feet in elevation and then goes downhill towards Josie Johnson Vista Park.
South Lykken is considered a favorite run among many trail-lovers because the route takes the runner through several great backdrops of Palm Springs, Coachella Valley, and Tahquitz Canyon. The trail is chock full of greenery, wildlife, and bright wildflowers for runners who enjoy nature.
Tramway Road to Bottom Station
If you've ever been in Palm Springs, one of the city's signature tourist activities is riding the Aerial Tramway up to the Mt. San Jacinto State Park. What many visitors and newcomers to the city aren't aware of is that there's also a running trail that follows along the tram's path up the mountain called Tramway Hill.
This 7.5-mile route is where many runners hold races, but on an average day, the path gets little to no foot traffic. The Tram Road Challenge is a popular competition among local runners, and it is considered one of the most strenuous 6K paths in the area. This difficult route begins from Chino Canyon up to Mt. San Jacinto State Park, with a total elevation of approximately 8,500 feet. The best scenic views along this trail happen during the descent.
Deepwell Canyon Loop
For a more city-like running experience for beginners looking to run on paved sidewalks, try doing the Deepwell Canyon City Wide Loop. This relatively tame 4-mile loop rewards runners with views of old Palm Springs and its residential streets as well as neighborhoods lined with palm trees. Although the Deepwell Canyon Loop started out as a trail for cyclists, many runners have adopted the path as well.
The running route starts near the popular Moorten Botanical Garden, veers east along Mesquite Drive, turns on Laverne Way, and eventually ends around Camino Real. Since this loop goes around a neighborhood country club, don't be surprised if you find yourself making way for a passing golf cart during your run.
Palm Tahquitz Canyon Loop Trail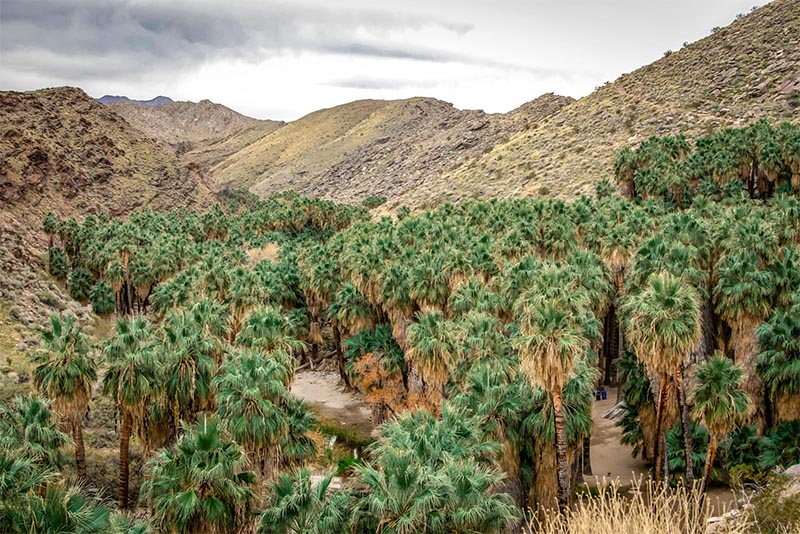 Located a short distance from Palm Springs is the ever-popular Palm Tahquitz Canyon Loop Trail, which offers runners views of the deep canyons of Coachella Valley as well as a spiritual and cultural importance to the Cahuilla tribe of Native Americans.
A simple route that's nearly 2 miles long, many runners and travelers frequent this path due to the loop's showstopping shaded waterfall. For visitors to the trail, be sure to follow the signs and avoid going off-trail, as there are many wild animals that live in the park. According to All Trails, this running site has an admission price of $12.50.
Joe Butler Trail
Head towards Palm Springs' very own Rancho Mirage neighborhood, and you'll eventually hit the Joe Butler Trail, which is perfect for runners who want to experience their runner's high in solitude. The trail itself spans the length of 2.5 miles on asphalt sidewalks and features views of Whitewater Wash, the San Jacinto Mountains, the San Bernardino Mountains, the Santa Rosa Mountains, and the Morningside Golf Club.
Like every running path on this list, the Joe Butler Trail is a versatile and customizable running path. For runners who want to experience a little more route, try continuing to the Jackrabbit or Roadrunner Trails towards the neighborhood Ritz Carlton.