The Best Chicago Neighborhoods to Live in Without a Car
Chicago is one of the most walkable cities in the country. Thanks to the city's extensive public transportation network, its miles of biking paths, and overall layout, residents of the Windy City can often ditch car ownership and parking hassles in favor of heading to the nearest 'L' station, using the city's bike lanes, or by simply walking.
There are three generally agreed-upon metrics for determining an area's walkability: Walk Score, Bike Score, and Transit Score. We took all three scores for each Chicago neighborhood and averaged them to determine which neighborhoods are best for kicking your car to the curb. Here are the ten best Chicago neighborhoods for people looking to easily move around the city without owning a car.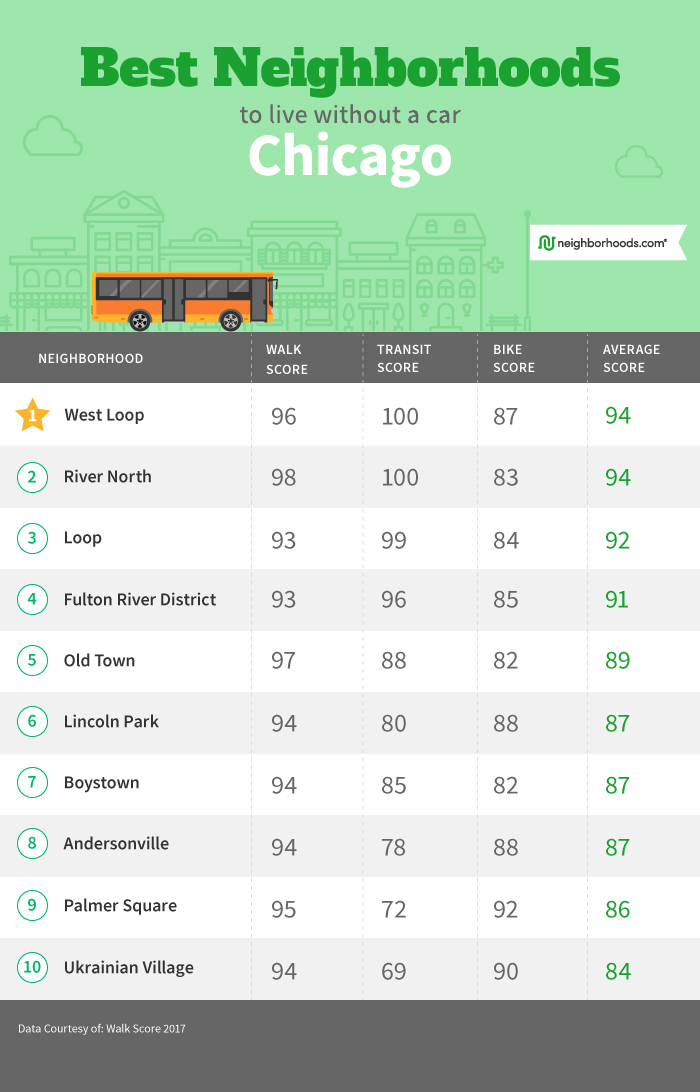 When you are looking for places to eat and shop, you won't have to travel far. The West Loop is home to the city's famous Restaurant Row and a sizeable collection of boutique shops.
Living in River North also puts you within walking distance of tons of restaurants and entertainment. Stroll over to Magnificent Mile or stay right in River North for a ton of different restaurant and nightlife options.
The Loop is also Chicago's business district, which means you have easy access to much of what the city has to offer. Downtown Chicago is full of restaurants, shopping venues, museums, and the city's world-famous Millennium Park.
While Fulton River District's roots are industrial, the area has become a booming center for retail and restaurants. Residents in this neighborhood only need to step out their door to find an incredible meal or an area to explore.
Lincoln Park is not only easily accessible via public transit, it's also perfect for residents who love walking. Stroll through the paths of Lincoln Park Zoo, one of the very few free zoos in the country, or to North Avenue Beach. When you live in Lincoln Park, it's easy to get around the rest of the city and you have plenty to enjoy in your own neighborhood.
There is never a dull moment walking through Boystown. Sample food from all over the world; Boystown has an eclectic and delicious collection of eateries. Each summer, you can watch or participate in the neighborhood's Chicago Gay Pride Weekend and Parade or go to a Cubs game in neighboring Wrigleyville.
Palmer Square takes its name from the large park that sits at the center of the neighborhood. Residents can enjoy the green space as well as easy access to local coffee shops, restaurants, and bars.