The Best Denver Neighborhoods for Coffee Shops
The Best Denver Neighborhoods for Coffee Shops
Travel to any big city and you're bound to find a host of fantastic coffee spots that reflect their neighborhoods' personalities and interests. Denver is no different. As more and more people move to this mountain mecca, coffee shops are becoming increasingly available.
From charming hole-in-the-walls to long-tenured, expert roasteries, Denver has a coffee shop to fit every caffeine addict's preferences. Here are some of our favorites, organized by neighborhood.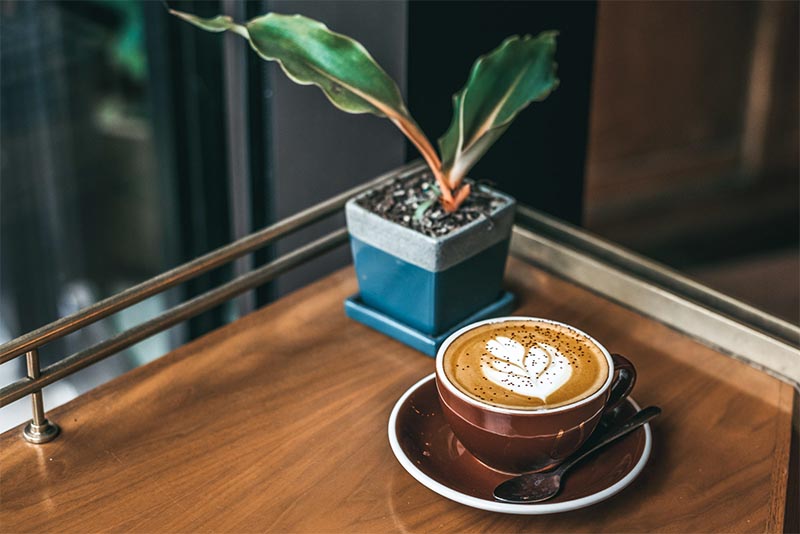 Cap Hill is no stranger to awesome coffee shops with devoted followers, many of whom have been sipping fresh brews from the same seat for decades. From expert bean roasters to long-tenured employees, each shop sports its own unique personality—quirks and all.
Pablo's Coffee
Filled with natural light and hanging plants, the atmosphere at Pablo's Coffee is almost as good as the drinks themselves. For almost 20 years, this location at 6th and Washington has been a daily ritual for many locals. Knowledgeable staff sources high-quality green coffee beans and roasts them to highlight their nuanced flavors. But even more important than the coffee is Pablo's investment in the surrounding community. Since the shop's inception in 2001, it has hosted numerous events, donated to area nonprofits, and used its profits to bolster other local businesses. Pablo's warm, welcoming atmosphere makes for a great spot to meet new people, catch up with old friends, or talk coffee with knowledgeable baristas.
Roostercat Coffee House
Situated in an Art Deco-era building, Roostercat Coffee House is a female-owned coffee spot along Lincoln Street that has grown increasingly popular since its reopening in 2018. Known for its late-night vibes and creative crowd, patrons are often found hanging out on the patio, strumming instruments, or catching up on their latest pursuits. Art pieces adorn the walls and friendly baristas foster the communal atmosphere.
Thump Coffee
Cultivating a community-oriented coffee shop that aims to treat patrons like family, Thump Coffee loves its coffee almost as much as it loves the patrons. For those desiring superior coffee, a hearty breakfast menu, and good conversation, swing by this Capitol Hill haunt.
Take a casual stroll along Tennyson Street and you'll see why this neighborhood is an awesome spot for delicious coffee. A collection of foodies, entrepreneurs, and generally happening individuals have put this neighborhood on the map.
Allegro Coffee
Founded by coffee connoisseurs who pay special care and attention to where and how coffee is grown, Allegro Coffee has gained a cult-like following of Denverites loyal to this roaster's ethos. Its flagship store on Tennyson features a cozy, welcoming cafe with a full menu of coffees, teas, baked goods, and breakfast items. By blending traditional methods with innovative processes, Allegro baristas craft unique drinks like Death Cream—an espresso and vanilla sweet cream beverage—and Seasonal Nitro Teas.
Denver Cat Company
Denver Cat Company has much more than just coffee. This Tennyson shop provides kittens and cats of all breeds and sizes for its patrons to pet while drinking a brew. This "cat cafe" was one of the first of its kind. Be careful not to drink too much espresso or you might end up adopting all the feline friends you fall in love with.
In addition to its collection of treasured dive bars, quirky restaurants, and vintage shops, SoBo boasts an array of individualistic coffee shops. Each seemingly employs baristas who are passionate about the historic beverage and take great pride in each cup they make.
The Bardo Coffeehouse on South Broadway
For a late-night cram sesh or a midnight snack, head to The Bardo Coffeehouse on South Broadway. This cozy shop is warm and inviting, with an entire "living room" complete with comfy couches and lounge chairs that are perfect for reading a book, catching up with a friend, or simply sipping peppermint tea while gazing at the beautiful artwork on the walls.
Mutiny Information Cafe
Mutiny Information Cafe transports guests back to the 1990s in all the best ways. Don some flannel and pull up a seat next to other music-loving, comic-reading patrons. Sip on locally roasted coffee while chatting with the barista who most likely knows a thing or two about records, pinball machines, or breakfast cereals.
Gypsy House Cafe
Travel even further down South Broadway and duck into the funky and eccentric Gypsy House Cafe. The beloved Denver staple closed a few years ago, citing higher rents and gentrification but recently reopened its doors a little farther south. Owned by the Derani sisters, the community-focused joint hosts book nights, sip-and-paint events, and yoga lessons.
Its astrological-themed menu is just one interesting facet at Gypsy House—the coffee shop is an amalgamation of mismatched furniture, well-loved couches, whimsically-painted walls, and original artwork. A Bohemian dream, Gypsy House invites patrons to swap stories and stay awhile, lingering over hot pots of tea and aromatic coffee.
A different coffee shop on each block keeps locals in the Central Business District fueled up. Dive into the heartbeat of Denver by snagging a table at one of these well-known and well-loved morning stopovers.
Pigtrain Coffee
For all the big-city feels, stop by Pigtrain Coffee in Union Station. Snag a bench seat and people watch or take your coffee to go and walk to work. Its menu features classic coffee drinks and alternative beverages—like a hot toddy with rum or java con brandy.
Amante Coffee
Amante Coffee at the Oxford places Denverites at the heart of a bustling Italian-style cafe and serves up authentic cappuccinos, lattes, and the like. Not only does this lively little joint boast exceptional cups of coffee, but they also have a great wine list. Sip a glass of pinot noir and snack on appetizers while people-watching from Amante's downtown location.