National Local Life
The Best Denver Neighborhoods for Outdoors Lovers
There's no shortage of outdoor activities in and around Denver. In fact, it's the reason so many flock to the mile-high city. With foothills and mountains less than an hour away, Denverites have nature's playground right out the backdoor.
But sometimes it's less of a hassle to stay in the city than it is to pack up the car and head to the mountains. For those wanting to embrace Colorado's natural beauty, whether by heading to the mountains or by enjoying the best parks in Denver, check out these neighborhoods.
Residents of this sleepy downtown neighborhood can enjoy a wide variety of outdoor activities. Nestled between West York Street and Colorado Boulevard, this area of Denver provides easy access to the downtown business district as well as the thoroughfares of Colfax and Colorado.
A walk through Congress Park transports visitors to a world away from the urban bustle surrounding it. Streets are lined with large, leafy trees that shade their historic homes and provide an array of colors throughout the autumn season. Pedestrians ambling along 7th Avenue or 12th Street are sure to be greeted with overflowing flower beds stuffed with sunflowers, tulips, and poppies.
Within the neighborhood boundaries lie Congress Park and Denver Botanic Gardens, which offers ample outdoor space as well as a warm greenhouse that doubles as a tropical getaway in the depths of winter. Just beyond the neighborhood's boundaries to the west lies historic Cheesman Park, situated in the ultra-hip Capitol Hill neighborhood. Just north rests the spacious and popular City Park, where many urban events take place year-round.
What truly makes Congress Park so great for outdoor enthusiasts is its walkability. Every few blocks or so there's a little neighborhood enclave with a few restaurants, specialty shops, and retailers. Their outdoor patios fill up on the weekends, and the neighborhood vibe throughout Congress Park is inviting to all. Plus, Congress Park is just a short jaunt away from the increasingly popular East Colfax neighborhood and all the Voodoo Doughnuts one could want.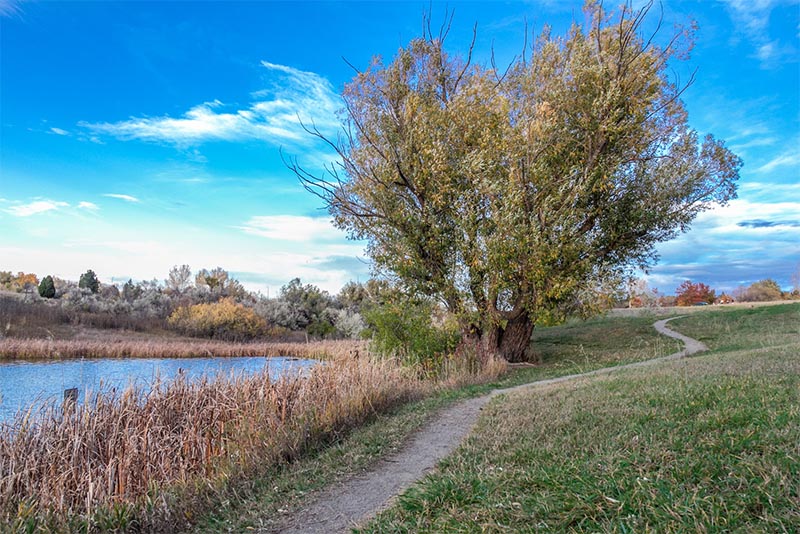 This outlying Denver suburb offers residents straightforward access to many of the Front Range's most coveted playgrounds. While Arvada is home to a few parks and lakes, the real joy of this neighborhood is just how quickly residents can reach the mountains. Golden, Colorado—home to The School of Mines, Coors Brewery, and some of the best mountain biking in the Front Range—is only a 15-minute drive from Arvada. Enjoy an after-work hike along North Table Mountain or, in the summer months, float through downtown Golden in an inflatable innertube along Clear Creek.
Arvada also offers convenient access to Boulder and its ample outdoor space. A quick jaunt up US-36 or a scenic drive along 93 will place outdoor enthusiasts at the footsteps of the Flatirons. For an even quicker adventure, park at NCAR and hike around the miles of trails just south of the popular Chautauqua Park.
For those wishing to take advantage of mother nature in their backyard, Arvada's parks department manages 3,400 acres of open space as well as over 90 parks interspersed throughout the neighborhood. Dog lovers, joggers, and urban hikers will delight in the daily outdoor adventure available in this western suburb.
Named for the 155-acre park within its bounds, Washington Park has long been a desirable neighborhood for Denver residents to put down roots. Homes in this neighborhood have some of the highest price tags in the city, but residents get what they pay for via the pleasing, historic aesthetic of this southwestern Denver neighborhood.
Wash Park is the place to be when the last of Denver's snowfalls and the sun lengthens the evenings. Volleyball leagues, ultimate frisbee games, and picnickers are scattered about the grassy lawn after work and on weekends. Dog walkers, joggers, and cyclists zig-zag along the extensive trail system winding around and throughout the park. Also, two lakes and two flower gardens offer a beautiful backdrop to this spacious park.
Even when the weather turns and nature lovers must seek entertainment elsewhere, Historic South Gaylord Street is the place to be. Duck into local retailers selling hand-crafted goods or cozy up with a hearty glass of red at any one of the fine dining establishments that calls South Gaylord home. No matter how you slice it, Wash Park is the place to be, if you can afford it.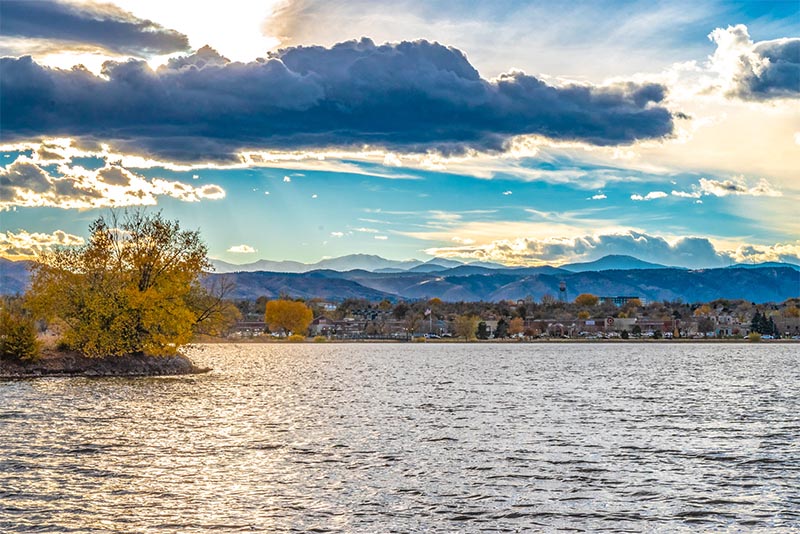 Named for the large lake and park taking up the entire southwest corner, this neighborhood is a favorite for active individuals. Visit Sloan's Lake Park any day—rain, snow, or shine—and see residents jogging and walking around the lake's perimeter. Soccer leagues take place along the spacious lawn, and area 5k and 10k races are often held on the 2.5-mile concrete path. Catch beautiful sunrises and sunsets from the lakeshore while taking in the glistening Denver skyline and Rocky Mountain range.
In addition to this watery oasis smack dab in the middle of Denver's sprawling metro area, Sloan's Lake also gives residents direct access to the I-70 corridor, and with it, some of the finest mountain terrain in the country. An after-work hike in Evergreen is completely doable for residents of this western suburb and waking up early to hit the ski slopes sounds much more appealing when drivers can hop right on the highway.
Fishing fans can practice their cast in the neighborhood lake. During the summer, the lake hosts all sorts of outdoor events, like its highly anticipated annual Dragon Boat Race. There's always something happening at the park.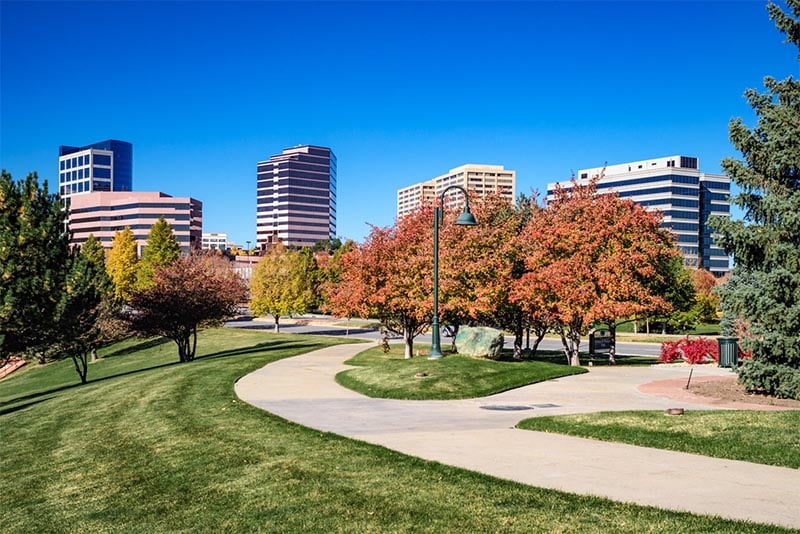 Most Denver transplants don't cite DTC as having ample outdoor access, but in fact, it sits right up against Cherry Creek State Park and Chatfield Reservoir. This beautiful park boasts miles of biking and walking trails as well as a place for kayakers, water skiers, and fishers to embrace Colorado's waterways.
The Tech Center boasts a number of small parks as well, nestled throughout the sprawling neighborhood. Tommy Davis Park, Westlands Park, Running Fox Park, and many more provide residents with access to greenery, trails, and water—no matter the season. Since this sector of Denver is still being developed, there has been a large focus on setting aside open space for outdoor activity.
Fiddlers' Green Outdoor Amphitheatre has hosted big-name acts like Zac Brown Band, Dave Matthews Band, and The Lumineers. Spectators can get general admission seats on the cheap and sprawl out on the lush green grass while enjoying crisp summer evenings in Denver.
Denver's wide variety of neighborhoods offer a range of activities for its visitors and residents. Most importantly, this city has prioritized setting aside and maintaining outdoor space. Because of its environmental practices, Denverites never have to sacrifice time spent in the great outdoors.