The Best Mexican Food of Oak Cliff
The Best Mexican Food of Oak Cliff
Oak Cliff sits on the southwest side of Dallas, and it's a vibrant community that has garnered a lot of attention in the past few years, due in part to the Dallas City Council's GrowSouth initiative.
Oak Cliff includes Bishop Arts (a trendy area with boutiques and restaurants) as well as Jefferson Boulevard (home to the Texas Theater), the site of Lee Harvey Oswald's arrest, Latino markets like Mercado 369, the Oak Cliff Cultural Center, and Mexican businesses that sell everything from instruments to quinceañera dresses. With this concentration of Mexican establishments, it's safe to say that Oak Cliff is the best place to find Mexican cuisine in Dallas.
Check out our top Mexican restaurant picks of Oak Cliff.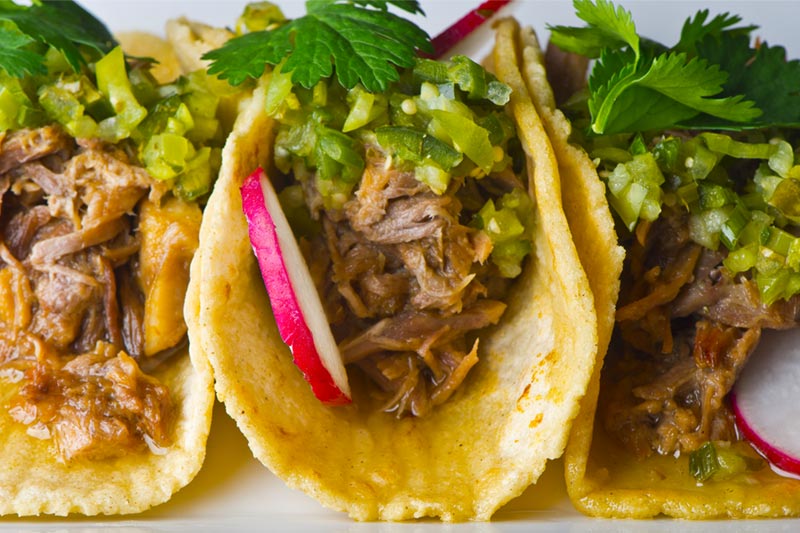 Gonzalez Restaurant
This isn't On the Border or El Fenix—Gonzalez Restaurant is a hole-in-the-wall establishment has been serving the Dallas community since 1973, garnering press from local publications in the years since. In addition to basic Tex-Mex favorites like enchiladas, tacos, and flautas, they also have authentic cuisine like carne guisada (meat in a Mexican gravy), nopalitos chipotle, spicy cactus, and camarones a la diabla (shrimp in a spicy sauce). Prepare for long waits, especially for breakfast when patrons arrive early for menudo, huevos rancheros, and chilaquiles.
La Calle Doce
People often forget that Mexican food isn't limited to enchiladas and fajitas. Mexico is bordered on two sides by the ocean, and Mexican seafood is exquisite and creatively served at La Calle Doce on W 12th. It first opened in 1981 in a renovated house in Oak Cliff, and with dishes like pescado a la parrilla (whole grilled catfish), ceviche, and camaron a la Veracruzana (fried shrimp), they quickly made a name for themselves. Combine their fresh seafood with with their darling patio, and you've got a great Mexican meal.
El Ranchito
El Ranchito may be owned by the same people who opened La Calle Doce, but it's quite different. It specializes in "comida norteno," the food of northern Mexico, like cabrito al horno (grilled baby goat), tripas (fried tripe), and asado de puerco (pork in salsa chile). They were the first to introduce mollejas, or sweet breads served with onions and charro beans, to Dallas. If the food wasn't delicious enough, the daily mariachi bands will have you ordering another margarita and a bowl of choriqueso—queso topped with chorizo and flamed on the table.
El Rincon Tapatio
You won't be able to peruse through El Rincon Tapatio's online menu because they don't have a website. This hole-in-the-wall property is a casual spot where locals chat over large plates of authentic Mexican food like lengua (beef tongue) or steak cooked in ranchera sauce, both served with rice and refried beans. Better yet, El Rincon Tapatio's is exceptionally well-priced. You'll be surprised to find that a plate of Mexican-style steak with two sides is less than $8.
Mesa
Mesa differs from most Mexican restaurants in Oak Cliff in that it offers an upscale environment. The chefs hail from Veracruz, bringing Mexican coastal cuisine to customers in a trendy space with cement floors, reclaimed wood elements, and silver accents. The main dining area, bar, and patio offer three different dining experiences. Skip the guacamole and go straight for the enmoladas (homemade tortillas with mole sauce and queso fresco). You can't go wrong with chochinta pibil (braised pork), or the salmon and blue crab salsa, as all are delicious and artistically displayed. If you need more convincing, know that Beyonce and Jay-Z had a private dinner here in 2013 and were very satisfied.
Tortas Las Tortugas
Among the Mexican restaurants of Oak Cliff sits a local favorite, Tortas Las Tortugas. Located in a former Dairy Queen, Tortas Las Tortugas serves "tortas" or hearty Mexican sandwiches made with bolillo—a type of Mexican bread that the owners, two brothers, make every day. Some tortas come with braised pork and others have breaded steak with additions like cheese, avocado, lettuce, and tomato. So, what's with the name? It roughly translates to "turtle sandwiches" based on the shape of the house-made bolillo bread.