San Diego Real Estate
The Best Neighborhoods in San Diego
San Diego is a world-renowned locale filled with people from all over the world lured by what the city has to offer—tide pools teeming with local sea life, sizeable and surfable swells, seaside cliffs, mountains to hike, and an expanding dining scene.
Much like the diverse people who call San Diego home, this vast city has a wide variety of neighborhoods, all with their own personalities and amenities. We looked at 11 factors, gauging everything from relative affordability and school ratings to lifestyle, amenities, and resident reviews, and we determined the best San Diego neighborhoods for homeowners.
If you're interested in reading our full methodology, you can check it out here.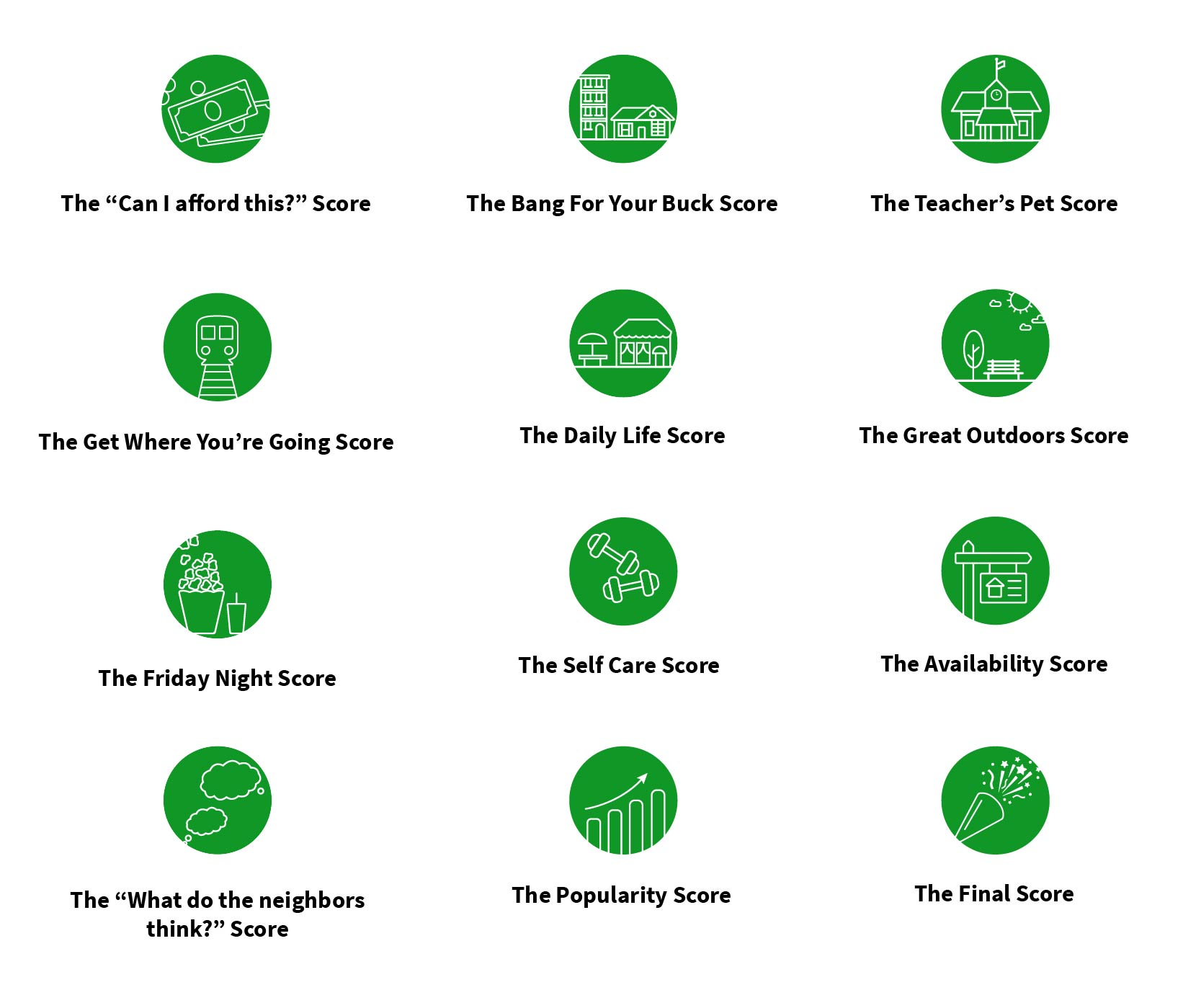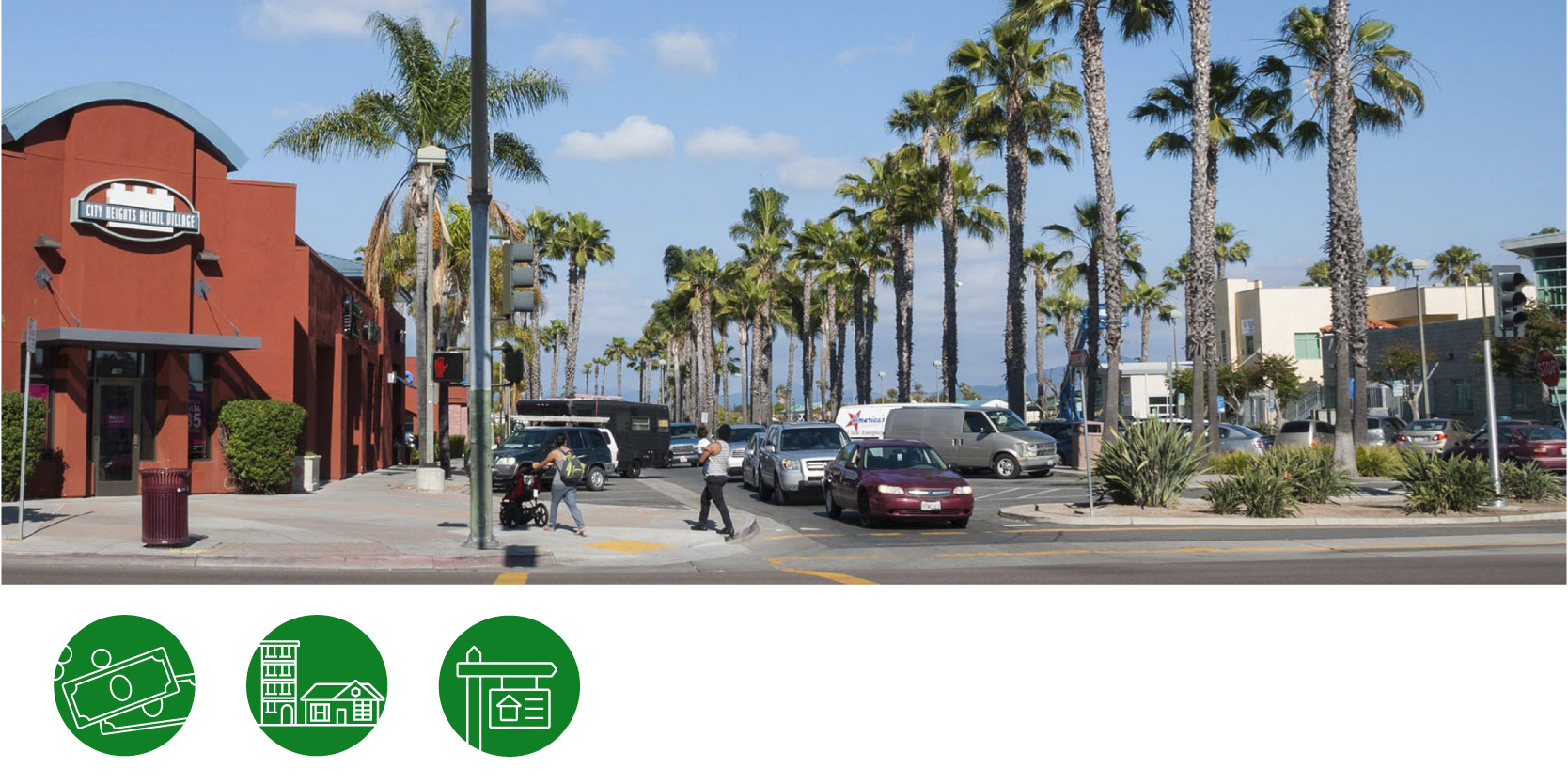 At one time called East San Diego, City Heights is known for being a dynamic and diverse community brimming with residents from all over the world. The result is a community where San Diegans eagerly flock to get their hands on dim sum, authentic Vietnamese pho, expertly rolled lumpia, and steaming pots of menudo.
This hilly, centrally located community sits close to San Diego State University along with several major freeways—specifically the 805, 94, and the 15—which split off in all directions and make City Heights a commuter's paradise.
City Heights is considered one of the San Diego's best bang-for-your-buck buys. While most of the homes in this neighborhood are condos, it is also one of the few communities where single-family homes hit the market for under $400,000. Those looking to purchase a condo can expect to see options starting in the low $200s.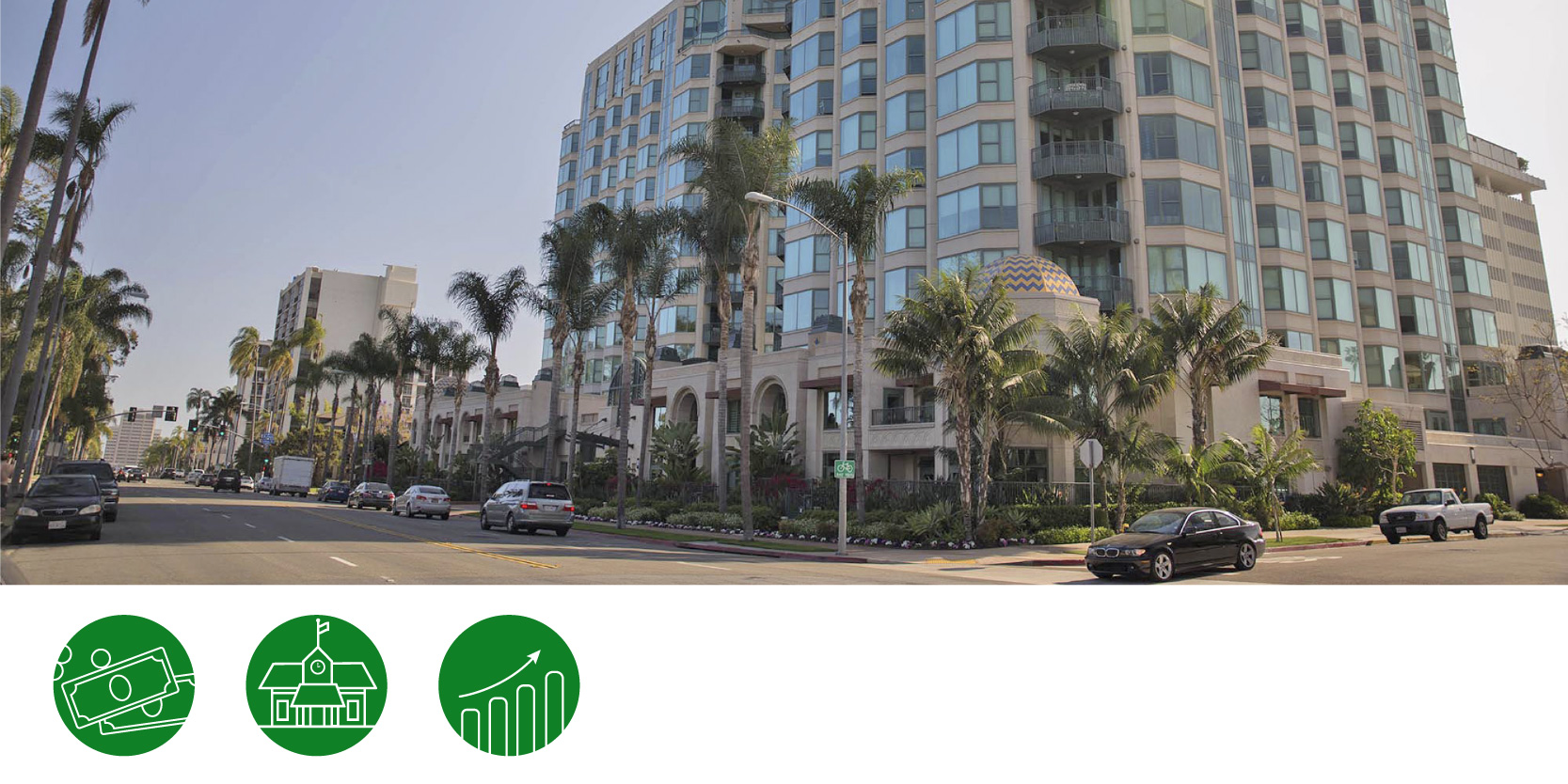 Bankers Hill, also known as Park West due to the community's proximity to Balboa Park, sits perched between Hillcrest and Downtown. This community has a long-standing reputation for being where the upper crust both mingle and reside—and for good reason. It's packed full of posh restaurants with rooftop dining and wine bars serving only the best Napa has to offer.
Along with the fancy food and drink, Bankers Hill hovers over Balboa Park's western edge. Within the park, there are over a dozen museums, a dog park, playgrounds, hiking trails, and a world-famous zoo.
Bankers Hill originally got its name for the wealthy residents that called this primo neighborhood home, and while the current residents might not all work in the financial sector, home prices in this area still reflect the need for a healthy bank account to fund the mortgage.
Condos, which make up the vast majority of available housing options for this neighborhood, start at nearly half a million dollars. The few single-family homes for sale start at around $800,000. Lucky buyers might even find midcentury modern homes on the market here.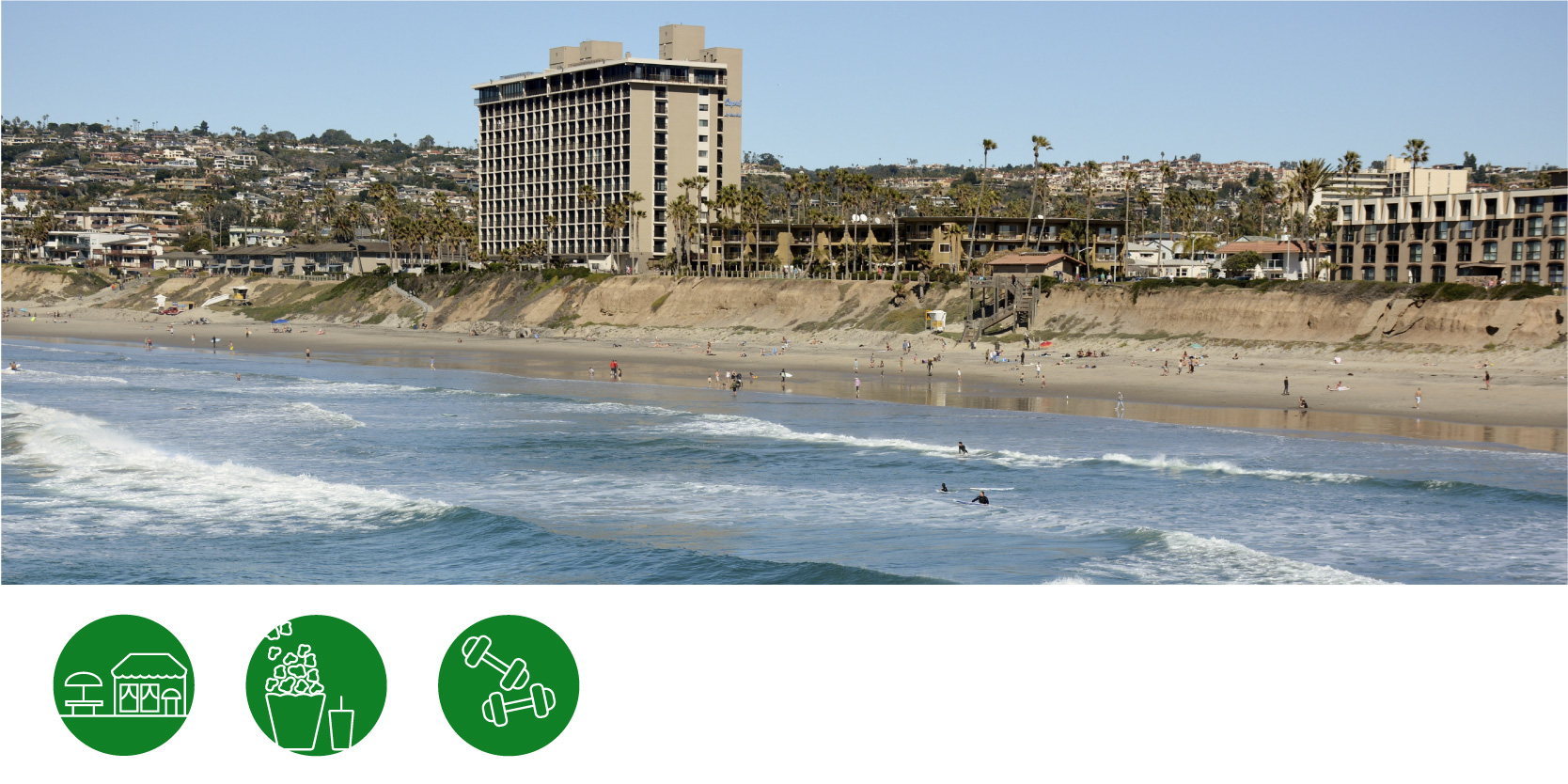 Talks of Pacific Beach—or PB to San Diegans—often turn towards college tales of alcohol-fueled weekends, bar crawls, and all things party. While no one would argue this coastal neighborhood is quiet or quaint by any means, it's more than a beacon for San Diego's night owls and party animals.
The maze of streets and alleyways are packed with yoga studios, curry shops, empanada restaurants, women's clothing boutiques, and the scent of incense wafting through open doors.
The highly walkable neighborhood is pinned between Mission Beach and La Jolla, and even boasts biking and walking access to Mission Bay Park via the Mission Beach Boardwalk. PB is one of San Diego's most beautiful stretches of coastline for surfing, swimming, boating, paddle boarding, beach volleyball, and kayaking.
Home prices here run the gamut from relatively affordable (by San Diego's somewhat skewed standards) condos sprinkled throughout the community, to some of the city's more luxurious beach houses that line the boardwalk and max out at around $7 million dollars.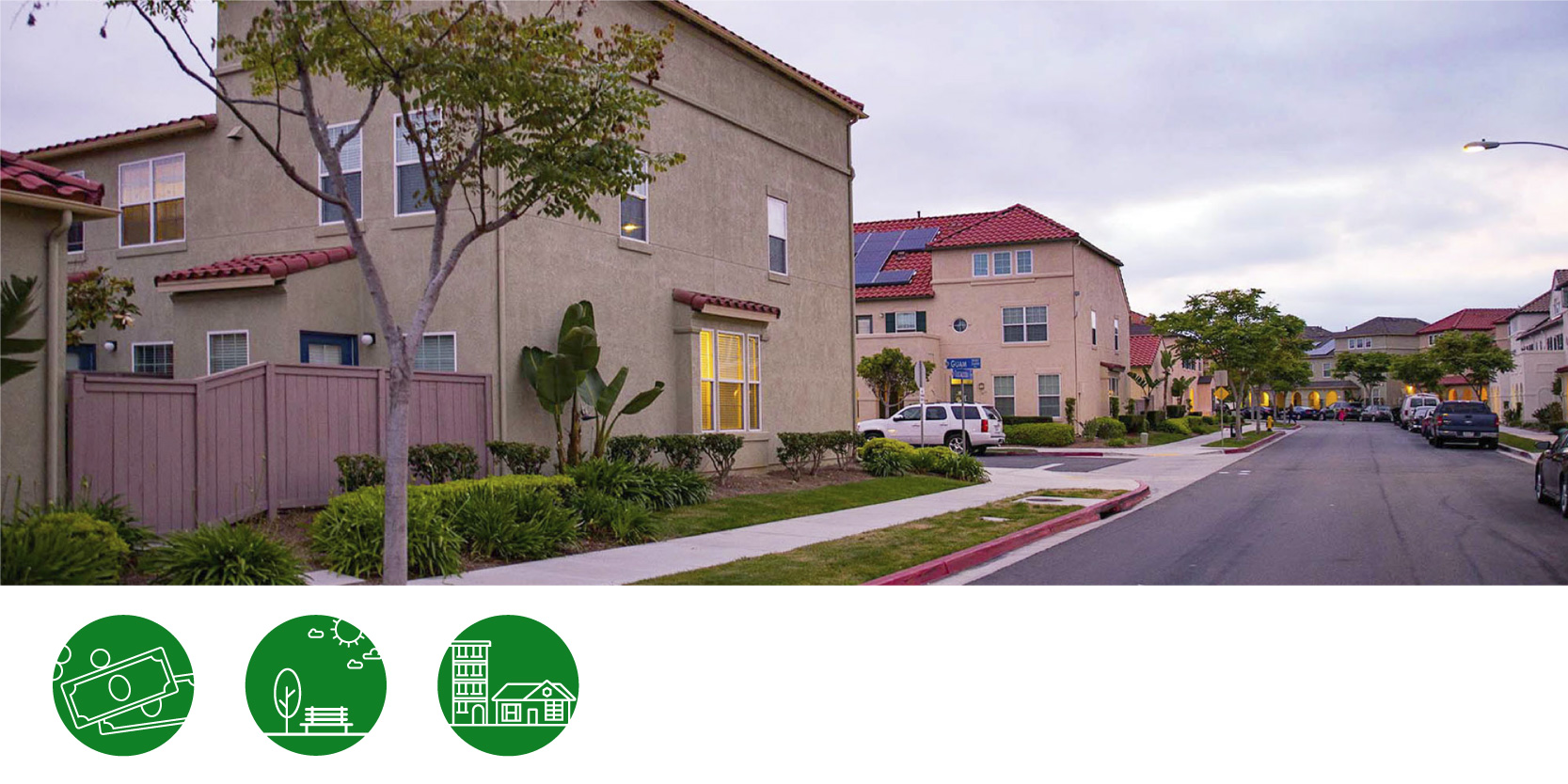 Much like Mission Valley, Midway District has a suburban feel and many live here because of its central location with convenient access to the beach, the interior of San Diego, and the San Diego International Airport. While the Midway District is sometimes considered a sea of strip malls and chain shops, it's also home to several hidden gems, like the intimate rock and punk venue Soma San Diego and some famous local haunts such as Phil's BBQ.
As you get closer to the San Diego river and approach Ocean Beach, housing prices increase. While there is occasionally a single-family home on the market, you'll find most of the home options once again are condominiums. Condos near the interior of San Diego on the eastern side of the neighborhood start at around $400,000 with prices increasing as you move west topping out at $750,000.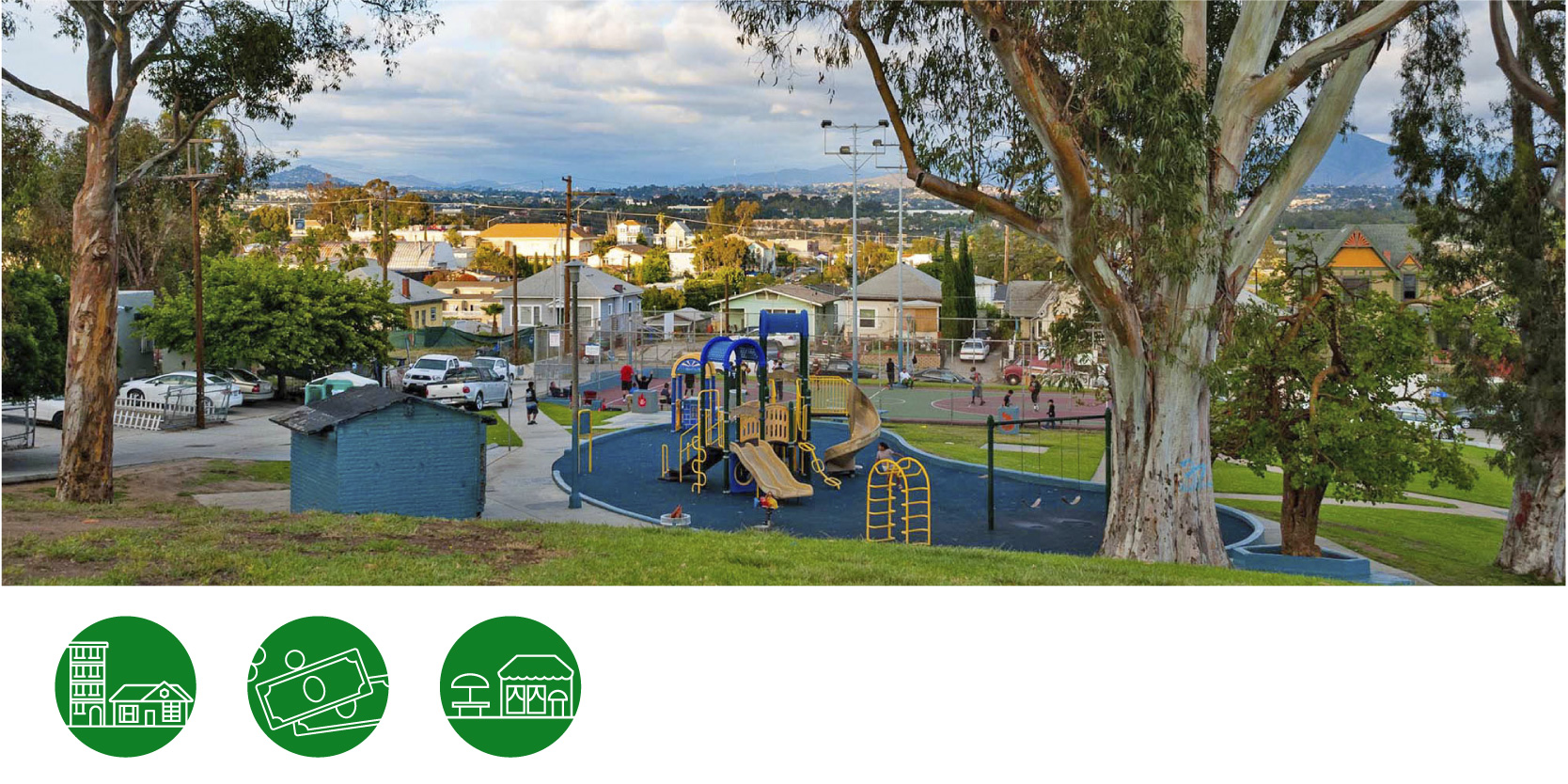 As the name indicates, this neighborhood is tacked on the southeast end of East Village and is comprised of several smaller communities, most notably Barrio Logan and Logan Heights.
What has always been a vibrant part of San Diego is now recognized as one of the city's up-and-coming neighborhoods in terms of culture, art, and amazing food. Often, Southeast San Diego is where locals congregate over tables piled high with Mexican food in both its traditional and more modern varieties. Frequently, activists use Chicano Park to organize and educate the public about Chicano history along with traditional art, dance, and music.
The neighborhood usually has more single-family homes for sale and often at affordable prices. In fact, almost all the single-family homes here sell for under a million dollars, starting at about $350,000. Condos are even more affordable, but less plentiful and come in the form of low-rise buildings; these smaller condos start at about $200,000.
When you think of Hillcrest, most people immediately think of San Diego's Annual Pride Parade which runs down two of Hillcrest's main throughways, University Avenue and Sixth Avenue. The route for the parade is no coincidence. Hillcrest is considered the city's foremost LGBTQ-friendly and affirming neighborhood with some of the community's streets named after famous activists like Harvey Milk.
This community is as colorful as the numerous rainbow flags hanging from front porches and in the windows of businesses that line Fifth Avenue. Independent bookstores, sandwich counters, thrift shops, and wine bars are common sights. If you need to venture out, Hillcrest residents can easily explore the rest of San Diego. It's close to other popular neighborhoods like North Park, Mission Hills, and Downtown via surface streets and the rest of the city via the 163 freeway.
Homes near Hillcrest are a mix of high-density housing—mostly condos—near the neighborhood's business district, with more single-family homes as you move farther out from the city center. Condos start around $250,000 and single-family homes start at just under $800,000.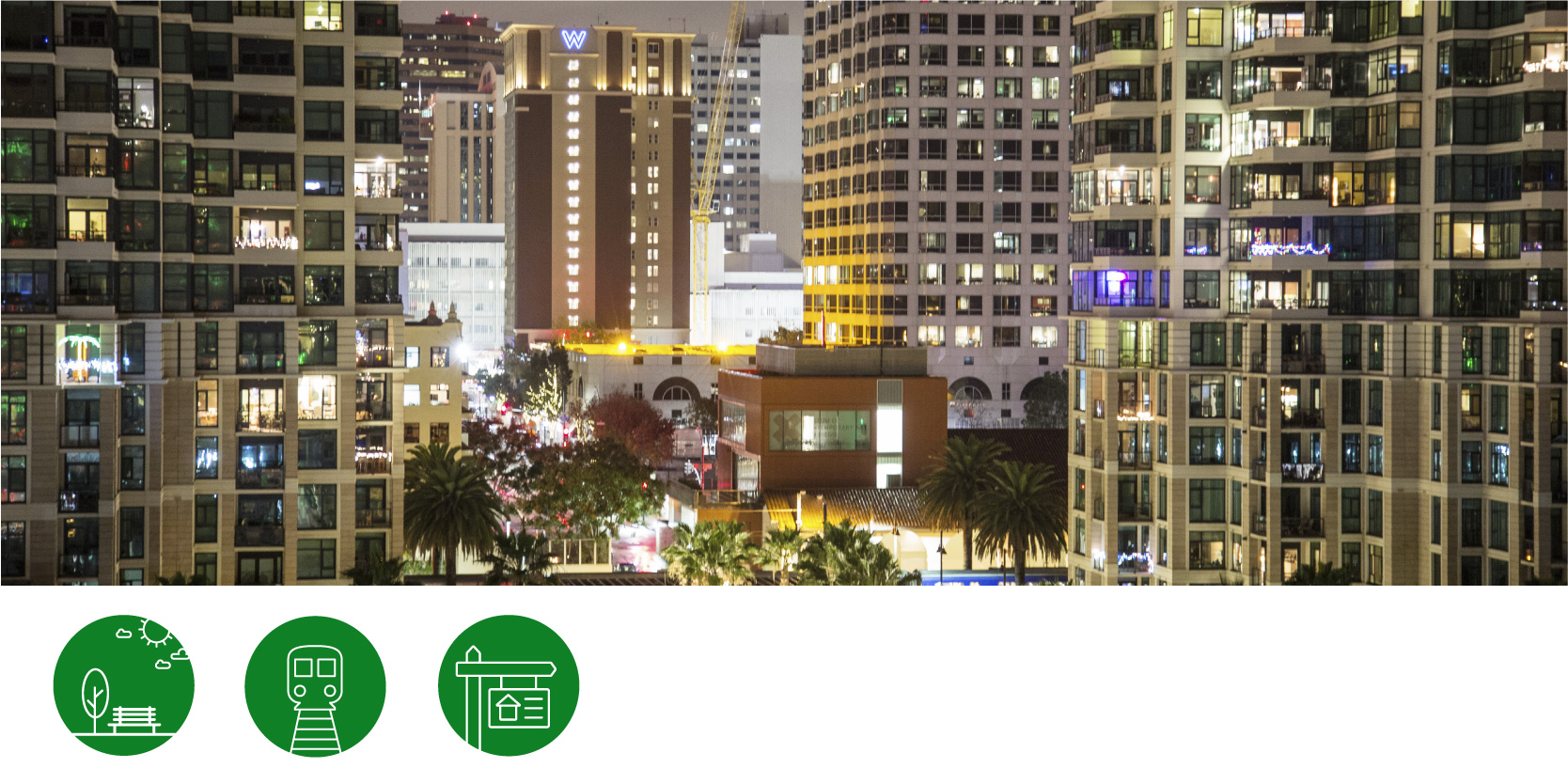 While most locals consider Downtown to be the Gaslamp and Marina District neighborhoods combined, Downtown San Diego is actually its own neighborhood. It sits north of the Gaslamp and south of Bankers Hill, close to Balboa Park and the bright lights of the surrounding neighborhoods.
Mostly, it's known as San Diego's premier business district where bankers, lawyers, and IT professionals work tirelessly in the city's few skyscraper buildings that create San Diego's skyline. At night, residents venture out to visit the many nearby bars, music venues, and variety of restaurants.
Single-family homes are nonexistent here, but there are a good number of high-rise condos that climb in price as you get to higher floors with better views of the city and bay. Studio condos without much of a view start at around $350,000, while large condos with ocean views top out at $6 million.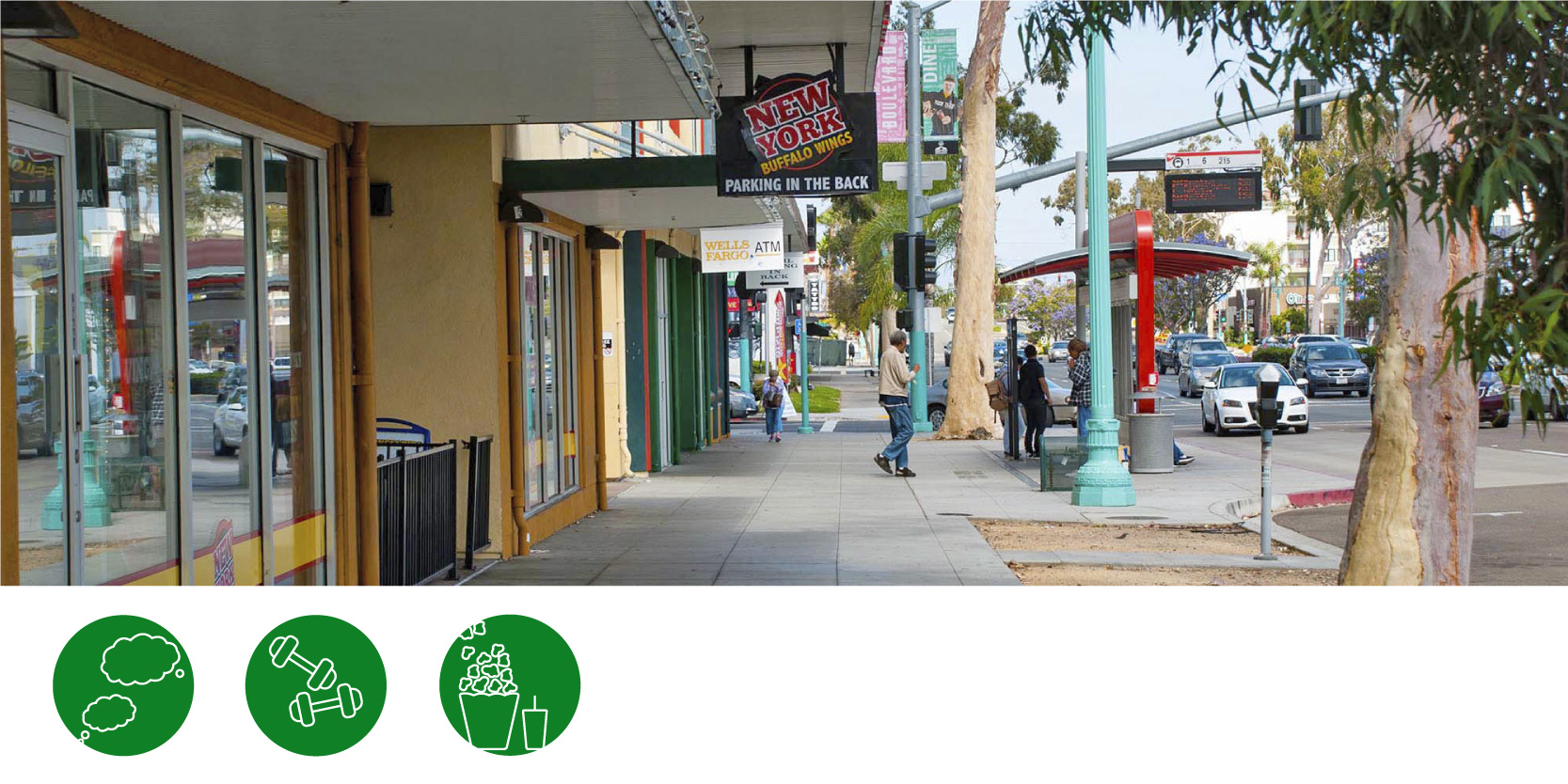 Hillcrest's next-door neighbor has long been known as one of San Diego's anti-establishment hubs. From the beginning, the neighborhood has welcomed hipsters, punk rockers, night owls, and anyone who doesn't buy into the big-box store and chain restaurant vibe that has infiltrated some other neighborhoods.
The tight-knit neighborhood dedicated to shopping small features thrift shops and boutiques purveying the wares of San Diegan locals. While you might find a couple of dance clubs strewn throughout the neighborhood, North Park is noted for its dedication to dive bars where you'll drink stiff cocktails and hear songs you forgot you loved on the jukebox. People from all over the county know North Park for its annual festivals, most notably the Adams Avenue Street Fair.
North Park is an older part of the city and has a history dating back more than a century ago. Consequently, there is a range of housing options including condos, townhomes, and many single-family homes.
Prices range from the mid-$100s for a fixer-upper condo to $1.6 million for a large single-family home with a yard. Homes with easy walking access to Balboa Park come at a premium. Residents pay for their proximity to San Diego's largest greenspace and the zoo and museums it encompasses.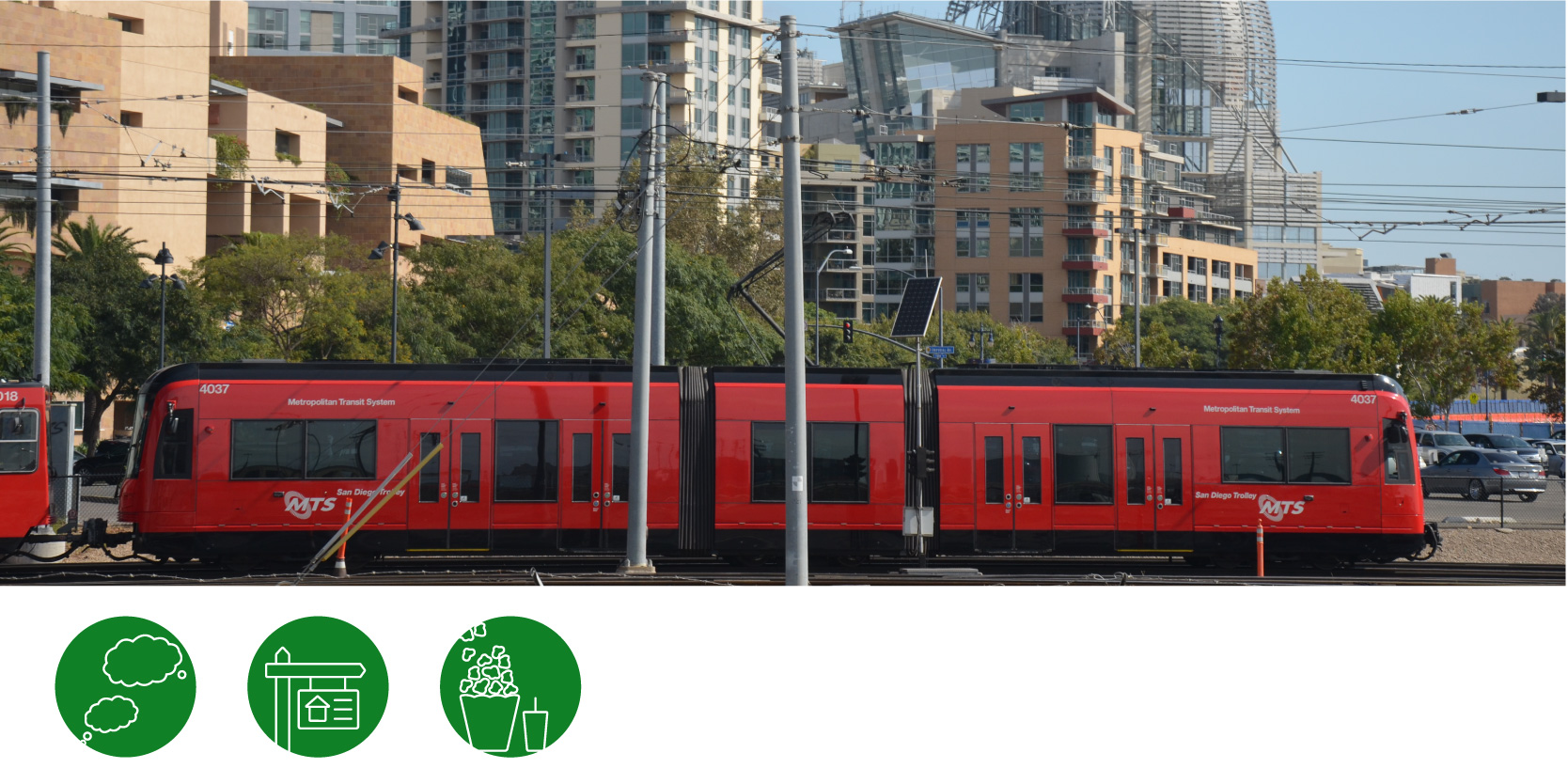 Appropriately named, East Village sits on the eastern side of Downtown and the Gaslamp. As you switch over from the glitz and luxury, you can feel the vibe morph from high-end to artsy and more casual. Visually, this neighborhood is separated from the surrounding areas by the colorful street art that decorates everything from the sides of buildings to electrical boxes and trash cans dotting sidewalks.
In comparison to other adjacent neighborhoods that date back to the Wild West days of Wyatt Earp, East Village is new and constantly changing. It really started expanding with the addition of Petco Park—the home of the Padres—in 2004 and continues to add more culturally significant spots like San Diego's domed central library that officially opened in September 2013.
More quiet than the Gaslamp (except on days the Padres have home games) with way fewer nightclubs and more craft brew bars, late night taco stops, and experimental eateries, East Village inarguably also has the best public transit access of any San Diego neighborhood, with gateways to all the trolley lines and dozens of bus routes.
Homes in East Village come in the form of condos. The buildings are relatively recent additions to the skyline and are often modern in design with heavy use of mirrored glass and bright colors. Prices range from the high $200s to nearly $2 million; condos with an ocean view can fetch higher prices than those facing the rest of San Diego.
Established on both sides of the San Diego River in 1769 along with the Mission of San Diego de Alcalá, Mission Valley is possibly the oldest neighborhood in the city. Now, 250 years later, Mission Valley has a somewhat suburban feel despite being 10 minutes from the ocean and San Diego's city center.
That homey feel comes from the wealth of daily life necessities packed into the area. You won't have to search long or hard for dentists, doctors, movie theaters, grocery stores, golf courses, coffee shops, shopping malls, or stadiums—SDCCU Stadium, where the San Diego State University Aztecs play, is right in the neighborhood.
The community is also surrounded by freeways zooming off to all corners of San Diego, and multiple Green Line trolley stops give Mission Valley residents easy access to public transit, too.
Mission Valley is full of condos with just a few single-family homes up for sale at any given time; those properties almost always fetch over a million dollars, while condos start at a more modest $250,000 for a one-bedroom. Condos closer to trolley access points and with river views tend to sell at a higher price point. Since Mission Valley is a long, thin strip, the difference between an expensive condo and an affordable one might depend solely on the direction it faces.