Houston Neighborhood News
The Best Places to Watch the Houston Rockets in the NBA Playoffs
The NBA regular season is quickly coming to a close. However, that won't be the end of the Houston Rockets for the year, who will be competing in the playoffs to become NBA champions. If you're looking for a place to watch these game at, here are five bars where you can find catch the Rockets while they're competing in the playoffs.
Prospect Park - Galleria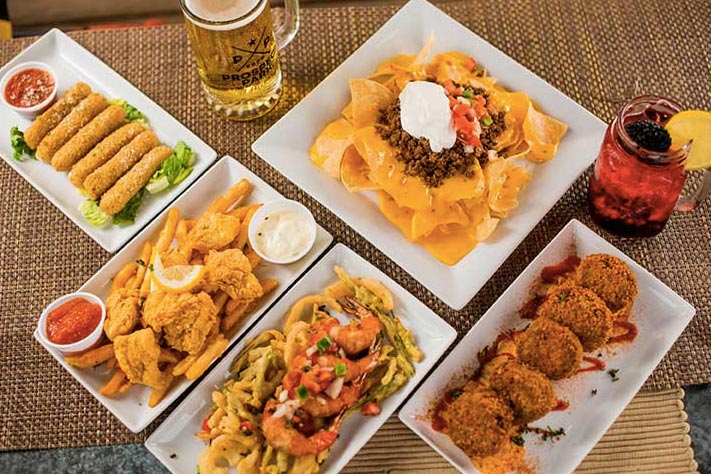 Located in the Galleria, Prospect Park is a longtime popular destination for sports fans. Guests can look forward to a good drink and some of the best wings in the city — Prospect has expanded and diversified its menu over the years, but it has never shied away from bragging about its wings. Whether sitting outside on the patio, inside at the bar, or at one of the many tables or booths, sports fans will find themselves surrounded by dozens of televisions showing the game. It's a fun destination to travel to after a day of shopping at the nearby Galleria Mall.
Little Woodrow's Midtown - Midtown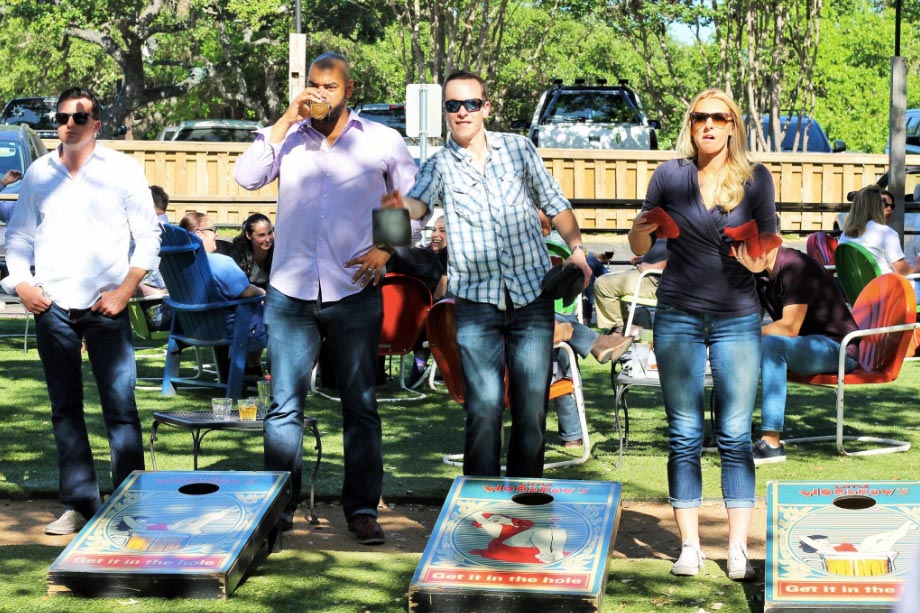 If you're in Midtown and want to catch the game, Little Woodrow's is a Houston institution with locations in almost every neighborhood. The casual, laid back vibe of Little Woodrow's offers a break from the sometimes party heavy atmosphere of Midtown. That's not to say things aren't busy; guests can enjoy one of the many party games in the patio area with a cool drink. There's also TVs both inside and and outside on the patio bar. It's also a very dog friendly bar.
Revelry on Richmond - Montrose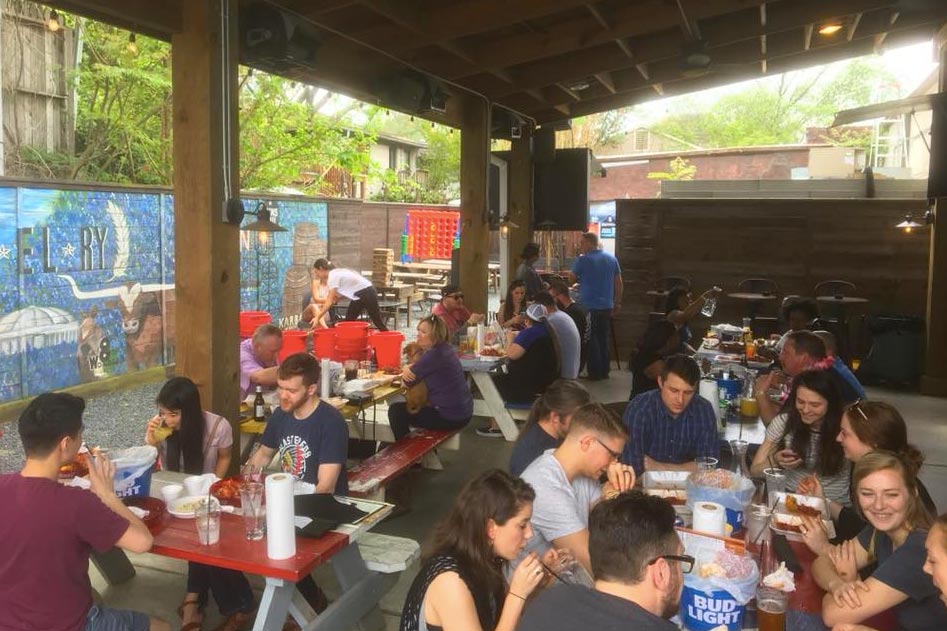 Revelry on Richmond has been serving up drinks for Montrose residents for years. This popular destination is a place where guests can enjoy craft beers in a stylish environment. Revelry regularly rotates various craft brews that include local creations. Guests can sit outside on the patio and continue receiving service from the window bar. You'll find a continuous chain of TVs sitting along every wall and above the inside bar, so it'll be nearly impossible to minute of the action when the Rockets start playing.
Eight Row Flint - Houston Heights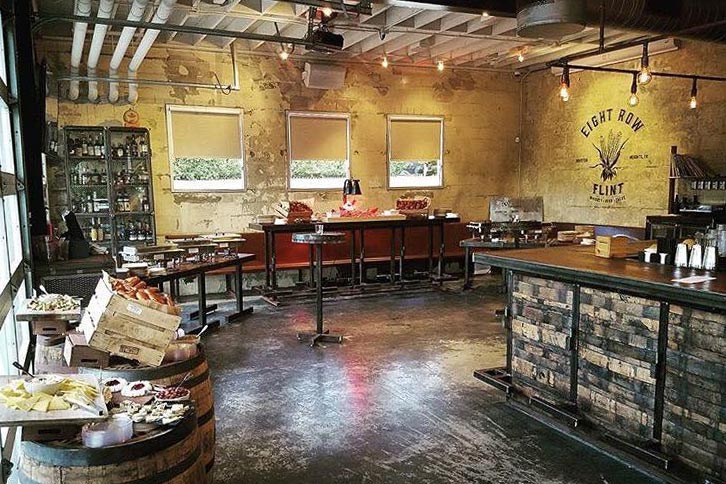 If you're heading into the Houston Heights area and want to watch the game, then you'll want to drop in at Eight Row Flint. A relatively young bar with about three years under its belt, Eight Row Flint is a twist on the Texas Ice House concept. The menu of bar bites includes quesadillas and shrimp stuffed tacos. However, most people come for the old fashioneds, margaritas, and other specialty cocktails. Whether you're seated outside at any one of the many patio tables or inside at the bar, you'll have a view of the TV.
Kirby Ice House - River Oaks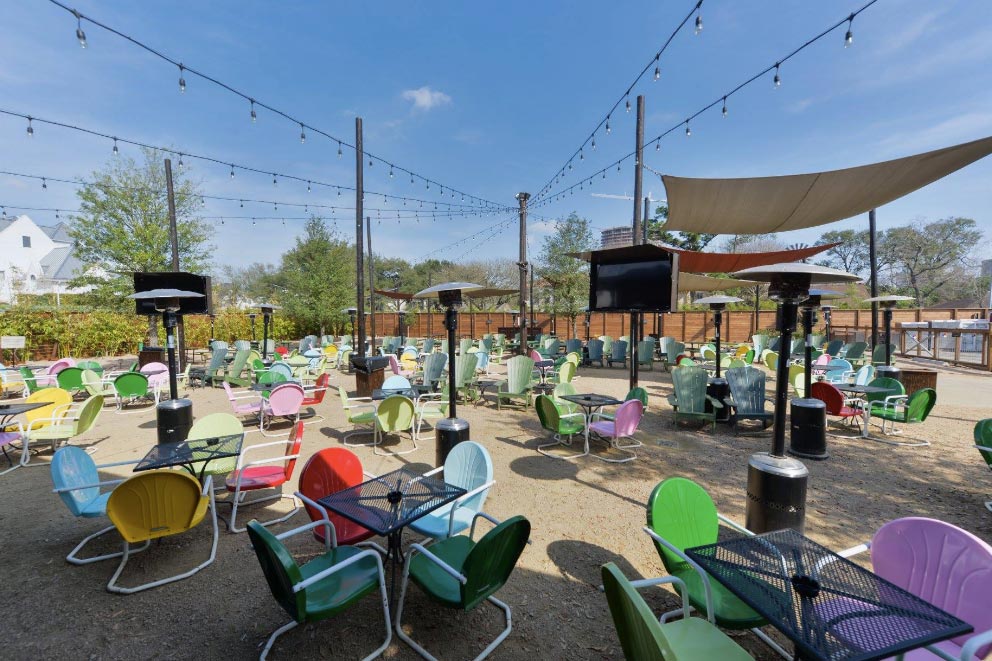 In the two years since it opened, Kirby Ice House has quickly become a popular spot in River Oaks. There's long bars inside and outside, ample seating inside, and a beer garden filled with tables. With so much seating, there's always plenty of room no matter no matter how crowded it gets. Guests can grab food from one of the food trucks that park outside. And with televisions spaced out across every wall of the place, it will be nearly impossible to miss a minute of the game.