Chicago Neighborhood News
The Definitive Guide to Chicago's Hottest Beaches
Chicago has more than 20 beaches along its 28 miles of Lake Michigan shoreline. Some beaches are little more than rocky spits, while others are sprawling magnets for swimmers and sunbathers. Most Windy City beachgoers have a favorite spot that they'll passionately defend. We've ranked some of the city's most popular beaches—and a few lesser known ones—based on the activities, the food, and the crowds. Feel free to disagree with our assessment.
Montrose Beach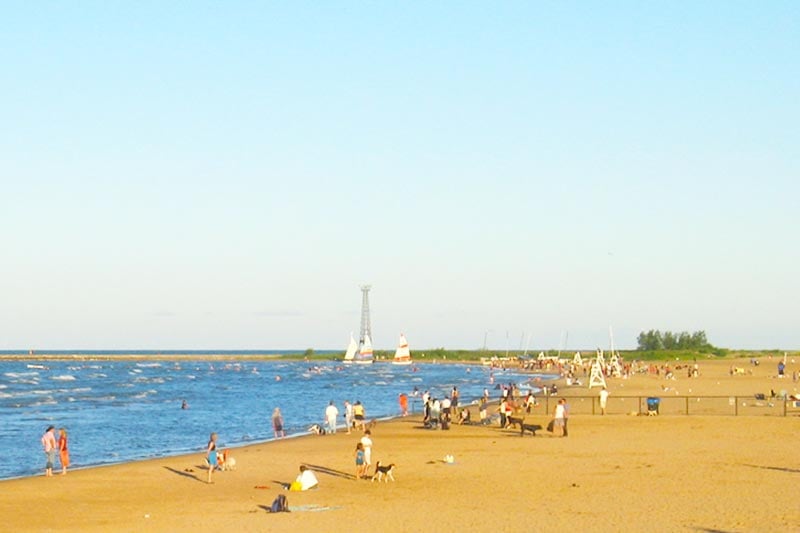 Montrose Beach, located in Uptown, is the city's largest and one of its most popular. That means it's no secret, but there's plenty of space to spread out your towel despite the crowds. This beach is ideal for cooking out and for getting in some sandy playtime with your dog. We don't recommend cooking out on the dogs' part of the beach, although it'll make you very popular with the canine crowd. If grilling isn't your style, stop for food, drinks, and live music at The Dock, Montrose Beach's waterside restaurant and bar. This beach gets a check in the "pros" column for having a ton of available parking, paid and unpaid.
Ohio Street Beach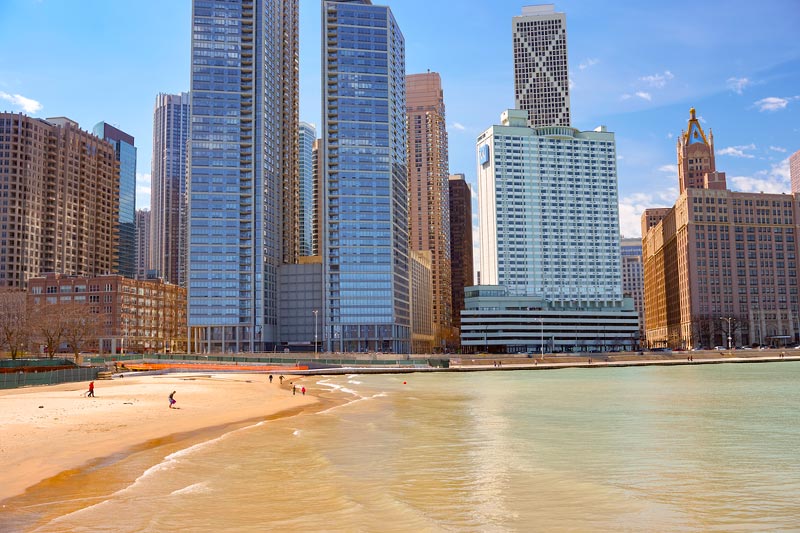 Spending a day in downtown Chicago during the summer is fabulous—shop, eat, and go to the beach. It's a great idea, but a lot of tourists have the exact same one. If you're looking for a downtown beach with a little less of a touristy, jam-packed vibe, opt for Ohio Street Beach in Streeterville. The beach will hardly be empty—it's within walking distance of Navy Pier—but you'll still be able to stake out a waterfront spot. Plus, you get an epic view of the skyline from this spot.
Loyola Beach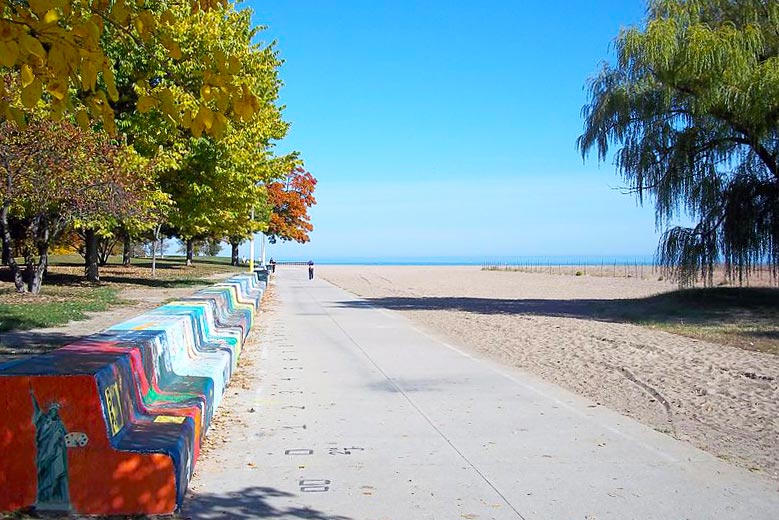 East Rogers Park is home to Loyola Beach, a sandy spot named for the nearby university. Sun yourself on the sands of this Far North beach, and stretch your legs on the two-thirds-of-a-mile walking path that hugs the shoreline. While the water and the view are a great draw for this spot, the real reason we want to talk about Loyola Beach: Crepes on the Beach. This tiny little food shack does sweet and savory crepes that'll keep you coming back summer after summer. Order your beachside delicacy and eat it under one of the casual umbrellas by the stand, or take it back to your towel.
31st Street Beach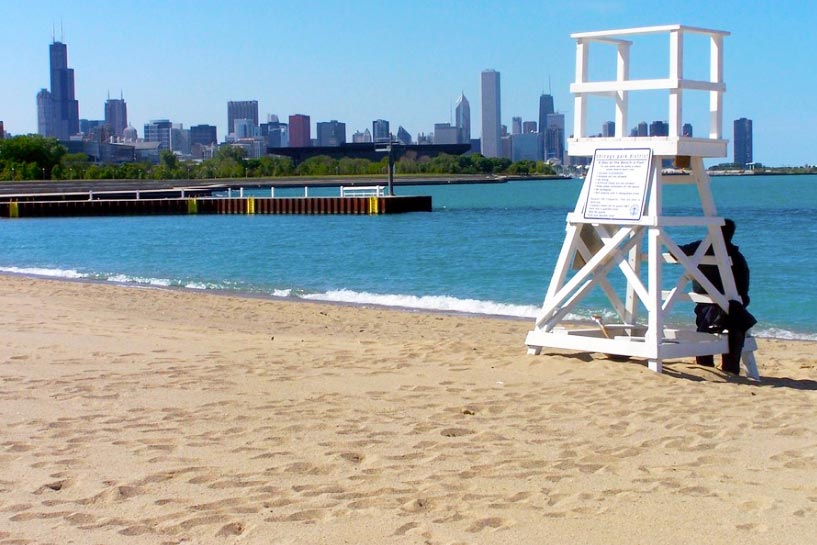 31st Street Beach, now officially named the Margaret T. Burroughs Beach, is located right next to the 31st Street Harbor. Beachgoers can swim and cast a line off the public fishing dock. Pack a picnic and eat it on the "green roof," a picturesque spot located above a parking garage. If you aren't in mood to pack a lunch, come to Pier 31, a beachside bar and grill. Pier 31 does casual food, drinks, and live music. The laid back atmosphere and delicious food never disappoint.
Helen Doria Beach Park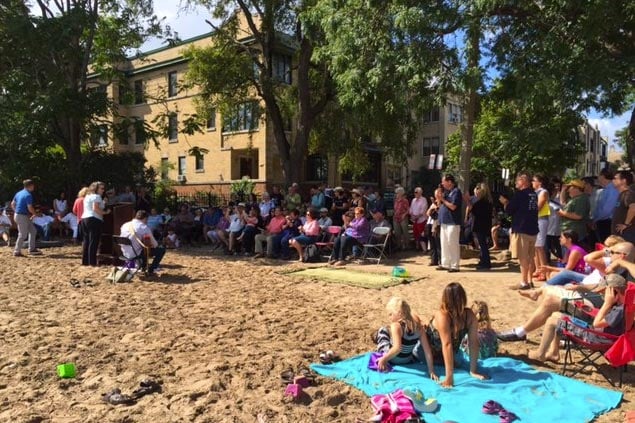 Helen Doria Beach Park, formerly known as Columbia Beach Park, is a pretty well-kept secret. Neighborhood residents are familiar with this beach, but most people outside of Rogers Park probably haven't heard of it. Helen Doria Beach Park is perfect, if you're looking for a quieter beach experience. Bring a book and some sunscreen for a relaxing, peaceful beach day.
Berger Park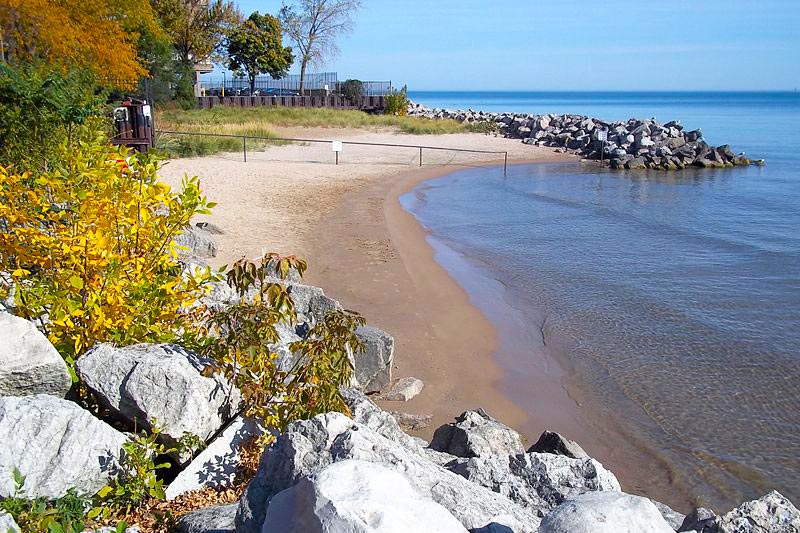 Beaches do not have to be all about swimming. Berger Park in Edgewater often gets overlooked because it isn't technically designated as a beach, but it's still a beautiful lakefront spot worth visiting. If you want some waterside time without having to worry about bringing a pound of sand home with you, this Chicago spot is the place for you. Eat at the Waterfront Cafe, which opens for the season in May, and explore the historic mansion that's a part of the park.
North Avenue Beach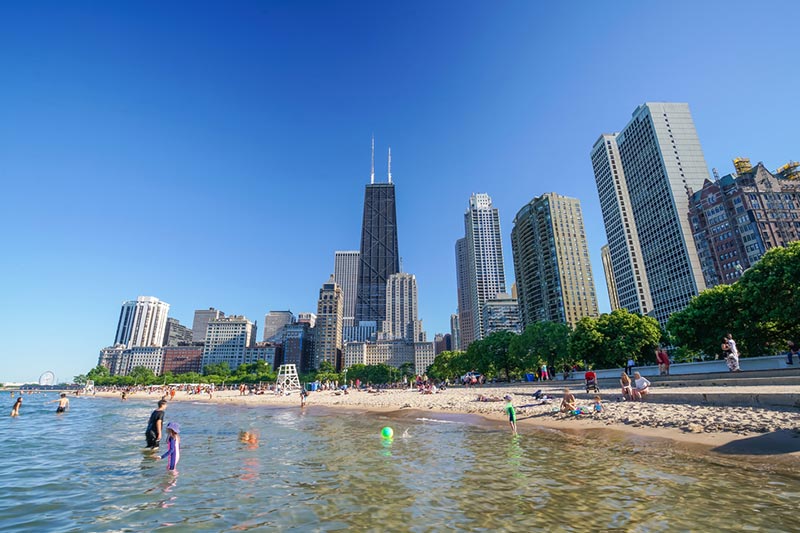 North Avenue Beach is probably one of the city's most popular beaches, and therefore one of its most crowded. Don't expect to find a calm, peaceful spot to set up camp at this Lincoln Park beach. The sound of rented jet skis and boisterous volleyball games combined with a constant throng of other beachgoers makes this spot a lively one. If you're hungry, try to grab a table at Castaways Bar and Grill for food, drinks, and ice cream.
Oak Street Beach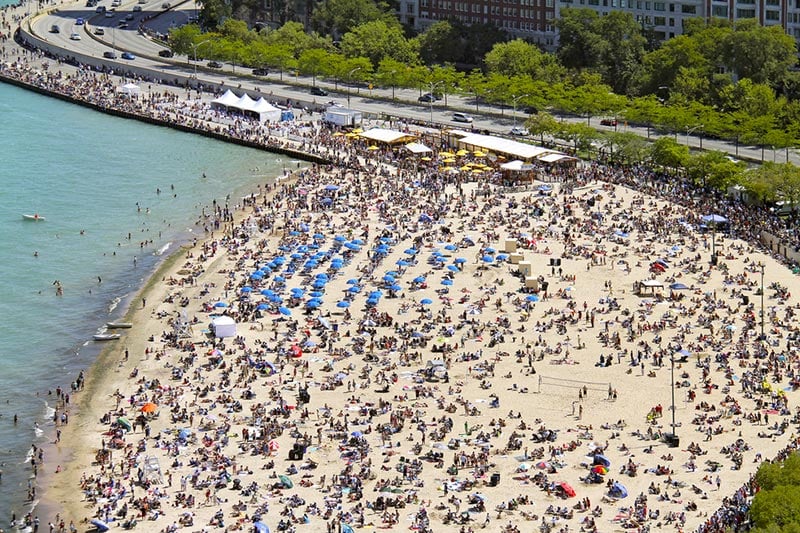 Oak Street Beach might just be the first name in crowded Chicago beaches. This Gold Coast / Streeterville beach is accessible via an underpass, and it draws a mass of people in the summertime. If you don't show up early, you'll probably find yourself settling down pretty far back from the water's edge. Bring your own food—but keep an eye out for opportunistic and bold seagulls—or order something at Oak Street Beach Food + Drink. BY