San Diego Local Life
The Hidden Gems of San Diego's City Heights
The City Heights neighborhood is sort of its own San Diego hidden gem. The neighborhood is nestled among other more prominent neighborhoods like North Park and Normal Heights. At times, it can seem like a community you'd drive through on your way somewhere else, but those who skip through City Heights without taking a good, long look are missing one of the city's most colorful areas.
Locals know City Heights as a place where people from all over meet and mostly eat. City Heights is where you go to get San Diego's best Vietnamese and Laotian food alongside several other ethnic cuisines. City Heights is a walkable neighborhood with a handful of main thoroughfares lined with shops, bars, and restaurants. It's centrally located, with several San Diego MTS bus stops, including a couple of quick routes toward downtown and East County.
While some might consider it a little less polished than other parts of the city, others see its up-and-coming potential as City Heights continues to grow and change while still embracing its roots. Here are just a few special spots hidden in City Heights.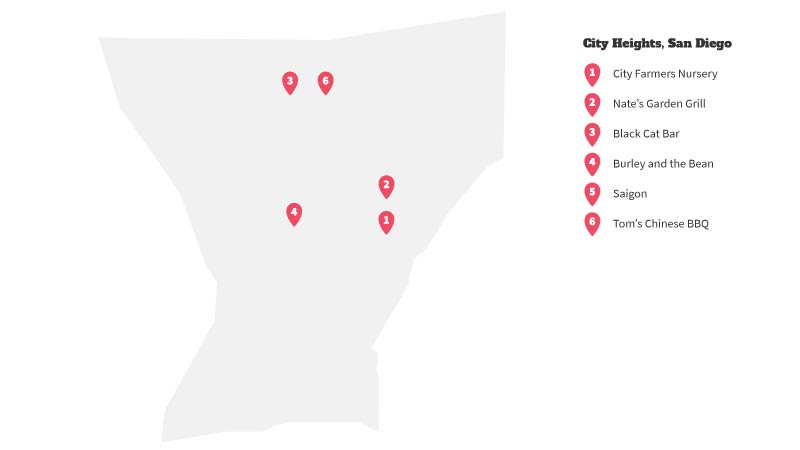 City Farmers Nursery
More than your average nursery, this little organic oasis sits tucked into one of City Heights' many canyons and serves as a reprieve from city life. Even if you aren't shopping for a new plant to replace the dead one on your patio, it's a worthy spot to spend an afternoon.
Beyond the abundant greenery, the nursery has a playground for the under-10 crowd as well as a little hobby farm with sheep, goats, horses, chickens, rabbits, and whatever other critters they've collected.
Nate's Garden Grill
This is kind of cheating since Nate's Garden Grill is actually part of the City Farmers Nursery—they share a parking lot. In the same way, the nursery leans into promoting sustainable living practices even within a major metropolitan area, Nate's supports local farmers and ranchers by serving to best SoCal has to offer by means of farm fresh eggs, hormone-free chicken, grass-fed and finished beef, and seasonally available produce.
Black Cat Bar
Black Cat Bar is really, really tiny and a total dive. If you're fancy or claustrophobic, Black Cat Bar might not be for you. But if you like strong drinks, shooting pool, listening to local bands, and finding low-key hangouts with finely tuned jukeboxes, swing on in.
Burley and the Bean
Slipped into a residential part of City Heights, Burley and the Bean is charming and quaint in the way you want your daily coffee haunt to be. It's kind of a coffee hut with a patio more than a coffee shop, and it's certainly the kind of place that could only exist in San Diego where it's sunny and dry twice as much as it's wet and cold.
They lean into the specialty drinks and do them well. Beyond coffee, Burley and the Bean also hosts canyon hikes and neighborhood walks every couple of weeks.
Saigon
Crammed with people from pretty much the time they open until the time they close, this Vietnamese restaurant can be overwhelming with its menu of 300+ options, but the food makes the choice overload worth it. I always get the same thing, the salted garlic chicken, but the portions are so big I never feel bad stealing a couple bites off other people's plates.
Tom's Chinese BBQ
Tom knows what he's doing. Tom's Chinese BBQ might not look like anything special, but if you want roast duck or roasted pork this should be your first stop. It's one of the very few places in San Diego where you can get authentic barbeque pork (char siu) by the pound or the plate.
It's also cash only, so don't roll up with your Via card thinking you'll be leaving with anything delicious for dinner.