The Most Walkable Neighborhoods in Denver
The Most Walkable Neighborhoods in Denver
Denver's popular neighborhoods each sport distinctive personalities that continue to evolve as the city attracts residents from around the world. With over 300 days of sunshine per year and a generally agreeable winter, the Mile High City's residents find walking a preferable option on most days. If walkability is a must, consider planting roots in one of these neighborhoods.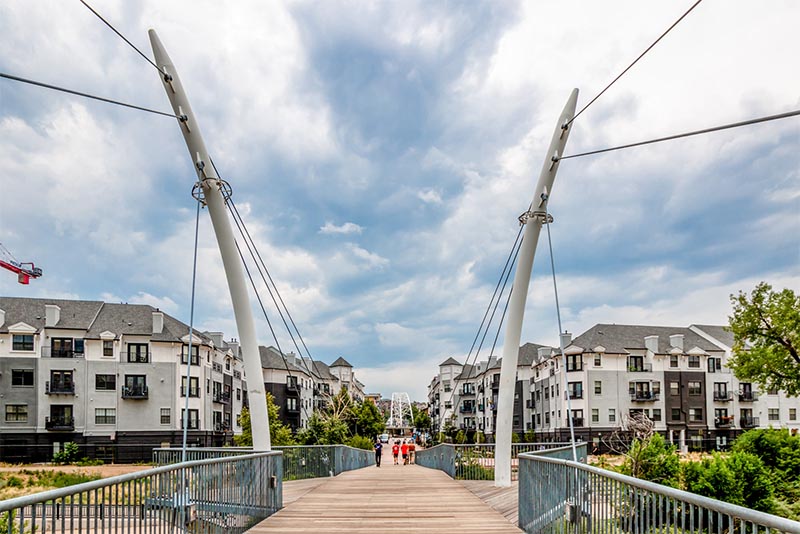 WalkScore: 97
Nestled in the heart of downtown Denver, it's no surprise that this centrally located enclave earns an almost perfect score for walkability. With groceries, specialty markets, some of the city's finest restaurants, and nightlife spots on each block, the Central Business District is a great place for those looking to ditch their wheels.
Many of this neighborhood's residents find that they can commute to work by foot or pair a leisurely walk with Denver's reliable, modernizing transit system. A variation of single-family homes, loft-style condos, and luxury apartment complexes make up the available residences in this area and are all within walking distance of Union Station, a main RTD Light Rail and Bus transit hub.
WalkScore: 96
For those craving culture and big-city amenities, the Golden Triangle neighborhood is a great bet. Also referred to as the museum district, this small-cut out in the middle of the mile-high city is home to the Denver Art Museum, The Clyfford Still Art Museum, History Colorado Center, and many others.
What's more, this popular neighborhood is situated adjacent to Capitol Hill and North Capitol Hill, which both boast great restaurants, historic haunts, and plenty of unique boutiques, bars, and bodegas. For those working anywhere in Denver's downtown districts, the Golden Triangle places residents at a central location where they can easily walk to work.
Walk Score: 92
Possibly Denver's most noteworthy neighborhood, this historic section is home to the capitol building, hence its namesake, and just a few blocks from the downtown. However, the neighborhood often feels a world away with its aged trees, Art Deco-style buildings, and quiet parks.
Cap Hill dwellers enjoy various walkable strips, including 6th Avenue, which is home to world-class dining at Table 6, neighborhood watering holes like Don's, and casual, home-style dining at Angelo's and Odyssey. Living in Cap Hill offers the best of both worlds: urban amenities and small-town feels. Neighborhoods often run into each other walking the dog, at Trader Joe's, or at Pablo's Coffee, a favorite neighborhood haunt.
WalkScore: 91
What started as an arts district in the 1990s is one of Denver's fastest-growing neighborhoods. Just north of the Central Business District, RiNo's ample industrial space is quickly being converted to bars, restaurants, markets, and art studios.
Those wanting a lively vibe and bustling atmosphere will enjoy walking down RiNo's main drag on Larimer Street. Eye-catching murals adorn many of the buildings, making for interesting scenery no matter where your feet carry you. Breweries are aplenty as are casual, hip restaurants, making this a foodie Mecca.
WalkScore: 90
Denver residents seeking a more suburban, family-style atmosphere without sacrificing walkability can look for homes in Cherry Creek. Quiet streets are lined with large, multi-story homes, historic bungalows, or high-end condos. The Cherry Creek Mall anchors the neighborhood while five-star restaurants like Kona Grill, Quality Italian, and Hillstone are hot spots on weekend nights.
The neighborhood's schools consist of both public and private as well as alternative learning options including many Montessori schools. What's more, there are plenty of kid-oriented activities, like swim lessons at Denver Divers and a playground at Pulaski Park. Workout studios and gyms are aplenty, allowing Cherry Creek residents ample opportunities to be active.
WalkScore: 90
For a never-ending array of nightlife and dining activities, there's no better neighborhood than the Potter Highlands. North of Denver, this historic neighborhood boasts beautiful brick bungalows, Denver squares, and unique duplexes along with modern, amenity-heavy apartment buildings.
Innovative restaurants seem to gravitate towards The Highland, making it a fabulous spot for international cuisine, world-class sushi, high-end vegetarian, and rooftop dining. Wine rooms, speakeasies, and breweries are seemingly on every block so no matter where residents choose to live, they'll be within walking distance of something tasty or refreshing.
Fitness oriented individuals can walk to a number of yoga studios, exercise boutiques, and gyms peppered throughout this neighborhood. Some may even find a workout center included in their luxury apartment building. The Highland is a one-stop shop for working, playing, and thriving in Denver, without the help of a vehicle.
WalkScore: 90
Known for its historic jazz roots, Five Points is continuously evolving as Denver grows and changes. It's close enough to Denver's bustling downtown to offer an array of urban amenities but far enough removed that its streets foster a friendly, neighborhood vibe.
Summer boasts fun outdoor festivals and ball games at Coors field while winter sends everyone inside to enjoy shows at Cervantes and Mercury Cafe. This neighborhood has held on to its unique history, turn-of-the-century buildings, and musical roots, giving it a very unique personality unlike anything else in Denver.
Walk to Rosenberg's and grab an authentic. New-York style bagel (they replicate the big apple's water to recreate this delicacy), then stroll to Blake Street for a Sunday Funday on the town bar-hopping with Denver brewery fans.