Houston Real Estate Development
The Sophie Brings Mid-Sized Condos to Houston
When talking about residential development around Houston, some of the hottest areas typically include places like Midtown, East Downtown, or Montrose. Everything from townhomes to condos have been going up in these areas. Yet, when moving closer to Memorial Park, it's a little harder to build. Most of the area is taken up by the park itself, but tucked along one stretch of Memorial Drive close to the Rice Military area, the Sophie at Bayou Bend will be opening its doors this fall.
The grounds were originally intended to be a 2-acre property for luxury townhomes. Dubbed the Piazza Lucca, the original plans went so far as to include the ground-breaking ceremony. However, what was intended as a destination for 17 new homes was soon switched to a condominium concept. Part of the reason that the townhome concept was scrapped is that Houston's economy suffered during a downturn in the global oil industry. Where developers had previously bet that the oil economy would drive ongoing demand, the downturn forced some ideas to be shelved. However, The Sophie soon replaced those townhomes, following an investment from Atlanta based developer Stolz Partners.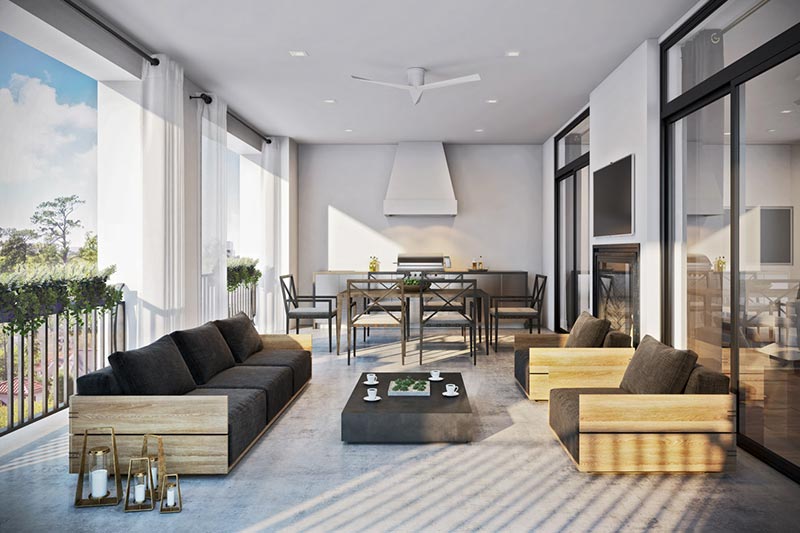 When it does finally open its doors, The Sophie will be a six floor, 42-unit mid-rise. Units will range from 2,400 square feet to 5,000 square feet, and each will come with its own 400-square-foot terrace. These homes will also come with fireplaces and summer kitchens. The interiors, meanwhile, will feature spa-style bathrooms and elegant fixtures to add a classy touch to the overall design. The condos will also feature some impressive views for residents. Condo units will overlook the greenspaces that fill Memorial Park, Buffalo Bayou, and nearby River Oaks Country Club.
Residents will have 10-foot ceilings, a 24-hour concierge service, the latest in appliances, and private garages. For the fitness minded resident, The Sophie will include a sophisticated fitness center that comes with a virtual yoga studio. The grounds of the Sophie will also include greenspaces for walking, a dog park, and art installations.
Besides all the amenities that will be available on the property, residents will also be positioned in one of the most convenient parts of the city. Nearby Memorial Park will provide an outdoor escape for nature lovers, while right across the highway, residents will be able to shop at the Galleria Mall. Along nearby Washington Avenue, the many restaurants and nightlife options will also afford residents plenty to do when they want to get out of their homes.