National Local Life
The Top Neighborhoods to Spot Celebrities in New York
"Sex and the City," many superhero flicks, and a myriad of other TV shows and movies, make New York one of the most recognizable cities in the world. While the fictionalized New York of the screen may be very different in reality, its stars often do live and work here.
The city's reputation as the country's cultural hub (for fashion, food, and art) and its upscale real estate attract the wealthy and the famous. Robert De Niro and Taylor Swift are just a couple of the celebrities who live in New York. You might catch a glimpse of NYC's glitterati dining out, attending prestigious events, or taking a walk in these New York neighborhoods.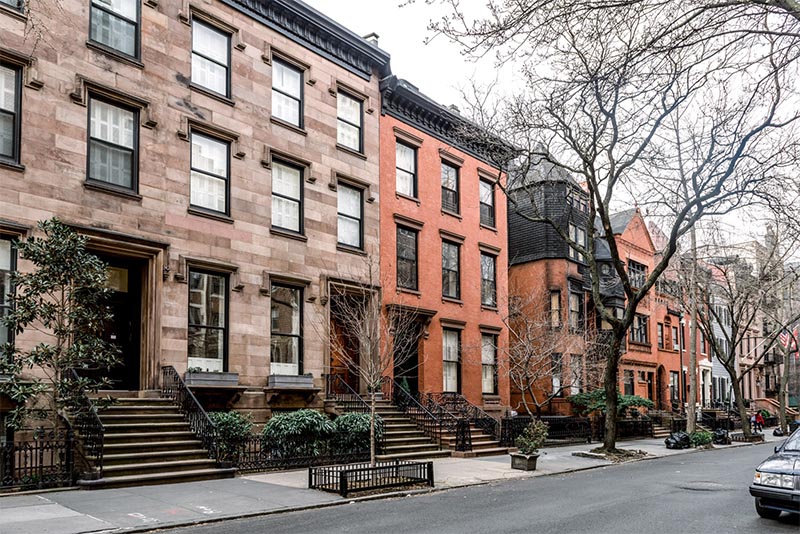 While Manhattan might be the most likely borough for celebrity activity, Brooklyn Heights' view of the East River and slightly more suburban appeal attract its fair share of big names. A-lister Matt Damon bought a $16.75 million penthouse in the neighborhood, the most expensive sale in Brooklyn at the time, according to Architectural Digest. Damon has famous neighbors in the building; Hollywood power couple Emily Blunt and John Krasinski bought an entire floor in the same building for $11 million, according to Curbed NY.
Mary-Louise Parker, well-known as the suburban mom turned drug kingpin Nancy Botwin on "Weeds," is also a Brooklyn Heights resident. The actress bought a co-op for $4.3 million back in 2018, according to Curbed NY.
Greenwich Village is widely recognized as the location of Monica's conveniently rent-controlled apartment on "Friends." Celebrities who live in the neighborhood, and can more realistically afford their homes, include married couple Justin Timberlake and Jessica Biel.
The neighborhood's Minetta Tavern, a dimly lit and beloved steak house, has a history of attracting big literary names like Ernest Hemingway and Ezra Pound. Today, it still plays host to contemporary celebrities in its back room, according to Eater New York. Keep an eye out for famous diners coming and going at this Greenwich Village restaurant.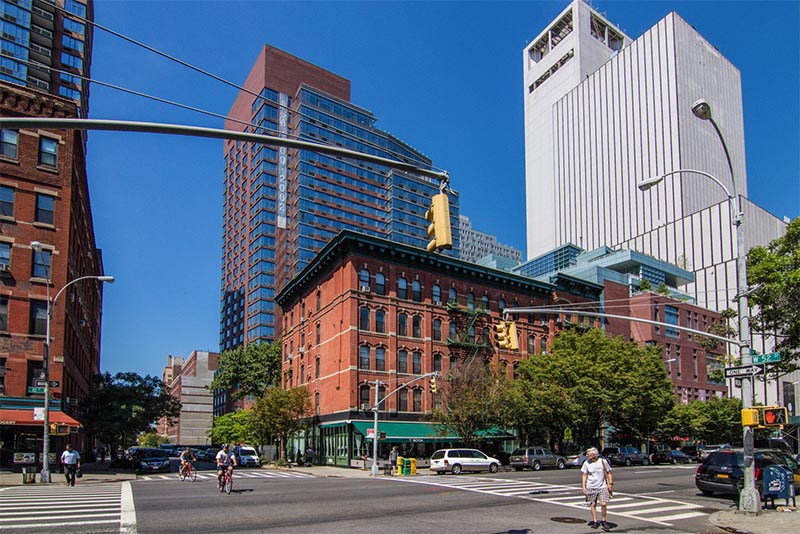 Despite the name, Hell's Kitchen is a charming neighborhood populated by local businesses. It even has a cluster of performance spaces collectively known as Theatre Row.
While the neighborhood might not be full of pricey penthouses, it's the location of "The Daily Show" Studios. Host Trevor Noah has a regular rotation of famous guest stars who you may be able to spot entering and exiting the studio. The shows taped there also include live studio audiences.
Midtown, right off of Central Park West, is home to plenty of tourist attractions like the Empire State Building, St. Patrick's Cathedral, and Times Square. While you might glimpse a celebrity at one of these spots, they're hardly regular haunts for residents of New York. However, NBC Studios at 30 Rockefeller Plaza is the filming location of "Saturday Night Live" and "The Tonight Show with Jimmy Fallon." You can snag tickets to live tapings or see celebrity guests coming and going from the famous studio.
This Manhattan neighborhood is also home to the Rainbow Room, a famous New York restaurant. Celebrities like Lady Gaga and Benedict Cumberbatch have dined at this upscale eatery, according to The Travel.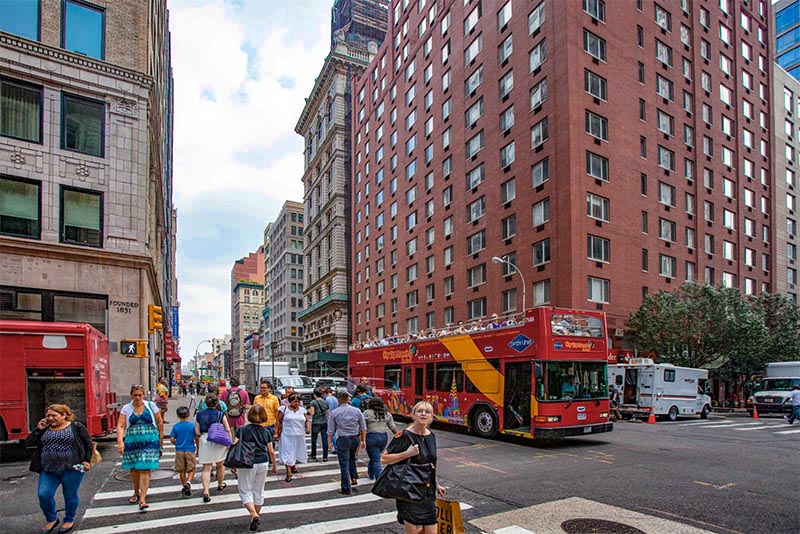 It's hard to imagine Robert De Niro, who has made his career by playing tough, gritty characters, settling down in sunny Los Angeles. In a fitting case of life imitating art, De Niro is a New Yorker. He has lived in multiple neighborhoods, but he's often associated with Tribeca. The actor helped to establish the Tribeca Film Festival, and he owns restaurants in the neighborhood.
Taylor Swift may not have De Niro's signature scowl, but she has built a career that holds its own powerful place in pop culture. Swift has reportedly spent millions on properties in Tribeca.
Tribeca's Spring Studios also attracts celebrities with events like New York Fashion Week, which draws famous designers, models, actors, singers, and more.
The Upper West Side, sandwiched between Riverside Park and Central Park, has plenty of residential buildings that offer fabulous views, hence the attraction for those who can afford to live here. Celebrities like Jerry Seinfeld, Tina Fey, and Ellie Kemper call this Manhattan neighborhood home.
If you want to enjoy dinner with a side of celebrity watching, Carmine's Italian Restaurant is a good bet for seeing celebrities who live in New York. Stars like Tina Fey and Drew Barrymore have been spotted at this UWS spot, according to CBS New York.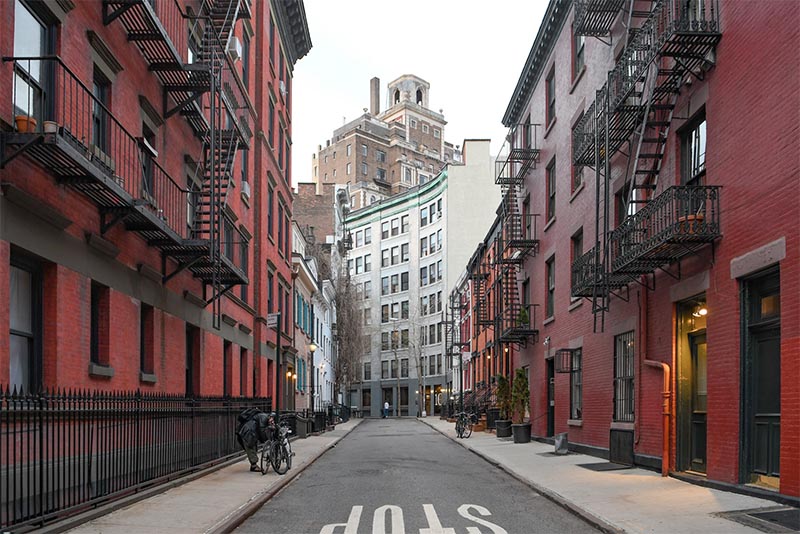 The West Village is for anyone who loves classic New York architecture. One of the most expensive neighborhoods in Manhattan, the West Village has streets lined with elegant brownstones and walkups. Versatile actor Hugh Jackman lives in the neighborhood, and he was recently spotted walking his dogs with his wife Deborra-Lee Furness, according to Page Six. Daniel Radcliffe, star of the "Harry Potter" films and more recently several indie projects, also owns property in the West Village.
Morandi, an Italian trattoria from restaurateur Keith McNally, has the potential for celebrity sightings, according to Must See Places.