The Types of Homes You'll Find in Chicago
The Types of Homes You'll Find in Chicago
"Cheer up" was the line that began a Chicago Tribune editorial just days after the Great Chicago Fire of 1871 had savaged the rapidly growing city, turning to ash and melted metal more than 2,000 acres and killing at least 300 of its citizens. It would seem an odd tone to take after a tragedy of such magnitude, though it says a lot about the spirit of Chicagoans. The short editorial triumphantly concluded "Chicago shall rise again."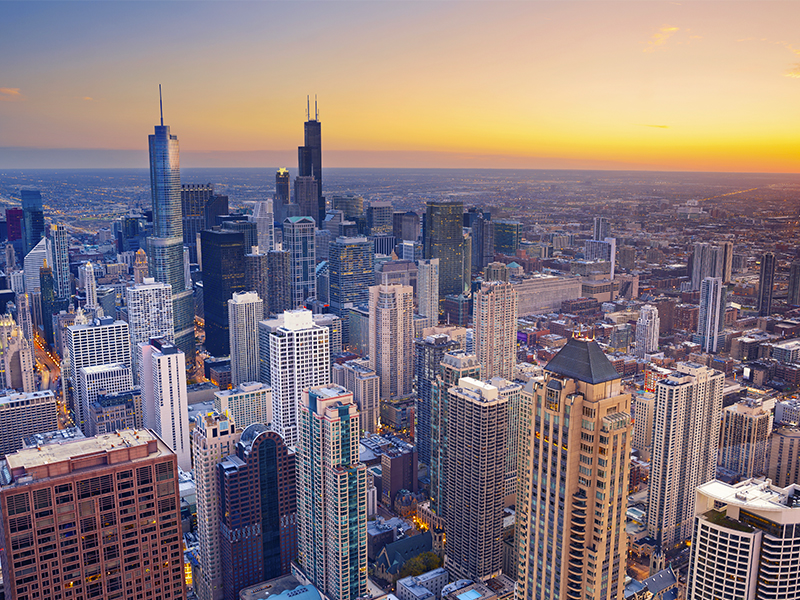 And rise it did. Within 15 years of the fire, the world was gazing upward at the first examples of skyscrapers that would revolutionize cities throughout the world. An unusual coalition of powerful politicians, captains of industry, and visionary city planners set upon building a new Chicago. The growth of the metropolis was influenced by the nascent City Beautiful movement, which emphasized the importance of maintaining natural spaces and beauty. All of those powerful men, however, did not build the city again — it was built with the labor of immigrants, arriving daily by the hundreds to the fastest-growing city in the world.
What all of these different people had in common, though, was simple: they all needed a place to lay their head each night. Thus, housing in Chicago grew rapidly over the next 100 years to accommodate the changing demographics of the city. From modest starter homes to stately lakefront palaces, a diversity of architectural styles emerged during this era.
Mansions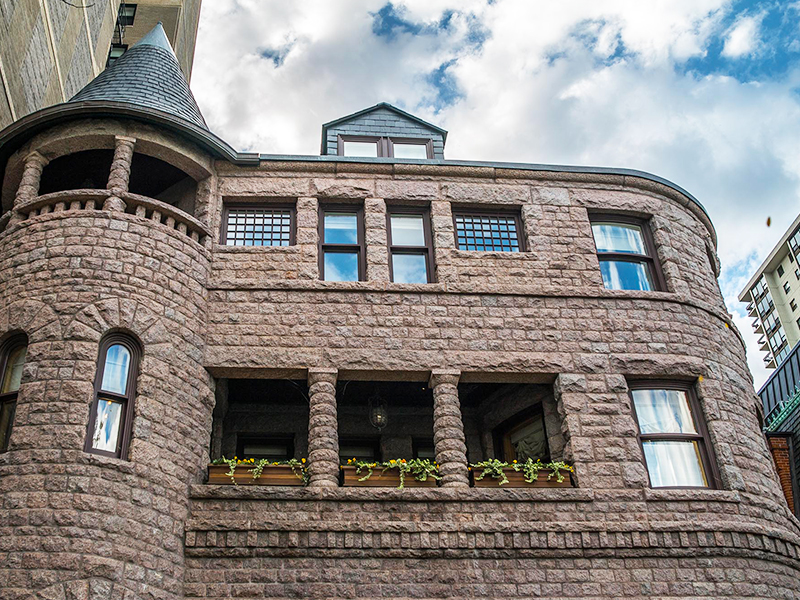 The city's elite both past and present have called Gold Coast, Kenwood, and Lincoln Park home, neighborhoods known for Chicago's stately mansions. The designs themselves are as unique as the wealthy Chicagoans who built them. While many still serve as private dwellings, others have been pressed into service for other uses, like the Kimball Mansion. Once the private retreat of piano and organ tycoon William Kimball, it is now known as Soccer House and serves at the headquarter of US Soccer Federation. More recently, the Obamas called a Georgian mansion in Kenwood their Chicago home.
Worker's Cottages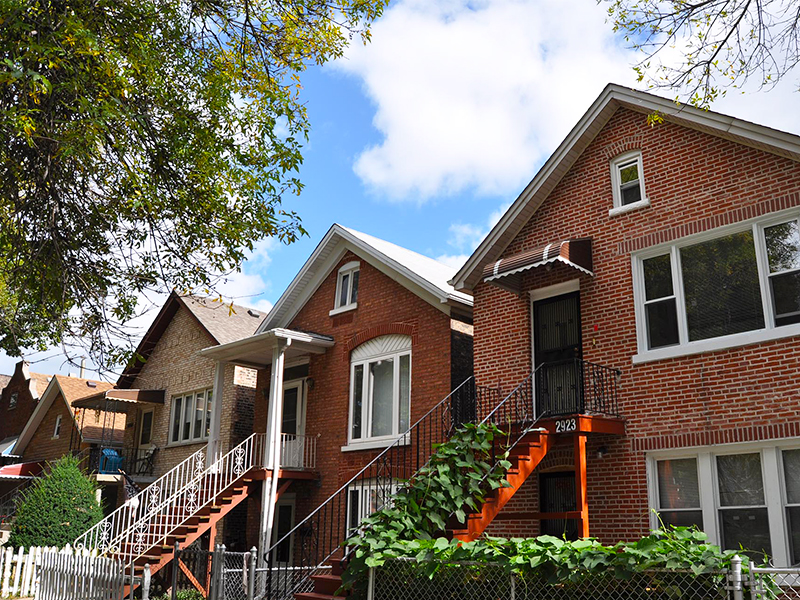 On the other end of the spectrum, many newly arriving immigrants sought refuge in modest homes, referred to as worker's cottages. These long and narrow buildings were sturdy, inexpensive, and easy to build. Examples built by Irish workers can still be found in Bridgeport. Lincoln Park is also still home to some preserved examples built by Germans and other Northern Europeans, standing out among the luxury homes that populate the neighborhood. The charm of these homes isn't lost among the newly built homes for modern homebuyers, creating a dynamic architectural style in this quintessential Chicago neighborhood.
Two- and Three-Flats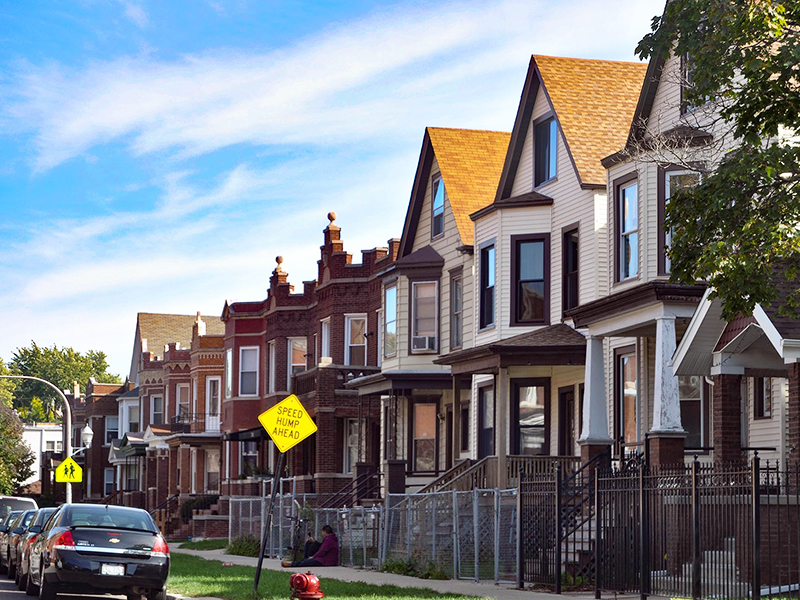 As workers set aside more money, many were able to move away from the dirty and crowded areas close to the city's industrial heart. The next step for many was two- or three-flats, the "workhorse" of the city's housing stock to this day. The idea was that young families could live on the first floor of their new home and rent out the upper floor(s) to relatives or others, making a little extra money on the side. They still serve more or less this same functions, affording new arrivals a comfortable place to call home even on the most modest budget. In neighborhoods like Logan Square and Avondale, they are the preferred housing of students and artists. Another nice bonus: the floor plans are almost always the same from building to building so you'll really only have to ask "where's the bathroom?" once in your life if you find yourself in a Chicago two- or three-flat.
Courtyard Apartments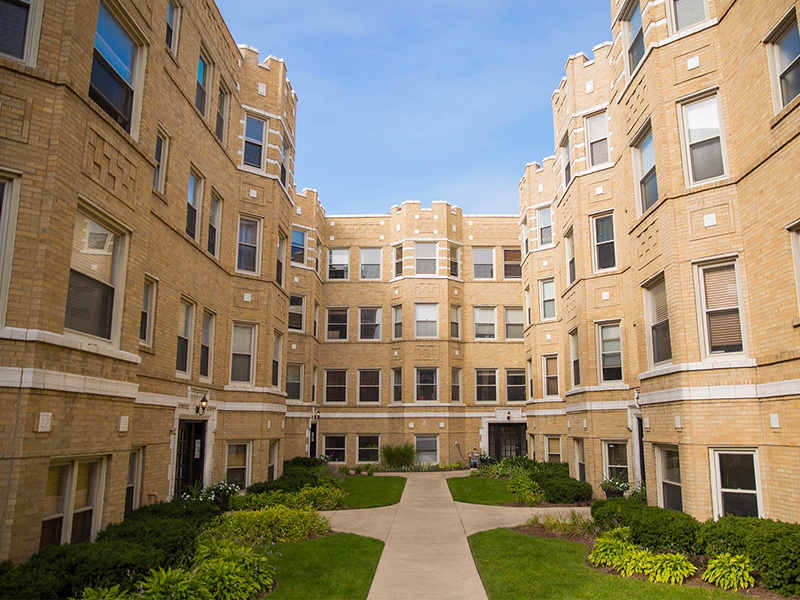 Others preferred higher-density housing like Chicago's durable courtyard apartments. These buildings came into fashion at the turn of the 20th century and, by definition, featured open courtyards, many with gardeners and landscaping. The buildings' L or U shapes allowed each unit to get a bit of a breeze during the warmer months. The style is common in the northside neighborhood Rogers Park and, on the southside, Bronzeville also contains many excellent examples. Outside of mansions, courtyard apartments arguably showcase a greater diversity of style than any other building. It would not be difficult to find one in a stately Tudor style just down the block from a midcentury or modern building.
Bungalows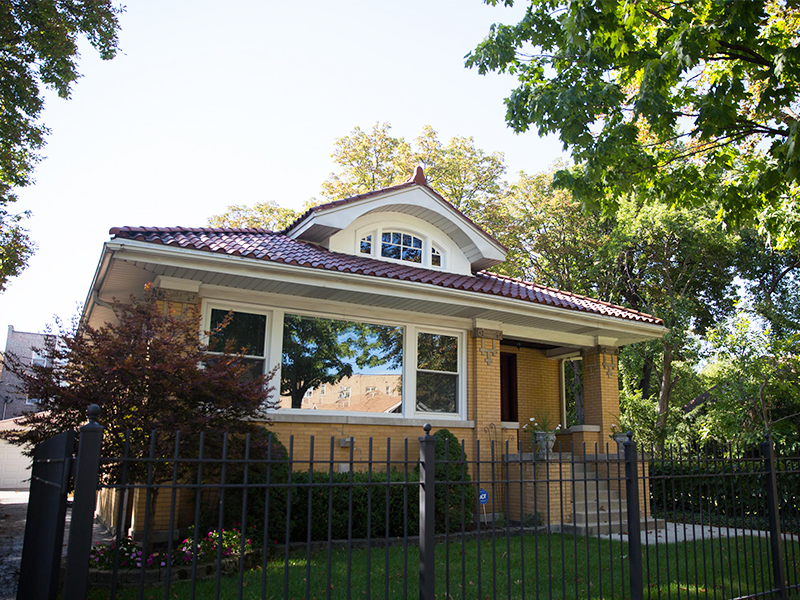 There are so many bungalows in Chicago that some areas are even called "The Bungalow Belt." There's a Chicago Bungalow Association that helps present day owners secure grants to retrofit, preserve, and upgrade their homes. They were initially built in quiet, newer neighborhoods like Albany Park, Jefferson Park, Chatham, and Auburn-Gresham. These were, at the time, a worker's dream, trading in upstairs neighbor stomping around for a yard for the kids and peaceful, tree-lined streets. These homes were built to last and are often passed down for generations among families. Ask anyone: a nicely kept, arts-and-crafts style bungalow with its original leaded-stained glass windows should be the envy of just about any true Chicagoan.
High-Rise Buildings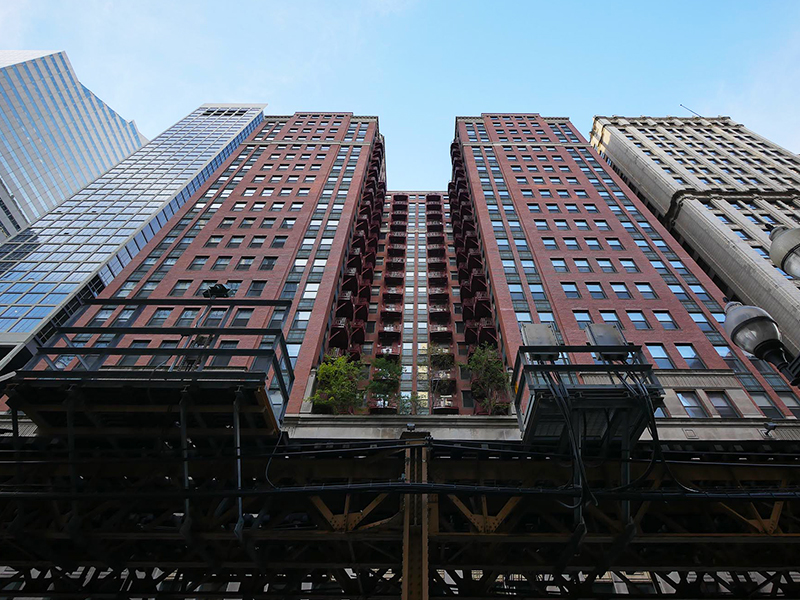 With its two distinctive towers, the Loop's Marina Towers sought to popularize downtown living in 1968. Conceived as a "city-within-a-city" with shopping, a theater, and even a bowling alley on the lower floors, architect Bertrand Goldberg, who later designed the equally modern River City, hoped this new breed of high-rise apartments would attract city denizens that long-ago departed for the suburbs. While this sort of development was new to the Loop, high-rise apartments were already proven viable with well-heeled Chicagoan seeking out that prestigious Lake Shore Drive mailing address in buildings from Edgewater to South Shore.
Condos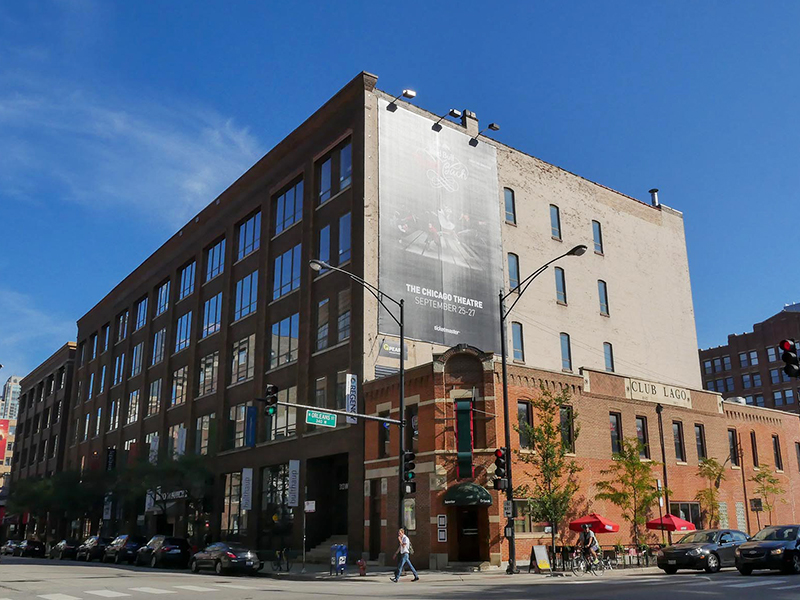 Developments like the Marina Towers heralded the rise of the condo development in the city a few decades later. In the early 1980s, adventurous urban pioneers began converting warehouses in River North to condos and artists' lofts. These were located along the then filthy Chicago River, and as such, most people thought these early developers were out of touch. Flash forward to 2018 and the river is considered to be a crown jewel of the city and these early developments command premium prices. Like most major American cities, condos are ubiquitous in Chicago, from sparkling high-rises to more unusual entries like converted churches and reconfigured courtyard apartments.