This Big Lebowski Neighborhood Tour Really Ties Los Angeles Together
This Big Lebowski Neighborhood Tour Really Ties Los Angeles Together
On March 6, 1998, "The Big Lebowski" was released in theaters to little fanfare. The Coen Brothers film, starring Jeff Bridges as Jeffrey "The Dude" Lebowski, a slacker and bowler living in Los Angeles who gets caught up in a web of mistaken identities, kidnapping, and soiled rugs, grossed a mere $5.5 million in its opening weekend. Considered a big disappointment at first, the film quickly achieved cult status thanks to its idiosyncratic characters, memorable dialogue, absurdist plot, and cool soundtrack.
In the years since, quotes from the film have become ubiquitous in pop culture. Festivals celebrating the film, complete with White Russians and bowling contests, have become annual events around the country.
While the film's most memorable characters include The Dude (Bridges), Walter Sobchak (John Goodman), Donny (Steve Buscemi), and Jesus Quintana (John Turturro), it's not a reach to say that the city of Los Angeles is a major character in its own right. The film's locations, which range from the blue-collar bowling alleys to beachside mansions, are as indelible as the characters that populate them.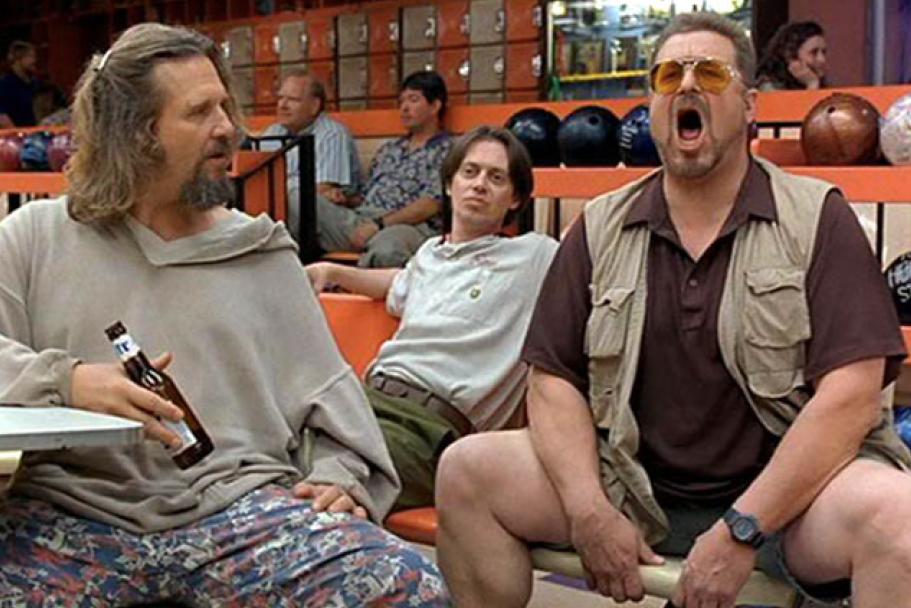 A fun way to celebrate this cult classic for its 20th anniversary would be to take a tour of some of those locations. Neighborhoods.com has figured out the LA neighborhoods that really tie the city together, at least in terms of filming locations. So find your favorite marmot, make yourself a White Russian, keep an eye out for nihilists in skintight red suits holding oversized scissors, and set out to see the sights of "The Big Lebowski."
And if you'd rather not take the tour, well, you know, that's just, like, your opinion, man.
(Reminder, many of these locations are private residences or privately owned. Be cool. In the words of Walter Sobchak, "This is not 'Nam, this is bowling. There are rules.")
Venice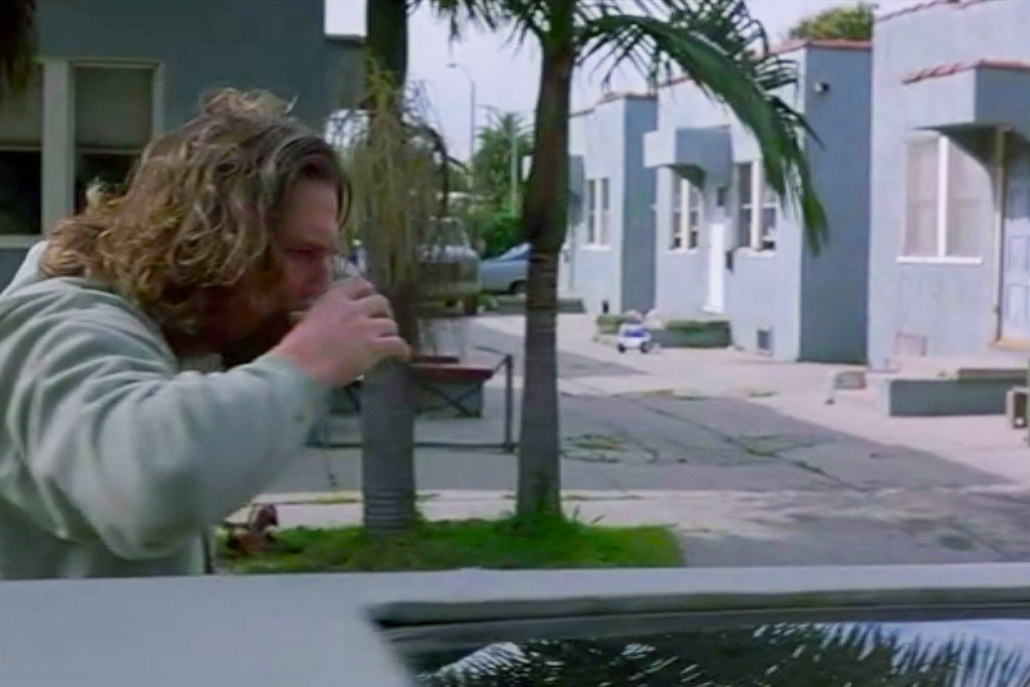 Just like the film itself, your "Big Lebowski" neighborhood tour has to begin in Venice. At 606 Venezia Ave., you'll find The Dude's bungalow where the entire silly saga starts. The one-bedroom home is actually part of a six-home compound. Incidentally, the whole complex sold for $1.59 million in 2012. "Where's the money, Lebowski?" Right here, apparently.
Head back out onto Venezia Avenue and you might recognize the spot where The Dude confronts Da Fino, the private detective tasked with tailing him.
Beverly Hills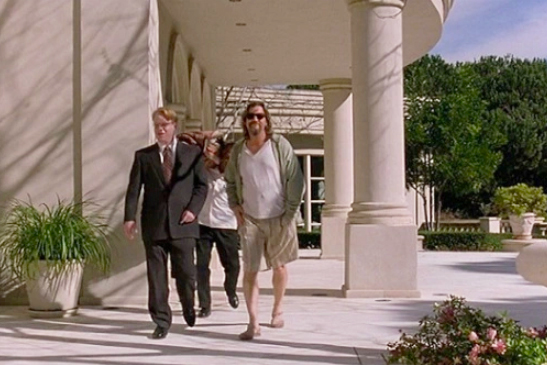 The film's plot kicks into high gear when The Dude is summoned to the home of Jeffrey Lebowski (the eponymous Big Lebowski). The sprawling estate is actually two different mansions in one. Exteriors were shot at a contemporary European villa on 2.6 acres in Holmby Hills. Right across the street from the Playboy Mansion, this estate sold for $55 million in 2014.
Meanwhile, interiors were shot in the Greystone Mansion at 905 Loma Vista Drive in Beverly Hills. Owned by the city, this place is a popular filming locale, and you might recognize those marble floors from "The Social Network," "There Will Be Blood," and "Star Trek Into Darkness."
Speaking of mansions, you'll also find "known pornographer" Jackie Treehorn's home here. It's supposed to be in Malibu, but the interiors were filmed inside the Sheats-Goldstein Residence. Designed by influential architect John Lautner, this glass and concrete home carved into the side of a canyon was donated to the Los Angeles County Museum of Art in 2016.
Hollywood / East Hollywood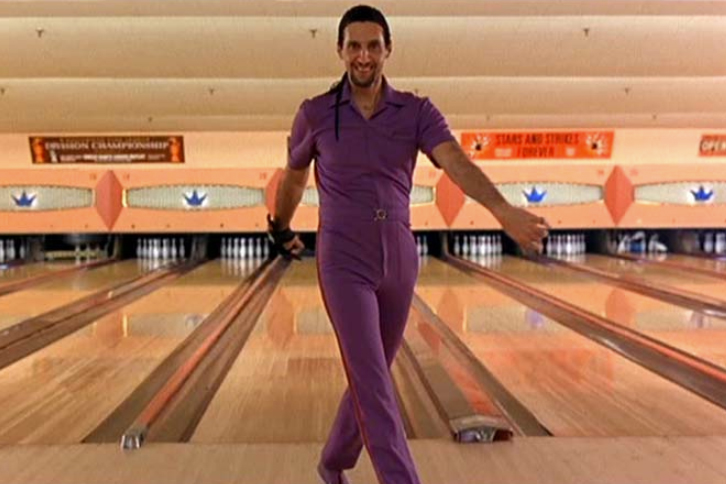 You had to figure a tour of filming locations would take you up through Hollywood eventually. However, the only two scenes filmed in this neighborhood are fairly quick and incidental. The Dude picked up Walter at his mini-mall storefront for "Sobchak Security," which is located at 6757 Santa Monica Blvd. Today, that spot is home to a contemporary art gallery. Not too far away at 6333 La Mirada Ave., you'll find the site of The Dude's car crash into a dumpster caused when he tried to throw a joint out of a closed window. C'mon, Dude.
Right next door in East Hollywood, however, you'll find one of the most iconic locations from the film. At least, the spot where it used to be. Hollywood Star Lanes, where all the bowling scenes were shot, has long been demolished and is now the site of an elementary school. However, the parking lot where Donny meets his untimely demise still exists. You can stop and take a look but don't go "over the line!"
Speaking of bowlers, if you'd like to see where Jesus Quintana does his walk of shame, you'll find that nearby. Drive past 812 N. Kenmore Ave. and that'll be the house he stops at to explain himself.
Downtown LA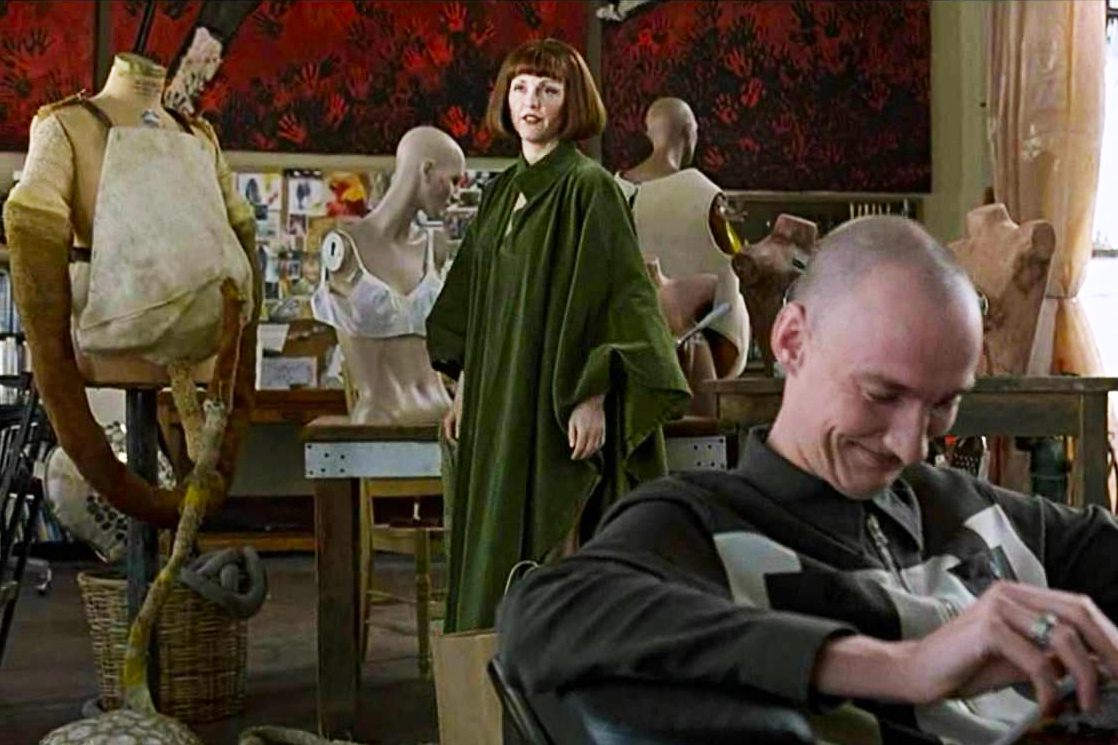 You might not think there are any scenes from the movie that take place in Downtown LA but there are, in fact, two. What's funny is that despite looking dramatically different, they take place in the same building.
First stop is Maude Lebowski's loft/studio space located above the Palace Theater at 630 Broadway. You probably can't go up there, but you can go into the theater itself and you might recognize it as "Crane Jackson's Fountain Street Theater," where The Dude goes to see his neighbor Marty perform. It also happens to be the theater where they filmed part of Michael Jackson's Thriller video.
Mid-City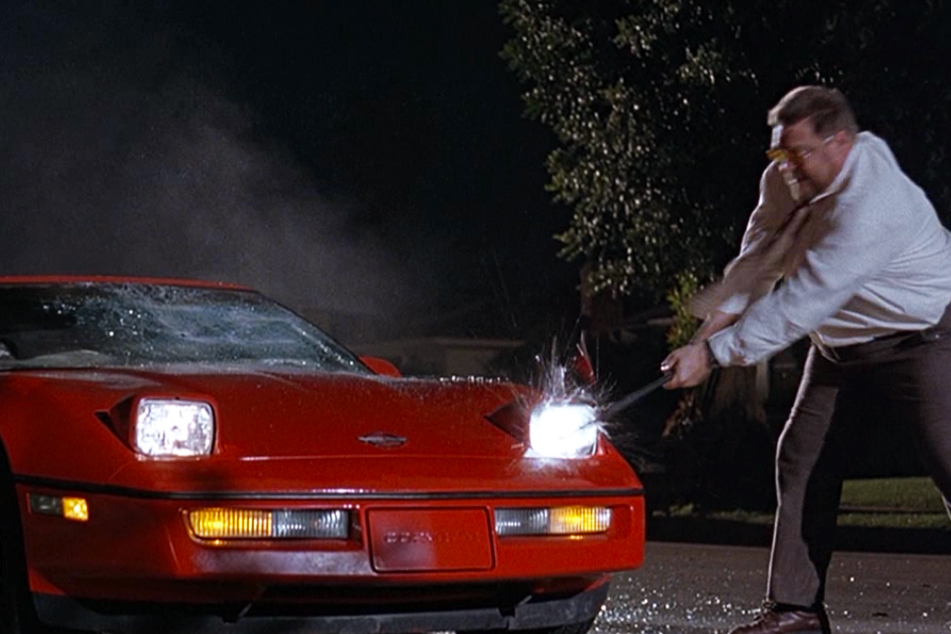 Remember the scene where The Dude and Walter head to Larry Sellers' house in an attempt to convince the young man to give back The Dude's car and the money in it? In the film, Larry's residence is described as being "on Camrose, near the In-and-Out Burger." In reality, the house is located at 1824 Stearns Drive in Mid-City. Take a moment to appreciate the spot where Walter goes crazy and destroys a Corvette. "Do you see what happens, Larry???"
Miracle Mile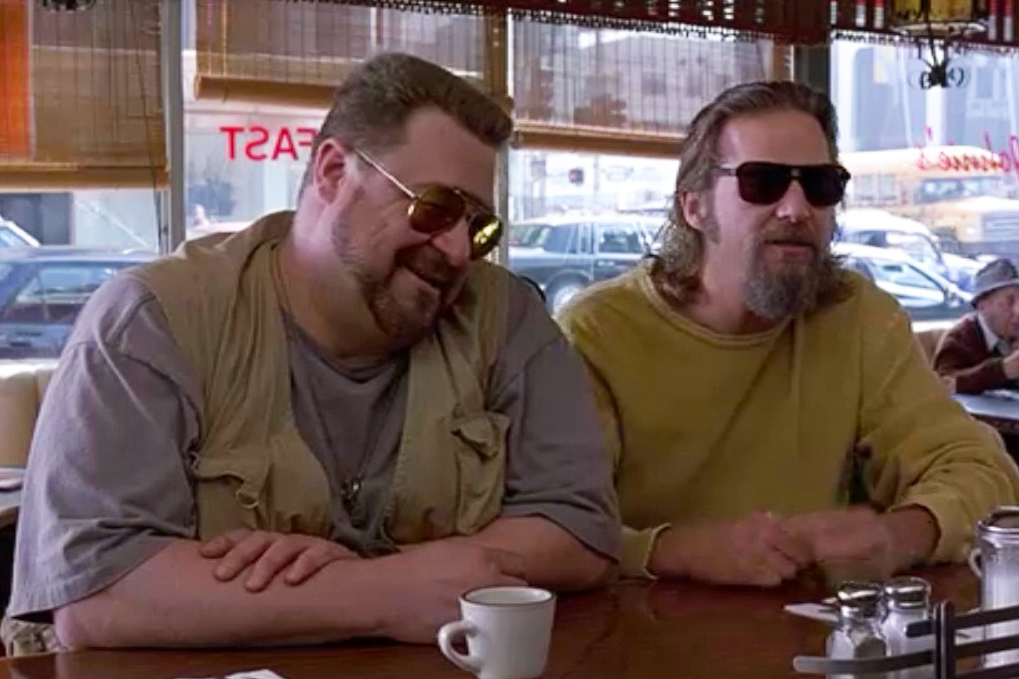 The diner where The Dude and Walter reminisce about 'Nam (well, mostly Walter does) is Johnie's Coffee Shop at 6101 Wilshire Blvd. in Miracle Mile. You can swing by if you like but don't expect to grab a cup of coffee. The restaurant has actually been closed to the public since 2000 and is used mainly as a filming location. Along with Lebowski, it's also been used in "Volcano," "American History X," and the tipping scene in "Reservoir Dogs." Johnie's was declared a historical landmark in 2013.
Culver City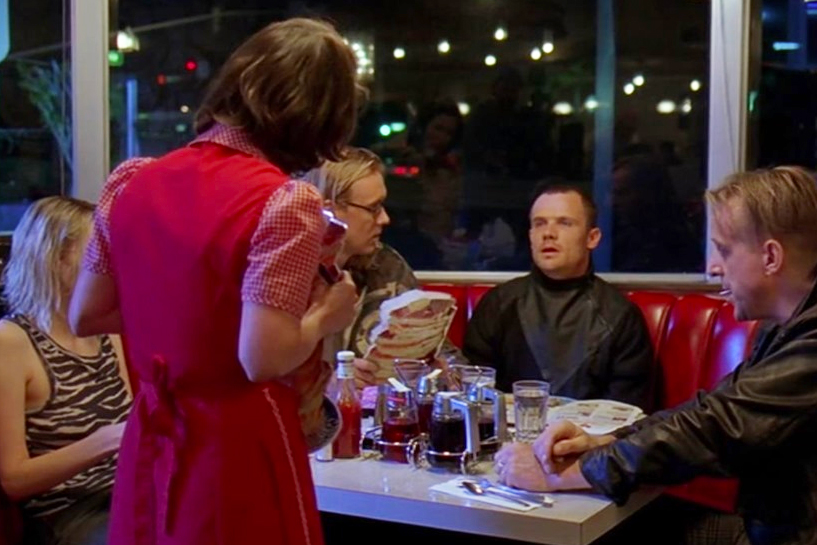 Our tour ends in Culver City, where two scenes from the movie were filmed. First up, head to Jefferson Blvd. and Duquesne Avenue and you'll be standing right about where The Dude stood after he got kicked out of the cab for complaining about The Eagles. You can just imagine Bunny Lebowski zooming past in her convertible singing along to "Viva Las Vegas."
"The Big Lebowski" tour ends as all trips to Los Angeles should, with a stop at Dinah's Family Restaurant on the edge of Culver City and Westchester. The nihilists sit down to a meal of lingonberry pancakes and they couldn't have picked a better spot. Dinah's claims to have served their "oven baked pancakes" to over 20 million customers, no matter what their ethos.