Bay Area Neighborhood News
This Massive Development Is a Sign of Oakland's Continuous Economic Growth
Oakland will soon be getting one of the biggest real estate developments in the city's history, and the project could rival San Francisco's famous Salesforce Tower in size. That's right—the Salesforce Tower, which is the tallest office building west of Chicago. As for where this massive development will appear in Oakland, the plan is for it to go up in Uptown Oakland on the 2100 block of Telegraph Avenue, bordering Telegraph, Broadway, 21st, and 22nd streets.
When the building is completed, it'll become part of what many believe to be one of Oakland's most sought-after neighborhoods, often known as the entertainment center of the city. In 2014, the American Planning Association named Uptown Oakland the best neighborhood in America, according to SF Gate. No other cities in California made the top 10 list. In part, this win can be attributed to former Oakland Mayor Jerry Brown's 10K Project. Brown was mayor of Oakland from 1999 to 2007, and one of his top goals during his tenure was to attract 10,000 residents to Downtown Oakland, according to the New York Times reports. During that time, Uptown Oakland saw an increase in new upscale apartment developments, trendy restaurants, and shopping destinations, bringing both foot traffic and money to the neighborhood.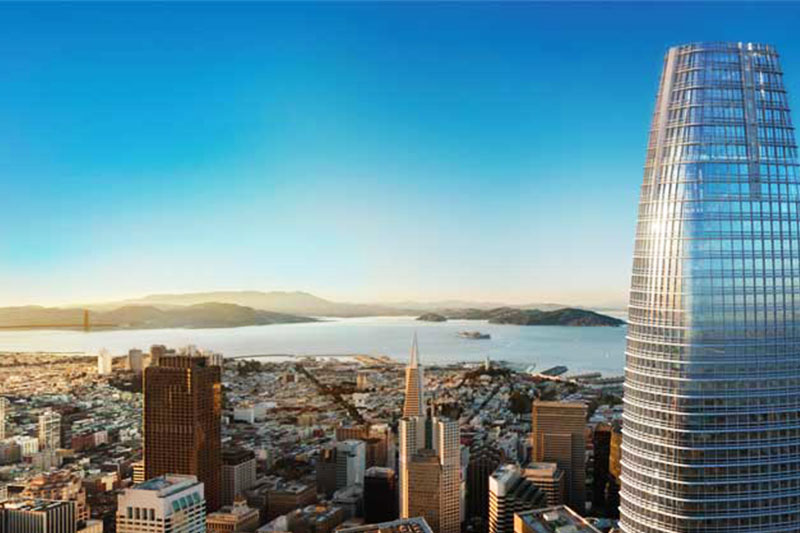 Today, the neighborhood—defined as the area bordered by 27th Street, San Pablo Avenue, City Center, and Harrison Street—is a well-known entertainment hub that attracts theater-goers, foodies, and nightlife seekers from all over the East Bay.
As for the development that's poised to turn Uptown Oakland into a commercial district as well, it's called the Eastline Project, and it was approved unanimously by Oakland's Planning and Zoning Commission, ABC 7 News reports. The development could go a long way in helping improve Oakland's dearth of commercial real estate. The market in Oakland is one of the most competitive in the country, and according to Bisnow, office space vacancy in Oakland's Central Business Districtis just 4.5 percent. The Eastline Project could bring 1.5 million square feet of office space to the city, relieving much of the pressure on the Central Business District to supply available space.
Oakland already has a thriving technology industry, largely thanks to tech companies moving into the city to escape the Silicon Valley's sky-high real estate prices, CNBC reports. The shortage of office space can in large part be attributed to businesses and start-ups setting up shop in Oakland. With the Eastline Project, Oakland is investing in its future economic growth, CBS SF Bay Area reports. By providing available office space, the city is welcoming entrepreneurs and business owners to explore what Oakland has to offer their growing companies, and that means more potential opportunities for job seekers.
"The question is, if you build it will they come? And I think given the growth in the Bay Area of jobs I think that Oakland is investing wisely to think that, hey, we should build some commercial space," urban planning expert Malo Hutson told CBS SF Bay Area.
Meanwhile, to match the thousands of jobs that are likely to come with this increase in office space, Oakland also has lots of new housing in its pipeline. According to the East Bay Express, Oakland's Planning and Building Department anticipates an additional 3,477 housing units will be completed in the city by the end of the year. Having more housing options in Oakland means more people who work in the city can live closer to work and avoid commuting long distances.