Houston Real Estate
Towns with Beaches Near Houston
Though Houston is a port city snaking with bayous, the urban metropolis can feel landlocked at times. This is especially true during the hotter months (which are most of them) when Houstonians frantically search for a watery respite. Luckily, there's the glistening Gulf Coast located a mere hour-ish away and lined with miles and miles of sandy beaches and cool ocean waves.
When that Texas heat hits, head to these beach towns and sandy shores near Houston.
With 32 miles of waterfront, Gavleston has no shortage of beaches, each catering to swimmers' individual needs and preferences. Known as a bustling tourist destination, Galveston has plenty to offer vacationers visiting the island for weekend getaways or day trips from Houston.
Beaches
Known as the "party beach," East Beach attracts a young and lively crowd. During the summer, the beach hosts concerts, volleyball tournaments, and festivals like the AIA Sandcastle Competition and Galveston Pride.
Galveston's designated family beach. A playground, lifeguards, and an alcohol-free atmosphere make this beach kid-friendly and puts parents' minds at ease while enjoying a day of fun in the sun.
For a quick dip, simply park along the seawall and hop in. Though not as expansive nor secluded as other beaches on the island, Seawall Boulevard is a serviceable slab of sand and surf conveniently located across the street from popular hotels, seafood restaurants, and patio bars.
Neighborhoods to Explore
Encompasses both The Strand, a walkable dining, shopping, museum, and festival destination, and the Postoffice Street Arts & Entertainment District, an arts and culture epicenter teeming with historical haunts like the Grand 1894 Opera House.
A 50-block residential area home to Bishop's Palace (a majestic mansion open for tours), the largest concentration of preserved Victorian-era homes in the state, and the charming brunch spot, Mosquito Cafe.
Though technically a separate city on the western portion of the island, Jamaica Beach is a waterfront oasis tucked away from the touristy areas where pastel painted vacation homes on stilts tower over the rolling Gulf waters.
Things to Do in Galveston
In the early 20th century, Galveston (nicknamed "Pleasure Island") was once a different kind of tourist destination where illegal casinos, bars, and brothels operated freely. This made the island a major draw during Prohibition. While Galveston's red light district dubbed "The Line" burned out in the late 1950s, remnants of the island's sordid past can still be explored today.
Join a walking tour down "The Line" or check out Antique Warehouse, an unlikely locale carved from the 106-year-old skeleton of former brothel The Oleander Hotel.
More interested in modern Galveston? Stroll and shop The Strand; hunt for ghosts at Hotel Galvez; learn something new at a museum; or watch the sun fade over Galveston Island State Park.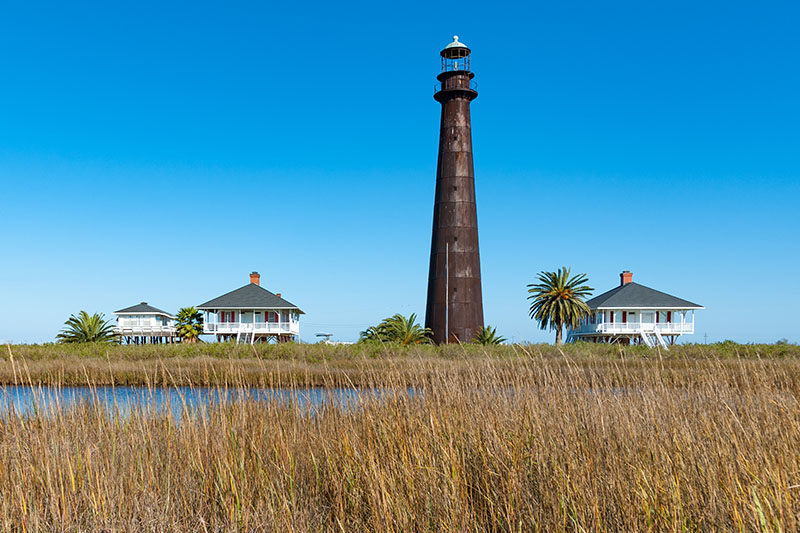 The Bolivar Peninsula is a narrow strip of land with a population of roughly 2,500 inhabitants. Despite its size, the peninsula attracts vacationers from Houston and surrounding areas due to its lax beach rules, one of a kind festivals, and unspoiled nature sanctuaries.
Bolivar Peninsula's history is notable as well: The area was once a hotbed for smuggling, and notorious pirate Jean Lafitte operated there during his heyday. Houstonians can access the peninsula by hitching a quick ride on the ferry from Galveston.
Beaches
The 27-mile shoreline provides ample sand and an anything-goes atmosphere. Beachgoers can drive on the beach, drink, light fires, camp—you name it. Crystal Beach is the main beach and hosts many of the peninsula's events.
Neighborhoods to Explore
This residential area is home to the historic Port Bolivar Lighthouse, which was constructed in 1872 and guided sailors by candlelight for more than 60 years.
This is the most well-known and populated part of the peninsula. This tight-knit community is a stretch of sea and sand that offers the best of both worlds by drawing Houston spring breakers and hosting family-friendly festivals.
Birders flock to the peninsula's east end to spot everything from cormorants to pink-hued roseate spoonbills at the 177-acre Smith Oaks Bird Sanctuary.
Things to Do in Bolivar
Listen to live music at Tiki Beach Bar and Grill, compete in fishing tournaments, attend festivals like Mardi Gras, the Texas Crab Festival, the Port Bolivar BBQ Cookoff, comb the beach for shark teeth and seashells, visit the historic Fort Travis, and join the Golf Cart Poker Run where decked out golf carts parade down the beach.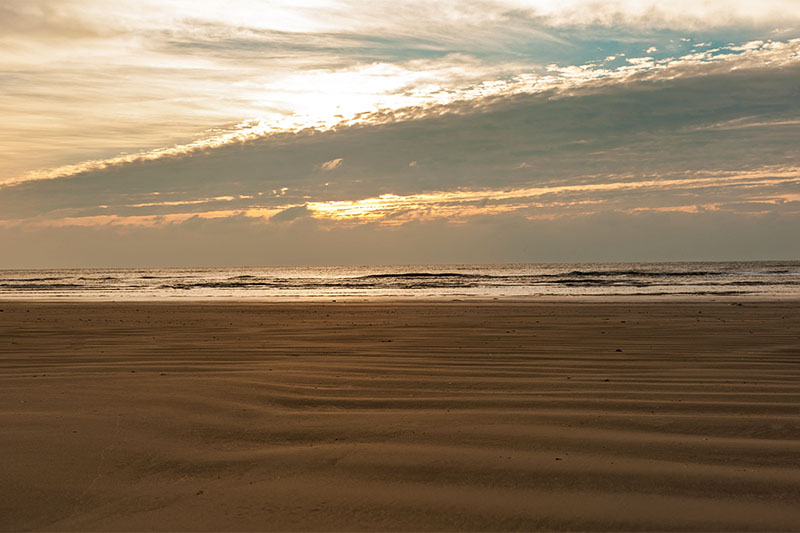 Brazosport is a collection of quaint coastal communities 60 miles south of Downtown Houston, making day trips a breeze. A comparable alternative to Galveston, the area has miles of waterfront, is less crowded, and offers deeper water for surfers and offshore fisherman.
Beaches
The most well-known Brazosport destination. Public beach access points in Surfside can be found at Jetty Park (with a sandy beach, boat launch, picnic tables, and a rock-lined fishing pier) and Stahlman Park, a clean beach with showers and event space, including a picturesque gazebo often used for weddings.
The 51-acre waterfront campground has a playground, volleyball courts, and paved trails.
A low-key 3 mile beach in Freeport is frequented by saltwater fisherman.
Neighborhoods to Explore
The most populous city in Brazosport with many restaurants, big-box stores, a mall, a movie theatre, and Brazosport College. Touristy activities in Lake Jackson include the aquarium, local history museum, and non-coastal water recreation along the Brazos River.
The city is known for the discovery of a mammoth fossil, art and science museums, and the Great Texas Mosquito Festival: a three-day event with cookoffs, concerts, and a carnival.
Things to Do in Brazosport
Hit one of the Brazosport's numerous beaches for swimming, sunbathing, kiting, fishing, crabbing, horseback riding, and surfing; charter a boat or take your own offshore; bird watch at Quintana Neotropical Bird Sanctuary; visit museums including Sea Center Texas, the Lake Jackson Historical Museum, and the Center for the Arts and Sciences.