San Diego Real Estate Development
Trevi Hills Homes Come With Your Very Own Vineyard
Homes in the Trevi Hills community in Lakeside, California do not come cheap. While the San Diego County median home price for new homes in September was $625,750 per CoreLogic, houses here start around $935,000 and go up from there.
However, there's a reason it'll cost so much to own a home here. Each luxury residence measures between 3,000 to 4,000 square feet. Lot sizes are generous to say the least, to the point where it's unlikely they'd be approved at that size today given the focus on density. Homes are also adjacent to the Trevi Hills Vineyards, planted with Sangiovese, Primitivo and Sauvignon Blanc vines. And if that's not enough wine for you, you can set aside part of your one-to-two-acre property for their very own vineyards.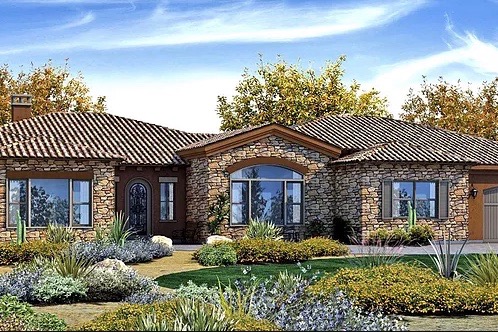 Homeowners aren't required to set aside land for their personal brand of wine, but if they do they'll get plenty of help. The co-op system means the nearby winery can prune, crush, and blend your grapes, provide storage, and even label your bottle for you. Owners would then "buy back" the wine and pay for water usage. Half the wine produced goes back to the owner while the other half is sold to the public.
Originally known as The Vineyards at High Meadow Ranch, the project swapped owners multiple times and floundered when the Great Recession hit in 2008. Pacifica Companies purchased the property and began construction on the gated community this past January. When completed, the neighborhood will include 250 homes. The developer expects to sell around 18 to 20 homes per year and at the current rate that shouldn't be a problem. The eight completed homes have already been sold and four of the eight currently under construction are already purchased.
Per the San Diego Union-Tribune, most buyers so far have been empty nesters from San Diego County but families may come next.