Washington D.C. Real Estate Development
Washington D.C. Real Estate: Capitol Hill Projects to Watch
In Washington D.C.'s Southeast quadrant, Capitol Hill is known for its charming homes and wide variety of shops and restaurants. Over time, the area's real estate prices have grown as fast as its popularity.
Based on MLS data from the last 12 months, the median sales price for a home in the neighborhood is $725,000—above the citywide median of approximately $600,000. Despite the high cost of living, many residents still see the neighborhood as worth the price, especially with amenities like the historic Eastern Market.
In the past few years, Capitol Hill's offerings have blossomed with a new Trader Joe's, a redeveloped Hine Junior High School, and a myriad retailers—including the coffee shop and wine bar Little Pearl and a co-working space The Yard.
Still, there's more to come. To keep up with the many shifting developments, we've rounded up some of the many projects in the works for Capitol Hill. See what to expect below.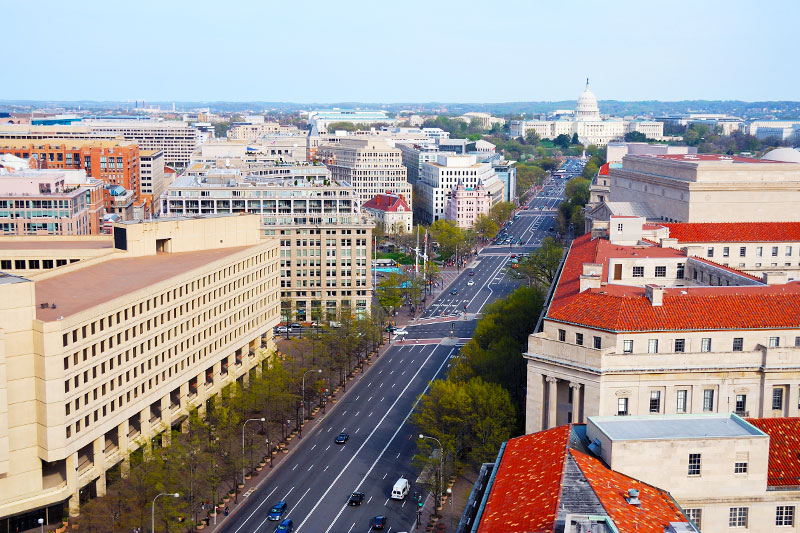 Reservation 13
Located on the eastern edge of Capitol Hill, this 67-acre plot of land has remained unused and abandoned for over a decade now. For years, the city has dragged its feet on redeveloping the area, despite many locals vocalizing their disdain at the lack of a grocery option.
When Amazon was searching for a new site for its second headquarters (aka HQ2), Reservation 13 was offered up as a potential parcel of land worth consideration. Now that Amazon has instead chosen Crystal City in Virginia, there are residents scratching their heads at what the future might be for this underutilized part of the city.
What is known for now is that there are plans for two mixed-use buildings on two parcels of land, known as G1 and F1, located north of Massachusetts Avenue SE. Spearheaded by Donatelli Development, this project will total 353 apartments with an additional 22,000 square feet of retail across two acres. Delivery for the entire project isn't expected for another two to three-and-a-half years.
Beckert's Park
Foulger-Pratt's plans for this roughly three-acre site involve a 325-unit, five-story, luxury apartment community. More than 30 of the rentals will be designated for affordable housing. On the ground floor will be a new 60,000-square-foot Safeway with an additional 8,000 square feet of neighborhood-serving retail. The project will total over 400,000 square feet of space.
Currently on the site is a Safeway that was built in 1980. It measures 10,000 square feet less than the one that will take its place. The new grocer will also include a Starbucks.
1401 Penn
Located near the Potomac Avenue Metro station, this seven-story mixed-use project by CAS Riegler will offer 167 new apartments along with 23,500 square feet of retail.
Neighborhood Restaurant Group is leasing 13,500 square feet of the space on the ground floor, hoping to bring a food market concept with five restaurants and two bars or coffee shops.
First move-ins aren't expected to begin until late 2019 with the food hall opening in 2020 at the earliest.
Stone Hill
Pecar Properties is planning on bringing 36 luxury condos to the neighborhood. Already, 50 percent of the units have been sold. Building amenities include a rooftop terrace and a landscaped courtyard. When it comes to prices, the units will range from the mid $400,000s to around $1.25 million.
Penn 11
This neighborhood landmark will be like a phoenix rising from the ashes. In 2013, Frager's Hardware burned down and has since operated out of a pop-up location in Eastern Market. Soon, Perseus Realty will build a 34-unit condo building with ground-floor retail on the site, which Frager's will return to around late 2018 or early 2019. Residences are anticipated to be priced between $500,000 and $1 million, both below and far above the median price for the area.
Boneval
In the Northeast section of Capitol Hill, near Stanton Park, Community Three Development is making moves to bring 40 luxury condos to the neighborhood. Five units will be designated for affordable housing. The typical price is expected to be between the mid $400s to over $1 million.
Watkins Alley
In 2015, Jerry's Custom Automotive Center closed its doors to make way for a big, new project from OPaL and Ditto Residential.
The project, dubbed Watkins Alley, will redevelop the former auto repair shop and warehouse into 30 townhouse-style condos, eight flats, six lofts, and a carriage house. The development will complete in the last quarter of 2019.
The prices for these residences have not yet been revealed, but they will likely be around or above the neighborhood's median price of $725,000.
1015 D Street NE
Quirky conversions are an everyday occurrence in the nation's capital. Everything from schoolhouses to garages to factories have transformed into luxury living.
This project is no different. OPaL is restoring a 1900-built red chapel into two four-story townhouses. Each residence will include three to four bedrooms, three and a half bathrooms, and off-street parking. The delivery is anticipated for the spring of 2019. Unfortunately, there have been no reports on what the prices will be for these residences.