Washington D.C. Real Estate
Washington D.C. Real Estate: With or Without the Amazon Effect, Suburbs Seeing Action
Starting September 2017, Amazon launched a nationwide search for the location of its second headquarters, aka HQ2. This past November, the tech giant revealed their decision: the headquarters would be split between two cities, Crystal City in Northern Virginia and New York City.
Barely five miles away from the nation's capital, this choice has created a flurry of excitement over the past few months among homebuyers, and not just in Northern Virginia. With 2018 now at a close, it's time to check the numbers on where buyers are looking and buying as well as where they should set their sights next for the most bang for their buck.
The Amazon Effect—or Lack Thereof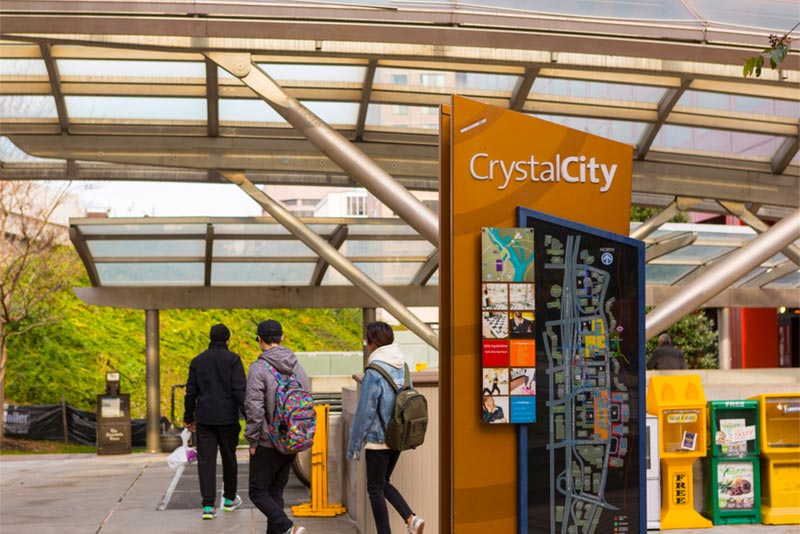 Amazon choosing Crystal City is predicted to affect not just Northern Virginia, but Washington, D.C. as well—though not in a major way, according to local news publications.
As part of the transformation, Crystal City and its closest surrounding areas will get a new name, "National Landing." The buildings closest to Crystal City and along the Blue and Yellow Metro lines are most likely to feel the impact. Even so, the expected 25,000 employees coming to the region with average salaries of $150,000 are expected to cause D.C. proper to gain over 3,500 households, according to a recent report from the Stephen S. Fuller Institute.
In the end, Greater Greater Washington predicts that Crystal City's growth will not affect the housing supply in a significant way as the demand for housing will likely be dispersed throughout the region on a gradual level, allowing areas the time to plan. Furthermore, the publication suspects that the largest share of new residents are expected to move to Fairfax, Virginia, instead of D.C. proper.
Where the Home Prices Are Rising the Most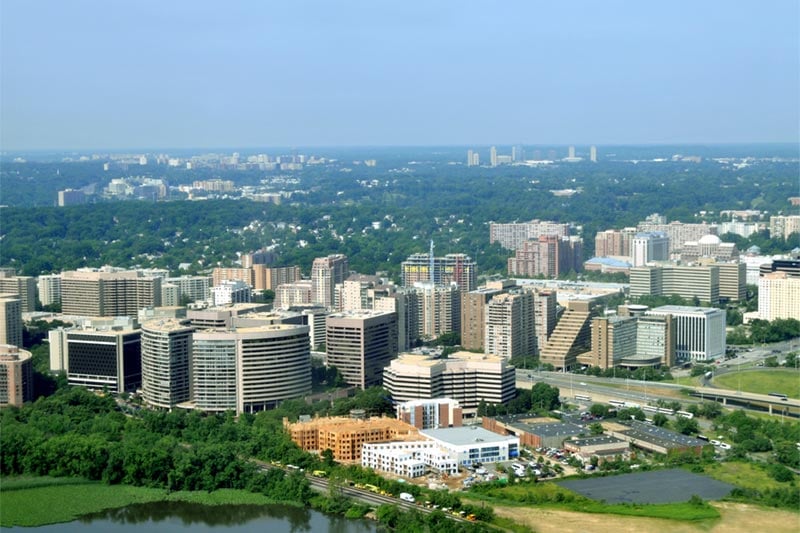 Even before Amazon set its sights on Northern Virginia, D.C. proper had several neighborhoods escalate in price over the past year. According to MLS data, the neighborhoods with the highest price appreciation as of November 2018 included Brentwood with a 40 percent year-over-year change, West End with a 25 percent year-over-year change, and Burleith with a 22.4 percent year-over-year change.
It seems homebuyers are willing to pay an extra penny for neighborhoods that aren't directly in the center of the nightlife of the city. Rather than U Street, Adams Morgan, or Shaw, it's suburban areas like Brentwood and Burlieth that are climbing in price.
With a current median sale price in the mid $400s, according to Neighborhoods.com data, Brentwood is located in the Northeast quadrant, near two Metro stations: Rhode Island Avenue Metro and Brookland Metro. It's a largely suburban area with a Giant grocery store and a recreation center. Within driving distance is NoMa's Union Market, one of the best indoor food halls in the city.
With a median sale price over $1.3 million, Burleith is more upscale and secluded than Brentwood. Located in the Northwest quadrant, closer to Georgetown, residents and visitors of Burleith find it a fairly walkable neighborhood with Glover Archbold Park offering a serene greenspace.
While the neighborhood is mostly suburban, it's located close to the many stores, restaurants, and bars in Georgetown and Glover Park. There are no Metro stops in the area, but there are several buses that pass by.
West End may be skyrocketing due to its proximity to Downtown and the Foggy Bottom Metro station. Once an industrial neighborhood filled with surface parking lots, West End has been booming for years due to its shops, multiple grocery stores, offices, hotels, restaurants, and a brand new, state-of-the-art library. The John F. Kennedy Center for the Performing Arts, which offers free performances every day, also is nearby.
The median sale price of the neighborhood is currently in the mid $700s, with inventory here almost exclusively consisting of high-end townhomes in condos.
Where Buyers Are Competing for Homes the Most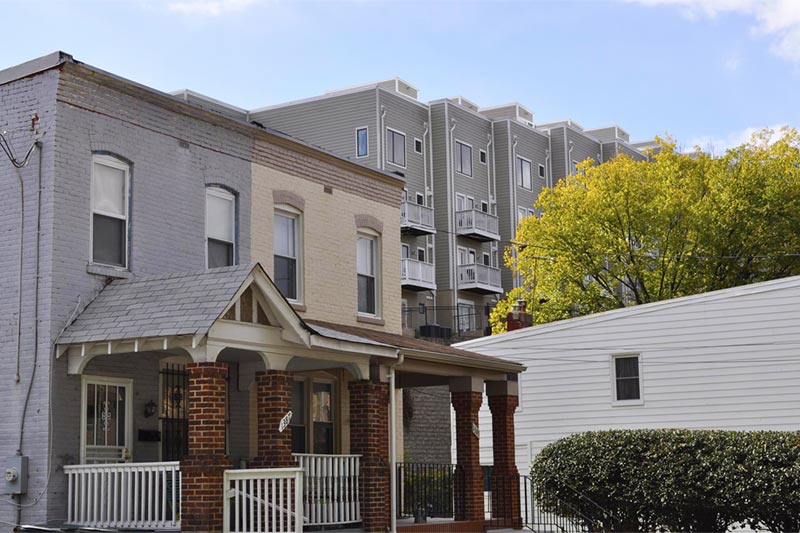 Competitiveness for homes is a given when it comes to Washington, D.C.'s real estate market, but where have buyers set their eyes on the most? UrbanTurf reports that the most competitive neighborhood this year was Barry Farm.
Barry Farm has had a 102.3 percent sales price to original listing price ratio with a $285,750 median sale price and a 41.81 percent year-over-year price change. This competitiveness might be attributed to plans to transform the area.
For over a decade, there have been big changes planned for the little-known Southeast neighborhood with the city hoping to transform the 444-unit Barry Farm public housing complex into 1,400 residences and approximately 50,000 square feet of retail. Still, the redevelopment is up in the air, due to the D.C. Court of Appeals vacating an order issued by the District's Zoning Commission. Despite this, it looks like homebuyers have still set their sights on the neighborhood, perhaps due to the reasonable median sale price in the mid $200s.
Your Best Bets for Investment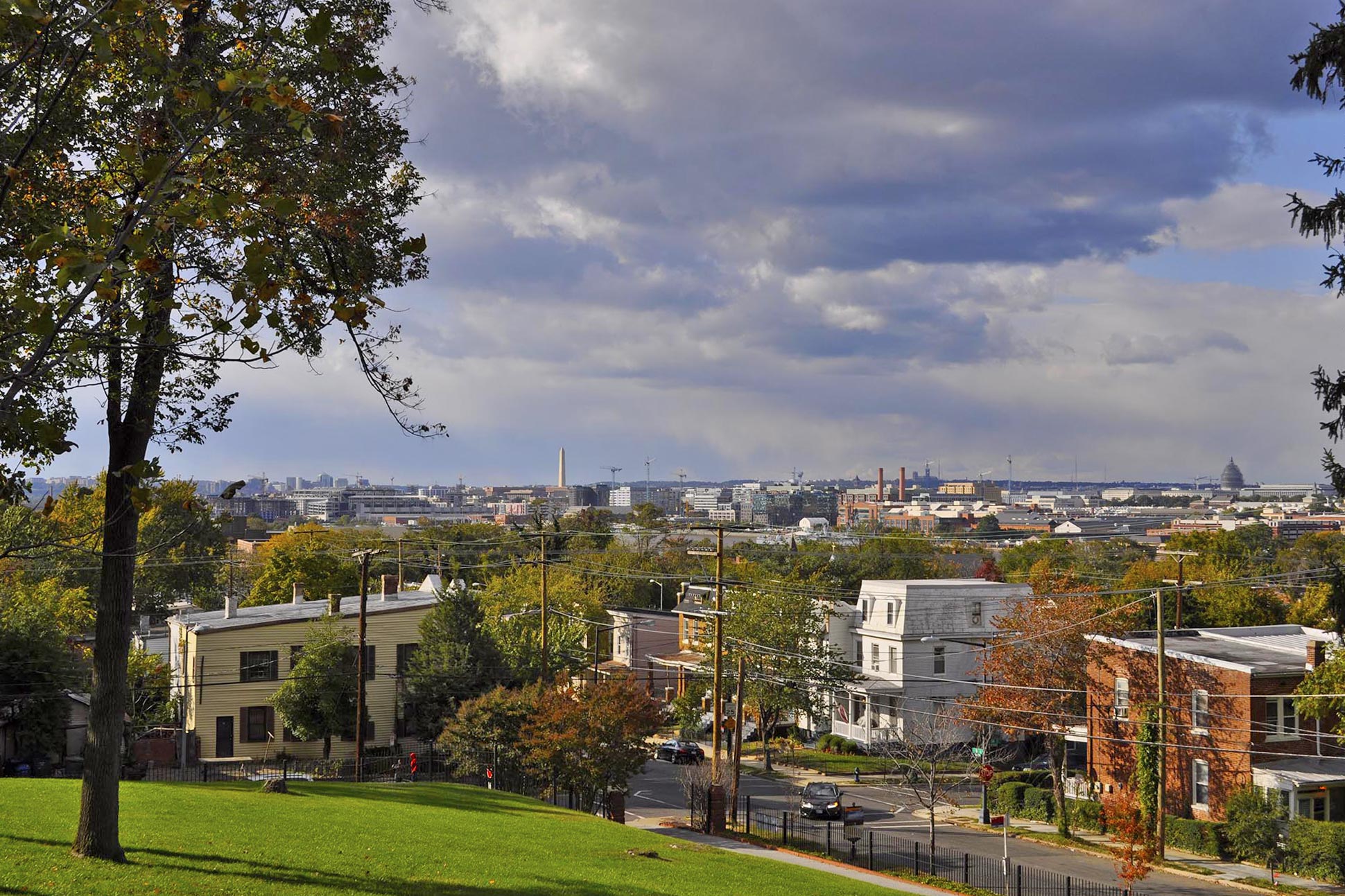 If there are three neighborhoods worth keeping an eye on, it's these: Deanwood in Northeast and Anacostia and Hillcrest in Southeast.
Deanwood is a suburban neighborhood with a small-town feel that has been picking up steam over the last few years. With little to no retail at the moment, there are big plans for a brand new town center as well as the restoration of a historic theater. The neighborhood also has a modernized, $33 million Deanwood Recreation Center and Library and a $102 million renovated H.D. Woodson Senior High School.
The majority of the homes found here are single-family-style with the current median sale price in the low $300s, almost half of the city-wide median.
For Anacostia, MLS data shows a grandiose amount of change in the last year with 16.4 percent price appreciation, increasing from a median price of $310,000 in 2017 to $360,716 in 2018. This might be thanks to myriad developments planned in the area, including a 50,500-square-foot commercial development with retail and a restaurant as well as a $45 million elevated park and civic space.
Hillcrest is one of the hidden gems of the city with not many visitors or even residents knowing much about it. Currently, the median sale price is in the mid $300s. This suburban community has little to no retail, but a large selection of single-family homes, perfect for those seeking lots of space and plenty of greenery.