Watch the World Series at These Neighborhood Bars in Tucson
Watch the World Series at These Neighborhood Bars in Tucson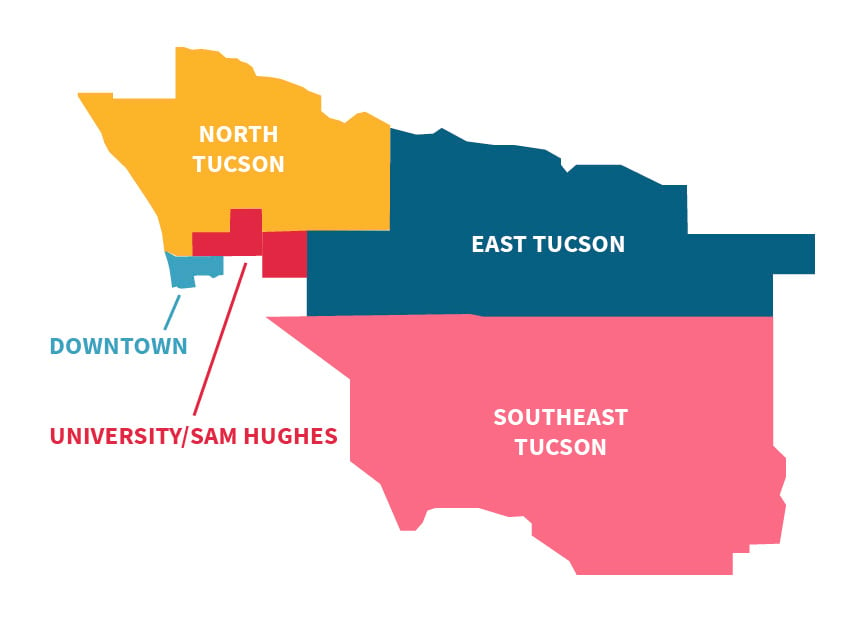 Sports fans are getting ready to start cheering for their favorite Major League Baseball teams now that the World Series is upon us. Starting October 23rd, sports bars across Tucson will be filled with excited patrons watching the games and hoping for their team to be the next World Series champions. If you're in Tucson and looking to catch the playoffs or the World Series, check out these great neighborhood sports bars offering delicious bar food, the best beer, an exciting atmosphere, and plenty of TVs so you'll never miss a pitch.

In an area in East Tucson bound by Speedway and Broadway Boulevard as well as South Wilmot and North Craycroft Roads, you'll find the two adjacent neighborhoods of Mitman and Wilmot Desert Estates. A popular location for shopping and dining options, both neighborhoods offer a variety of homes with some dating back to 1950 and others built as recently as 2008, with prices from the mid $100s to the mid $300s, according to Neighborhoods.com listings. But the real draw is the walkable access to several major sports bars that have made the area popular with Tusconans.
The Frozen Cactus Ice Bar and Fire Grill, offers a long beer list, burgers, and other bar food favorites served in a cozy setting with sofas, multiple TV screens, and pool tables. A haven for multiple sports viewing events, locals can take in the World Series amid a lively crowd.
Head south to Yard House, a high-end sports-bar, and enjoy a huge menu of New American fare and an extensive selection of beer both on tap and in bottles, including rotating seasonal selections. Yard House serves a wide selection of food, from cheese curds to sushi, while 26 TVs offer a chance to view the games, no matter where you're sitting in the bar. Trident Grill III, is the third location for this Americana-style Tucson bar, which offers $6 menu items during the World Series and options like grass-fed beef burgers and seafood selections. Multiple TVs allow you take in the games and the outside patio provides a reprieve if the excitement gets out of hand.

Already a lively area because of the presence of the University of Arizona, there are multiple places to take in the games and a variety of eateries, bars, shops, and museums to boot. Located between the historic neighborhoods of Sam Hughes and Downtown, University has a myriad of homes. Condos and single-family homes currently range from the low $100s to the high $300s, with varying architectural styles built between 1880 and 2011. Biking and walking are popular in this area, making it a great neighborhood for bar hopping.
For a slightly divier experience, Dirtbags is a long-established student hangout that's been around for more than 30 years, serving casual plates with house shots and cocktails. Plan on arriving early; the place fills up fast, as U of A students can attest.
Another millennial favorite is Gentle Ben's Brewing. Practically on campus, the pub is modern and trendy with a patio that must be experienced in person. Try their original brews, like Tucson Blonde, Red Cat Amber, and Copperhead Pale Ale, while taking in the game on one of many TVs (but secretly doing a lot more people watching).
Bob Dobb's Bar and Grille, though very much still a college bar, offers a laid-back atmosphere. Find games and karaoke on most nights with regulars on the patio in back, but during the World Series, it'll become one of the best spots in the neighborhood to watch every inning.

A section of town combining rural farms and historic homes with modern condo communities, North Tucson offers a bit of Tucson history mixed with modern taste. Find single-family homes and condos priced from below $100k to around $1 million, providing opportunities for a variety of budgets. Families appreciate top-ranked schools, outdoor enthusiasts have their pick of over a dozen parks, and the area houses some of the best neighborhood dives when you're not in the mood for an upscale setting.
Among those well-liked dives happen to be some of the best sports bars as well. The World Famous Golden Nugget is a popular neighborhood hub with plenty of draft choices, karaoke nights, pool tables, and shuffleboard. Generous drinks and a mellow crowd make for taking in the World Series a more low-key event, but there are plenty of screens to go around.
For a restaurant with a sportier vibe than anything else, hit up The O for Tucson craft beers on tap, and drink specials, like $2 draft beers. The bar has an extensive menu, just under 20 TVs, and plenty of neighborhood charm. Rounding off the must-see local haunts, Nancy's Boondocks offers satisfying grub that won't break the bank, live music when nights aren't occupied by sports fans, and pool tables.
The side of town that that takes game-watching seriously has plenty of spots to check out. Not only does Southeast Tucson host over a dozen spots to watch the games, you'll also be pleasantly surprised by the proximity to Downtown, Interstate 10, and submarkets like Rita Ranch, Sahuarita, and Vail. In addition to amenities like parks, shopping, and dining, the median price is well under the city's $300k average with prices starting below $100k and reaching the high $800s.
We'll let the names of some of these sports pub hot spots speak for themselves, as they are some the highest-rated sports bars in the city. Home Plate Sports Pub was named 'Best Bar Where One Can Get Nailed by a Baseball,' by Tucson Weekly, so get rowdy with your friends and test the batting cages, play some foosball, and enjoy a selection of other bar games while watching a rotation of over 80 professional sports games each week.
Farther south is The Neighborhood which hosts viewing parties for sports nights. Prepare to get chummy as the small bar gets packed with people. Lastly, experience the ultimate in neighborhood hubs with the 71-year-old Wooden Nickel. Ten flat screen TVs offer plenty of viewing coverage, and you can enjoy nightly specials like $3 burger and fries. Much more laid-back than the former locations, this joint is the perfect place for a chill World Series experience.

Not sure what type of atmosphere you want? Head to Downtown for the largest cluster of pubs and sports bars, as well as the most diverse crowd. After spending the afternoon strolling the quirky shops, record stores, and galleries, head to one of the dozen or so sports bars, from trendy to spirited, to take in the games. You may be sidelined while strolling through some of the picturesque neighborhoods and gawking at the mid-century home styles, bungalows, and loft-style condos, but follow the noise to Congress Street where you'll find places like Playground Bar and Lounge for a modern high-energy vibe, or Hi Fi Kitchen and Cocktails a sprawling indoor/outdoor tavern with memorable cocktails, 45 HDTVs, a 45-foot projector wall, and three 20-foot projection screens.