Miami Real Estate
What It's Like Living in Brickell, Miami
With its sophisticated office buildings, luxe shopping venues and high-end hotels, Miami's Brickell neighborhood perfectly blends cosmopolitan living with decidedly tropical sensibilities.
Located just south of Downtown Miami's cultural institutions and east of The Roads' quaint suburban charm, this dynamic neighborhood has a lot to offer young professionals who work in the area, and anyone looking for city living with waterfront views.
Named after Mary Brickell—the only female founder of a major American city—the neighborhood became known as Miami's financial district, home to a business suit-dominated daytime scene. While that's still true, Brickell has also evolved into a trendsetting hub full of modern condos, five-star resorts, world-renowned shops, and a busy nightlife scene.
Interestingly, Brickell also houses some of Miami's oldest history. The Miami Circle at Brickell Pointe is an archeological site with relics that date back to prehistoric times and the Brickell Mausoleum, which once housed the remains of the Brickell family, is listed on the National Register of Historic Places.
What It's Like to Live Here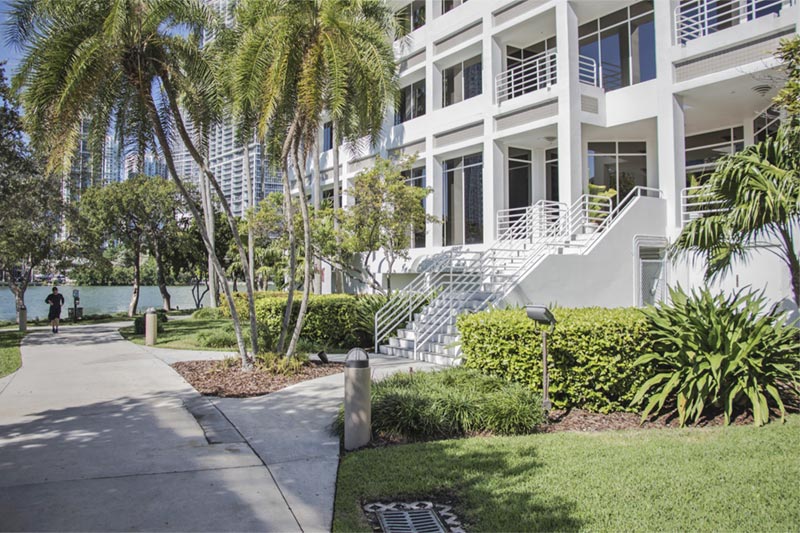 In the past decade, Brickell has experienced a condominium renaissance, with new construction projects popping up along the horizon at a breakneck pace.
While you'll find a few townhouses and stately mansions tucked into well-manicured pockets of the neighborhood, a large majority of residents occupy one of the many condo buildings, where they enjoy first-rate amenities such as infinity pools, spas, valet services, and state-of-the-art fitness centers. The median sale price listed on Neighborhoods.com is in the mid $300s, but you can find homes ranging from the high $100s up to $42 million.
The area also enjoys some of the best public transportation in the entire city. The Metrorail has a stop in the neighborhood and connects residents to Coconut Grove, South Miami, and even the Miami International Airport. The Metromover, which is free to use, runs a convenient 4.4 mile loop throughout Brickell and Downtown Miami, allowing residents to reach destinations such as the American Airlines Arena and Miami-Dade College.
When it comes to stocking their refrigerators, Brickell residents primarily rely on two Publix grocery stores located in the neighborhood as well as a Whole Foods Market that's popular during the lunch-hour rush.
Many of the public and private school options for Brickell families are available outside the neighborhood (the closest areas include Key Biscayne, Little Havana, and Coconut Grove), but there are a handful of well-established and reputable private preschools in the area for little ones, including KLA Schools of Brickell and Aguamarina. Key Point Christian Academy is one of the few private schools in Brickell that offers education for K-12.
Where to Eat and Drink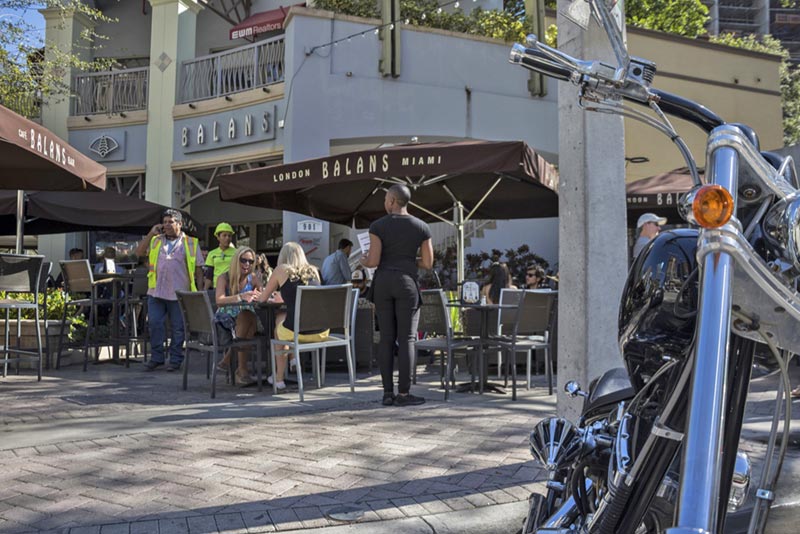 Home to one of the hottest culinary scenes in the city, Brickell residents have no shortage of options when it comes to enjoying a meal around town—dishes and restaurants here span the globe.
Renowned chef Gaston Acurio chose the Mandarin Oriental on Brickell Key for his Miami outpost of La Mar, a Peruvian affair with jaw-dropping views of the Brickell skyline.
International import Zuma brings razor-thin sashimi, steaming hotpots, robata-grilled meats, and date-night cocktails to the neighborhood mix.
At the Four Seasons, Edge Steak & Bar produces some of the finest (and largest) Tomahawk steaks in the city. The establishment features an al fresco terrace that houses the kitchen's herb garden along with fire-roasting pits for s'mores.
Celebrity chef Jose Andres' Bazaar Mar brings the molecular gastronomy movement to seafood with whimsical, thought-provoking dishes best served on a special occasion.
On the casual side, residents can grab a pork belly or roasted duck street taco at the Brickell outpost of Coyo, while locally-beloved Mister 01 dishes up the Instagram-famous "star" pizzas stuffed with creamy ricotta cheese.
Brickell residents (and millennials around the city) head to the neighborhood's bar and lounges for cocktails set to DJ-spun sounds and bands. Blackbird Ordinary is known for its raucous late night scene where locals sip handcrafted cocktails in tufted booths overlooking the dancefloor. The bar is also known for its live performances that span the bluesy sounds of G. Love to the infectious beats of rapper Redman.
Better Days and Baby Jane cater to the casual hipsters in the crowd while the rooftop stunner Sugar dishes up exotic beverages to a well-heeled crowd in a Bali-like tropical setting.
Where to Shop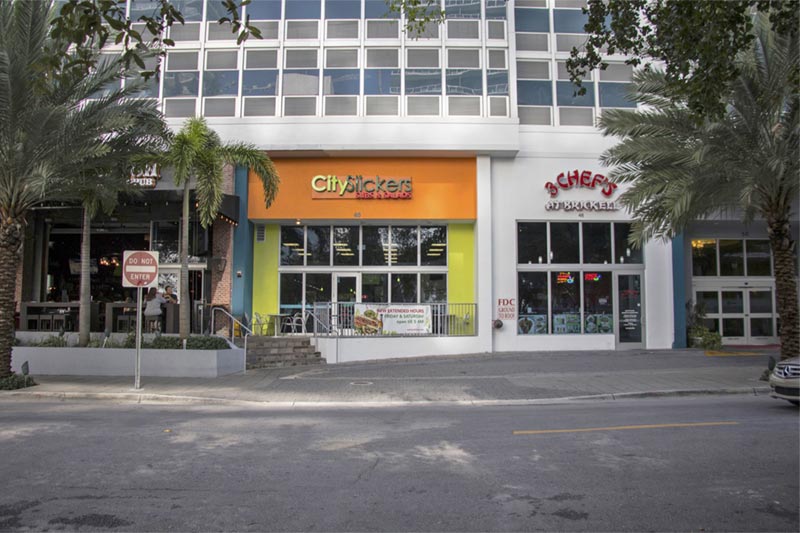 Brickell boasts two major shopping malls: The Shops at Mary Brickell Village and Brickell City Centre. At Mary Brickell Village, you'll find an open-air shopping experience teeming with a wide range of restaurants including Toscana Divino, The Craftsman, and Dirt.
Named among the nine most beautifully designed malls in the world by Architectural Digest, Brickell City Centre is a mixed-use development connecting three blocks of three-level shopping through a network of skybridges. Spanning nine acres and featuring 500,000 square-feet of retail, the Centre offers residents plenty of luxe shopping, dining and opportunities to unwind with a full-service CMX theatre, two massive Italian food halls, the posh EAST hotel and stores like Vilebrequin, Diptyque, and a flagship Saks Fifth Avenue.