What It's Like Living in Chinatown, San Francisco
What It's Like Living in Chinatown, San Francisco
Did you know that the Chinatown neighborhood in San Francisco is the oldest Chinatown in North America? It covers two dozen city blocks, making it a major tourist attraction as well as a popular neighborhood for anyone looking to experience Chinese and Chinese-American culture. It's also the best neighborhood to celebrate cultural festivals and events like the Chinese New Year. From the delicious dim sum restaurants to the historical landmarks, there are plenty of things to do in Chinatown. We've put together a spotlight on Chinatown, with all the must-see spots, restaurants, and more.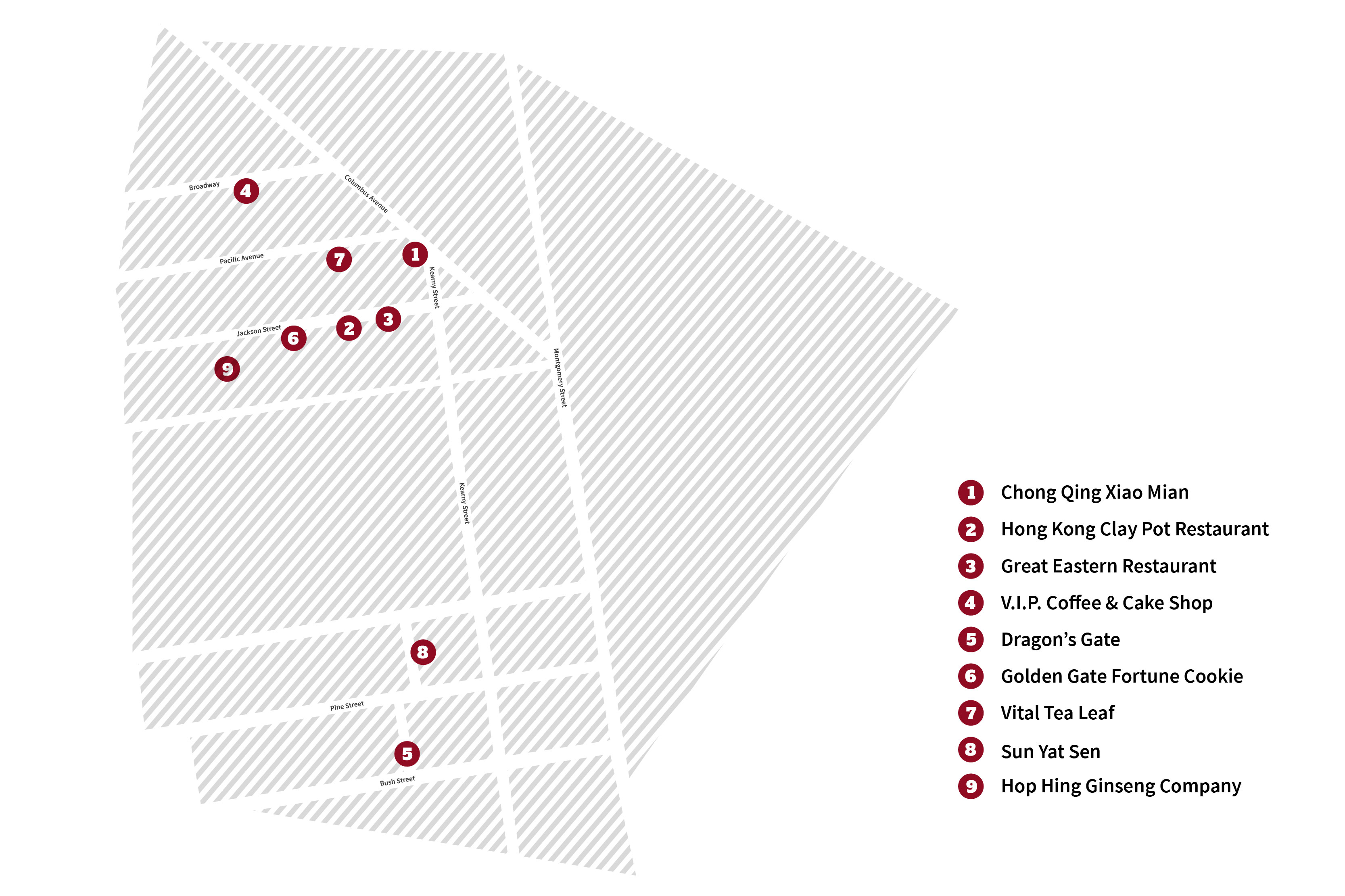 Dining Scene
Chong Qing Xiao Mian
The city of Chongqing in China is known for its numbingly spicy noodles, among other delicious food choices. So if you're visiting Chong Qing Xiao Mian in San Francisco's Chinatown, be prepared to take your taste buds on a roller coaster ride. The noodles here are springy, chewy, and smothered in spicy sauces that will make your tongue tingle. The cold noodles with Sichuan peppercorn and hot chili oil are a solid choice, as are the spicy beef tendon and the wontons drenched in hot chili oil. Yup, you can't escape that delicious hot oil here.
Hong Kong Clay Pot Restaurant
This blink-and-you'll-miss-it restaurant is definitely a hole in the wall. More accurately, it's located in an upstairs nook on Grant Avenue, and you can expect a short wait during peak hours. As unassuming as Hong Kong Clay Pot Restaurant may seem, the food is delicious, with many of the dishes prepared, steamed, and served in clay pots for maximum flavor retention. The oxtail clay pot, salt and pepper frog legs, walnut prawns, and clams with steamed egg are all go-to choices among regular patrons.
Great Eastern Restaurant
Great Eastern Restaurant is one of the most popular dim sum spots in San Francisco's Chinatown. From the steamed spare ribs to the sticky rice in lotus leaf, you pretty much can't go wrong. If you're visiting with a big group, you can order a little of everything so that everyone can sample a wide array of treats. Also, it's a well-known fact that President Obama stopped by here in 2012, so you know the food here has the presidential seal of approval.
V.I.P. Coffee & Cake Shop
This Hong Kong-style bakery has a huge menu selection that will make your head spin, with everything from pork chops to macaroni soup with fried egg. But don't be put off by the seemingly confusing menu at V.I.P. Coffee & Cake Shop. You may not have tried some of these food combinations before, but you'll likely find them surprisingly tasty. Plus, the pastries are excellent, particularly the eclairs.
Things To Do and See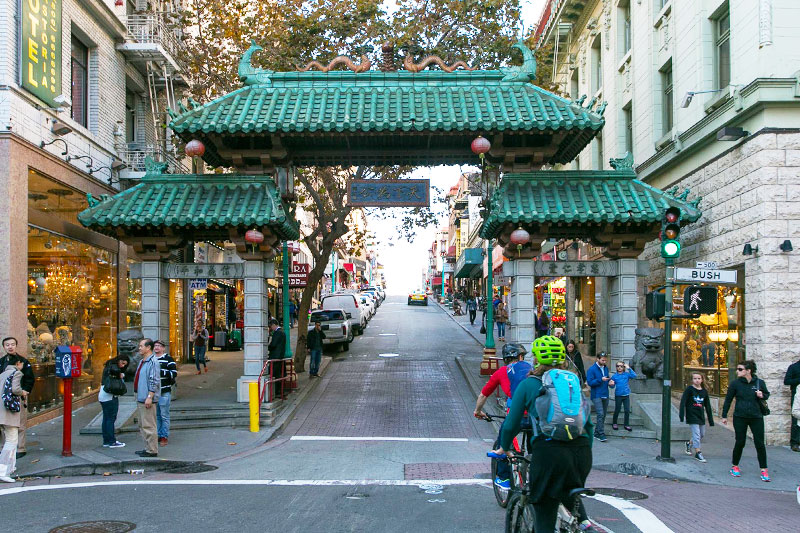 Dragon's Gate
This famous landmark marks the southern entrance into Chinatown, at the intersection of Bush Street and Grant Avenue. Dragon's Gate is one of the most photographed and visited spots in this neighborhood, which means you'll definitely want to take a selfie here (or pass your camera to a stranger if you want to make sure you fit the whole gate into the shot). The gate was designed by Chinese-American architect Clayton Lee; he was inspired by the architecture of Chinese villages and used that as creative fodder for his design.
Golden Gate Fortune Cookie Factory
If you've ever been to a Chinese restaurant in America, you're probably familiar with the little fortune cookies that come with your bill after every meal. Crack open the crunchy cookie, and read the fortune on a slip of paper hidden inside. Curious how these cookies are made? The Golden Gate Fortune Cookie Factory sells freshly made cookies, and you get to see first-hand how they're made.
Vital Tea Leaf
If you want to get a taste of Chinese tea, check out this tranquil tea store in Chinatown. Vital Tea Leaf carries a wide variety of loose-leaf teas, as well as teapots, and you can even participate in a tea tasting if you want to sample a bit of everything before deciding what to purchase. Drinking tea isn't just a pastime in China—tea preparation is an art form, and the tradition dates back centuries.
Sun Yat Sen
Installed in the late 30s, this statue of political leader Sun Yat Sen is one of Chinatown's most popular landmarks. Part of the inscription reads: "Champion of Democracy. Lover of mankind: Proponent of friendship and peace among the nations, based on equality, justice and goodwill." Sun Yat Sen fought for years to create democracy in China, and he came to this city after being exiled from his own country.
Hop Hing Ginseng Company
Interested in learning more about Chinese herbs and the different benefits they can have on your health? Eastern medicine is practiced all over the world, and many Chinese herbs are used to diagnose and treat various ailments. There are numerous shops to choose from in Chinatown, and Hop Hing Ginseng Company is one of the more popular choices.
Chinese New Year
Chinatown is the best neighborhood to celebrate the Chinese New Year in San Francisco. Residents and tourists flock to this neighborhood during the month of February to witness the annual San Francisco Chinese New Year Festival and Parade, which features firework displays, elaborate floats, lion dancers, marching bands, Chinese acrobats, stilt walkers, and the famous 268-foot long Golden Dragon.