What It's Like Living in Fayetteville
What It's Like Living in Fayetteville
Situated in North Carolina's scenic Sandhills region along the Cape Fear River, Fayetteville is a mid-sized city with a hometown feel and deep military roots. It's often overshadowed by the state's bigger cities, but it shouldn't be overlooked. From its charming downtown district to its wealth of museums, historic sites, and outdoor recreation options, the city has a lot to offer residents.
If you're considering living in Fayetteville, here are some things you need to know before moving.
Fayetteville at a Glance
Population: 210,324
Cost of living index: 80.9 (U.S. average is 100)
Median home price: $103,500
Walk Score: 21 - Car-Dependent
Sources: Sperling's Best Places, Walk Score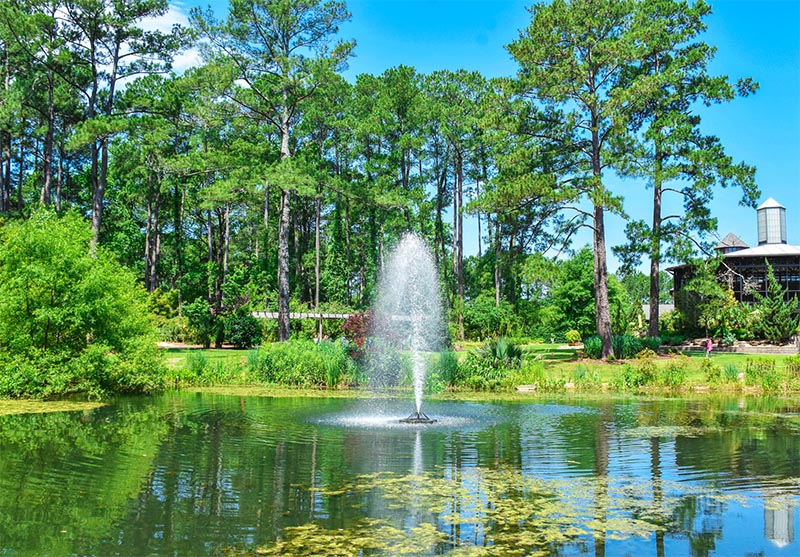 Fayetteville Real Estate
Fayetteville is home to two large military installations, including America's most populated military base, Fort Bragg, which is home to more than 55,000 service members, and Pope Field—both of which bring in thousands of new residents to the city each year from all over the world. As a result, the city is largely populated by active service members as well as retired veterans.
The city offers a wide variety of housing options as well as price points with everything from stately, historic mansions and new builds situated in bustling subdivisions to apartments that are specifically designed for military families and their needs.
The city offers a wide variety of housing options as well as price points.
While home prices have increased in the area in recent years, Fayetteville is still a very affordable city to live in. With median home prices in the low $100ks, the mid-size city is much more affordable than its larger, and more populated neighbors—Raleigh and Durham—and although it's the sixth-largest city in the state, its cost of living is much lower than North Carolina's average as well as the U.S. average.
History
History is a big part of the city's identity and highly celebrated. Predating the Revolutionary War, Fayetteville is an old city full of interesting history that can be found around every corner, through a seemingly endless list of monuments, museums, and more than a dozen themed trails.
The city's strong military ties can be traced back to before the American Revolution, and there are several museums dedicated to the armed forces, including the U.S. Army Airborne and Special Operations Museum, the Fayetteville Independent Light Infantry Armory and Museum, and the 82nd Airborne Division War Memorial Museum.
Numerous historic markers are spread throughout the city to commemorate the many hometown heroes who have served the country as well as important battles that were fought nearby. Though most of the markers are geared toward the armed forces, there's one particular marker that may surprise most who come across it—a marker dedicated to arguably the most famous baseball player of all time, Babe Ruth. It turns out "The Babe" hit his very first home run in professional baseball in Fayetteville in 1914.
History is a big part of the city's identity.
History buffs will also appreciate the Fayetteville Area Transportation and Local History Museum as well as the Museum of the Cape Fear Historical Complex. Both museums are full of fascinating exhibits and artifacts that give visitors an in-depth look at the city's rich past.
Beyond the museums and historical markers, there are the Cultural Heritage Trails to explore. There are more than a dozen themed driving trails—all together spanning a total of 750 miles—that take visitors on scenic tours through the city, while also covering the storied past of Fayetteville. Trail themes range from an architecture tour to an African-American heritage trail.
Things to Do
There are so many ways to keep busy in Fayetteville. Whether you're looking for family-friendly activities, professional sporting events, or vibrant art galleries to peruse, there's always something to see and do.
Downtown Fayetteville is lively, teeming with local eateries, retail shops, and craft breweries. You can spend plenty of time popping in and out of quaint shops like Cotton River & Co., Hummingbird Candle Co., and Old Town Apothecary. Or, search for incredible finds at one of the many antique stores, including Lodestone Art and Antiques, where you'll find goods from 30 antique vendors and artists. For more art, plan to spend some time at the Cape Fear Studios and Gallery.
Fayetteville residents can easily catch a game and root for the home team with several professional sports teams in the area, including the Fayetteville Woodpeckers—a minor league team for the Houston Astros, the Fayetteville Marksmen ice hockey team, and Cape Fear Heroes arena football. If motorsports are more your speed, you can stop by the Fayetteville Motor Speedway or the Fayetteville Motorsports Park Dragway for a race.
There's also no shortage of community festivals and events to attend throughout the year. One of the most cherished and well-attended festivals is the Fayetteville Dogwood Festival, which celebrates the start of spring and attracts more than 270,000 attendees every April. The International Folk Festival also draws large crowds to the city annually.
Recreation Options
In addition to its vast selection of attractions, festivals, and entertainment, Fayetteville also boasts a myriad of outdoor recreation options.
Between state parks, nature trails, and greenspaces, there are countless ways to go outside and be active while enjoying some fresh air. Plan a hike or bike ride along the Cape Fear River Trail that spans 5.3-miles, or take a leisurely stroll through the Fayetteville Rose Garden or the 80-acre Cape Fear Botanical Garden.
Fayetteville boasts a myriad of outdoor recreation options.
Want to spend a day on the water? The Cape Fear River is a big draw for local fishermen and kayakers. Golfers can spend a day on the links at one of the many area golf courses, including Anderson Creek Golf Club and Cypress Lakes Golf Course. For something that will truly get your adrenaline pumping, visit ZipQuest Waterfall Treetop Adventure, which was voted one of the top 10 zip lines in the country by USA Today.
There are also a number of indoor attractions around town to take advantage of, including the Fascinate-U Children's Museum, The Climbing Place, Triangle Rock Club, and the DEFY Fayetteville Trampoline Park.
Getting Around
While the history of downtown Fayetteville has been well preserved, the city is certainly not stuck in the past—it has seen plenty of revitalization throughout the years and continues to grow and expand. Historic downtown is extremely walkable, but outside of the downtown area, residents have to rely on having their own cars to get around or use the Fayetteville Area System of Transit (FAST), which offers 18 bus routes throughout the city. While there are certain neighborhoods where residents can bike, there aren't many bike lanes available.
Fayetteville is conveniently located right off of I-95 and I-295, making it easy for residents to travel. The city also boasts Amtrak, Mega Bus, and Greyhound stations. For longer trips, residents can fly in and out of town from the Fayetteville Regional Airport.