Miami Real Estate
What It's Like Living in Little Havana, Miami
The percussive rumbling of timbales. The smell of tobacco and fried pastry in the air. The bright mamey-and-marigold-colored cafes and galleries lining the bustling Calle Ocho. In Miami's Little Havana, it isn't hard to lose yourself in the arresting ambience and let your senses lead the way.
You'll find this vibrant neighborhood just west of Downtown Miami's high-rises and cultural institutions, with the suburban charm of The Roads directly to the south. The heart of Little Havana is 8th Street, or as it's more commonly known, "Calle Ocho." The neighborhood's main artery is a melting pot of restaurants, galleries, cigar shops, and theaters that welcome a steady flow of action during the day and well into the night.
Little Havana is the epicenter of Cuban culture in Miami. When Fidel Castro rose to power in 1959, many of the islanders fled and settled what is now known as Little Havana. Today, you'll find Colombian, Nicaraguan, and Salvadoran eateries coexisting peacefully with Cuban ventanitas (more on that in a bit).
In 2017, the National Trust for Historic Preservation designated Little Havana a "national treasure."
What It's Like to Live Here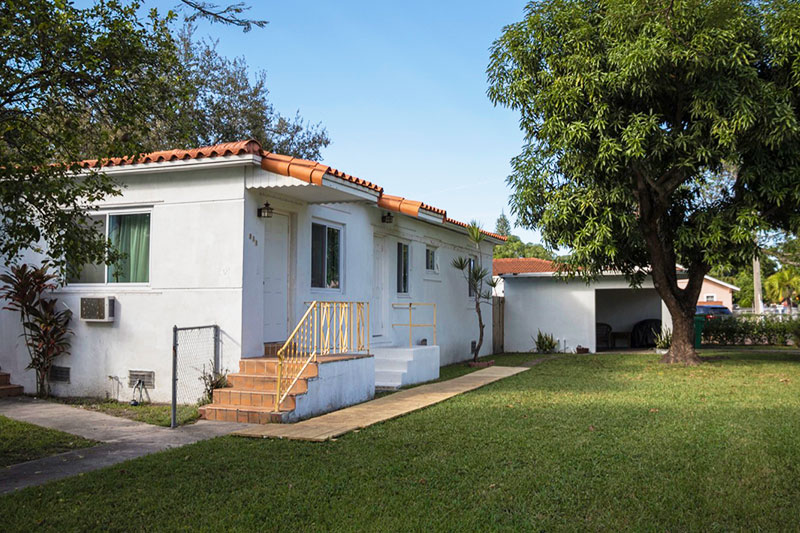 From Mediterranean stucco cottages to 1920s limestone buildings, homes in Little Havana are as unique as the neighborhood itself—and generally speaking, quite affordable. However, a new wave of development is beginning to shift that. The median sale price for a home in the area, according to Neighborhoods.com, is in the low $200s, but you can find homes ranging from the low $100s up to $1.7 million.
The South River Drive Historic District in northeast Little Havana is on the National Register of Historic Places and features 1940s apartment buildings and Miami's oldest surviving frame architecture. Also in east Little Havana, bungalows, Miami Modern, and Mediterranean Revival homes fill the Riverview Historic District. In between, you'll find midcentury single-family homes clustered around modern-day condos stocked with all manner of creature comforts.
Locals here have access to a bounty of tropical fruits, veggies, and ethnic markets. The popular open-air Los Pinaneros Fruteria sells a bounty of exotic eats—mamey, papaya, and yucca are just a sampling of the fresh produce you'll find here. El Nuevo Siglo and Presidente Supermarket are neighborhood staples for Latin brands. In fact, you can find a home-cooked meal at El Nuevo Siglo thanks to an in-store cantina. Further west, you'll find a Publix for everyday pantry staples and produce.
Families with children have strong options when it comes to schools in the area. Mater Academy East is ranked a 10 by GreatSchools.org while the neighboring Ada Merrit K-8 Center scores a 9. Founded in 1903, Miami Senior High School is the oldest high school in Miami-Dade County, and it's often cited for its preserved Spanish Mediterranean architecture.
The action around Little Havana almost never stops—however, most of it is centered around Calle Ocho, where tourists roam the shops during the day and locals fill the restaurants and bars at night. Quieter neighborhoods can be found a few blocks off of the thoroughfare, but the lights and buzz of Downtown Miami and Calle Ocho are never too far off.
What to Eat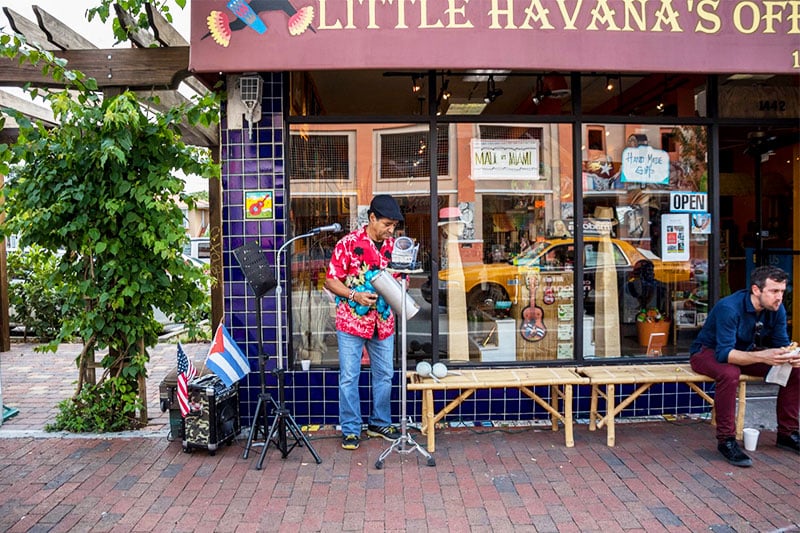 Some of the finest Cuban food in the city can be found in Little Havana. At most Cuban establishments, you'll find locals congregating around the "ventanita," or "little window." These portals serve as a quick grab-and-go spot for shots of potent Cuban coffee, flaky pastries, and addictive croquetas.
The most famous Cuban restaurant in the neighborhood is arguably Versailles, where everyone from local merchants to U.S. presidents get their fill of fried pork with a side of black beans and rice. You can sample the Cuban version of a burger at El Rey de las Fritas, where they'll top your beef-and-pork patty with a mountain of shoestring fries.
But the neighborhood is a delectable microcosm of Latin America's most savory dishes. Salvadoran pupsas—thick corn tortillas stuffed with a variety of fillings—are the star of Mi Ranchito, while Nicaraguan asadas and sweet plantains await at Yambo. The gut-busting Colombian bandeja paisa at San Pocho is enough to feed two—and still have leftovers. The dish traditionally comes with red beans, rice, ground beef, chorizo, plantain, arepa, avocado, a slice of fried pork, and a fried egg on top.
Satisfying your sweet tooth calls for a quick trip to Calle Ocho's Azucar, where exotic ice cream flavors like caramel flan and sugarcane-pineapple tempt behind tempered glass.
What to Do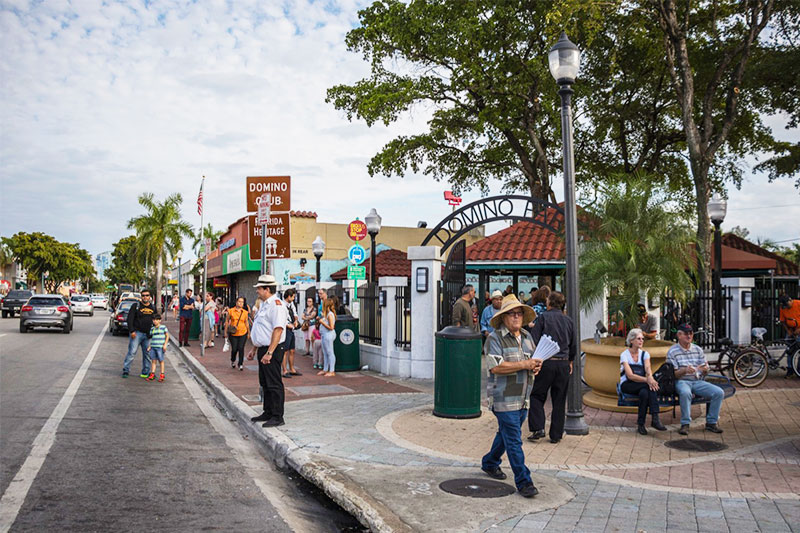 There's no shortage of cultural outposts in Little Havana. The Tower Theater, which opened its doors in 1926, is one of Miami's oldest cultural landmarks. The theater offers exhibitions and lectures as well as Spanish-language films and English-language films subtitled in Spanish.
Nearby, you'll find the Bay of Pigs Museum, which holds a collection of memorabilia related to the 1961 invasion. On any given day, you'll find retirees throwing bones at Maximo Gomez Park, also known as "Domino Park." The players take their game quite seriously as noted by the signage lining the park's enclosure. Across the street, the CubaOcho Museum and Performing Arts Center serves up a mean mojito with a side a live music and an expansive collection of classic Cuban art.
Live music and expertly crafted cocktails mix easily in venues throughout the neighborhood. Ball & Chain, a restored 1930s nightclub, harkens back to the glory days of Cuba with live music from its pineapple stage, flashy salsa dancers, and a wicked daiquiri.
On the last Friday of the month, the neighborhood's galleries, restaurants, and bars open the doors late into the night for the Viernes Culturales street party. During this highly anticipated monthly tradition, impromptu domino games, street performers, cigar rollers, and artists mix and mingle with locals and visitors from all across the city.