What It's Like Living in Mayfair Park, Denver
What It's Like Living in Mayfair Park, Denver
This charming enclave flies a bit under the radar when compared to other Denver neighborhoods like Capitol Hill, Cherry Creek, and RiNo. However, Mayfair Park is a hidden gem nestled in the heart of the mile-high city. Bounded on the south by 6th Avenue Parkway and the north by Colfax Avenue, Mayfair sits centrally to many of the city's best restaurants, shopping centers, and business centers. What's more, safety and security come easy in this quiet neighborhood, making it perfect for Denver natives and transplants, alike.
Here's what it's like living in Mayfair.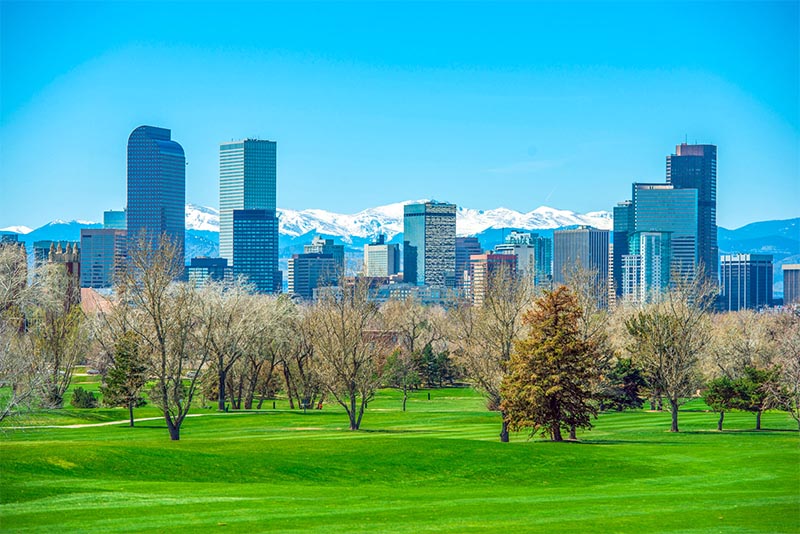 Real Estate
Due to Mayfar's proximity to downtown Denver, Cherry Creek, and main thoroughfares, real estate tends to be on the above-average side when compared to other neighborhoods. The actual area overlaps Montclair and Hilltop—which both boast pricey, historic homes as well (the median home sale price in these neighborhoods are $598,700 and $1.1 million, respectively), driving the average price in Mayfair up quicker than other areas in the city.
Since this southeastern section was home to some of the city's first residents, the architectural style of many Mayfair homes mark Denver's boom and bust eras. To the East, elaborate Victorian-style two-stories sit adjacent stately brick Tudors. Travel to the southern end of Mayfair for ranch-style, single-family homes and contemporary mansions. Throughout the neighborhood, modern builds like multi-story apartment buildings and condos are cropping up to meet the growing real estate demand.
Day-to-Day Vibes
Mayfair is markedly quieter than other Denver hotspots like The Highlands and LoDo, but that's what residents like about it. Mature trees line many streets and shade the sidewalks, giving feelings of elegance and tranquility despite a quickly growing metropolitan area.
Wide sidewalks, well-maintained lawns, and a pretty park contribute to the neighborhood's relaxing vibes. A variety of residents call Mayfair home, and no matter what prospective homebuyers are looking for, they can find it in this historic, eclectic area.
Dining and Drinking
Residents and visitors to Mayfair will find the best eats and drinks along the neighborhood's bordering streets. Colfax Ave in particular boasts an array of authentic international food, like Axum Ethiopian, Georgia La'Juan, Los Parceros Colombian, and much more.
In addition to walkable restaurants, Mayfair is just a hop, skip, and a jump down the road from the myriad of exquisite, fine-dining options that Cherry Creek has to offer. A short drive down 6th brings foodies to Quality Italian, Kona Grill, and Barolo Grill, while a quick bike ride transports dive-bar enthusiasts to Cap Hill's best haunts.
Mayfair's easily accessible amenities make it easy to enjoy city life without the hassle of downtown Denver. Parking is easy while a plethora of restaurant, bar, and grocery options make everyday life a breeze.
Parks and Trails
The neighborhood's namesake is in the form of a centrally located park—Mayfair Park. This grassy area takes up half of a city block and boasts a tennis court, a playground, swing sets, and picnic pavilions. Meandering trails wind around the park, leading out to the four different corners of the neighborhood.
Runners, walkers, and four-legged friends find respite in this quiet, tree-lined neighborhood. Sidewalks feel more like urban trails with plenty of space and shade. A walk or run around Mayfair Park will transport residents back to Denver's beginnings, and may even feel more like an HGTV home tour than a jaunt around the block.
Eclectic Retail
While big-box stores are just a stone's throw away and regular, large-chain grocery stores are easily accessible, Mayfair's crown jewels lie in its interesting businesses. In 2014, the Colfax-Mayfair Improvement District pushed the city of Denver to invest in small retail stores, fostering their success and contributing to the longevity of Mayfair Park's unique, historic character.
The City Floral Garden Center, Myxed Up Creations, and Mountain Century Modern provide plenty of home and garden wares for those looking to furnish a newly purchased home. Event and activity centers like The Seasoned Chef Culinary School and the Denver Art Gym foster creativity, collaboration, and engaging hobbies.
Bubby Goobers Baked Goods, Denver Pizza Company, and Blue Pan Pizza offer close-by, indulgent treats that are especially satisfying after a long day spent in the mountains. Shopping local is important to this neighborhood and its long-standing, unique businesses reflect this locally-oriented mindset. Through its historic homes and mom-and-pop shops, Mayfair Park delivers loads of charm without scrimping on near-by urban amenities.
Location
While the neighborhood certainly feels a world away from bustling Denver, it's not. Colfax Ave and 6th Avenue are two main thoroughfares taking Denver residents across town, into the mountains, or connecting them to I-25. Commuting from Mayfair Park is straightforward, and residents can enjoy hassle-free parking.
Those wanting to ditch their four-wheeled vehicles and opt for two instead can definitely get to most parts of Denver by bicycle. A commute to Denver's Central Business District or even to the nearest light-rail station is no more than twenty minutes by bike.
Additionally, some of the mile high city's favorite establishments are only a few neighborhoods away. The Denver Zoo, The Denver Museum of Nature and Science, Wash Park, and the Denver Botanic Gardens are well-within biking distance or a short car ride away. Mayfair Park residents can have both urban convenience with some peace and quiet.