Washington D.C. Real Estate
What It's Like Living in Shaw, Washington, D.C.
The Northwest Washington D.C. neighborhood Shaw is an area that tourists often overlook and residents once avoided. But now people are flocking to Shaw in droves, thanks to a proliferation of upscale wine bars, shops, renovations, and redevelopments. Today's Shaw bears little resemblance to the one many remember from 10 or more years ago.
At one point, the area was a center of African-American culture with famous residents like Duke Ellington, Langston Hughes, Carter G. Woodson, and Mary Church Terrell. Following the 1968 riots, though, the neighborhood struggled. Shaw's wave of change didn't start picking up steam until the late 1990s when the Walter E. Washington Convention Center was announced in the neighborhood's southern section.
Not only has Shaw experienced a wave of higher real estate prices and new dining and retail, it has also had a few name changes—much to the chagrin of some residents. Starting in 2016, "North End of Shaw" was a term used to market the northern edge of the neighborhood. This marketing ploy aimed to appeal to affluent residents who could afford to move into high-end condos and live near trendy boutiques and a hip movie theater.
The New York Times has even adopted the moniker, despite it lacking momentum in D.C. proper by anyone other than developers or marketers. Meanwhile, local blogs like Greater Greater Washington only use it—often with quotation marks—in order to question the impact of rebranding such an area.
For now, the Shaw of today is an atmosphere of unending energy—which some residents welcome, and others resist.
Where to Discover Remnants of Shaw's Past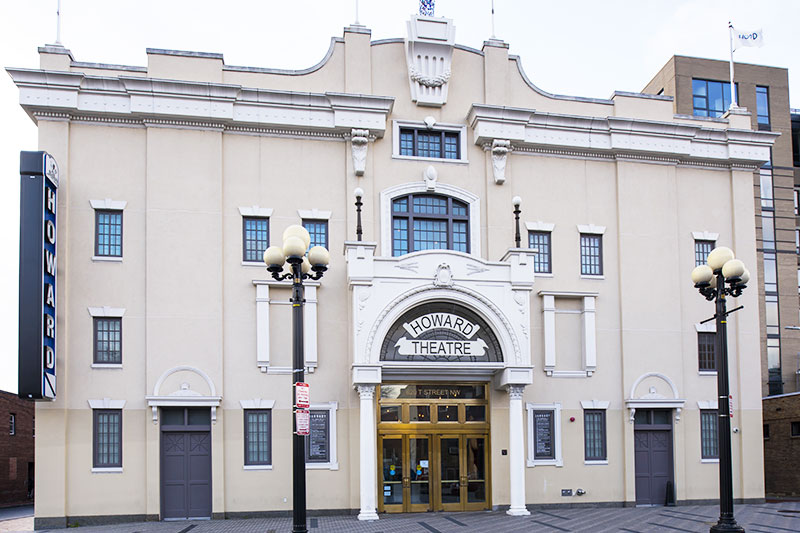 Despite the many redevelopments of Shaw, there are still many ways to find remnants of its dynamic history. First, the name. The neighborhood is named after Colonel Robert Gould Shaw, who led the 54th Massachusetts Volunteer Infantry, one of the first official black units during the Civil War.
The Howard Theatre is one of the area's many historic properties. This live entertainment venue first opened in 1910, becoming the first large music venue in the nation for African-American audiences. It's now one of the oldest theaters in the country.
Some of the many big-name acts to have performed here include The Supremes, Duke Ellington, James Brown, The Temptations, Miles Davis, and Marvin Gaye. President Franklin D. Roosevelt even attended many balls given here in his honor. Following the 1968 riots, the then-blighted property closed for many years until it was renovated and reopened in 2012. Though the interior has been altered over the years, its original stage remains intact.
Two additional historic properties worth a lingering look or two include the Mary Church Terrell House and the Carter G. Woodson Home National Historic Site. The Terrell House was constructed in 1907, and it's most known for its former resident of the same name. Terrell was the first African-American woman to serve on an American school board and the first black woman in the U.S. to serve on the Board of Education.
Just around the corner is Howard University, a historically African-American university founded in 1867. Notable Howard alumni include former U.S. Supreme Court Justice Thurgood Marshall, Pulitzer Prize-winning author Toni Morrison, and Emmy Award-winning actress Phylicia Rashad.
Where to Eat and Drink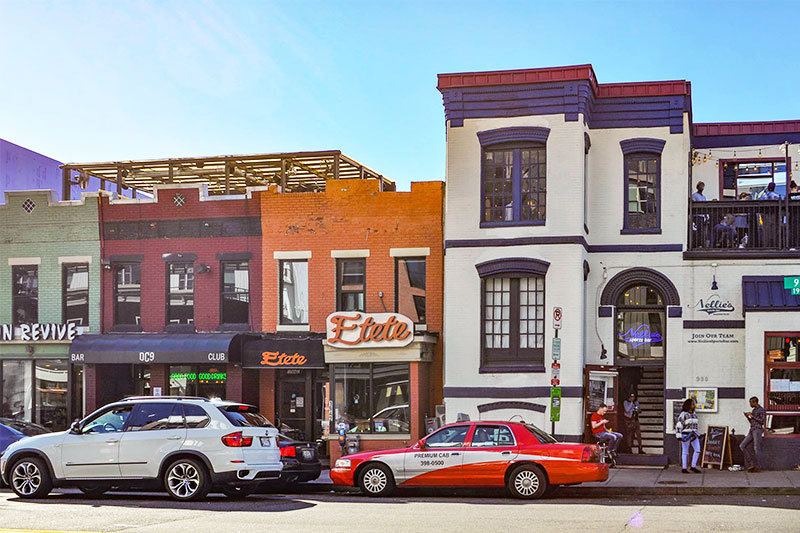 When talking about Shaw, almost everyone will recommend one particular beer garden: Dacha Beer Garden. Since opening in 2013, the outdoor bar has offered a varied selection of German, Belgian, and American craft beers and ciders. Besides the line of avid regulars who typically wind around the street corner, one of the visual cues that can help direct you to Dacha is local artist Byron Peck's large-scale mural of Liz Taylor outside.
For more bubbly drinks, head to Drink Company's Pop-Up Bar, aka PUB. Every few months, both the drinks and decorations change to match the season or shifting tastes in fandoms. Since opening in 2015, themes have included "Game of Thrones," pandas, cherry blossoms, and the true crime genre. If interested in an even more out-of-the-box experience, the virtual reality arcade and bar Augment Arcade is just a few blocks away.
Other need-to-know local favorites include one of the only actually good Mexican restaurants in the city, Espita Mezcaleria, whose chef appeared on the show "Beat Bobby Flay"—and beat Bobby Flay. The tea bar and cafe Calabash offers many vegan and vegetarian treats. My personal favorite greasy spoon is HalfSmoke, which features the best hot dogs you'll ever have in your life (a big statement, I know, but it's backed up by big flavors) as well as the most Instagrammable milkshakes in the city.
For breakfast, don't underestimate the fried chicken or buttermilk biscuits at Mason Dixie Biscuit Co. Better yet, try pretty much anything from Unconventional Diner, which The Washington Post's ever-finicky food critic Tom Sietsema described as "comfort food with flair."
And that's not all. Soon to come to the neighborhood will be a brand new Laotian restaurant, Hanumanh, by the owners of Columbia Heights' well-received Thip Khao. I could go on, but you probably get the picture at this point that Shaw is a melting pot of the best kinds of flavors.
What It's Like to Live Here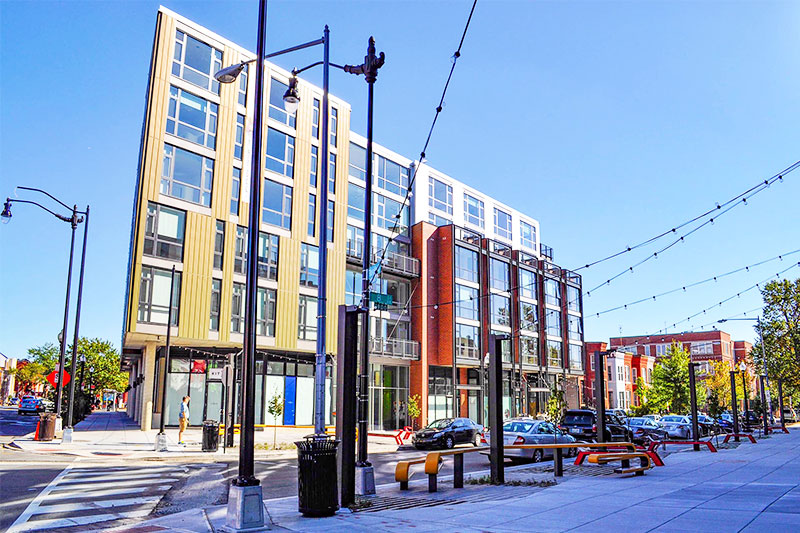 Typically, Shaw is a fairly low-key neighborhood—at least by day. Once night comes, expect a fair share of Ubers blocking traffic, dropping off or picking up locals who know the best spots for a beer or three. Thankfully, for those who would prefer to ditch their car or car-sharing service, there are multiple Metro stations within walking distance of the late-night action. A few bus routes also drive by, including the 70, 71, and G2 routes.
In Shaw, you'll find lively concerts at DC9 and the ever-popular 9:30 Club. When it comes to retail, check out shops like Lettie Gooch or Violet Boutique or even the 2001-established pet boutique and daycare, Wagtime.
There's also the glassy, modern Shaw Neighborhood Library, also known as the Watha T. Daniel Library, named after a long-time civic activist.
Despite all of these commercial options, expect to find a mostly residential area when walking through Shaw. Overall, the majority of the row houses are in the Federal or Victorian architectural styles with many dating back to the 19th century, which is not too dissimilar to what you might find throughout the rest of the city.
If interested in purchasing a property here, expect to pay a pretty penny. The median price for a home in the District is approximately $600,000, and according to Neighborhoods.com data, the median price for a residence in Shaw is currently $625,000 with several homes listed at over $1 million.
For those considering living in or visiting Shaw, expect a trendy neighborhood with a long history and a variety of food, entertainment, and retail options. Certainly, it might not be as well-known to out-of-towners as Adams Morgan or U Street, but it competes at a high level and won't go unnoticed soon.