Las Vegas Real Estate
What It's Like Living in Southwest, Las Vegas
Southwest is easily one of the largest neighborhoods in the entire Las Vegas Valley. Encompassing master-planned developments like Rhodes Ranch and Mountain's Edge, Southwest is a unique corner of the Valley.
Like Enterprise, Southwest is part of a larger unincorporated stretch of Las Vegas that seeks to maintain its rural character. Today, its close proximity to freeways yet safe distance from The Strip makes it a winning neighborhood for many Las Vegans as well as prospective newcomers.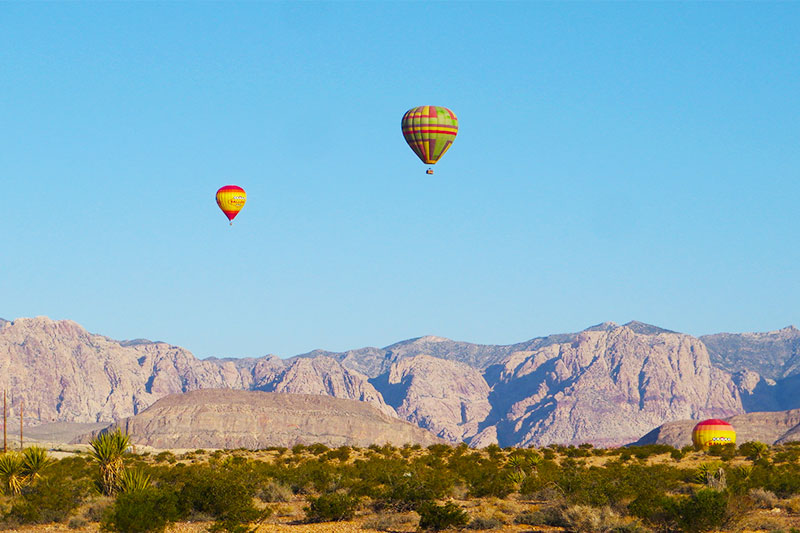 Local History of Southwest
Southwest has long been an emblem of a lesser developed Las Vegas, a place where people can get away from the flashy hotels and casinos of The Strip. Along with North Las Vegas, this neighborhood was often the one you'd see photographed in news stories that reported all of the foreclosures during the Recession.
Today, development has completely returned to the neighborhood, making it a hot community for new homebuyers. Some locals even call Southwest the anti-Vegas due to its family-friendly environment, open spaces, larger homes, tranquil atmosphere, and suburban vibe without the long commute.
Master-Planned Communities Within Southwest
Within Southwest is the 1,500-acre master-planned community of Rhodes Ranch, which is situated at the base of Spring Mountain. Rhodes Ranch dates back to the late 1990s and mostly features mid-sized single-family homes priced from mid $100s to high $600s, according to Neighborhoods.com listings.
Homebuyers are drawn to Rhodes Ranch because of the community's spacious homes and the neighborhood's distance from the noise and traffic of Las Vegas. Like other master-plan communities in the area, Rhodes Ranch also has plenty of amenities that cater to active families.
Some of the amenities include resort-style pools, a lavish clubhouse, a fitness center, and outdoor recreational facilities. There are also social events and activities—like arts and crafts, sporting events, and cooking classes—that allow residents to meet other members of the community. At the heart of the neighborhood is the Rhodes Ranch Golf Club, which is known for its desert views, lush green fairways, and variety of golf tournaments.
Another popular master-planned development is Mountain's Edge, located just north of Southern Highlands. With a median sale price in the high $200s, it's quite possible to find a home within the neighborhood that's below the Valley-wide median sale price. Mountain's Edge is known for its community-oriented events. The vast array of parks and greenspaces in the neighborhood is a point of pride for the community.
Greenspaces and Parks
You'll also find plenty of parks and greenspaces throughout Southwest as a whole. There are numerous dog parks and walking trails as well as Exploration Park, which is located in Mountain's Edge. Exploration Park is an 80-acre western-themed park that has walking and biking trails, a replica of an old western town, and an archaeological dig site.
James Regional Sports Park is a new addition to the area that just opened in October. Located near Sierra Vista High School, the 61-acre park offers nine tournament-ready soccer fields, plenty of greenspace, a playground, play areas, and a splash pad.
Located on the edge of Rhodes Ranch, Gypsum Ridge Trailhead also offers wide-open desert views at an elevation of 3,400 feet. Mesa Park, on the very edge of the Valley, backs up to the neighboring mountains. It's also a great spot to watch hot air balloons take off.
What It's Like To Live Here
With a median sale price in the high $200s, Southwest remains below the Valley-wide median sale price of $300,000. Homes in this area are usually two-story Mediterranean-style houses with red tile roofs, high ceilings, and, of course, stucco.
Two-story condos are also common in the area, and occasionally you'll even find a ranch-style home, although these are less common. These days, you'll also find developers building more modern homes, a bit of a departure from the Mediterranean style that dominated previous years.
In addition to being a fairly affordable neighborhood, Southwest also enjoys a convenient location due to easy access to the I-15, which bridges into the I-215. Bus routes run through the area, and Uber and Lyft are available throughout the Valley, but it's most ideal to own a car in this neighborhood.
Southwest is also known for having good schools in the area such as Doral Academy, a K-8 charter school, Southern Highlands Preparatory School, which ranks highly for small-class sizes, and Southwest Career and Technical Academy, a high school that lets students practice vocational skills like engineering, culinary arts, and fashion alongside traditional school subjects.
Besides the big-box Ikea that people travel across town to check out, there are local businesses throughout the neighborhood, like Peridot Sweets, a custom cake and pastry shop known for its wedding cakes, French macarons, and gourmet cupcakes. Also nearby is Bad Owl Coffee, the second location of the well-known Harry Potter coffee shop in Seven Hills.