Phoenix Real Estate
What the New 300k Median House Price Will Buy You in Tucson
If you're a homebuyer with a $300k home spending budget then Tucson is your best bet. According to KGUN 9, the city's new median home price is now over $300,000. This is the highest it has ever been to buy a new home in the Tucson market, leaving many homebuyers wondering what type of home they can buy in this price range. According to local real estate officials, as stated to Arizona Daily Star, housing options vary from a 1,600-square-foot condo to a 3,400-square-foot home, depending on the neighborhood. And while there are many neighborhoods throughout Tucson with a higher median home price, there are still plenty of options for homebuyers to choose from in the Old Pueblo. Read on to see which neighborhood has homes in the $300k range.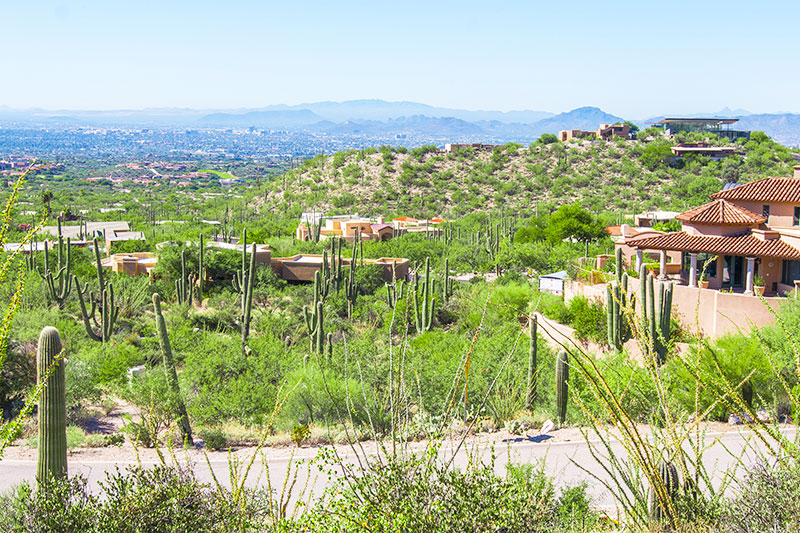 Also located in what's considered Northwest Tucson is Dove Mountain in Marana. Ideally situated in the high Sonoran Desert, Dove Mountain is a luxury golf resort-style community offering more than 6,200 acres of foothills, canyon, and mountainside living in the Tortolita Mountains. The community is anchored by three golf courses for a total of 81 holes of golf. Dove Mountain is surrounded by miles of private hiking trails and its resort-style amenities appeal to active adults and families who want to live in an active and social environment. The community has homes built from 1997 and newer builds that reflect modern architectural styles like ranch and Spanish Revival. Homebuyers can find condos, townhomes, and single-family homes ranging from the low $200s to over $2.4 million. A $300,000 single-family home in this neighborhood offers two to four bedrooms, two to three bathrooms, and attached two-car garages.
A collection of both gated and non-gated subdivisions, the Catalina Foothills Estates has long been regarded as an ideal neighborhood for singles, families, and retirees. With many homes offering scenic mountain or Downtown views, the neighborhood's prime location attracts many homebuyers. Catalina Foothills Estates is also well known for its high ranking schools such as Manzanita School, Orange Grove Middle School, and Sunrise Drive Elementary School. Residents also have easy access to a variety of high-end shops and restaurants along the northern and southern borders, making it convenient for locals to get a bite to eat or do a quick errand. Buyers can find attached and single-family homes in a variety of architectural styles from contemporary to Mediterranean Revival with prices between the high $200s and $2 million. Homes priced in the $300,000 range are typically older townhomes that offer two or three bedrooms and two or two-and-a-half bathrooms.
Saddlebrooke is an active adult community nestled at the base of the Santa Catalina Mountains, offering residents pristine views. This amenity-rich neighborhood features several clubhouses with recreational facilities and social spaces such as a fitness center, an arts and crafts center, a library, an on-site restaurant, outdoor pools, tennis courts, and three golf courses. Saddlebrooke is a favorite neighborhood among the active adult crowd due to its exciting social atmosphere consisting of over 170 charter clubs, leagues, and special interest groups. Developer Robson Communities has built over 4,500 homes since 1986, and continues to build new construction homes today. There are a variety of home styles ranging from attached villas to single-family homes priced from the low $200s to high $900s. Homebuyers can find homes priced in the $300,000 range that offer up to 3,200 square feet of living space with two or three bedrooms, two or three bathrooms, and attached two-car garages.
Oracle Heights Estates is a well-established community in Tucson that offers residents convenient access to major roadways like Oracle Road and Interstate 10. Many homes have views of the city and mountains, and residents enjoy plenty of shopping and dining options, ranging from upscale steakhouses to casual eateries. Foothills Mall is a short drive away, and golfers will love having the championship golf course close by at Omni Tucson National Resort. Homebuyers can find modern Pueblo and ranch-style single-family homes built between 1961 and 2008 with prices from the low $300s to the high $300s. An average $300k home will offer about 1,900 to 2,300 square feet with three bedrooms and two bathrooms.
El Encanto Estates is an established neighborhood located between the historic Sam Hughes neighborhood and the 131-acre Gene C. Reid Park. With close proximity to this urban park, residents have access to a 9,500-seat baseball stadium, two man-made lakes, public pools, an outdoor performance center, and a 24-acre zoo along with playgrounds, gardens, and picnic areas. Residents are just minutes away from Downtown and University (for additional restaurants, shops, and entertainment options), but the neighborhood itself remains peaceful. Homebuyers can find both attached and single-family homes built between 1929 and 2016 that reflect historic and modern architectural styles. Homes are priced from the low $400s to the high $900s, and most homes sit on half-acre lots with spacious backyards. A home in the $300,000 range in this neighborhood features about 2,200 square feet of living space with at least three bedrooms and two bathrooms.
In what many consider Northwest Tucson, Oro Valley is an up-and-coming area attracting young families. Rancho Vistoso is a master-planned community at the base of the Tortolita Mountains. The community has nine parks, three golf courses, and multiple community pools as well as plenty of hiking and biking trails that cater to outdoor enthusiasts. Rancho Vistoso is part of the Amphi School District, which is known for its top schools. The neighborhood is also popular among homebuyers thanks to its variety of homes and price points. Single-family houses and attached homes can be found in Contemporary, Southwestern, or Revival styles. Homes priced in the $300,000 range in Rancho Vistoso typically feature single-family homes with two to six bedrooms, one to four bathrooms, and attached two-car garages.