National Real Estate
Moving to Indianapolis: What You Need to Know
What do Kurt Vonnnegut, Martha Hoover, and Reggie Miller have in common? The author, chef, and professional basketball player are all illustrious individuals who excelled at their craft while living in Indianapolis, Indiana.
Often shortened to "Indy," the most populous city and capital of The Hoosier State boasts a prominent food scene, devoted sports fans, plenty of greenspace, and notable attractions. If you're thinking of moving to Indianapolis, here's what you should know.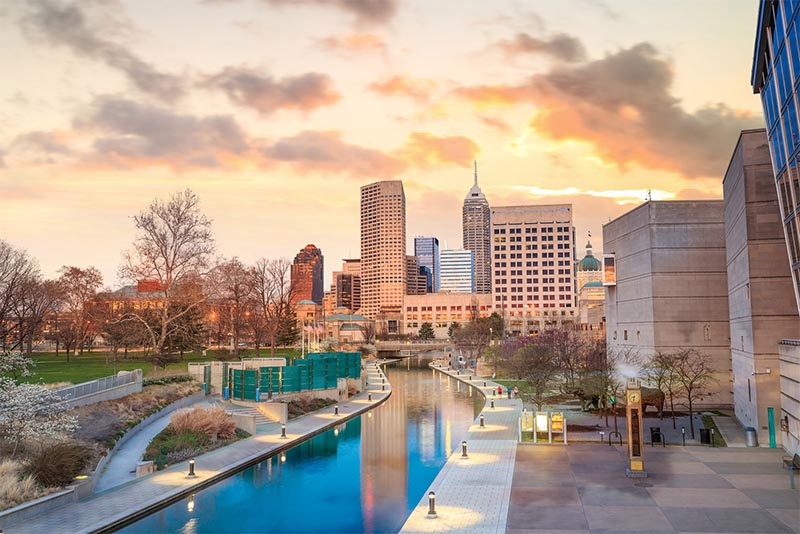 A Competitive Market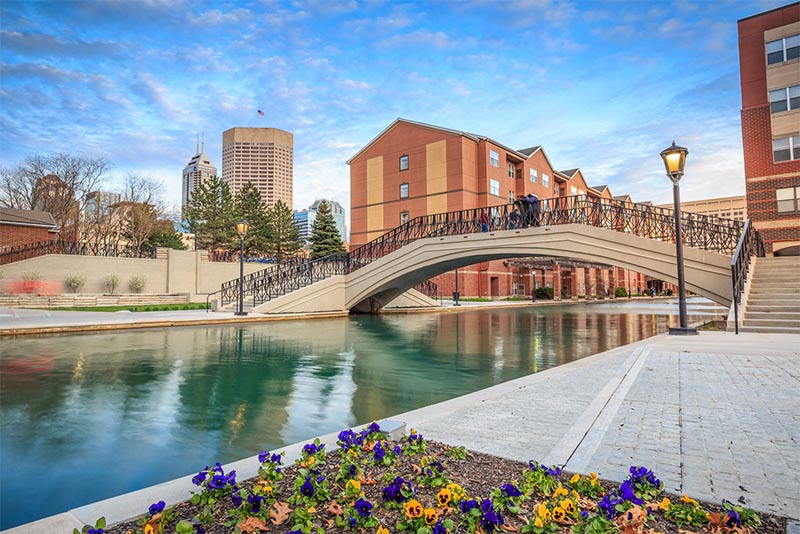 In any city, finding the perfect neighborhood can be a hard feat, but it's an important part of the home search. According to a 2018 report from MIBOR Realtor® Association, when asked what's more important when deciding where to live––either the qualities of the home itself or the neighborhood the home is in––69 percent of the Central Indiana respondents selected the latter.
This couldn't be more true for homeowners Allie and Drew Rosenbarger who purchased their first home in 2015 after finding a neighborhood that best fit their lifestyle and interests.
"Our first home purchase was made with walkability, appreciation potential, and access to restaurants and bars. We landed in the Meridian Kessler neighborhood because it met the criteria and also was in between our jobs."
The Federal Housing Finance Agency's U.S. Price Index Q1 2020 Report shows that the Indianapolis-Carmel-Anderson metropolitan area has seen a 7.94 percent increase in home appreciation the past year and a 41.64 percent increase over the past five years. In Indianapolis specifically, which currently has a $210,000 median sale price––a 12.3 percent increase compared to 2019––indicates that those who are interested in Indianapolis residential real estate need to act fast.
The Rosenbargers, both of whom are developers for multifamily properties, have witnessed this first hand.
"The market has been strong with increasing property values in established neighborhoods like Broad Ripple, Herron Morton and Meridian Kessler. Many less established neighborhoods like Fountain Square, Kennedy King, and Bates-Hendricks have seen a surge in single-family new construction and flips as well."
Indy Architecture
As far as architecture, the neighborhoods in Indianapolis boast an array of historic, rehab, and new construction homes. For example, Herron Morton, which was added to the National Register of Historic Places in 1983, contains original structures from the late 1800s, and you can find spectacular mansions and moderately priced bungalows in Meridian Kessler.
Andy Ward, who first bought a home in Zionsville due to its proximity to his work, found he spent most of his free time in Downtown Indianapolis, which incentivized him to trade in his suburban residence for a place in trendy Fountain Square. For him, his new home provides that "sweet spot" of amenities and privacy.
"I'm about one mile from Fountain Square's main strip, so I'm close enough to walk around and have access to the neighborhood attractions, but I'm far enough to where I have the intimacy of a quiet street," says Ward.
Getting Around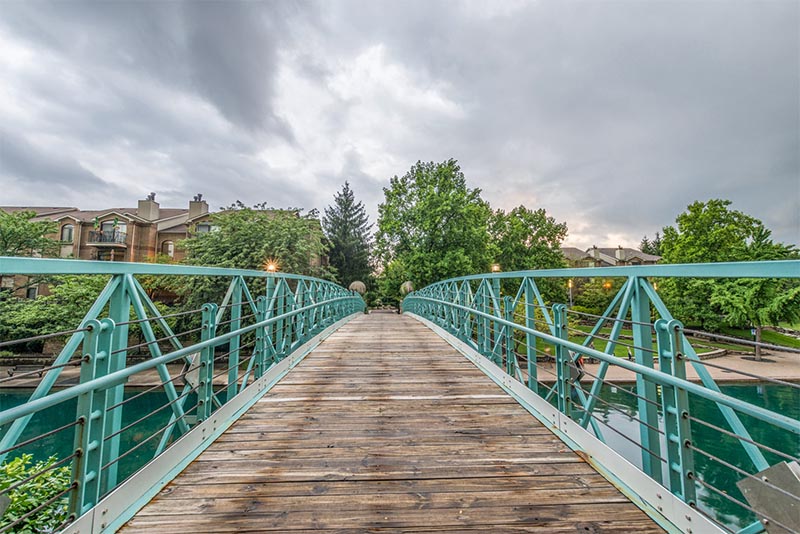 Just peruse the streets of Indianapolis and you're bound to find Bird or Lime Scooters waiting for their next rider, which has been a great alternative for residents looking to quickly get from one place to another. Pacers Bikeshare––docked bike rentals available for a minimal fee––is another affordable transit option.
There are public transportation options too. The Indianapolis' bus system IndyGo recently expanded its route with the Red Line, connecting neighborhoods north of downtown through 13 miles of stops. However, you'll find most residents rely on cars to get from one location to another.
Rosenbarger says in Indianapolis, commuting by car is still the method of choice.
"The vast majority of workplaces were developed with ample parking rather than around mass transit corridors, so it will take some time before mass transit can compete with the automobile outside of select situations related to the Red Line."
Circle City Sports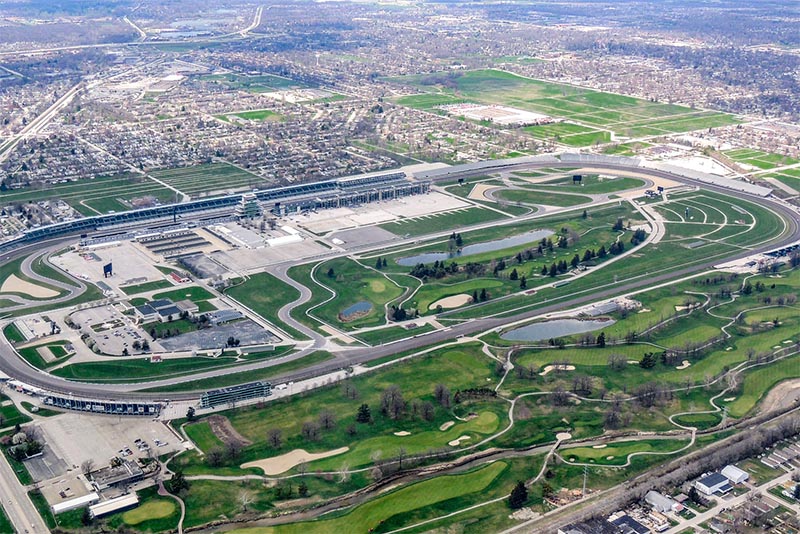 Sports fans have a lot to love about the Circle City. Most notable is the Indianapolis 500, which is an annual IndyCar event––postponed to August this year due to the coronavirus pandemic––that brings 300,000+ fans to Indianapolis Motor Speedway, making it one of the best-attended single-day sporting events in the country.
If racing isn't your thing, there are other options. You'll find cheerful fans supporting the Indiana Pacers at Bankers Life Fieldhouse, the Indianapolis Colts at Lucas Oil Stadium, and supporting Indy Eleven at Victory Field. Additionally, Indianapolis has a minor baseball and hockey team that attract crowds in their respective seasons.
Fun Attractions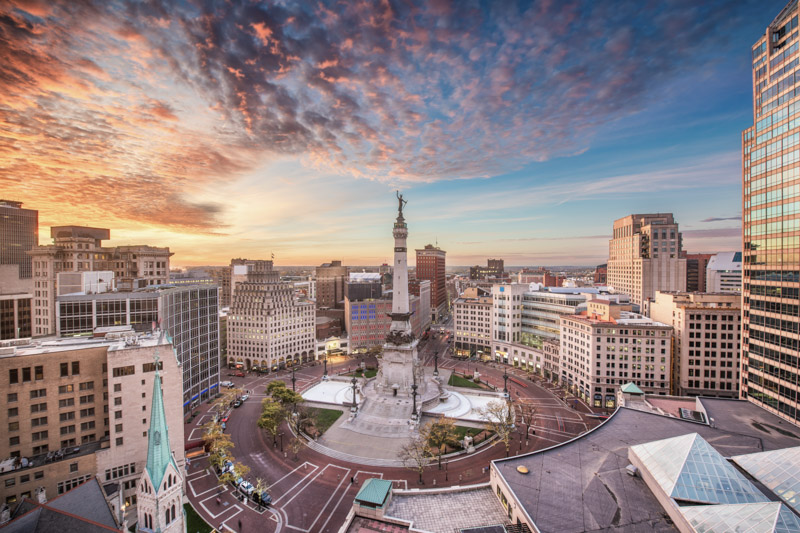 While living here, you'll have the choice of dividing your time between impressive museums, established art galleries, big parks, and top-notch dining. Tourists and residents alike repeatedly visit Monument Circle—otherwise known as the landmark that makes Indianapolis the "Circle City."
Other favorite activities include exploring exhibitions at the Eiteljorg Museum of American Indians and Western Art, enjoying the events hosted in the 14-acre greenspace Military Park, learning about the late American author at the Kurt Vonnegut Museum and Library, touring displays at the Indianapolis Museum of Art at Newfields, watching a play at the Indiana Repertory Theater, and catching a show at the Hi-Fi.
"I really love First Fridays, especially during the summer, which is an event that people [outside of Indy] might not be aware of," Ward says. On the first Friday of each month, galleries, studios, and culturally oriented businesses celebrate the arts across the city in the form of open houses.
Delicious Eats
Luckily for foodies, the restaurant scene will not disappoint. Some may know of St. Elmo's Steakhouse, a Downtown landmark that earned fame for its melt-your-face-off shrimp cocktail sauce, but this is just one of the many hot restaurants in Indy.
The food scene here includes restaurants that have appeared in Bon Appétit Magazine's Best New Restaurants feature such as Milktooth, the farm-to-table phenomenon Bluebeard, and neighborhood favorites like Twenty Tap, Maxine's Chicken and Waffles, Cafe Patachou, Chiang Mai Thai Noodle, Festiva, or Mama Carolla's.
For the Rosenbargers, there's a lot to love about Indy.
"We love being part of a neighborhood that is seeing new investment, meeting the new neighbors that are coming in, and being so close to Downtown events and amenities. Indianapolis is great because you can find relatively affordable homes close to Downtown and other walkable commercial nodes. It has a great restaurant scene and is also one of the best sports cities in the U.S. There are few cities that can offer so much with an affordable real estate market."