Miami Local Life
Where to Experience Fall in Florida
To many people, fall brings thoughts of lower temperatures, changing leaves, pumpkin patches, and Halloween. For people who live in Florida, however, fall sometimes takes on a different meaning. Due to the state's warm climate throughout most of the year, only the northern parts of the state experience fall foliage and the kind of lower temperatures people sometimes call "sweater weather."
But that doesn't mean residents of the Sunshine State don't appreciate the unique qualities of a Florida fall. In fact, many relish this season because the drop in temperature—albeit modest compared to other parts of the country—make it ideal for participating in outdoor activities without enduring the harsh extremes of heat and sun. It also doesn't mean people shun the kind of "traditional" autumn activities enjoyed in other regions of the country. In fact, here's where you can find ways to experience autumn throughout the state.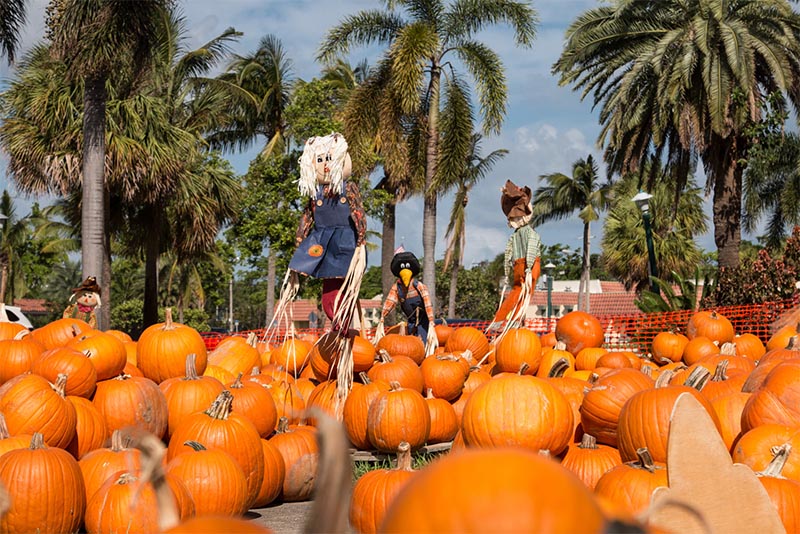 North Florida
It might surprise "leaf peepers" to learn that you can experience fall foliage in parts of Florida. While it may not be the same type of experience you'd have in east coast states, like Vermont or even Virginia, it's still possible. During the first two weeks of November, when most states are past their peak foliage seasons, you can see turning leaves in the more mountainous parts found in the northern region of the state.
In rural areas from Lake City to Ocala you can spot autumn foliage, sometimes without even getting off I-10. In Snead, which is 50 minutes from Tallahassee, at Three Rivers State Park you can see hardwood and pines change to a red/orange color during season.
For some who live in the middle of the state, fall traditions include several major events held each year at the area's amusement parks. While COVID-19 has put a damper on some of these events, many are still taking place with restrictions.
EPCOT's Food & Wine Festival, which features more than 25 global marketplaces where you can try food and drinks from all over the world, takes place from July through the fall months (the end date hasn't been determined). While the event is more expansive in a typical year, Universal Studios is still planning to hold a modified version of Halloween Horror Nights. Fall is also the time when NASA plans shuttle launches from the Kennedy Space Center Visitors Complex at Cape Canaveral national seashore. The launches can get postponed—for a variety of reasons—but it you're lucky enough to be able to witness one, it's a special experience.
South Florida
In South Florida, fall brings lower temperatures and, almost as important, lower humidity. So for many, this is the perfect time of year to enjoy outdoors activities, such as kayaking, stand-up paddleboarding, bicycling, or camping. There are also a host of traditional fall activities to enjoy although, as the pandemic continues, cities have had to get creative to celebrate traditional autumn events in a socially distanced, safe way.
Fortunately, this city has risen to the challenge the pandemic poses with The Horrorland at Miramar Regional Park, which will run through Oct. 31. This is a drive-through haunted house experience whereby you drive while monsters, ghosts, zombies, and other frightening creatures pop and surprise you as you make your way through seven themed passages. The ride lasts about 35 minutes.
It wouldn't be fall without the Fort Lauderdale International Boat Show, one of the city's premier events to be held Oct. 28-Nov. 1. The show features a variety of the industry's latest boats and yachts of all sizes, worldwide debuts, and marine products and accessories to enhance the nautical lifestyle. And while spring is usually the season for another of the city's popular events, the Air and Sea Show, the pandemic pushed the event to the fall and will be held Nov. 21-22.
Southwest Florida
In Fort Myers, residents look forward to several annual events. Among them are the family-friendly Southern Fresh Farms Festival, which features southern food, haunted hayrides, and a petting zoo and runs through Oct. 31. On a typical year in mid-November, the city holds the American Sandsculpting Championship and Beach Festival, a 10-day event that features world-class sand sculptors competing in a series of events. This year's event has been postponed, however, due to the pandemic.
Farmer Mike's 2020 6th Annual Fall Festival & Corn Mazes will be held through Oct. 31. This year's haunted corn maze will feature zombies that come after guests.
The Tampa area holds a variety of corn maze events, such as Harvest Holler Corn Maze in Polk City through Nov. 15, Sweetfields Farm Fall Corn Maze and Farm Activities through Nov. 8 in Masaryktown and the Hyde Park Village Pumpkin Patch in Tampa through Oct. 31. Like Orlando, Tampa has several events at amusement parks geared for the fall. The Howl-O-Scream-Busch-Gardens Tampa is held through Nov. 1 and includes hundreds of roaming creatures, 10 outdoor scare zones, and live, interactive entertainment and Bier Fest.
The park also holds Sesame Street Kids' Weekends at Busch Gardens through Oct. 21., which features physically distant trick-or-treating for kids. The Creatures of the Night at ZooTampa at Lowry Park will be held through Oct. 31 and turns the zoo into an immersive Halloween experience for all ages.