Chicago Local Life
Where to Find Food Halls and Markets in Chicago
Some have classified food markets and halls as "glorified cafeterias," but there's no denying that they have become a popular and viable business in the neighborhoods they crop up in.
Their allure may be attributed to their ability to appeal to a wide range of palates (we've all been in a disagreement with friends on where to eat) or the trendy, fast-casual aspect of them.
But what is the difference between a food hall and food court? Well, rather than chain fast-food spots often found in mall courts, food halls offer a curated list of local vendors and sometimes work in eclectic features and events, like demo kitchens and cooking classes, and free-standing bars—all under one roof.
While this trend is taking off globally, Chicago is embracing the food hall movement in these three neighborhoods.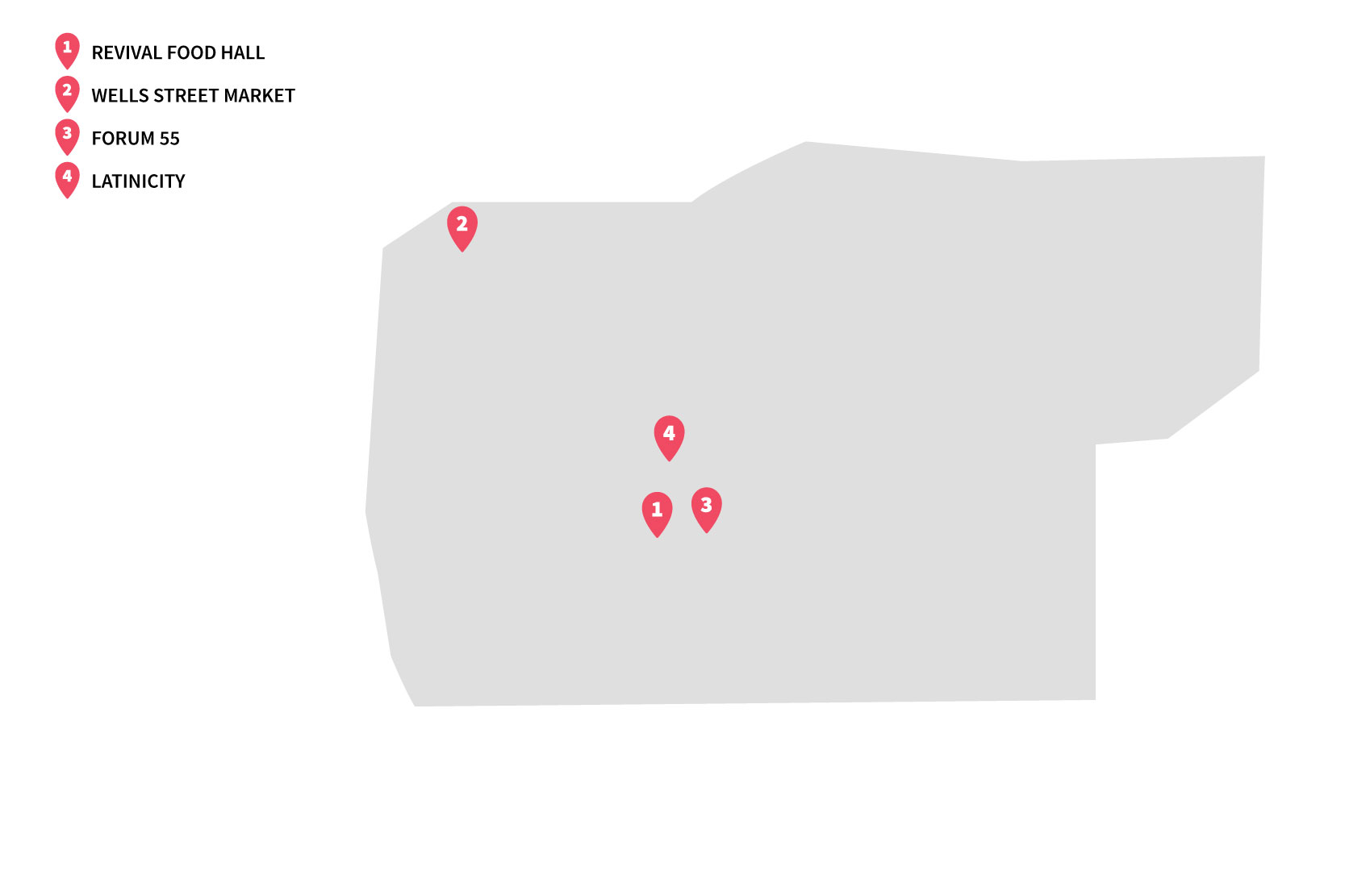 Chicago's Loop is home to iconic locations like Millenium Park, Cloud Gate (more commonly known as "The Bean"), Grant Park, the theater district, and more. It is also busy with tourists, commuters, and office workers traveling via CTA, car, and on foot.
Being such a highly trafficked area, it should come to no surprise that many of the city's food halls are located within this neighborhood. These food halls are perfect for a casual lunch with coworkers, a get-together with friends, or a foodie looking to find the hottest plate in the city.
Spots To Check Out:
Opened in 2016, Revival Food Hall has packed in some of Chicago's most praised eateries in its 24,000-square-foot, fast-casual marketplace. Revival, located in The National, not only has food shops, but a book and record store, bar, and monthly events.
This indoor food market is a stone's throw away from the Chicago River and caters to those who either want to sit down and enjoy their food or those who are in a time-crunch. The market appeals to a variety of tastes and food restrictions with its nine vendors and offers a full-service bar.
Forum 55 is a 10,000-square-foot food hall opened in 2017 that features six counters from local chefs and restaurateurs, a grab-and-go market, and one of the largest salad bars in Chicago. Forum 55 puts its own spin on a contemporary food hall by having digital ordering kiosks to cut down on waiting time.
The food hall also has programs to support women- and minority-owned businesses in Chicago, including opportunities to showcase their food on a rotating basis.
Located in Block 37, a multilevel shopping center on State Street, Latinicity was started by internationally recognized chef Richard Sandoval in 2015. Taking a different approach on a traditional cafeteria, Latinicity has eight food stations each specializing in different Latin dishes—like a seafood counter or torta station—and a restaurant, bar, and cafe.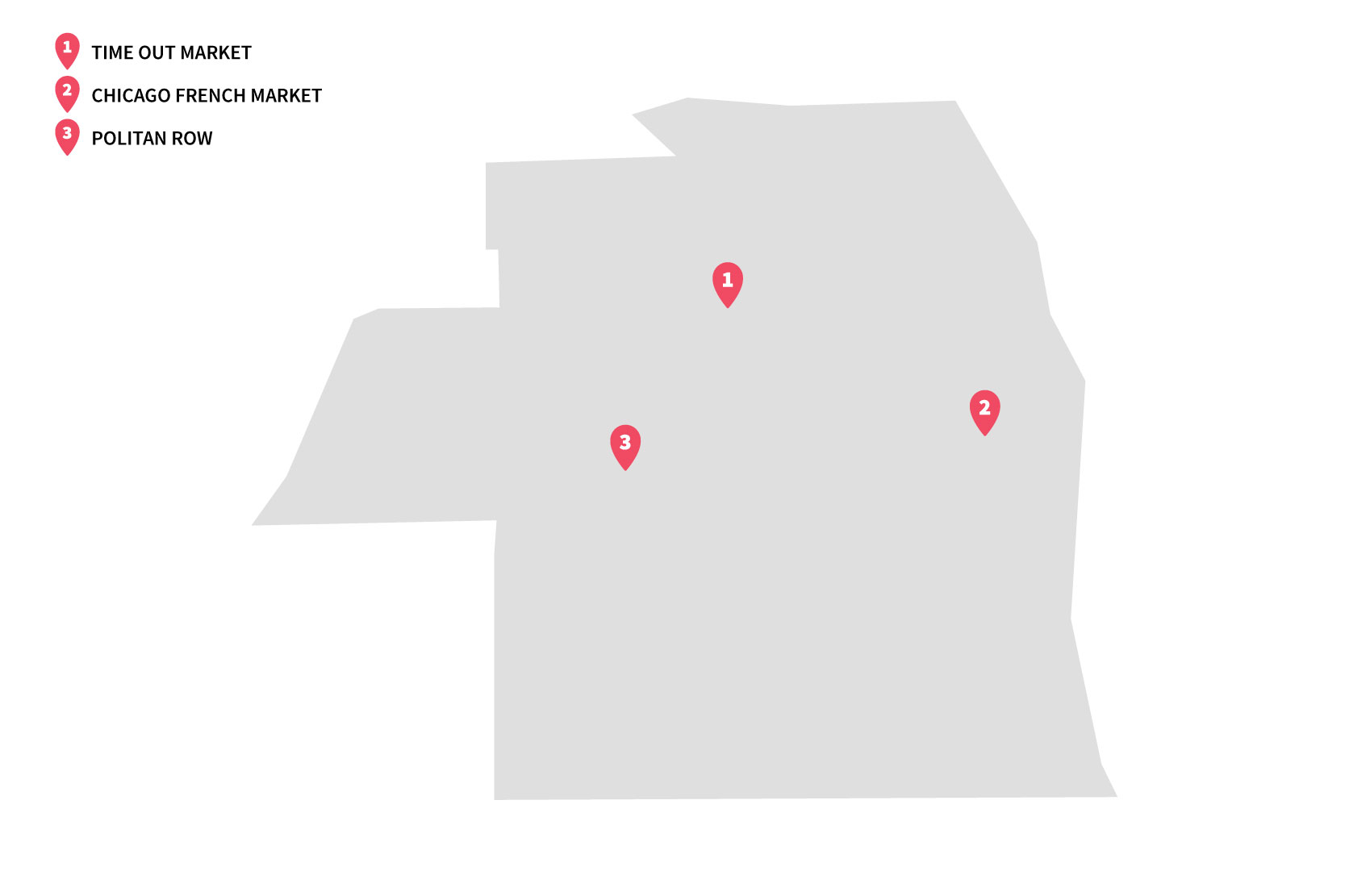 Already hailed as a foodie's paradise thanks to West Loop's restaurant row, this neighborhood is the go-to place to find the trendiest restaurants—including a few Michelin-starred eateries. Within West Loop is the pocket neighborhood Fulton Market. In recent years, this area has seen a resurgence as abandoned warehouses and buildings have been renovated into hip businesses, apartments, and restaurants.
On weeknights and weekends, Randolph and Fulton Market streets are buzzing with patrons having a night out because of the high concentration of bars and restaurants. And with a Metra stop and multiple CTA lines running through the neighborhood, it's accessible to Chicagoans from all over. Between the great food scene and high foot traffic, food halls are popular in this booming part of town.
Spots To Check Out:
Media company and magazine Time Out has been wildly successful with their food market concept since opening their first one in Lisbon, Portugal, in 2014. Opened in November 2019 in Fulton Market, this 50,000-square-foot market has had immediate success. The 18 vendors are curated to bring the best of Chicago under one roof—as the company says: "If it's good, it goes in the magazine; if it's great, it goes in the market."
What separates this market from most is its dedication to bringing in eclectic events from around the city like cooking classes at the demo kitchen, concerts on the rooftop terrace, watch parties, and more.
Located below the Ogilvie Transportation Center, this European-style market has been a staple in the West Loop since 2009. During weekdays, the aisles of vendors are crawling with patrons—especially during the lunch hour when nearby workers flock to the market's stalls for a grab-and-go meal.
The French Market hosts local culinary entrepreneurs to encompass all that the Chicago food scene has to offer, so there is more than just French cuisine here. The market has happy hours, a seating area, and events like musical acts throughout the month.
With praise from Vogue, The New York Times, and USA Today, Politan Row has made a splash in the culinary scene since opening in mid-2019. This food hall brings chefs in from around the city to have their own counter and try out inventive dishes and cuisine, like spins on Japanese comfort food, Cajun-Indonesian fusion, and vegetable-forward dishes, to name a few. There is also a beer garden open in the warmer months, central bar, communal seating, and weekly events.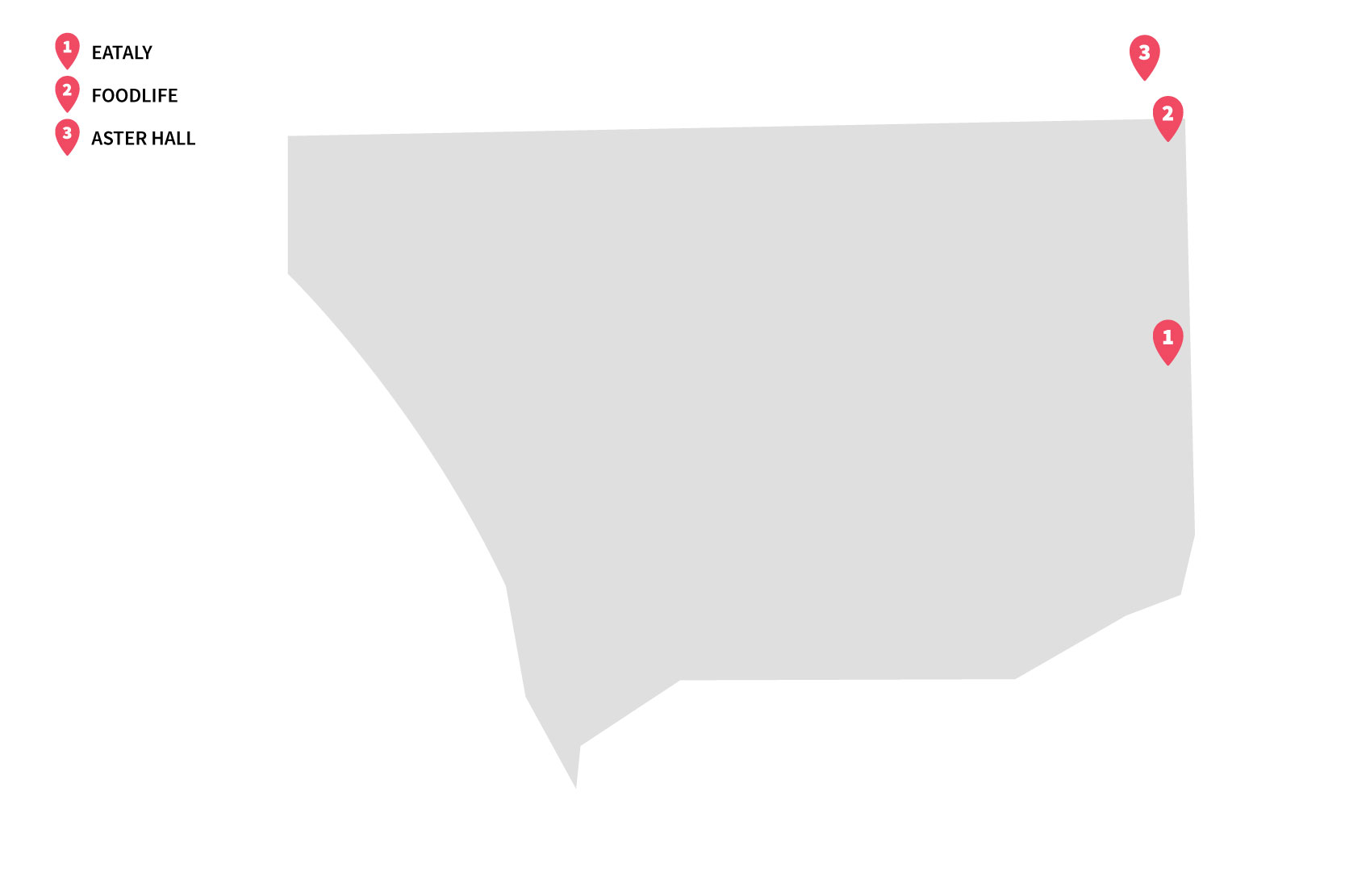 The destination for after-work drinks, spectacular views of skyscrapers lining the Chicago River, luxurious apartments and condos, and iconic shopping and dining spots, River North also has its fair share of food halls and markets.
River North has a high concentration of everything you'd find in the city, so the sidewalks are almost always packed with pedestrians—especially on Michigan Avenue, known as "The Magnificent Mile." Stop into one of these food halls as you explore River North.
Spots To Check Out:
Right off Michigan Avenue is Italian market Eataly, a market/shopping concept that was developed on a sheet of paper by Oscar Farinetti. Now, there are more than 25 locations worldwide.
The two-story building has grocery-style aisles with fresh food, spices, oils, wine and more; a coffee shop; a restaurant; counters serving Italian fare like gelato; and seating for patrons. Eataly also hosts events like Winter Wine and Cheese Fest and classes like bread making.
Started by Chicago restaurant giant Lettuce Entertain You, Foodlife has held its spot in Water Tower Place since the 1990s and is self-proclaimed as Chicago's original food hall. The setup is similar to that of a mall food court but instead has 14 self-serve stations all with made-from-scratch food ranging from pizza to sushi to tacos.
This swanky food hall takes up two floors in 900 North Michigan Avenue with its 16 Chicago vendors, including the popular Small Cheval. Aster Hall has an inviting yet trendy atmosphere where people gather to try food from the curated counters, cocktails and wine at the bar, and fresh juices and coffee.
Honorable Mentions:
This take on a food hall is located in the bottom of the Chicago Marriott Marquis located near the McCormick Center. With decor inspired by Chicago's historic Motor Row, Showroom has four all-American restaurants and a bar.
This food hall was born from the idea of giving local South Side chefs and entrepreneurs a space to try out their menus without taking the financial risk of opening a free-standing store. One Eleven's hope is to be a springboard for its vendors and help them have a successful transition into Chicago's culinary space.
Located in the suburbs is Japanese grocer and food market Mitsuwa Marketplace. Not only does the store have a large selection of Japanese groceries, but it has a food court with a variety of food stands that create fresh, traditional Japanese dishes. Inside the market is a bookstore with imported goods from Japan, a hair salon, and other services.