Where to Find the Best Antique Shops in San Antonio
Where to Find the Best Antique Shops in San Antonio
When going antique shopping in San Antonio, you may find old-timey treasures buried within the various shops in neighborhoods throughout the city. You could spend multiple days going from store to store, browsing the artifacts and conversation pieces from times of old.
As a city known for its history as a Spanish mission site and establishment as a military training center, the antique stores in Downtown, Alamo Heights, and North Central neighborhoods offer a window into simpler times. Spend a day taking an antique tour of these stores and see what treasures await.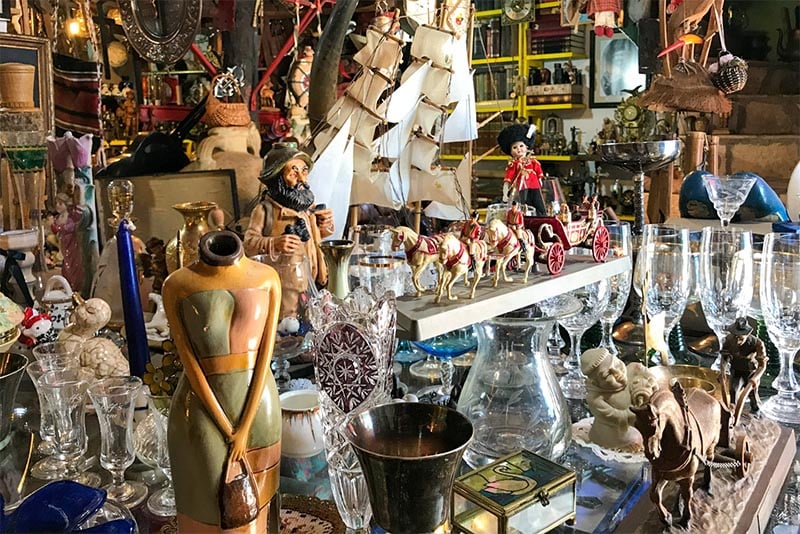 Downtown San Antonio is home to the Riverwalk and a happening local art scene, but if you're in the mood for treasure hunting, it also features some excellent antique shops.
Start your antiquing adventure at the Alamo Antique Mall located on Broadway street. This shop has collectibles and antiques such as pottery, jewelry, glassware, furniture, and just about any other collectible that you could think of. This antique mall is specifically known for its incredible variety and ever-changing inventory. You could spend hours looking through all of the antique collections, and if you enjoy the thrill of the hunt, you likely will.
One noticeable thing about Downtown San Antonio is the hotels that line the Riverwalk and city center, including the 160-year old Menger Hotel, which reminds us of what San Antonio looked like in the last century. This elegant and historic hotel touts a built-in antique store, J. Adelman Antiques. This store is known for its rare and beautiful treasures, which are often priced in the thousands. If you are in the mood for fine antiques, this store should be your first stop.
While you're in the Downtown neighborhood you can also visit Euro American Fine Arts, an antique store that features an abundance of gold, porcelain, and art pieces. This is a unique store where you'll be able to find aged bronze statues, collectible vases, and flashy furniture that you won't be able to find anywhere else. When it comes to style, most of their items look like they belong inside of a European castle.
Once you finish antique shopping in Downtown, it's time to head north and visit the Alamo Heights neighborhood. Alamo Heights is known for its large houses and excellent shopping and entertainment options at the Quarry Market, but it's also an especially great neighborhood for antique shopping because there are so many options to choose from. That being said, there are three stores in particular that you shouldn't overlook.
Charlott's Antiques & Clocks is a long-standing antique store located in Alamo Heights. The store is history in itself; Charlotte and her husband opened the store in 1966 with an ongoing mission of 'recycling San Antonio.' By buying a piece of history from Charlott's, you can also take pride in contributing to keeping a piece of San Antonio history alive.
When you finish up at Charlott's, head over to Antiques at Broadway and browse their inventory. If you're a fan of antique jewelry, Antiques at Broadway has a great selection. If you're not in the mood to head out there and visit in person, they also have an online store that allows you to browse their antique selection without leaving your house.
Before you finish up the Alamo Heights portion of your San Antonio Antique tour, go see Sanderson Antiques in Alamo Heights. The store features beautiful antique furniture, decor, lamps, art, and chandeliers. If you're looking for an interesting antique conversation piece for your home, Sanderson Antiques could have exactly what you're looking for.
Continuing on your tour of San Antonio's best antique stores, get ready to head to the North Central neighborhood of the city. North Central is one of the larger neighborhoods in the city and encompasses small houses and luxury estates alike. Here you can also find some really interesting antique stores that offer different types of antique shopping experiences.
North Star Antiques and Interiors is a notable antique shop located in North Central. Although their inventory changes, you can find items such as furniture, lamps, and various collectibles and decor. They also regularly get pieces of art in stock, so if you're an art collector you might want to visit regularly to check out their current stock. Generally, this is a no-frills shop, but if you take the time to sift through their items, you can always find a treasure at a great price.
Not to be outdone, Armadillo Antiques & More features vendor booths from different vendors around the city and offers large selections of different kinds of collectibles, furniture, and other various odds-and-ends from different centuries. The store is airy and large, which makes browsing comfortable and easy. With the variety of vendor booths, if you only have time to visit one store, this would be a great option.
North Central San Antonio also features Ironside Antiques, which was San Antonio Magazine's reader's choice "Best of San Antonio" pick for 2015. It's clear why San Antonio locals love this little shop; the finds are stellar! If you're curious as to what new items they've gotten in stock lately, you could also check out their Facebook page. They update their Facebook page often with pictures of their new inventory, letting you window shop without having to visit if you find yourself getting fatigued before you make it to the end of your day of antiquing.