National Local Life
Where to Find the Best Antique Shops in Savannah
Savannah's historic charm goes beyond the city's buildings, squares, and Spanish Moss—it's reflected in the smallest collectibles. Turn to any page of a southern home decor magazine, and one is sure to find an exquisitely styled home with furnishings from one of Savannah's antique shops. Just like the city's cobble-stoned pathways, edible delicacies, and immersive tours, Savannah's antiques are meant to be experienced.
Whether searching for collectibles for homes, gifts, or as backdrops for film and photoshoots, one-of-a-kind pieces that are sure to catch even the most discerning eye can be found in a Savannah antique shop. Here are the best places to go treasure hunting in Savannah.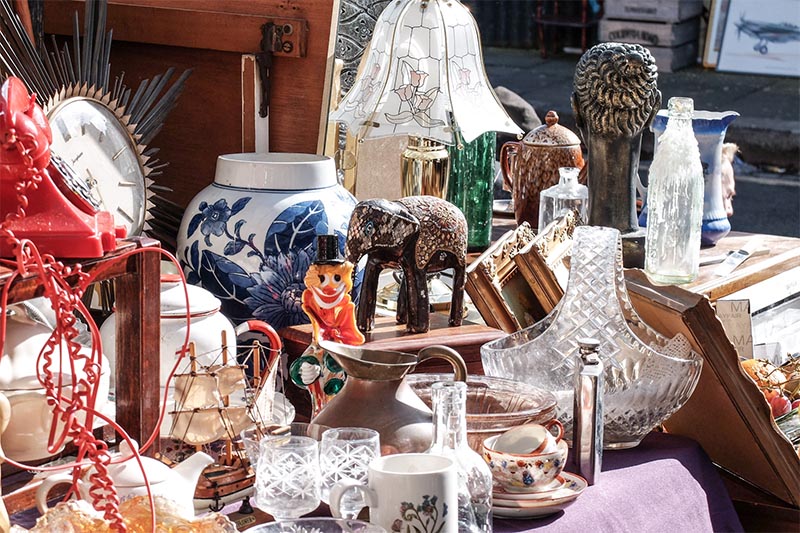 Picker Joe's Antique Mall is definitely a local favorite and conveniently located near the Thomas Square neighborhood, just south of historic downtown. For anyone looking for hard-to-find items, Picker Joe's is the place to go.
Picker Joe's selection has such an authentic quality that props from the antique mall have been featured in films and shows including "Baywatch," "Dirty Grandpa," and "Underground." With 10,000 square feet of space and more than 25,000 items, Picker Joe's has been voted "Best Antique Store" by Savannah Morning News, Connect Savannah, and Savannah Magazine. As Picker Joe's website says, "From man-cave to home decor, treasures from the past to fun and exciting—there is always another intriguing item around every corner."
For the shopper who seeks a variety of vendors all in one spot, Tapley's Mercantile and Antiques is the place to be. Although the antique store showcases everything from designer furniture to antique jewelry, Tapley's is more than an antique shop—it's also a pantry that exclusively offers vintage finds for the kitchen in addition to seasonings, jams, and sauces.
Near the marshes of Savannah in the suburbs lives a quaint antique shop for collectors on a budget. Fittingly named, Cents and Sensibility has some of the best consignment furniture in Savannah. They even make it easy for locals who have their own hidden treasures to consign with them, and for shoppers wanting exclusive experiences, Cents and Sensibility regularly has estate sales.
For people who love classic pieces that cannot be found anywhere else, Seventh Heaven in the Sunset Park neighborhood may just be heaven on earth. Like many other shops on this list, Seventh Heaven specializes in 18th-, 19th-, and 20th-century furnishings.
Seventh Heaven boasts being an "insider's secret" because dedicated locals frequent the shop to see the latest arrivals and search for the best finds. The shop offers everything from children's antiques to bookcases to garden pieces. What's particularly special about Seventh Heaven is that the shop displays prices for most of their items online, so there's no sticker shock while you shop.
For antiquers, there's little room to miss out on a deal. Victory Antiques and Collectibles is open seven days a week, making it convenient for shoppers to find that one special item they've been hunting down. Looking for Elvis memorabilia? Victory Antiques and Collectibles has it. In need of a 1950's cocktail bar? That and vintage cocktail shakers are for sale. Need an outdoor fountain to add a little backyard elegance? Water features are plentiful at this antique shop.
Big. That's the best word to describe Jere's Antiques. In the heart of downtown Savannah sits a 33,000-square-foot showroom that holds collections of fine antiques. Because of its unique collection of statement pieces that date back to the 18th century, family-owned Jere's Antiques boasts a worldwide clientele.
Although Jere's Antiques has a large collection of antiques, the shop also specializes in bespoke furniture. Dedicated cabinet makers and restorers can create and recreate fine quality English and Continental furniture using older timberwood. With Jere's, if a classic piece cannot be found, it can be custom-built.
Alex Raskin Antiques is as much an antique shop as it is a tourist attraction. Housed in the Noble Hardee Mansion on Bull St., Alex Raskin Antiques offers a vast array of collectibles that makes shoppers feel as if they're in a museum rather than an antique store. The mansion is essentially unrestored, with peeling wallpaper and water stains, but just like the mansion itself, the antiques it houses gives guests a glimpse into the city's past.
Although a bookstore may not traditionally come to mind when shopping for antiques, The Book Lady Bookstore must be mentioned in any conversation involving Savannah's historic treasures. The bookstore is one of the best places to find classic pieces of literature.
Located in Savannah's historic downtown, The Book Lady Bookstore has a rare books room with first editions of many literary masterpieces, as well as collectable volumes, signed titles, and scarce titles. In addition, the cozy bookstore has an extensive collection of Georgia and Southern history, poetry, photography, travel, and more. And to top it all off, The Book Lady Bookstore provides local writers and poets with a platform to read their latest works, engage in artist talks, and join a superb book club.