Where to Find the Best Thrift Stores in Denver
Where to Find the Best Thrift Stores in Denver
As Denver continues to grow, garnering international attention and attracting residents from all walks of life, so too do its variety of businesses. The Mile-High City's creative, progressive flair is ever-present throughout its unique neighborhoods, stunning street art, distinctive museums, and especially, its second-hand fashion scene.
No matter which section of the city you're in, there's sure to be a thrift shop nearby. Not only does the city's environmentally friendly attitude help these stores thrive, but its vibrant, bustling downtown population provides a wealth of products with each new season, from vintage leather coats to Dolly Parton memorabilia.
Here are the best thrift stores in Denver, grouped by neighborhood.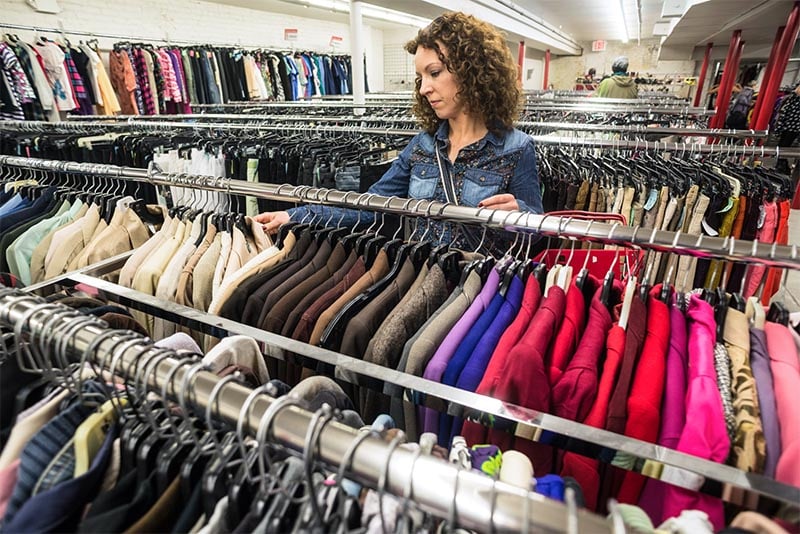 This eccentric, central neighborhood is just a few short miles from the heart of downtown but can feel a world away. Historic homes speckle sleepy streets while its vibrant Santa Fe Arts District remains abuzz with city residents out for a stroll or tourists looking to nab a piece of original art. Baker is also known for its authentic Mexican food, walkability, and thrift shops.
Its name says it all: This shop truly is a goldmine of rare, unique finds. The owners of Goldmine Vintage travel the country, creating a collection that showcases fashion from different cities, regions, and cultures. For over a decade, this store has been a beloved staple in the second-hand clothing scene.
Nestled in the heart of South Broadway's Antique Row, The TenPenny Store features 1960s, 1970s, and 1980s style finds. Elvis Presley concert tees sit next to western-style fringe jackets, turquoise encrusted bracelets, and genuine leather cowboy boots. For a blast from the past with a sprinkle of Wild West flair, duck into TenPenny.
A long-time favorite of native Denverites, Platt Park's charming, peaceful vibe makes it one of the city's most covetable neighborhoods. South Pearl Street boasts a delightful weekend farmers market while also playing host to interesting restaurants like Tokyo Premium Bakery and internationally recognized sushi restaurant, Sushi Den. Its mix of residents fill its second-hand stores with awesome, unique finds.
With over 3,000 square feet of space, Mercer Place boasts a large, curated collection of clothing that spans decades, trends, and brands. Find a statement piece, vintage dress, or authentic bomber jacket among the racks and racks of product. Jewelry, shoes, and even small furniture items can all be found at this Platt Park resale boutique.
For designer duds, Common Threads provides a treasure trove of goodies. Find resale Anthropology, Madewell, Free People, and more. Both the Denver and Boulder locations offer fantastic options in the way of high-quality, affordable pieces.
Although this shop is small, it has a fierce, fun, and fabulous collection of vintage treasures. Since 1996, owner James Elliot has been working in the vintage clothing scene, curating a unique style and specific fashion sense that lends itself to a fun, friendly vibe at Regal Vintage.
This increasingly popular neighborhood of Denver is home to a lively strip, Tennyson Street. Not only does this multi-block retail strip host delicious restaurants, awesome bars, and charming cafes, but it also boasts a plethora of second-hand clothing shops.
A carefully curated selection of second-hand clothing and accessories fills the shelves of this shop. The store's distinctive selection of jewelry includes vintage, costume, and rare finds for those with a penchant for pendants, pearls, and precious stones.
It's no surprise that Denver, named by US News as the 9th fittest city in America, has an active-wear thrift store. The team behind The YOGi Exchange recognizes that high-quality, athletic clothing can be expensive and offers its like-new items from 40-70% off the original retail price. The store also accepts laundered, like-new items, offering cash or store credit.
No Tennyson Thrift Shop tour is complete without a stop at Second Love. This resale boutique features high-end brands like Free People, Marc Jacobs, JBrand, 7 For All Mankind, and Joes. Jeans and casual dresses are abundant year-round, but each season, the store replenishes its racks with like-new, seasonal items, giving its customers access to comfy fall sweaters, unique statement pieces, and even designer winter-wear.
Honorable Mentions
These don't quite fit in the main list—one shop is outside Denver and the other sells home goods—these stores have epic upcycled goods for those looking to revamp their living space or snag inexpensive climbing gear.
Even though this shop is technically not in north Boulder, no thrift shop list would be complete without an awesome used-sporting gear store. Both Boulder and Denver are Meccas for those seeking time in the mountains or those eager to try a variety of sports before putting down roots. Boulder Sports Recycler buys gently-used gear, from Arc'teryx down jackets, Specialized Bikes, and La Sportiva mountaineering boots; this second-hand store is worth the drive.
Antique furniture can break the bank depending on the consignor. However, at reZENed, each piece in the used home furnishings store has a vintage feel without a hefty price tag. Record players, type-writers, and mid-century modern furniture are waiting to add some character to any home.