National Local Life
Where to Find the Best Thrift Stores in Indianapolis
There are many factors behind why shoppers choose to thrift apparel and home goods rather than purchase them new. For some, there are environmental reasons, while others may be looking for a good deal. Although thrifting itself isn't a new concept, interest in resale shops has recently increased thanks to the COVID-19 pandemic. Some shops like Goodwill—a national chain operator—recently reported a boost of donations across Central and Southern Indiana.
Whether it's for the reasons listed above or you just relish the thrill of thrifting, the Circle City offers plenty of opportunities to explore. Check out some prominent thrift stores in these diverse Indianapolis neighborhoods.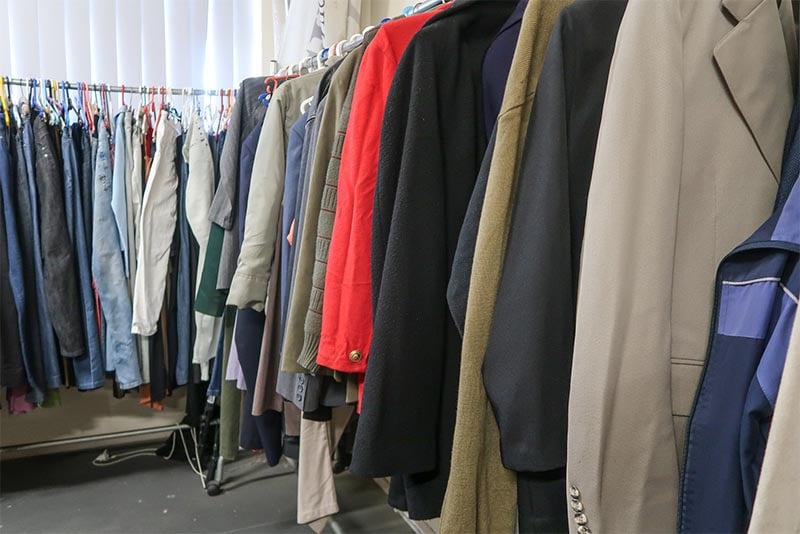 Located on the northside of Indianapolis, Greenbriar features homes that were primarily built in the 1960s. According to their homeowners' association, many people who grew up in the area have returned to purchase their own homes. Nearby 86th Street features local establishments like Oakley's Bistro and Athens on 86th where residents love to frequent.
Neighborhood Thrift Store
If you're looking to make an impact with your purchase, put Thrifty Threads at the top of your list. Operated by The Julian Center, an organization supporting victims of domestic violence, sexual assault, and other life crises in Indiana, a large portion of donations—including clothing, furniture, books, and toys—goes directly to clients in need. Leftover products are sold to the public, which helps underwrite their victim programs and services.
Located just six miles north of downtown Indianapolis, Broad Ripple is an energetic and vibrant neighborhood filled with a mix of bungalows, single-family homes, and apartments. The Monon Trail allows residents to bike, walk, or run to different parts of the neighborhood, like the many amenities available in Broad Ripple Village.
Neighborhood Thrift Stores
Since 1998, Broad Ripple Vintage has been a favorite spot to find period- and genre-specific clothing, eclectic accessories, and valuable second-hand items. As one of the largest vintage dealers in the state of Indiana, shoppers come here to meet specific needs, or just for the fun of the experience.
Inspired by the English word "toggs," which means clothing, The Toggery Resale Boutique contains 4,000 square feet of fashion finds for men and women. Since 1986, this consignment shop has been selling designer looks for a fraction of the price, and better yet, now offers an online shopping experience.
For men who are fashion-forward, Newman & Co is the place to go. This consignment shop offers name brand apparel and accessories at a discounted price. After scoring a deal, shoppers can reward themselves with a baked good across the street at the Cake Bake Shop.
Just south of Broad Ripple is Meridian Kessler, where you'll find dwellings to marvel over. With a mix of mansons, bungalows, and a variety of architecture, this neighborhood is predominately residential, though there are plenty of good eats and locally-owned shops within walking distance. Some favorites that touch the neighborhood boundaries include staples like Diavola and Gallery Pastry Shop.
Neighborhood Thrift Stores
Comprising three main vendors: Notorious Vintage, Lux & Ivy, and Mama Ochre, Rebel Vintage sources merchandise that inspire each owner's creativity and passion for ethical goods. They work with local artists and vendors to contribute to the health of the community. If you're not there to shop, you may find yourself attending one of the events they've hosted, such as workshops, concerts, and various meetups.
Up until recently, those who were truly immersed in Indy's resale scene might've described Naptown Thrift as Indy's best-kept secret. What once was an appointment-only storage unit operation has grown into a true brick and mortar destination, though it's technically in the adjacent Canterbury neighborhood. Those looking for 1990s nostalgia, especially of the sports-related kind, are bound to find something here.
On the near southside and conveniently located close to downtown Indianapolis is Bates-Hendricks, a close-knit community known for its active neighborhood association and unique homes, including a historic landmark with the neighborhood namesake. On the National Register of Historic Landmarks, the Bates-Hendricks House is named after former owners Hervey Bates, a prominent banker, and Thomas A. Hendricks, a former Indiana governor and U.S. vice president.
Neighborhood Thrift Store
Run by the Society of St. Vincent de Paul, Mission 27 is a second-hand shop that is not only giving new life to used items but aims to help provide a better life to those in need. Profits earned go towards two programs: the society's food pantries and its Changing Lives Forever program, which teaches people to become economically self-sufficient so they can break generational cycles of poverty. If you don't find something here, just hop over to its second location just south of the Holy Cross neighborhood.
With a reputation of a small-town feel within the heart of the city, the Holy Cross neighborhood boasts some of the best characteristics of downtown living. You'll find duplexes and Victorian cottages lining the streets, neighbors frequently gathering, and restaurants and cultural attractions just a short walk away.
Neighborhood Thrift Store
Featuring more than 100 independent dealers, this multi-floor store offers items like furniture, jewelry, collectibles, art, and more. Midland Arts and Antique Market has been a favorite destination for shoppers for nearly 20 years, and it has even been named a "best antique place" on various lists.
There's a handful of neighborhoods that make up Indy's near eastside, including Brookside. This changing neighborhood is primarily residential and sits alongside Brookside Park, where disc golf players will be excited to know there's a course. Here, residents are involved and are deeply invested in the health of the community. While you're in the area, make sure to check out favorite local spots, like 10th Street Diner.
Neighborhood Thrift Store
More than 40 years ago, Audrey's Place opened to provide the option to purchase used furniture, antiques, and everyday household items, and it has called Indy's near eastside home ever since. Buyers who are looking for unique purchases, like vintage stereo systems, luggage, and dining sets, will appreciate the ever-changing inventory here.