Miami Local Life
Where to Find the Best Thrift Stores in Miami
Whether you're emulating the Macklemore hit and "popping tags" with $20 in your pocket or you're on a mission to find that eye-catching piece of vintage home decor, shopping at a thrift store is always a treasure hunt.
Though thrift stores have been around for over a century (Goodwill Industries was founded in 1904), they have evolved considerably over time and no longer are they just places where you can find low-cost, previously owned merchandise. In recent years, they also serve as places to shop for antique or vintage (and usually costly) wares.
You'll also find thrift shops that address broader social issues, such as stores that serve as work programs or offer free HIV testing.
If you're looking to get rid of old clothing or furniture (and take advantage of the tax advantages that go along with it), most of these stores accept donations. In Miami, you'll find thrift shops in virtually every corner of the city, but the following neighborhoods are where they are most common.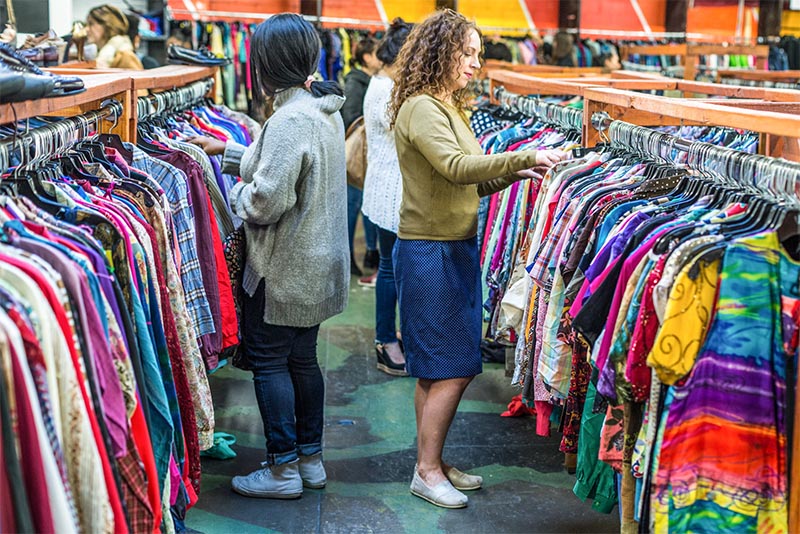 Hialeah is a very large suburban area northwest of Downtown Miami with a diverse population and a wide range of housing and shopping venues. If you're looking for an alternative to the sprawling suburban mall filled with national chain stores, then you'll find several large thrift stores in this neighborhood.
While you can find these stores across the country, in Miami they are in Hialeah and North Miami. If there's such a thing as "one-stop shopping" at a thrift store, then this is it—you'll find clothing, shoes, linens, jewelry, accessories, housewares, toys, books, electronics, and furniture.
In addition to men's, women's, and children's clothing, you can also find both new and used furniture at discounted prices. In addition to the Hialeah store, there are stores in North Miami and Boca Raton.
L&A Thrift Store
This no-frills warehouse features new and secondhand furniture, appliances, and mattresses. Customers love the low prices and good selection of items.
One of the city's oldest neighborhoods, Allapattah has been on the rise recently because of new developments and its home as Miami's health district. While it has undergone much change in recent years, Allapattah still has features that have been there over time, such as thrift stores. In addition to standbys like Goodwill, this area has smaller shops and more socially oriented enterprises.
Benefiting the Lotus House Women's Shelter, this store's purpose is threefold—serving as a boutique, donation center, and retail work program. Here, you'll find designer vintage, "like new," and gently used clothing, furniture, collectables, and more.
While this store is small, you'll find a lot of the same type of items (at similar prices) as you would in larger thrift stores, such as clothing, toys, and furniture.
At this store, customers are charged by the pound for textiles and clothing. It's large, so if you're into thrifting, make sure you have ample time to browse the entire center to take full advantage of the low prices.
While these two abutting neighborhoods north of Downtown have a decidedly hipster vibe, they also have some good, old-fashioned bargain shopping in the form of thrift stores. And, like other stores in Wynwood, they have unique offerings that you may not find elsewhere in the city.
While the prices here may be slightly higher than in other thrift stores, it offers more antiques and vintage items. It's worth a visit if you're on the lookout for truly unique clothing and other items.
Though you may want to try to negotiate on some of the prices here, you'll have plenty to look at in this large venue. Just leave enough time to peruse the center and make the most of its bargain-hunting potential.
This nonprofit organization is a thrift store with second-hand clothing and furniture, but also offers free HIV testing. Other Out of the Closet stores can be found in Wilton Manors and Fort Lauderdale.
Coconut Grove is known for its artsy and eclectic vibe, so it's no surprise that thrift stores are a part of its retail offerings. Though the stores here tend to offer higher-end, and slightly pricier, wares than in other areas, you can still find bargains.
You'll find the same brand name women's clothing here as in other stores at a fraction of the price—providing you don't mind their gently used quality. A bonus is that a portion of the proceeds from sales go to charity.
You don't have to be rich to look like a runway model if you shop here, where you'll find brand names such as Manolo Blahnik, Christian Dior, and Dolce and Gabbana at 75% off their retail price. You can also donate items you no longer want and potentially receive money for them. Items are received on consignment, whereby the consignee receives 50% of the selling price.
An initiative of Plymouth's Women's Fellowship, the store has been at its current location on Commodore Plaza since 1957. Its operations depend on donations and its purpose is twofold: to provide income to local missions and serve those with limited resources.