Where to Find the Best Thrift Stores in New York City
Where to Find the Best Thrift Stores in New York City
You can find just about anything in New York City, and great vintage is no exception. New York City's thrift shops are some of the most varied in the country. Here, you can find everything from glamorous designer pieces to pre-loved staples—if you know where to look.
Below, we'll share our favorite neighborhoods for thrifting in New York City, and the must-see shops in each one. Head here to find the timeless, the trendy, and everything in between.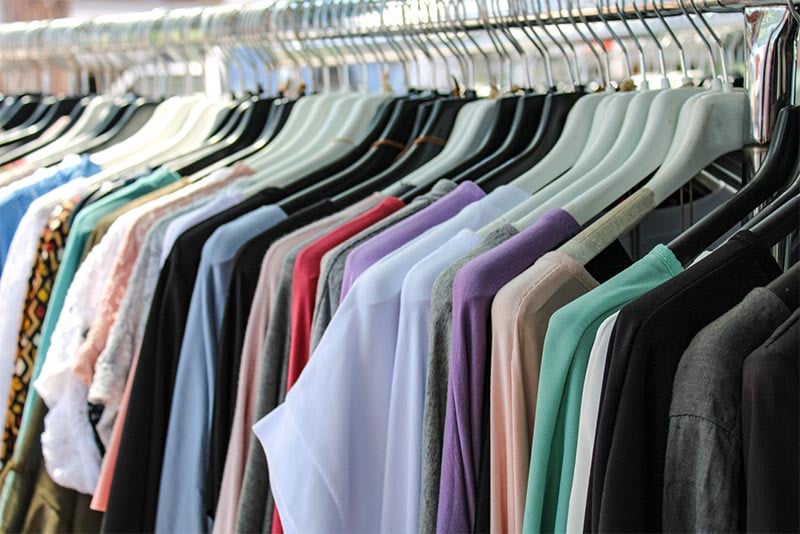 The Lower East Side is a great example of Manhattan's multicultural charm. This neighborhood was historically an enclave for European immigrants, and their legacy is preserved through the Lower East Side's authentic restaurants and cultural centers. However, newer generations have made their mark on the Lower East Side, too. Explore the neighborhood's trends from all different eras at these local vintage shops.
Cure Thrift Shop
This well-stocked thrift store carries everything from vintage clothing and accessories to antique furniture. Shoppers also support a good cause with every purchase. Cure's founder suffers from Type 1 Diabetes, and proceeds go to funding diabetes research.
East Village Thrift Shop
Don't let the seemingly small exterior fool you: The East Village Thrift Shop is packed with racks and display cases, each holding a treasure trove of vintage goods. Patient shoppers will love combing through the shop's offerings, where plenty of treasures are hiding in plain sight.
East Village Vintage Collective
The East Village Clothing Collective perfectly captures the quirky side of New York City. The shop has a curated collection of vintage accessories, homewares, and knick-knacks, making it a great place to find unique gifts. They also offer clothing, books, and records, making it nearly impossible to leave empty-handed.
Located on the other side of the East River, Williamsburg is minutes from Manhattan, but with a culture all its own. You might know it as a "hipster neighborhood." However, Williamsburg's tree-lined streets and laid-back culture attract people of all ages and interests. Tiny, tucked-away boutiques make this neighborhood the perfect place for exploring. Here are our favorite places for finding something special.
Awoke Vintage
Tired of wearing the same basics as everybody else? Head to Awoke Vintage to shop from a great collection of vintage jeans, T-shirts, and other staples. The Williamsburg shop is Awoke's first brick-and-mortar location. However, they now have two other locations in the neighboring Greenpoint neighborhood.
Arbor Vitae Vintage
Arbor Vitae specializes in clothing from the 1940s to the 1990s. This small shop is known for its great selection, as well as its great prices. Check out their bargain racks, where you can find vintage pieces for just a few dollars.
Artists and Fleas
Artists and Fleas is a bustling marketplace where artisans sell handmade and vintage goods. Here, you can find everything from period clothing to old records, all curated by passionate locals.
After you explore Williamsburg, head farther into Brooklyn to check out another great neighborhood. Bushwick is a bustling, diverse region in northern Brooklyn. It's known for its strong Latin roots and thriving community art scene. It's also home to some of the best thrift shopping in the city. Here are some of our favorite spots include.
L Train Vintage
L Train Vintage is a local chain that helps New Yorkers pull off an effortless, chic look. Their two-story shop in Bushwick is full of clothes, shoes, and coats for the whole family. Looking for an even greater selection? Head to their East Williamsburg location, aptly named the Urban Jungle.
GG's Social Trade & Treasure Club
GG's Social Trade and Treasure Club is a vintage shop, event space, and art gallery. This Bushwick staple is a great place for thrifting. They offer everything from quirky graphic tees to fun statement jewelry. It's the perfect spot to find something unique.
Beacon's Closet
Beacon's Closet is another popular thrift store chain in New York City. At their Bushwick location, you can score everything from winter coats to party dresses, all at a reasonable price. If you're looking to declutter your closet, Beacon's Closet is also known for its buy/sell/trade program.
The West Village is one of Manhattan's most iconic neighborhoods. Whether you're taking photos outside of the "Friends" building or checking out the High Line, you'll notice the neighborhood still maintains the charm that made it famous in the 20th century. Local history matters to Village residents. You can find a piece of this history for yourself at one of the West Village's thrift stores.
Housing Works Thrift Shop
Housing Works is a New York City nonprofit that works to fight both homelessness and the AIDS epidemic. The charity runs 10 thrift stores across the city, all of which are restocked daily. Head to the West Village location for a great collection of clothing and furniture.
St. Luke's Thrift Shop
St. Luke's Thrift Shop is just around the corner from Housing Works. This church-run shop is located in an unassuming basement. But don't let that fool you. Step inside and you will be greeted by vintage homewares, accessories, and plenty of books.
Clementine Consignment
Don't forget about the kids. At Clementine Consignment, you will find clothing for babies, toddlers, and small children. They boast an impressive selection of designer maternity clothes, too.