Where to Find the Best Thrift Stores in San Francisco
Where to Find the Best Thrift Stores in San Francisco
Home to high-end fashion and trendy casualwear alike, San Francisco provides an abundance of opportunities to expand your wardrobe for less. The city boasts an eclectic mix of vintage, second-hand designer, and consignment shops, many of them within close proximity of one another.
Whether you're looking for trendy everyday apparel, curated vintage pieces, or second-hand designer clothing, here's where to find the best thrift stores in San Francisco.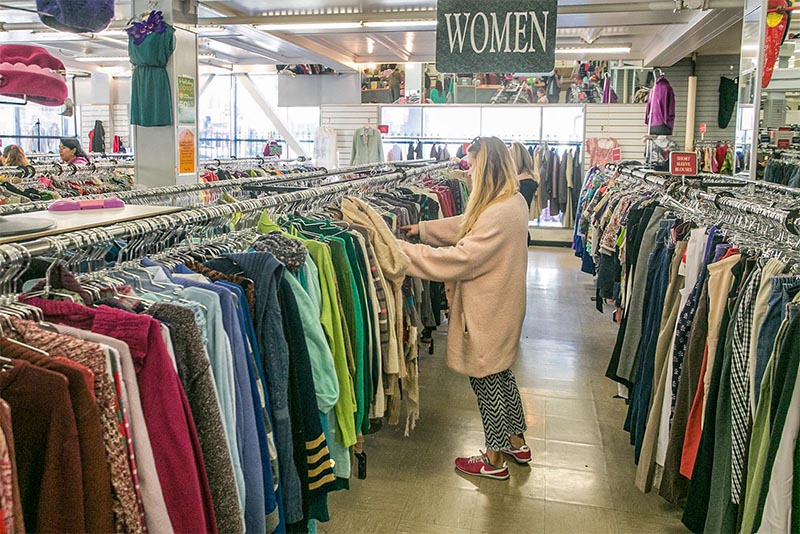 Located in the northeast part of the city, Nob Hill is home to a variety of homes, shops, restaurants, and thrift stores. The neighborhood is popular with tourists and locals alike, as it's home to attractions such as the relaxing Huntington Park and a well-known bar scene. A mix of contemporary and historic homes make Nob Hill a must-see neighborhood.
Known for its well-curated collection of designer clothing, Cris Consignment brings over 30 years of experience in San Francisco to the table, offering customers luxury brands at affordable prices. You can find discounted Gucci, Armani, or Chanel here, but Cris Consignment offers a variety of department store brands as well.
Located just a few blocks from Cris Consignment, ReLove's curated collection includes a mix of vintage, designer, and contemporary pieces at affordable prices. This women-owned shop prides itself on fostering incredible style in both the store's buyers and sellers.
Fashion Exchange's Polk Street location carries everything from designer pieces to department store brands. Additionally, Fashion Exchange is known for its year-round selection of costumes and "ugly" Christmas sweaters.
One of the city's oldest neighborhoods, the Mission District is rich in history and home to a variety of bars, shops, and restaurants. Famous for its Mexican cuisine, this neighborhood is chock full of vibrant street art, hip cafes, and parks that appeal to both locals and tourists.
The chain secondhand store's outpost on Valencia Street is the place to go for contemporary pieces. The buy/sell/trade model has items constantly flowing in and out of the store, and staffers curate stylish looks on mannequins with finds from the racks. The store is also known for its large inventory of shoes that take over the back wall.
Unlike many of the stores in Nob Hill, Community Thrift Store is known for its furniture, books, and other household items in addition to clothing. Founded in 1982, Community Thrift is a nonprofit organization that works to benefit over 200 charities in the Bay Area. If you like the hunt that inevitably comes with thrifting, Community Thrift regulars say it takes a bit of digging to find the store's gems.
Shop vintage, contemporary pieces, and basics at affordable prices at No on Valencia Street. No is known for one-of-a-kind styles for both men and women and a helpful staff that works with customers to find the best pieces for their wardrobes.
Once the center of the bohemian movement, the Haight-Ashbury neighborhood of San Francisco is now home to trendy cafes, shops, and residential buildings. Locals love the health-conscious restaurants and yoga studios that have cropped up in the area in recent years.
Originally a Berkeley-based co-op, the Indigo Vintage Cooperative opened up a second location on the popular Haight Street. Shop Indigo SF's rotating vendors for vintage denim, funky baby tees, or the coolest sneakers. For online shopping, check out Indigo SF's Instagram page.
If you're looking for true vintage, make a stop at Wasteland. Pick up a band tee, Levis that make you feel like you stepped out of the 1990s, or get inspired by the looks that Wasteland's staff has curated already.
Whether you're on the hunt for a costume for your next themed party, or simply looking for a piece to spice up your wardrobe, Held Over is known for its variety. Affordable prices keep customers coming back time and time again, regardless of the occasion.