Bay Area Local Life
Where to Get the Best Coffee in Fremont
If you're a resident of Fremont, chances are you're a big fan of a good, steaming cup o' joe. After all, a WalletHub report revealed that Fremont residents spend more money on coffee every year than residents of any other city in the United States. Fremont households spend $185 every year on coffee, which is triple what Detroit—the city that spends the least on coffee—spends. So this begs the question, where can you get a great cup of coffee in Fremont?
Here's a list of where to find the perfect cup o' joe in Fremont.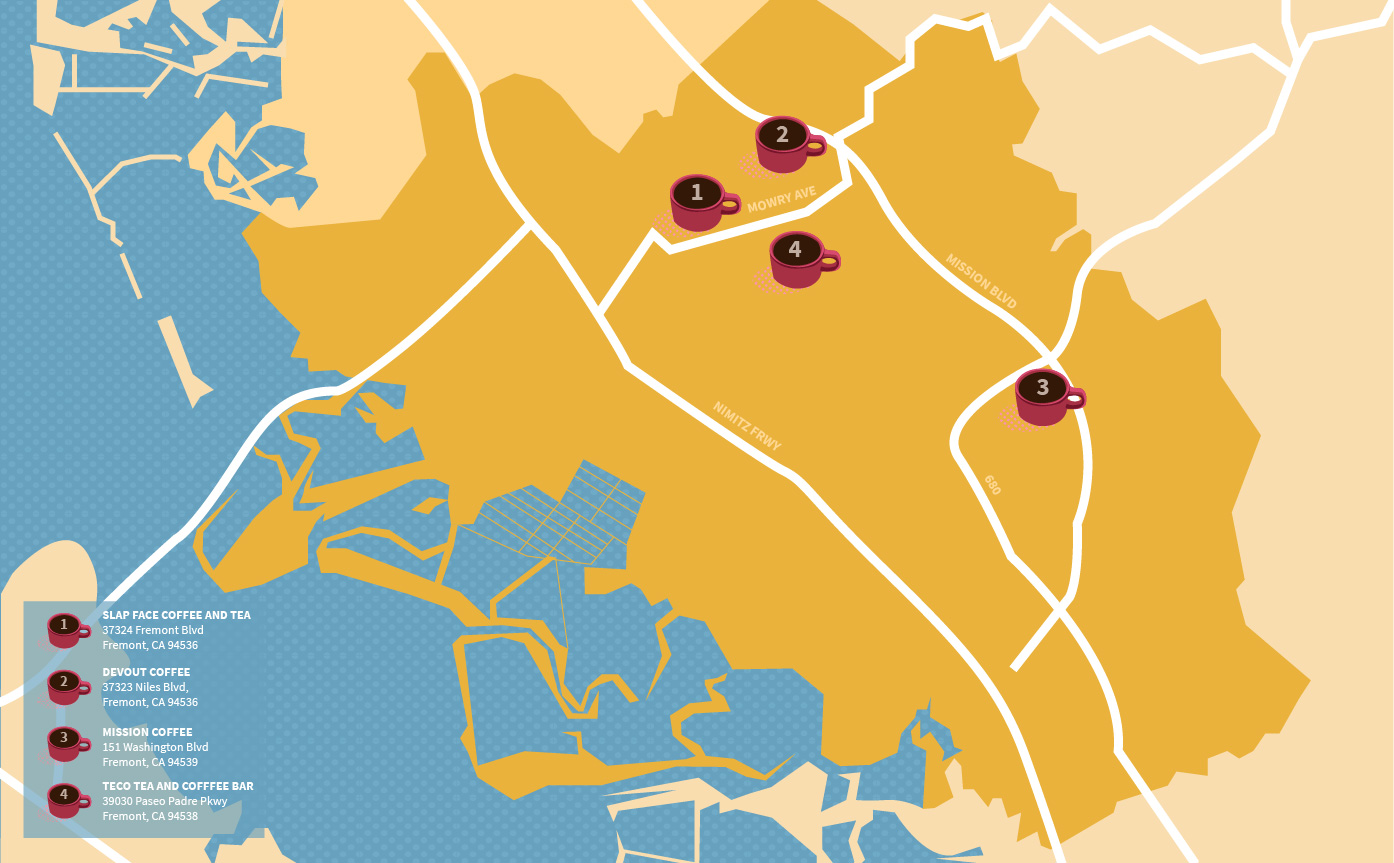 Slap Face Coffee & Tea
Slap Face Coffee & Tea has more than just an interesting name. This coffee shop serves up some interesting and delicious flavors, from red velvet to coconut voodoo. With two floors of seating available, you're bound to find a place to sit, whether you're looking to catch up with friends or get some work done. The coffee shop also offers multiple private study rooms, where you can work on a freelance project or cram for that upcoming exam. The shop is also open until midnight—quite a rare trait among Bay Area coffee shops. Keep in mind that the parking lot is pretty small, so street parking may be your best bet during peak hours.
Bean Scene Cafe
Whether you're looking for a green tea latte, black forest mocha, or an almond cappuccino, you'll find your favorite order at Bean Scene Cafe. The relaxing ambience is perfect for reading a book, catching up with a friend, or doing some studying. Bean Scene Cafe is especially popular with students, given its close proximity to Irvington High School; plus, the cafe offers student discounts and happy hours, keeping prices low for studious coffee drinkers. If you get hungry, the coffee shop also offers lots of food items, from omelettes to sandwiches. Can't do work if you're hungry, after all.
Devout Coffee
Come for the coffee, stay for the rustic atmosphere, pleasant outdoor seating, and knowledgeable baristas. But don't expect all kinds of flavor shots or a wide drink selection—Devout Coffee is all about enjoying the simple, raw form of a coffee drink. Beans here are freshly ground, and the milk you get is Clover organic milk, sourced in California. What you get is a full-bodied coffee that's strong and pleasantly acidic. Don't forget to try a maple bacon cronut or a croissant with your drink.
Mission Coffee
Mission Coffee offers the quintessential coffee shop experience with board games, local artists' paintings decorating the walls, and comfortable worn-in couches. The musical genre played over the speakers is frequently rotated—some days you'll hear Broadway classics, while other days you'll get morning acoustic. This independent shop also serves up some tasty lunch options, including sandwiches, paninis, and salads.
Teco Tea and Coffee Bar
If you value the ambience of a cafe as much as you value the taste of its coffee, check out Teco Tea and Coffee Bar. The modern decor and pleasing aesthetic will make you want to spend hours here, nursing a salted caramel coffee or a fruity Sunset Boulevard tea drink. This shop has an extensive menu of both coffees and teas, so even if you switch up your order frequently, it'll take you a while to run out of options. There are also plenty of sweet treats available, including macarons in a variety of flavors, from pistachio to raspberry. Oh, and Saturday nights are karaoke nights, so bring your inner diva and your favorite tunes.