Miami Local Life
Where to Go Hiking in and Near Miami
Maybe you're not in the mood for a water activity or you just want to explore Miami's natural environment on foot. Maybe you're tired of being trapped indoors due to the ongoing pandemic and just want to stroll outdoors in a picturesque setting. Whatever the reason, there are many locations where you can enjoy hiking in and around the city.
Hiking in Miami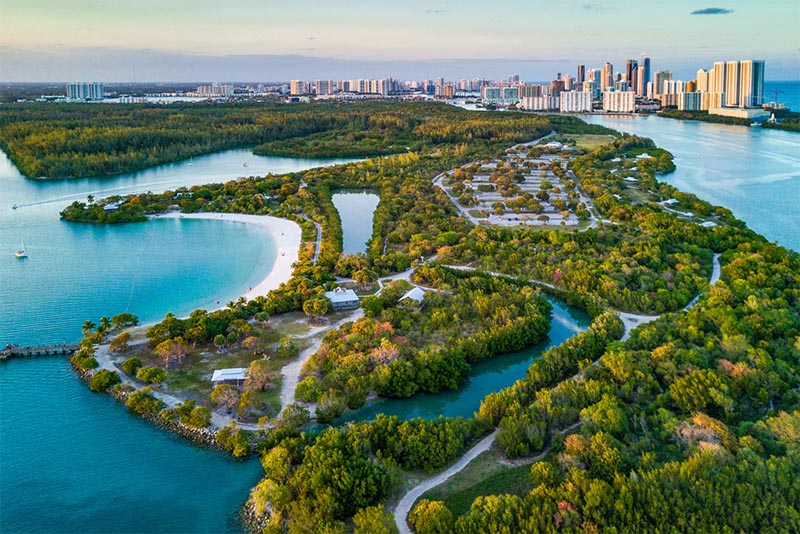 Located along Biscayne Bay in Miami, Oleta River State Park is known as the largest urban park in the state and is home to many outdoor activities, including swimming, kayaking, paddleboarding, and bicycling. However, for those who want to enjoy the park on foot, there's a nature trail that circles the 1,033-acre park just east of Sunny Isles Beach where you'll hike through mangroves and gumbo-limbo trees and may catch a glimpse of blue herons and pelicans.
Another benefit of hiking here is that you can enjoy a meal or a drink at the on-site Blue Marlin Fish House. Nearby, in North Miami Beach at the eastern portion of Greynolds Park, hikers can take advantage of several trails that offer an abundance of nature.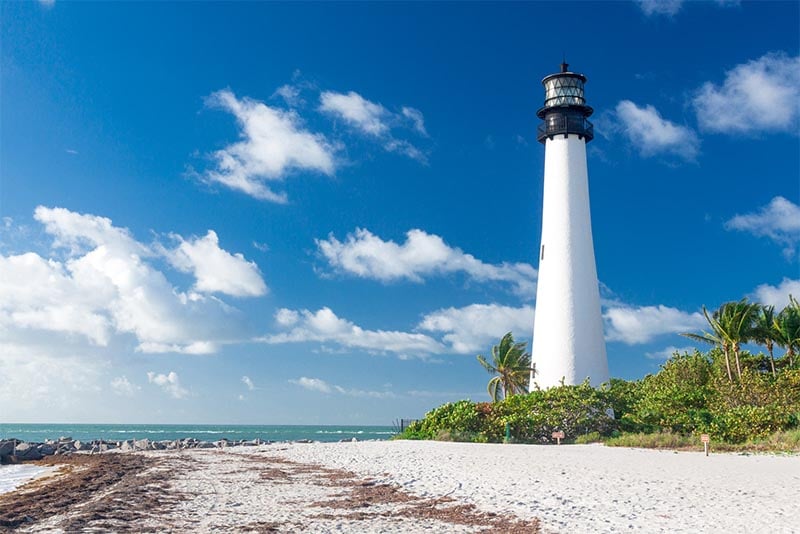 In addition to beautiful scenery, Bill Baggs Cape Florida State Park also has a rich history. Seminole Indians once stayed there seeking to remain in their homes while fugitive slaves sought refuge there, and Black Seminoles secretly gathered before taking safe passage to the British Bahamas. Now, it's a place where visitors can enjoy nature trails on the western end running through the mangrove wetlands and coastal strand. Hikers can also stay for the stunning sunsets over the bay.
Also on Key Biscayne, beachside Crandon Park offers miles of white sandy beaches, dunes, and seagrass for hikers to explore. The park has an on-site Nature Center and offers self-guided tours through a mangrove boardwalk that leads to a reef overlook. Hikers, along with joggers and cyclists, enjoy the nature trail that runs along the beach and across a shaded hardwood hammock at Virginia Key Historic Beach Park.
If you're looking for a longer trail to hike, the Rickenbacker Causeway Trail is a 9.9-mile trail located near Key Biscayne that features wildflowers and is good for hikers of all skill levels. The trail offers a number of activity options and is accessible year-round. Dogs are also able to use this trail.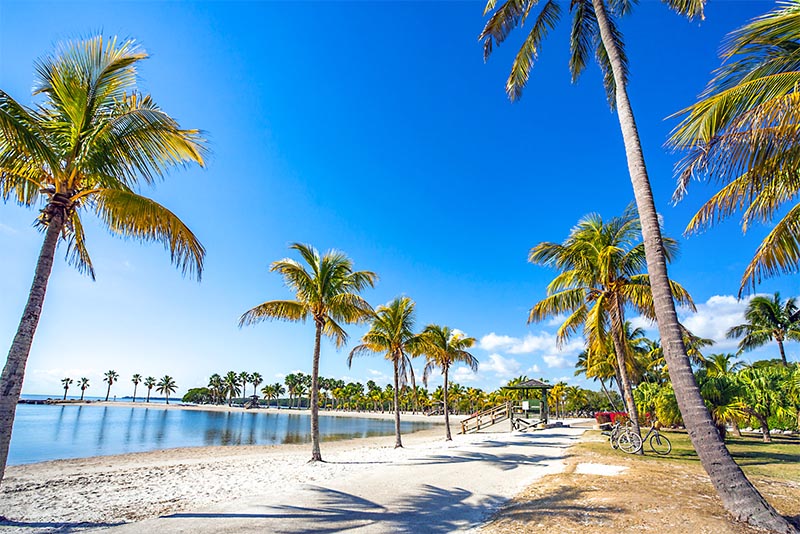 If you're looking for a respite from city life, Matheson Hammock Park is a great place to go. It's a waterfront park lined with mangroves and located along the Biscayne Bay with views of the Miami skyline. The 1.4-mile trail winds through tropical vegetation in a peaceful setting, perfect for a relaxing stroll or some birdwatching. It also features a man-made atoll pool where visitors can swim, and a host of other amenities if you want to pair a hike with another activity.
If you're looking for a unique experience that allows you to convene with nature and maybe even learn about it, then the Fairchild Tropical Botanic Garden is an option. Although there's an entry fee (memberships are available), the garden features acres of tropical plants and trails to explore. Butterfly releases are held twice daily and art and sculpture can be found throughout the grounds.
With over 515 acres of land, Amelia Earhart Park is one of the largest outdoor recreation facilities in the city. Named in honor of famed female pilot Amelia Earhart, who took her last flight from Miami in Hialeah in 1937, it features a host of both water and land activities. For hikers, there are many trails and a five-acre "Bark Park" where you can hike with your four-legged friend.
Hiking Near Miami
Driving Distance From Downtown Miami: 1 hour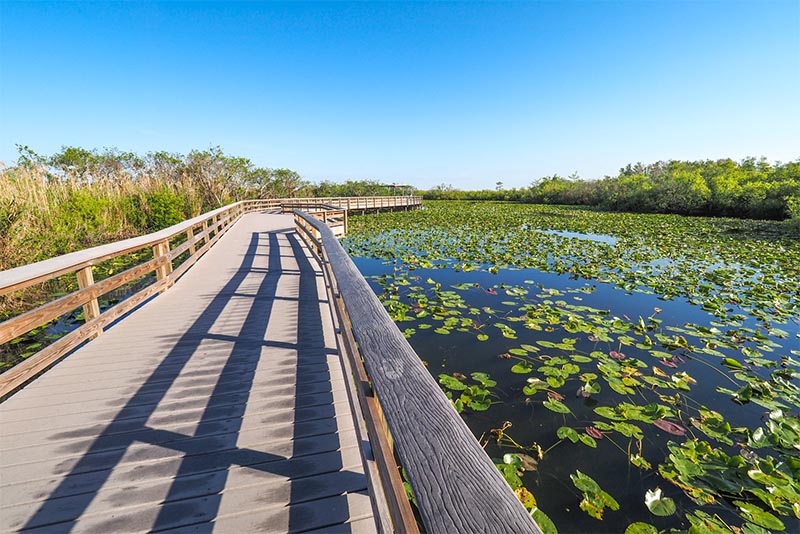 With 1.5 million acres of wetlands, Everglades National Park is one of South Florida's natural splendors. And there's no better way to enjoy its rich ecosystem than hiking.
At the park's Shark Valley Visitor Center, you'll find a 15-mile paved trail that winds its way through the subtropical marshlands of the Everglades. This trail is also open to bicycles and a tram tour, so you'll have to share the space, but there's ample room for all. There are numerous shorter trails, including the Pine Island, Flamingo, and Coastal Prairie Trails, among others. You should be aware that some of the trails aren't maintained, so you may have to navigate tree branches and other obstacles.
Alligators are in abundance in the Everglades, so don't be surprised if you see one in close proximity (don't worry, you'll be perfectly safe). Other wildlife you may witness include turtles, anhingas, herons, egrets, and many other birds. You'll also get the chance to see different types of mangroves, including white mangrove (Laguncularia racemosa), black mangrove (Avicennia nitida), and red mangrove (Rhizophora mangle).
Driving Distance From Downtown Miami: 45 min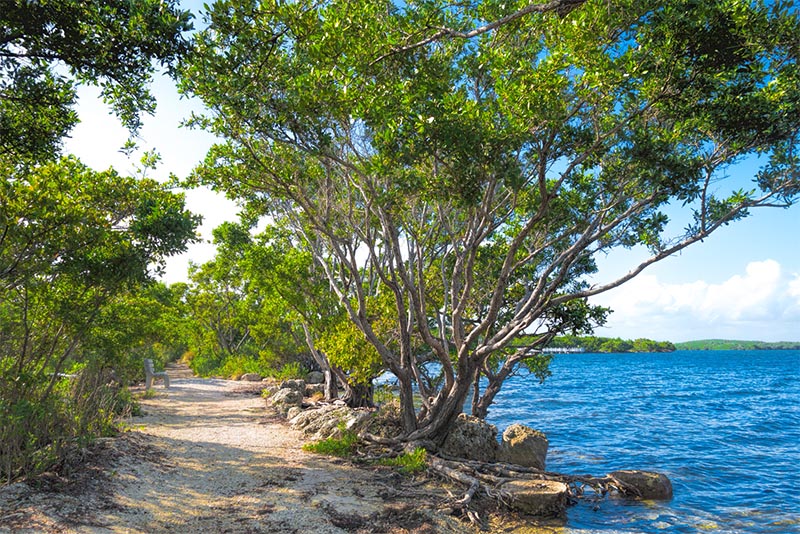 While most of the recreational activities you'll experience at Biscayne National Park are underwater, there's a quarter-mile jetty trail that can be accessed at the Dante Fascell Vistor Center's Convoy Point. If you're able to make it to Elliot Key, which is only accessible by boat, the seven-mile Spite Highway trail is a great way to explore the island.