National Local Life
Where to Go Hiking Near Charlotte
While Charlotte has its fair share of greenways and running trails within city limits, sometimes it's nice to head out of the city for a hike in more natural settings. Fortunately, there are several incredible hiking destinations within a short drive that offer a wide variety of trails, making it easy to find a hike to suit just about any age or fitness level.
Next time you're looking for an outdoor excursion, here are five places to hike near Charlotte.
Anne Springs Close Greenway is a 2,100-acre nature preserve that features an extensive trail network that stretches to a total of 36 miles. Every trail on the expansive preserve offers serene surroundings and scenic views, and depending on the chosen trail, you'll pass by everything from a 28-acre lake and horse pastures to a historic grist mill. There's also a 125-foot suspension bridge you can cross over.
The greenway is open daily from 7 a.m. to sunset. Admission is $6 for adults and $4 for children ages 5-12.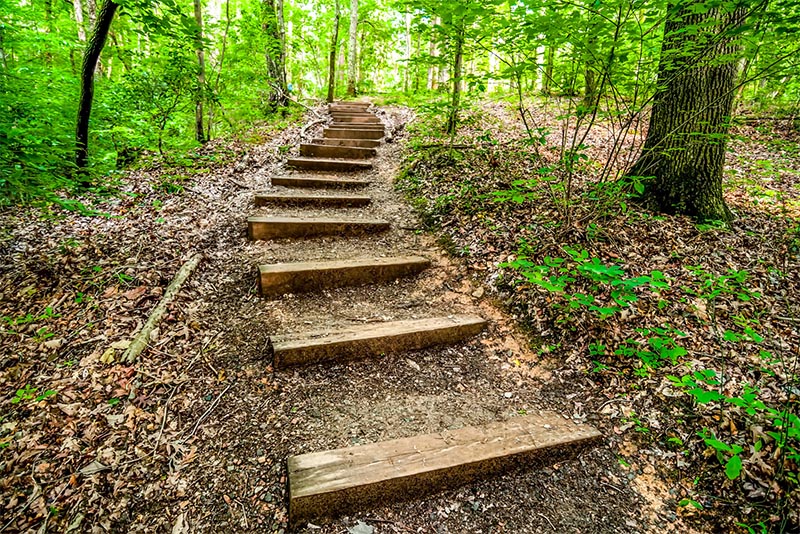 If you want to go somewhere with a lot of hiking options all in one location, consider Crowders Mountain State Park, which is home to 11 hiking trails. Within the park there are varying difficulty levels that range from short, leisurely strolls around a scenic lake to more strenuous routes full of inclines that lead to summits with panoramic views.
If you make the trek up to either the Crowders Mountain or Kings Pinnacle summits, be sure to have your camera handy for the ultimate payoff—on a clear day, hikers can see as far as 25 miles from the summits. The Charlotte skyline can often be seen off in the distance. Crowders Mountain State Park is about a 40-minute drive from Uptown, and there are no entrance fees.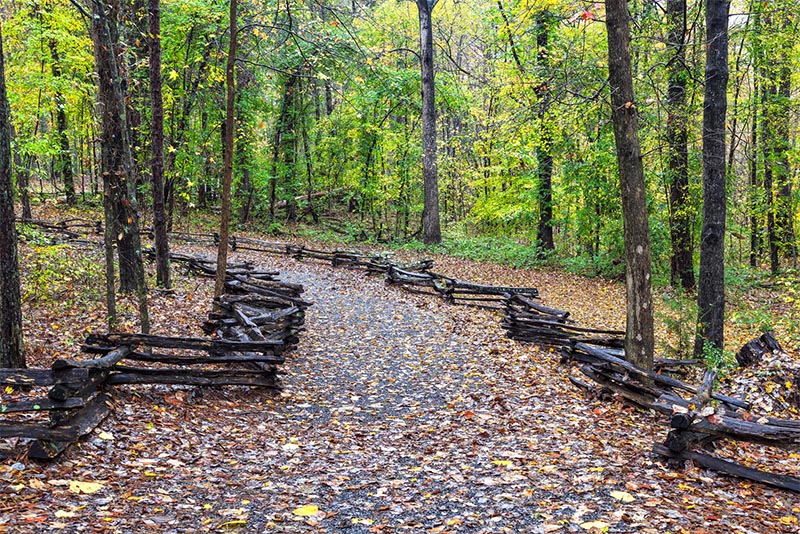 While Kings Mountain State Park is home to a variety of trails, those looking for a lengthy hike should definitely consider the park's Kings Mountain Hiking Trail that extends to 16 miles. The loop is rated as moderately difficult and follows gently rolling terrain through hardwood forests with views of the Blue Ridge Mountain foothills.
For shorter, easier hikes, consider the 1.2-mile Kings Mountain Nature Trail or the 1.5-mile Living History Farm Trail. The park is 45 minutes from Charlotte and open seven days a week from 8 a.m. to 6 p.m., with extended hours during Daylight Saving Time from 7 a.m. to 9 p.m. Admission to the park is $3 for adults, $1 for kids ages 5-16, and children under the age of five are free. Leashed pets are allowed on the hiking trail.
While North Carolina's largest man-made lake may be its biggest draw, Lake Norman State Park also has a lot to offer visitors when it comes to hiking. The park has four trails, ranging from a short 0.15-mile loop to a trail that spans more than 30 miles.
The Dragonfly Trail is the shortest of Lake Norman State Park's trails. The paved 0.15-mile loop is ideal for anyone looking to get in a quick, easy hike with picturesque views. It's also wheelchair and stroller accessible. The 0.8-mile Adler Trail is another easy hike that follows along a natural surface path and provides hikers with scenic views of the popular lake. Lake Norman State Park's Lake Shore Trail offers hikers a moderate hike that has two options: Hikers can make a three-mile loop round-trip or take a series of extensions that make the entire trip just over six miles long.
Spanning more than 30 miles, the Itusi Trail is the park's longest trail, but don't let the high mileage fool you. The trail is comprised of eight loops that range from one to 9.75 miles, so you don't have to commit to a full 30-mile hike unless you want to. All the routes on this trail are rated between easy and moderate hikes. There are no entrance fees, and Lake Norman State Park is open daily with varying hours throughout the year.
Situated just outside of the city, the US National Whitewater Center gained fame for its man-made, class II-IV whitewater rapids, but the expansive 1,300-acre property also features more than 50 miles of hiking trails spread through protected woodland.
With more than two dozen trails to choose from, the USNWC provides hikers with plenty of options when it comes to trail lengths and difficulty levels. Each trail features both challenging climbs as well as descents, and they range from a short 0.25-mile hike up to almost six miles with most of them interconnecting, making it easy to add additional mileage to any hike.
The USNWC's trail system is pet-friendly as long as dogs are leashed at all times. It's free to hike the property's trails, however, there's a $6 parking fee. It's open year-round from dawn until dusk.