Where to Go Hiking Near Philadelphia
Where to Go Hiking Near Philadelphia
Philadelphia has been a hub for urban adventures since the American revolution, but you don't have to travel far to discover that the region is also full of natural beauty. Southeast Pennsylvania has access to mountains, rivers, National Parks, and historic sites, making it the perfect place to get out and explore.
Give yourself a city break with these hiking spots near Philadelphia (and a few within the city).
In Philadelphia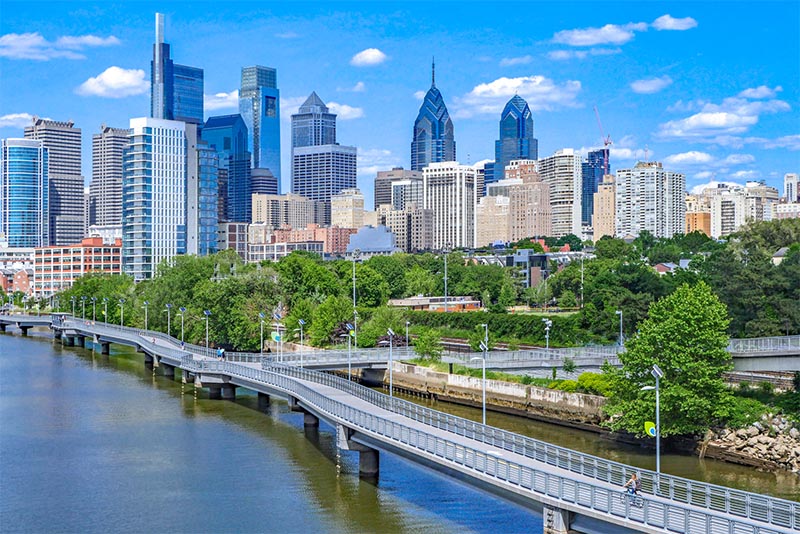 The Schuylkill River Trail (pronounced "SKOO-kill") is first on our list because it's one of the most popular greenspaces in Philly, but it doesn't mean that it's over-crowded. The Schuylkill River Trail extends over 75 miles, and there are plans for the trail to reach 120 miles in the future. The footpath features both paved and gravel roads that wind through both urban and rural landscapes.
There are several entrance points to the trail along the Schuylkill River in downtown Philadelphia. Use this map to find the entrance closest to you, then spend the day exploring nature and small towns located off the trail. The wide and easy-to-navigate path is great for both gentle day hiking and biking.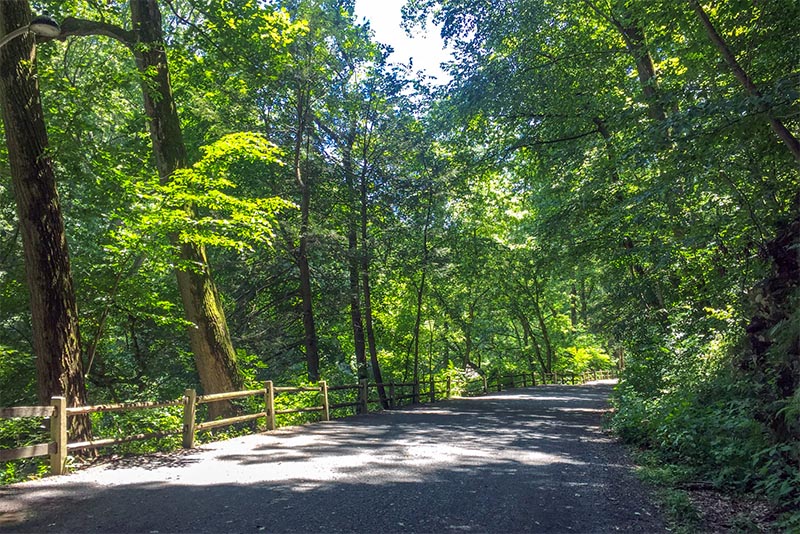 Wissahickon Valley Park is another place to explore nature right in Philadelphia. Here, you can hike over 50 miles of trails without leaving the city. This 1,800-acre park has 10 designated hiking trails, featuring both gentle paths and more strenuous routes.
Despite its urban zip code, Wissahickon Valley Park is known for its natural landscapes. Explorers of all skill levels can wander past meadows, waterfalls, and dense forests. The city also maintains the historic houses and bridges that are sprinkled through the park. History buffs can pause to check out the colonial architecture, then head back to the trails for more hiking.
Near Philadelphia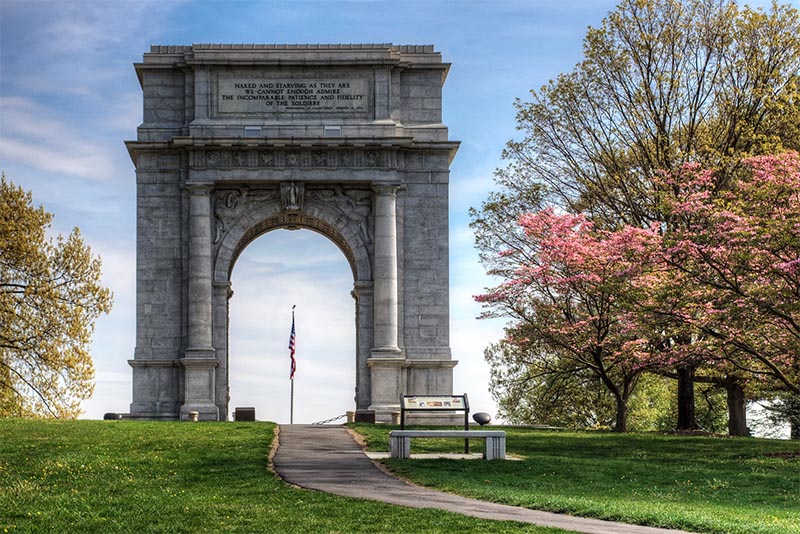 This National Park boasts nearly 20 miles of hiking trails, all of which feature rolling hills, gentle streams, and plenty of biodiversity. Of course, Valley Forge is best known for its historical significance. Monuments and landmarks dot the scenery, allowing visitors to explore both nature and Revolutionary War sites, including George Washington's war headquarters.
Hikers won't want to miss Mount Joy and Mount Misery—the two hikes are both easily accessible from the parking lot at Washington's headquarters. When you reach the summits, you'll be greeted by views of the bucolic countryside below. It'll be hard to believe that Philadelphia is only a half-hour drive away.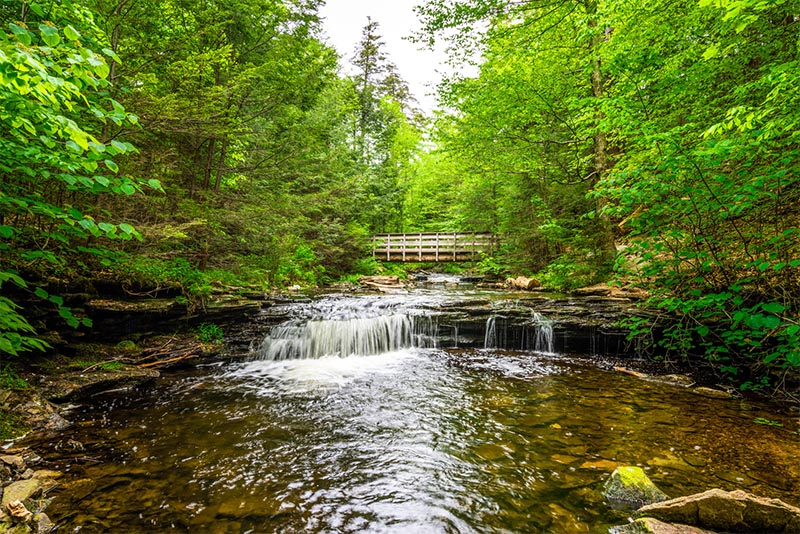 Ricketts Glen State Park is a beloved hiking destination for Philly residents, and for good reason. This park features 24 waterfalls and peaceful cascades tucked inside the dense brush. The scenery allows visitors to feel lost in nature- even with other hikers nearby.
Speaking of other hikers, it's worth noting that this trail is very popular with the locals. This means that it can be crowded on warm weekends. However, that's not necessarily a bad thing. Many of the hiking trails at Ricketts Glen can be difficult to follow. Sticking with other hikers—and downloading the route to your phone—will be helpful if you're visiting the park for the first time.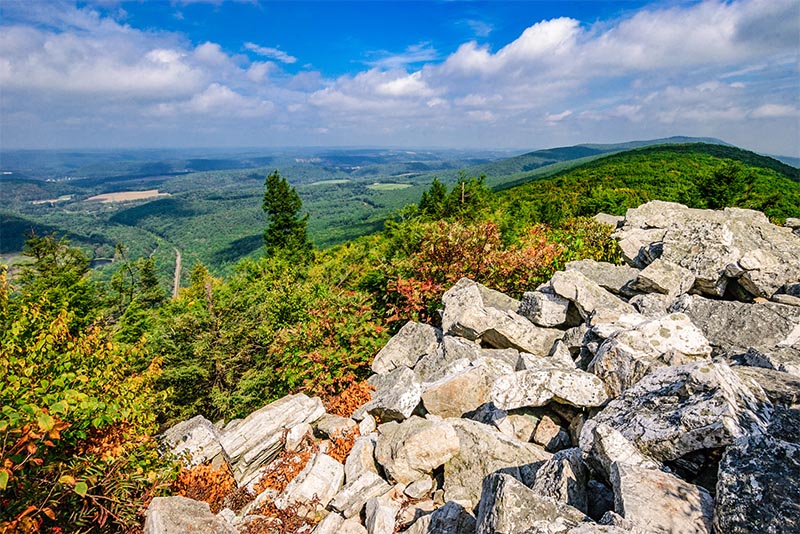 As you can tell from the name, Hawk Mountain Sanctuary is ideal for spotting birds of prey. The mountaintop views offer a great place for bird watchers to check out the local wildlife. But don't let the tranquil scenery fool you; thrill-seekers will find plenty of adventure on the sanctuary's hiking trails.
The Hawk Mountain Sanctuary has four trail loops and six hiking trails, ranging from family-friendly hikes to rocky, strenuous terrain. Raptor viewing sites are found throughout these routes, inviting visitors to stop and look for hawks. The park also features several accessible pathways, making it easy for people of all ability levels to get out in nature.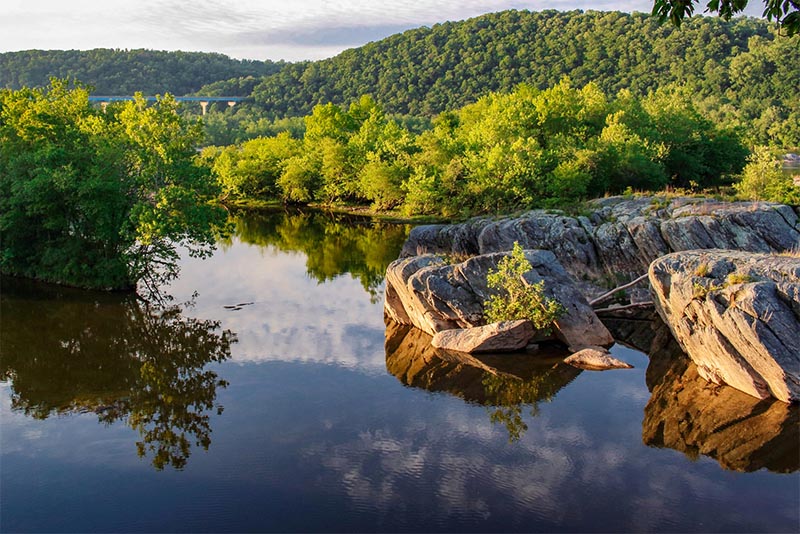 Up for a challenge? Seasoned hikers will love Kellys Run Trail, a 3.8-mile route that runs through the Kellys Run Nature Preserve. This hike involves difficult terrain, boulder/bedrock scrambling, and several water crossings. While this isn't a trek for the faint of heart, experienced hikers will love the steep climb and the untapped wilderness.
The park also features the Pinnacle Overlook Nature Preserve, a scenic spot with sweeping views of the Susquehanna River Valley. The overlook also features a trail that is connected to the Kellys Run Trail. This moderate-to-difficult trail is less challenging than the full Kellys Run Trail hike, offering a less intense challenge to visitors who still want a demanding day hike.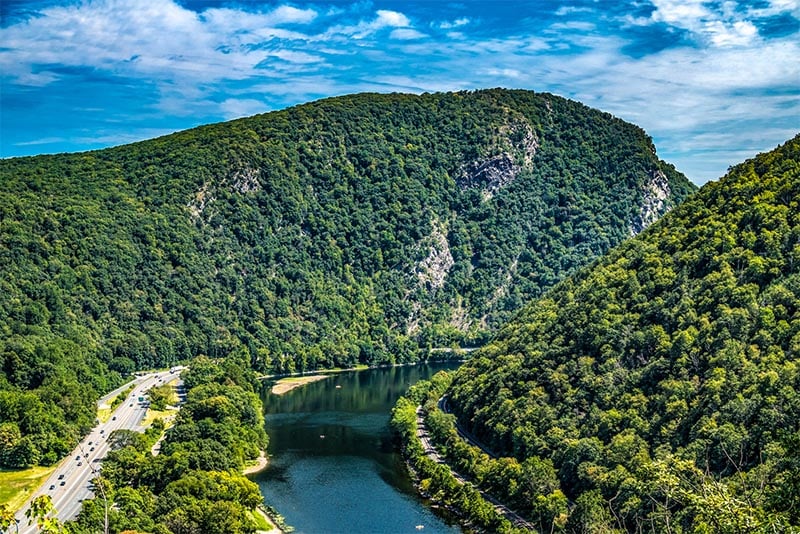 Mt. Tammany is a famous regional hike, due to the sweeping views of the Delaware Water Gap that you'll enjoy at its summit. Mt. Tammany, and its neighboring Mt. Minsi, sit on opposite sides of the river. While Mt. Minsi is on the Pennsylvania side, we think the views from Mt. Tammany are worth crossing into New Jersey. However, both are great day hikes for active people.
Mt. Tammany has two different hiking trails: the Red Dot Trail and the Blue Blaze Trail. While they're both rated as "difficult", the Blue Blaze Trail is more approachable and is also dog-friendly.