Where to Go Hiking Near Richmond
Where to Go Hiking Near Richmond
Virginia offers scenic hikes for beginner and expert hikers alike, and some of the state's best are just a short drive from Richmond. Each hike featured in this list is under a three-hour drive away, perfect for a nature-centric day trip. On these hikes, you'll find woodlands, mountains, and everything in between. Grab a ton of water, stock up on snacks, and get ready to add the following outdoor adventures to your to-hike list.
Dutch Gap Conservation Area
The Dutch Gap Conservation Area features a 4.5-mile loop hike that takes you around a freshwater tidal lagoon. The hiking trail has ample tree coverage protecting its hikers from the hot Virginia sun. Lying along the James River, the Dutch Gap is home to many wildlife species including beavers, deer, and birds. Birders frequently visit the Dutch Gap Conservation Area to take snapshots of the diverse birds that fly through the area.
Depending on the season, you may find yourself in the presence of a bald eagle, a red-bellied woodpecker, or a mallard. The Dutch Gap Conservation Area lies just 20 minutes away from Richmond in nearby Chesterfield.
Beaver Lake Trail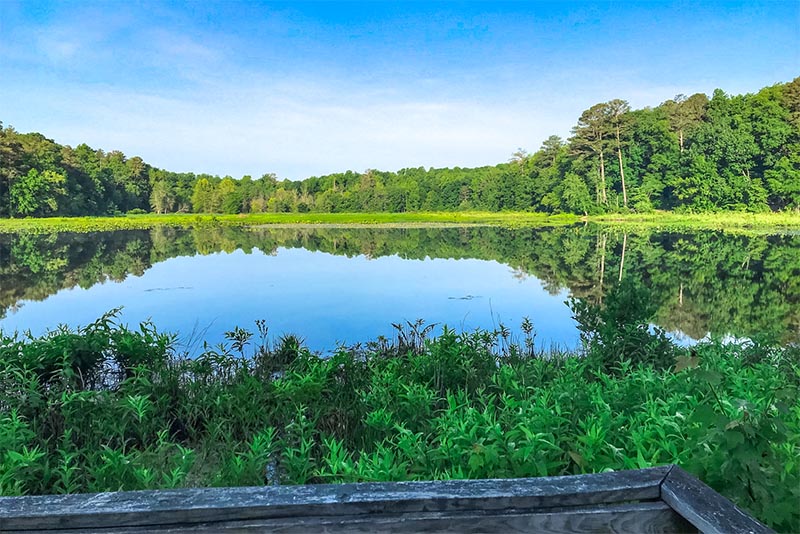 Just a stone's throw from Richmond, Beaver Lake Trail is a quick getaway for Richmond-based hikers looking for an immersive hike through a dense forest. The Beaver Lake Trail is a 2.3-mile loop that has minimal elevation change. This Pocahontas State Park staple lies along the 24-acre Beaver Lake. There is also a lot of wildlife that inhabit the Beaver Lake Trail, including many different birds. Beaver Lake Trail can be quite crowded during comfortable spring and summer days in Virginia. You may come across bikers, runners, and fellow hikers. Dogs are welcomed on this trail, but be sure to keep them on a leash.
Old Rag Mountain
Offering a panoramic 360-view of Shenandoah National Park at its peak, Old Rag Mountain is one of the most popular hikes within the park. It's also, arguably, the most dangerous hike to take on—this circuit hike is about 9 miles long and its peak lies 2,415 feet in the air. One factor of the hike that makes it quite challenging is its rock scramble. A rock scramble involves climbing up rocks with your hands and your feet. Rock scrambling is not quite rock climbing, but it's a step above hiking.
Due to its popularity, the mountain can be quite crowded on the weekends. For a more enjoyable experience, start your journey up Old Rag Mountain on a weekday morning. Also, if you're planning on taking on Old Rag Mountain you have to leave your pet at home; they are strictly forbidden by state law. Old Rag Mountain is just over 2 hours away from Richmond.
Hawksbill Summit
Beginner hikers who want to be rewarded with an awesome 270-degree view will love Hawksbill Summit in Shenandoah National Park. It's the highest point in the park, topping out at just over 4,000 feet. Its easiest trail is a 2.1-mile round trip that only elevates 520 feet as you hike to the summit. This short hike is great for hikers who are short on time or those who want to take on multiple hikes throughout Shenandoah National Park in a day. Hawksbill Summit is a very popular hike, so get to the park early to avoid parking trouble at the Hawksbill Gap parking area and beat the foot traffic.
The River Trail
The River Trail is a short yet exhilarating 1.5-mile hike that takes you along an edge of a cliff that overlooks the Potomac River and the Mather Gorge. Those with a fear of heights should avoid The River Trail, as the cliff heights range from 25 to 75 feet. Be sure to keep a close eye on beginner hikers and children to ensure their safety on the steep cliff.
To complete the trail, you'll have to take on some rock scrambling. This scramble can become slick and dangerous after wet weather. Protect yourself by wearing hiking boots that can handle the uneven terrain if you expect the hike to be damp. The River Trail is in Great Falls Park, which is about a two-hour drive from Richmond.
Scott's Run Nature Preserve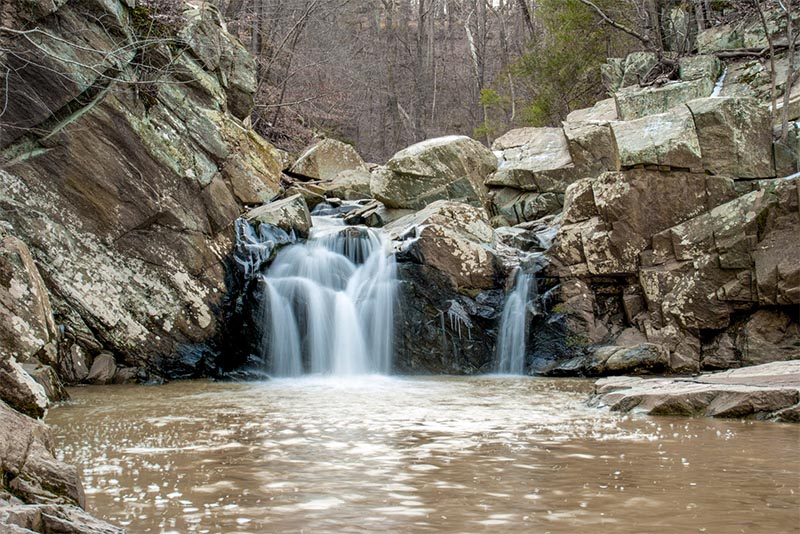 Scott's Run Nature Preserve features rare wildflowers, rocky cliffs, and a waterfall along this roughly 2-mile hike. Meticulously plan your Scott's Run hike beforehand, as there are many trails surrounding its waterfall that vary wildly in difficulty. Some trails offer an easy stroll through a forest. Others lead you through tough hills and cliffs. The stunning waterfall offers a great picture-taking opportunity, but swimming, bathing, and wading through Scott's Run are forbidden by state law. Whether you are a casual hiker yearning for fresh air or an experienced hiker looking for a challenge, Scott's Run offers a fun trek.
First Manassas Hikes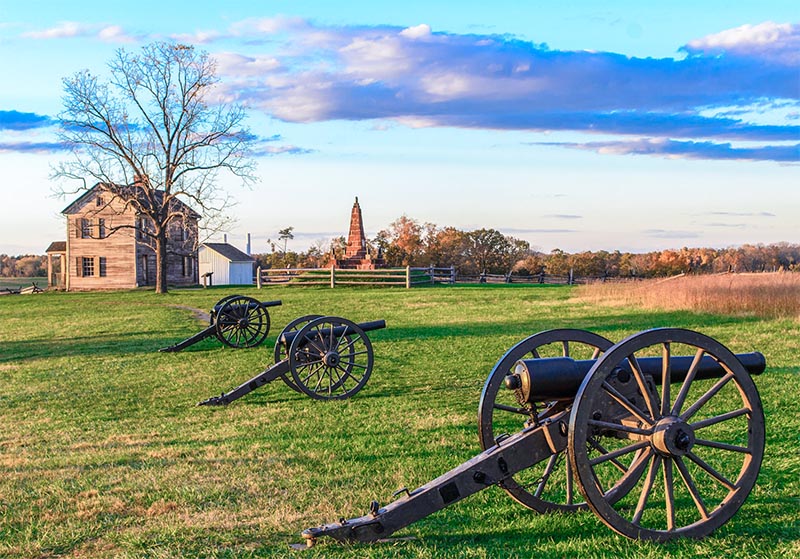 Are you a history buff with an affinity for the outdoors? Be sure to put the First Manassas Hikes on your to-hike list. This collection of five different hikes at the Manassas National Battlefield Park tells the story of the first major battle of the American Civil War: the First Battle of Bull Run. The longest hike stretches just over five miles long while its shortest is barely over half a mile.
During your hike, you'll find interpretive battle markers that'll describe the battle that happened over a century ago. With minimal elevation changes, the First Manassas Hikes are great to take your children or your pet to. Manassas National Battlefield Park is just under two hours away from Richmond.