National Local Life
Where to Go Ice Skating In and Near Orlando
The first things that typically come to mind when you think of Orlando are warm, sunny, and humid. You don't often think of strapping on a pair of ice skates and twirling around in a winter wonderland. But contrary to what you may think, there are plenty of spots where you can ice skate in Orlando, most of which are open year-round.
Whether you've been ice skating before you could walk or you're brand new to the world of skating, here's where to go ice skating in Orlando to experience the closest thing Florida has to a winter wonderland.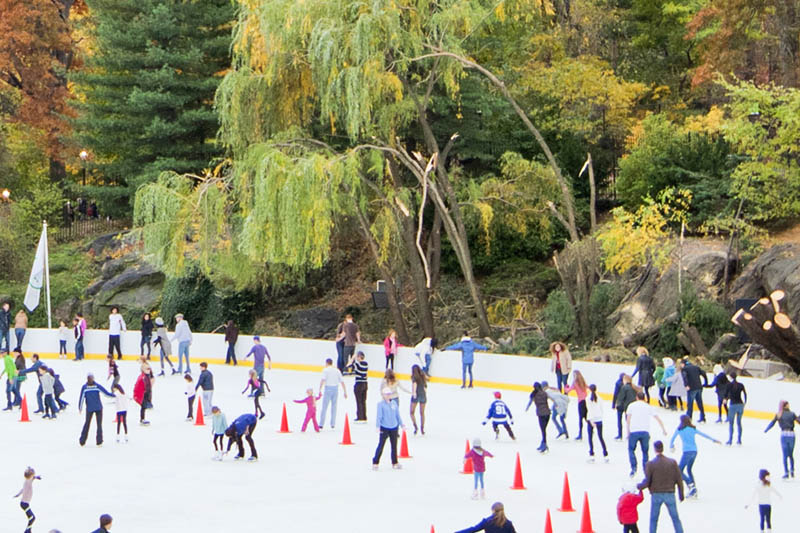 Kissimmee is known for being the place where thrill meets chill—the crossroads of Orlando's perennially busy theme parks and the laid-back scene of the Florida wetlands. For those looking to experience a thrilling adventure, Walt Disney World is just 10 miles away, but for residents looking for a day away from tourists, the city offers a variety of activities, including The Ice Factory of Central Florida.
With two rinks (a smaller one as well as an NHL-size rink), The Ice Factory of Central Florida offers public ice skating seven days a week. The rink even offers birthday parties, skating lessons, figure skating, curling, and both youth and adult hockey leagues. If you're looking to get into skating, ice skates are available for rent; they range from a child's size 8 all the way to an adult size 15.
For the pros, The Ice Factory of Central Florida offers a full line of skate sharpening and skate repair services, including rivet replacement, hook replacement, and hockey blade replacement. The Ice Factory of Central Florida also offers food options at their snack bar.
If you've ever taken a look at the Orlando skyline, you've most likely noticed the Orlando Eye, a ferris wheel that marks the heart of International Drive, the go-to spot for a rememberable night out. From Icon Park to an endless option of restaurants and late-night activities, International Drive is truly Orlando's entertainment destination. Play a round of minigolf, go bowling, or even attend a mystery dinner show. But delicious food and remarkable attractions aren't the only things you can find on International Drive.
Located inside Funtania Orlando is Planet Skate, a synthetic ice rink. This synthetic ice, which is a high-tech form of plastic, is made up of a proprietary blend of polymers that allows skates to glide as if they were on real ice. Great for ice skaters of all levels, Planet Skate is a unique place for a relaxing afternoon out of the sun.
Just north of Orlando, Maitland almost feels like a separate world. Its growing downtown center offers a variety of local businesses, from Teak Neighborhood Grill, which has been featured on the Cooking Channel, to Luke's Kitchen and Bar, which serves up community inspired dishes that provide a taste of Central Florida.
Maitland itself is something off of a postcard with tree-lined streets and a park around what feels like every corner. When it comes to what to do in Maitland, the options are endless. Hike around the numerous trails, spend the day wandering in the central district, grab a bite to eat at one of the numerous restaurants, and for those looking for a unique adventure? The RDV Ice Den offers ice skating for those of all skill levels.
Connected to the RDV Sportsplex, an athletic club offering hundreds of classes, the RDV Ice Den offers ice skating options for those who spend their life on the ice as well as those just starting out. The RDV Ice Den offers public skating, figure skating, hockey, skating camps, and classes for skaters of all skill levels. Offering youth leagues, camps and clinics, adult leagues, tournaments, and more, the RDV Ice Den works with skaters of all skill levels to help them improve their skills and become more confident on the ice. During public skating sessions, you may even see it snow.
The RDV Ice Den also has a pro shop, which carries a variety of both figure skating and hockey gear. Additionally, the pro shop offers skate sharpening services, skate baking, and skate repairs. The rink also offers birthday parties as well as group and private events. And for those who are looking for a snack, Bear Bites Concessions is open during all public skating sessions.
Unlike the previously mentioned rinks, the RDV Ice Den is cold so be sure to bring that winter jacket with you.
Just a short ride from Orlando, Daytona Beach is known for its beaches, NASCAR races, and relaxing outdoor adventures. Its beaches contain hard-packed sand that permit driving and has a boardwalk full of classic arcade games, thrills, and snacks. However, Daytona is also known for ice skating: The Daytona Ice Arena not only offers public skating, hockey, hockey lessons, and skating lessons, but it also has a sports pub open for those who feel more comfortable off of the ice.
Options on the ice include skating, curling, figure skating, and broomball, and for those looking to compete, The Daytona Ice Arena offers multiple youth and adult leagues. And when you're ready to grab a bite to eat after a long day on the ice, Celly's Sports Pub is there for you to drink, eat, relax, and even watch the night's big game.