Chicago Local Life
Why Logan Square is the Best Chicago Neighborhood for Coffee Shops
Besides the practical things I look for in a neighborhood like easy access to the CTA and a well-stocked grocery store, I also prioritize any neighborhood where I can walk to one really good coffee shop. In Logan Square, I can walk to at least five.
Logan Square has become a foodie hotspot to rival Fulton Market's Restaurant Row, and coffee shops in the neighborhood apply the same level of culinary skill to serving strong cold brew, creative lattes, and pastries that are worth the stop on their own. Here are just some of the coffee shops and cafes that prove Logan Square is the best neighborhood for Chicago caffeine fiends.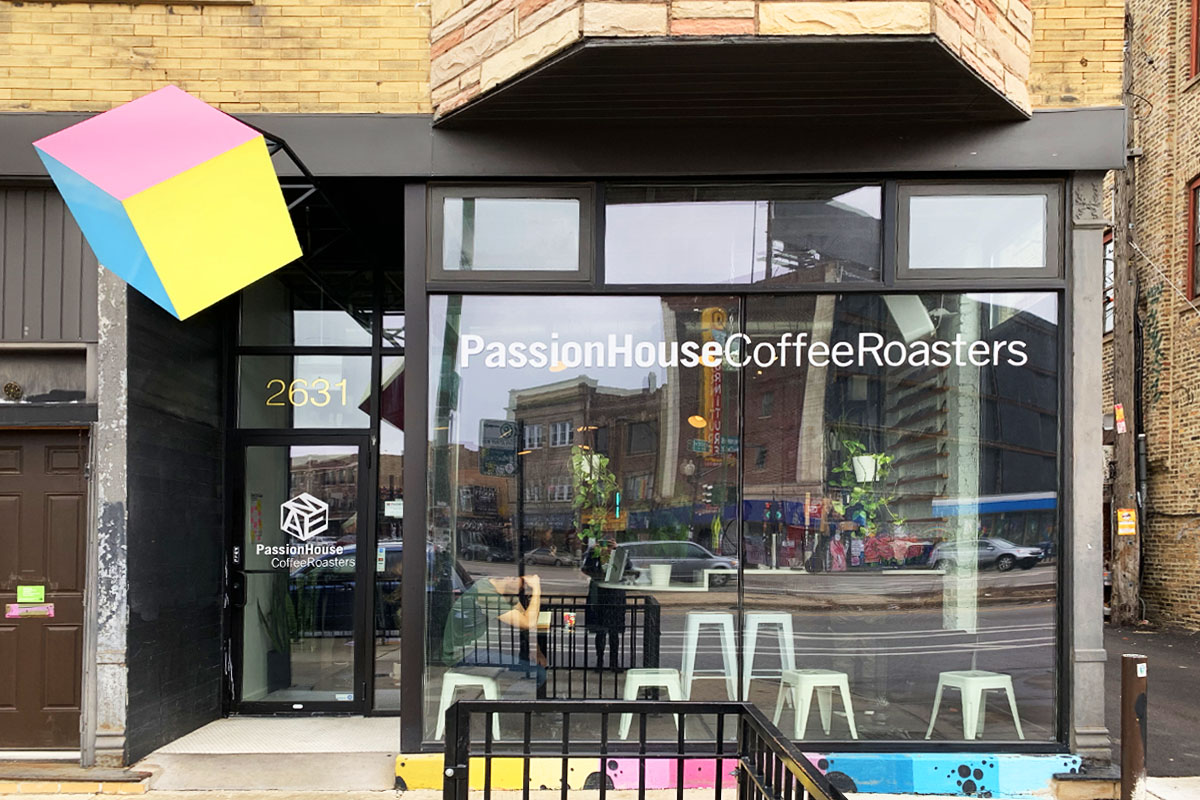 My personal favorite spot, this colorful cafe and coffee roaster is expanding across Chicago, but the original location is still thriving on Kedzie Avenue in the center of the action in Logan.
Passion House does a strong cold brew, but they really shine on lattes that feature unusual flavors, like sweet potato and a beet and rose concoction for this past Valentine's Day. The pastry case is always stocked with treats from a quality local bakery—lately they've had goods from Lincoln Park's Floriole and the canelé pop-up Recette.
Eminently Instagrammable, the cafe has the requisite neon sign ("pheel good") and sometimes even a daytime DJ is spinning tunes in the corner. But behind the hipster amenities there's a lot of heart. The roastery partners with Veteran Roasters, an organization that hires and trains veterans to work in the coffee industry, and the baristas here are always friendly.
This is the neighborhood stalwart coffee shop. The other coffee shops in Logan Square might be where you go to "mindfully" enjoy a latte that's made with the same care as a craft cocktail; New Wave is where you go if you need fuel and Wifi to plow through a few hours of work. With an eclectic selection of seating, bustling energy, and a location near the Logan Square Blue Line stop, it's also ideal for meetings and collaboration.
The cafe sells pastries, sandwiches, and bagels alongside its full coffee menu. A lot of coffee shops seem to be going in the direction of minimalism, with few comfortable places to sit and no WiFi, but New Wave's living room vibe and large menu welcome the freelancers and anyone who wants to stay awhile.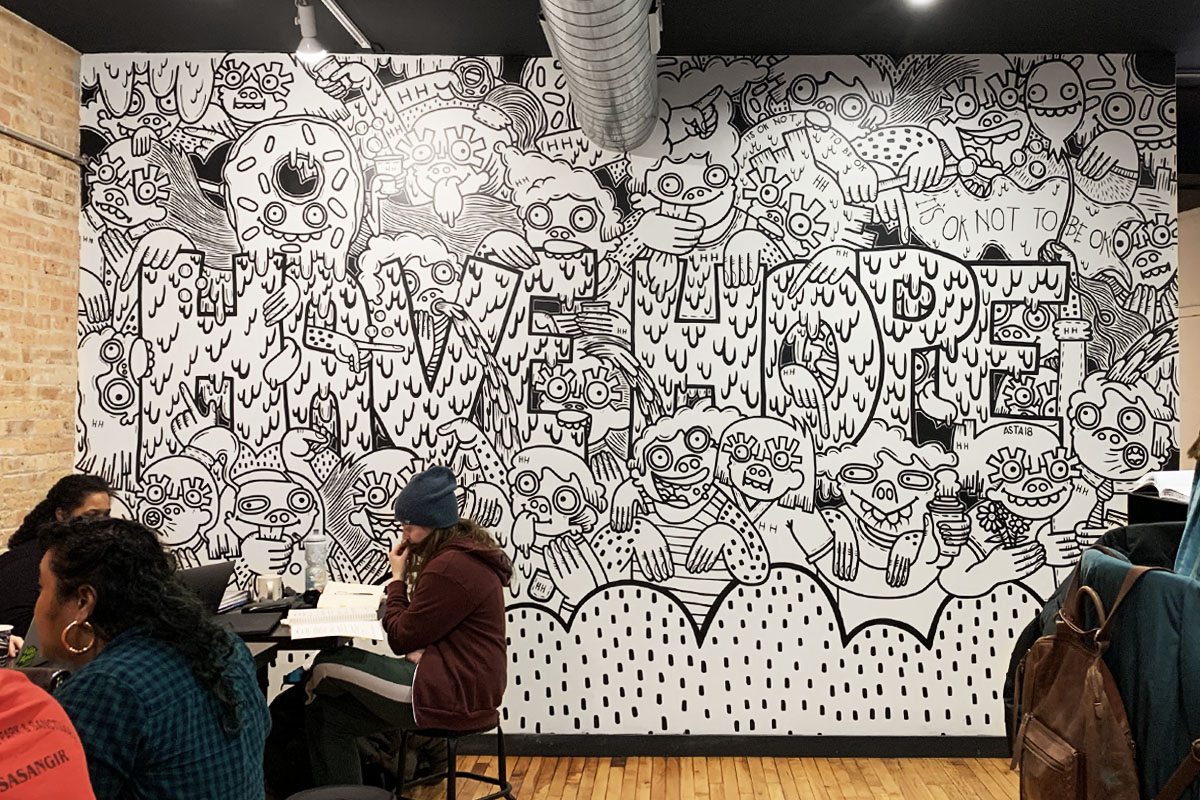 I justify spending a lot of money on Nectar of the Gods lattes (made with agave nectar, chocolate, and cinnamon) here because it's for a good cause—the Dark Matter coffee shop donates all proceeds to Hope for a Day, a foundation that promotes mental health education and suicide prevention. When you walk in, you'll see mental health resources free for the taking and wall art that says "It's OK Not to Be OK."
That all sounds serious, but Sip of Hope's approach to mental health awareness is uplifting and accessible. But back to the Nectar of the Gods drink: I've been known to finish these, which come hot or iced, in seemingly three sips. They also have donuts and other pastries, standard coffee and espresso drinks, very strong cold brew on tap, and cheery baristas. Sip of Hope provides a boost in more ways than one.
If you can't get a reservation for the massively popular Macanese restaurant Fat Rice, its adjacent cafe is a good option and a destination in its own right.
The cafe sells coffee drinks, which you can add CBD to, and you can also get Malaysian milk teas and boozy beverages. But it's the pastries at the Bakery at Fat Rice that make it a must-visit; it's one of the most creative bakeries I've experienced in Chicago.
Like the menu at Fat Rice, pastries here are inspired by Macau and Portugal and other global destinations. They rotate frequently but always include flaky egg tart custards; a savory pastry take on a Chicago-style hot dog; and a crunchy and chewy confection with mochi, peanut butter, black sesame, and coconut. The colorful cafe has even recently expanded its savory menu.
Housed in a stylishly decorated industrial space with exposed brick, vintage wood chairs, and open shelving displaying its own bags of coffee, Gaslight is a cozy and inspiring respite on a busy Logan Square corner. It's an ideal daytime date spot for serious coffee snobs, and windows looking out onto the intersection of Milwaukee and Fullerton provide some prime people-watching.
The cafe and coffee roaster offers precisely made espresso drinks, a selection of pastries from area bakeries, and a locally sourced elevated cafe fare.
Way down Fullerton Avenue in Logan Square, almost to Hermosa, is where you'll find this cafe that also has creative and filling pastries and savory food. This is a warm, friendly space where families usually spread out across the cafe's big tables. Mexican flavors inspire the coffee selection, which includes horchata and dulce de leche iced coffees, and panaderia standards like concha.
But the best things here combine Mexican flavors with French pastry techniques, like flaky croissants stuffed with chicharon (spicy pork skin) or cajeta (dulce de leche made with goat's milk) and corn muffins baked in corn husks. Ask someone behind the counter for a recommendation—I always do it and end up trying something memorable and filling.