Washington D.C. Neighborhood News
Why the Bethesda Area is a Hotspot for New Developments
Bethesda, Maryland has always been a popular suburb for those who work in Washington, D.C. Just minutes from Downtown D.C., the area boasts lots of new retail and restaurants as well as prime real estate. Lately, it has become a hotspot for new developments, making it even more of an attention-grabbing area.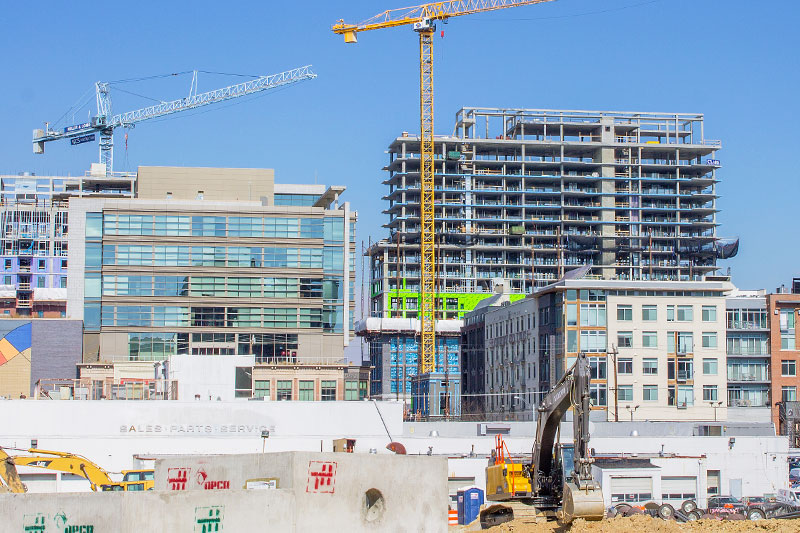 What Makes Bethesda Great
The suburb used to be just a place to pass through on one's way home from Downtown D.C., but Bethesda is now undergoing a revitalization of sorts. A May 2017 article from the New York Times writes that county planners have spent the last few years creating a plan for Bethesda. This plan would move retail and housing throughout downtown. A 300-foot building is also in the works, beating the neighborhood's current tallest building by 100 feet.
As of 2017, about 10,000 people live in the downtown area of Bethesda with about 37,700 more working there. Within the next 20 years, there are plans for 14,200 new jobs.
Hotel and Office Development
Bethesda will be home to the new international headquarters of Marriott. In June 2018, the Bernstein Companies and Boston Properties broke ground on the site, which will be along Wisconsin Avenue in the heart of downtown Bethesda. The Bernstein Companies and Boston Properties will own the land and develop the Marriott International headquarters together, but the Bernstein Companies will build and own what will be an adjacent hotel which will open in 2022. The headquarters offices will be set for move-in later that year. Over 3,500 employees will be based at the complex, whose official address is between Wisconsin and Norfolk Avenues.
Downtown Bethesda also has three office buildings under construction. Carr Properties, who is developing one of the projects, said many tenants are moving to downtown Bethesda from more suburban parts of Montgomery County. Offices are seeking more of a sense of community rather than a traditional office park. By moving closer to the city, employees can walk, bike, or take the Metro to work.
Just north of Bethesda lies the nearly abandoned (sans Lord and Taylor) White Flint Mall location. The mall has been torn down for years, and it's rumored to be a possibility for Amazon's second headquarters. Montgomery County has long since been interested in transforming the area and landing Amazon could be a gamechanger. It would add thousands of jobs to the area which would mean plenty of chances for real estate.
Residential Projects
Home prices in the area range from $700,000 to around $1.5 million. Most residences are larger, single-family homes—for example, one particular four bedroom, five bath Colonial in the neighborhood is currently on the market for $1.35 million. For couples and singles, there are more affordable options like a $339,000 one bedroom, one bath condo.
Open for just nine months, the Stonehall Bethesda, replaced an office building on Woodmont Ave. The 46-unit building is prime real estate—it sits just across from a Harris Teeter grocery store. It's also close to Walter Reed National Military Medical Center and the National Institutes of Health. Stonehall has two-bedroom condos going for $599,000 and larger ones for up to $1.65 million.
Also, the Bethesda Quarry Springs community will be home to 44 ultra-luxury townhouses in 2019. The Wormald Cos. will develop the homes, on what is already a 13-acre estate community with 50 condo units. The townhomes will have European influences on their design, elevators and rooftop terraces.
New Retail
In addition to new developmentswhich make for prime real estate, Bethesda is home to many new restaurants and retail. New additions in town include Flower Child, a vegan and vegetarian fast casual restaurant that will include an outdoor patio, and Delina Eritean Urban Kitchen, which is set to open August 1.
Longtime retail establishment Barnes & Noble vacated their space in early 2018 to make way for Anthropologie, keeping with the trend of bookstores closing around the country. With 24,000 square feet, the new Anthropologie will utilize every square inch of its new space. The store includes the brand's wedding, garden, and outdoor products. There's also a home design center and cafe as well as a furniture showroom.
Amazon Books also opened a second outpost in the neighborhood during the summer of 2018, filling the void Barnes & Noble left, with a modern twist—every book in Amazon's stores are either bestsellers, new releases, or have four-star ratings online.