Chicago Real Estate Development
Wicker Park Developments Taking Over Area Surrounding Polish Triangle
There's no slowing down the real estate development in Wicker Park. In the past couple weeks, the community has gotten word about a potential 16-story apartment building as well as a 55-unit for-sale building, both of which are planned off Division Street.
Crain's Chicago Business reported news about the building that will sit on Division just west of the Milwaukee Avenue intersection. Vermilion Development is behind the project that will deliver 43 condos and 12 townhomes to the area right by the Polish Triangle. While the building will be in close proximity to the Division Blue Line, it will be located slightly off the high-traffic stretch and will be partially on Paulina Street, just west of Ashland Avenue.
The development is called Alcove M.D.P., which stands for the streets on which it's located, and it will deliver the largest number of new construction units in the neighborhood since the Great Recession. It will include two sections: a seven-story condo tower and a four-story row of townhomes.
Prices start at $600,000 and will go up to $1.3 million. The condos will be sized between 1,400 square feet and 2,400 square feet, featuring both two- and four-bedroom units. The townhomes will have four and five bedrooms and range between 2,900 and 3,400 square feet. Every unit will have a private outdoor space and parking on-site. Each condo will have one parking space and every townhome will get two parking spots.
Sales are expected to launch in April and occupancy is slated for late 2019. A construction date has not yet been set, but if all goes as planned, crews will begin in the second half of 2018.
Division Street is a Hot Bed for Development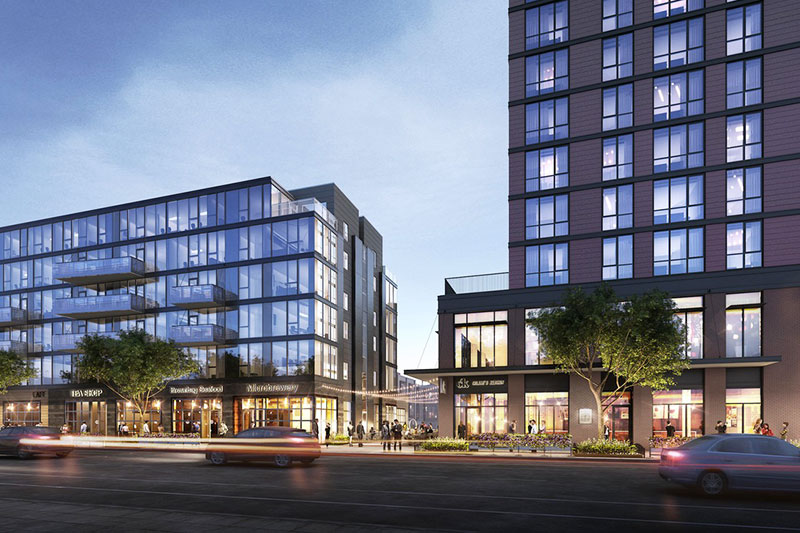 The 15-story, 146-unit building at 1640 W. Division St. — which will also be located near the Polish Triangle intersection — is scheduled to open in June of this year. The project most recently made news for plans to deliver a 12,800-square-foot Target and a new Salon Lofts location. The project is a part of the larger 60-unit Wicker Park Connection.
The project takes up a total of about 2.5 acres, and a third of that is slated to become a public space and garden.
The newest proposed 16-story apartment building, which just earned the approval of the Chicago Plan Commission, will be similar in size to Wicker Park Connection and sit right between the under-construction development and the historic bank-turned-CVS at the corner of Ashland and Division.
Just a few blocks west, at the former location of the Shell gas station, a low-rise commercial development has been pitched. The site offers 10,000 square feet of retail space and 180 feet of wrap-around sidewalk, according Curbed Chicago. The gas station closed in October after rent hikes forced owners to sell despite owning the property since 1977.