Your Guide to the Murals of North Nashville
Your Guide to the Murals of North Nashville
North Nashville has long been regarded as a center of the city's culture and, in recent years, neighborhoods like Germantown, Osage-North Fisk, and Buena Vista stand at the vanguard of an emerging visual arts scene. The area is rich with history; as a testament to its storied past, civil rights leader and Congressman John Lewis returned in 2016 to speak about coming of age in North Nashville and experincing his first arrest there in 1961 during sit-in demonstrations to integrate lunch counters.
Today, North Nashville avoids the lure of becoming a tourist trap and remains an authentic representation of one of Nashville's oldest neighborhoods. One way among many to explore this area's rich culture and history is through its stunning murals.
Gateway to Heritage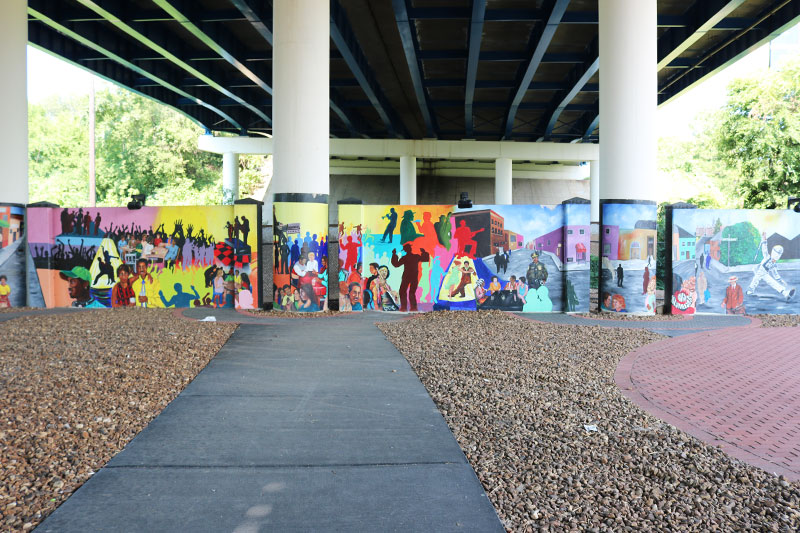 Jefferson Street is a landmark thoroughfare that runs through some of North Nashville's most historic districts, and in 2010, an underpass there saw the installation of one of the area's most widely recognized art projects. The Gateway to Heritage plaza is a mixed media artscape with images of the neighborhood's history.
The pedestrian plaza at the Interstate 40 underpass includes a series of large murals by local artists James Threalkill and Michael Mcbride alongside bridge columns displaying images and stories from individuals who contributed to the area's vibrant history. Aimed at alleviating the effects of the interstate on the neighborhood, the project is a collaboration between Tennessee State University, Jefferson Street United Merchants Partnership (JUMP), the City of Nashville, the Tennessee Department of Transportation, and the U.S. Department of Housing and Urban Development.
Shantell Martin at Rolf and Daughters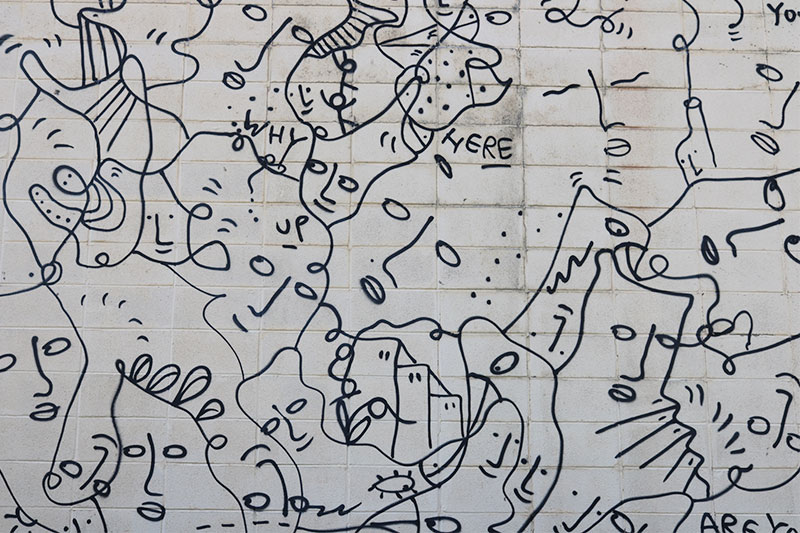 700 Taylor St. is home to a restaurant at the forefront of the Nashville's emerging upscale dining scene. Rolf and Daughters is widely known for their farm-fresh fare and high-end cocktails, but their building is also home to a precious work of art. World-renowned visual artist Shantell Martin brought her signature style to the side of the 100-year-old converted factory in Germantownwhen she completed a large mural there in 2014.
Using black spray paint to create a stream of consciousness illustration along the wall's pale, brown surface, the London native punctuates her piece with words like "grow" and "Nash" giving the space a bespoke, down-to-earth feel that remains larger than life. As Martin's star continues to rise with notable profiles in The New Yorker, Vogue, and The New York Times, her early work in Nashville is more relevant than ever.
Family Matters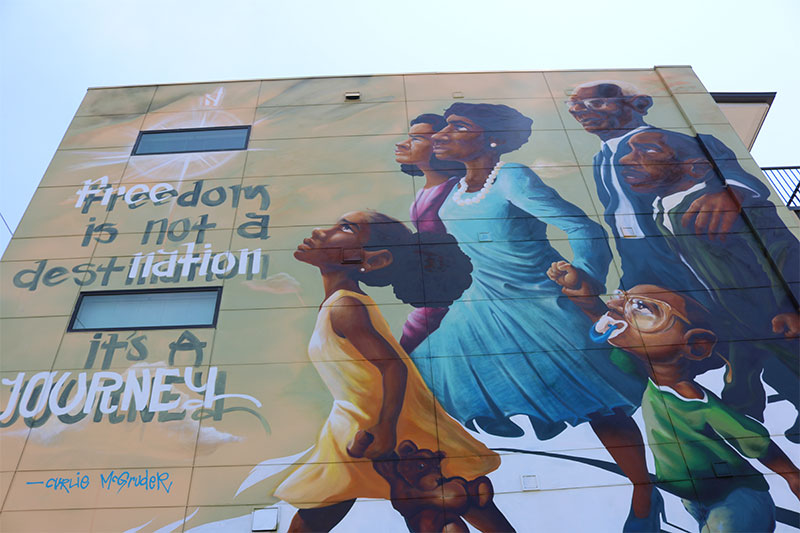 One of Nashville's most stunning murals is located at 26th Avenue and Clarksville Pike on the side of a structure owned by Nashville's largest nonprofit housing provider, Urban Housing Solutions. The mural, which spans one entire side of the three-story building, is titled "Family Matters"—and it certainly has a story to tell.
The 1,000-square-foot mural, completed in partnership with Norf art collective, Urban Housing Solutions, and sponsored by Google Fiber, depicts six figures—four adults and two children—walking with their gazes skyward as they march toward the north star. The four central characters of the piece are Diane Nash, Curlie McGruder, Z. Alexander Looby, and Congressman John Lewis. A McGruder quote,"Freedom is not a destination, it's a journey," is emblazoned in their path. The mural pays tribute to the work on civil rights leaders as Nashville became the first de-segregated city in the American South during the 1960's, and, according to Norf, "The children in the mural represent the members of the community continuing the journey."
Untitled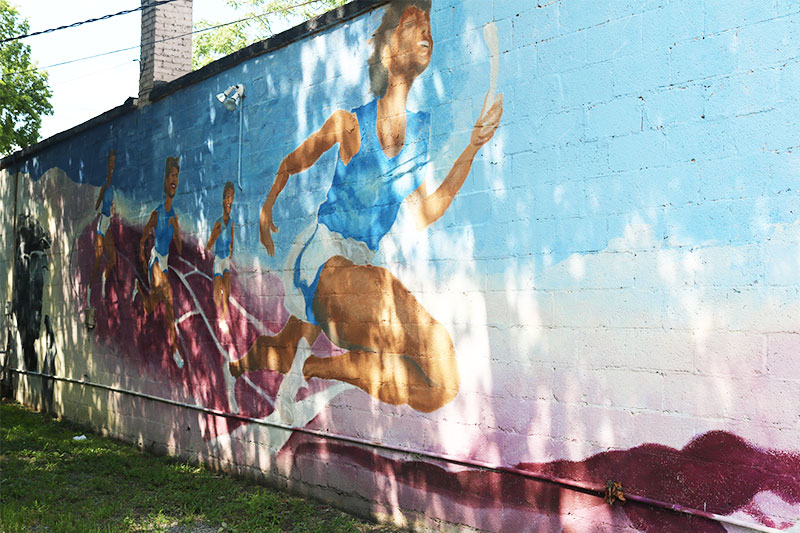 Along the western wall of what was once the Jefferson Street Sports Bar, there's an untitled mural that speaks deeply to the spirit of community in North Nashville. The mural depicts famed Olympic sprinter and Tennessee State University alumna Wilma Rudolph alongside her longtime coach, Ed Temple. The two local heroes who have both passed away are immortalized in this stunning piece rumored to be the work of Norf Art Collective member Yusef Hubb, commonly referred to as Dough Joe. With no flashy branding or aim toward social media fame, this original work exemplifies the heart of Nashville with striking emotional accuracy.