Washington D.C. Local Life
Your Guide to The Wharf in Washington, D.C.
Since its first phase opened in October 2017, The Wharf—a developer-built urban neighborhood that's still taking shape in D.C.'s Southwest Waterfront—has been full of energy as crowds stroll through its walkways.
With over 3 million square feet of mixed-use space, The Wharf is an incredibly ambitious 24-acre project led by developer Hoffman-Madison Waterfront. Located within walking distance of three Metro stations and a water taxi service, The Wharf aims to be a work, play, and stay center with office space, three hotels, (Canopy by Hilton, Hyatt House, and The Wharf InterContinental), condos, and apartments (Vio, Incanto, and The Channel).
Still, there's a lot more to expect with the second phase set to add another 1.2 million square feet of retail, residential, marina, and park space.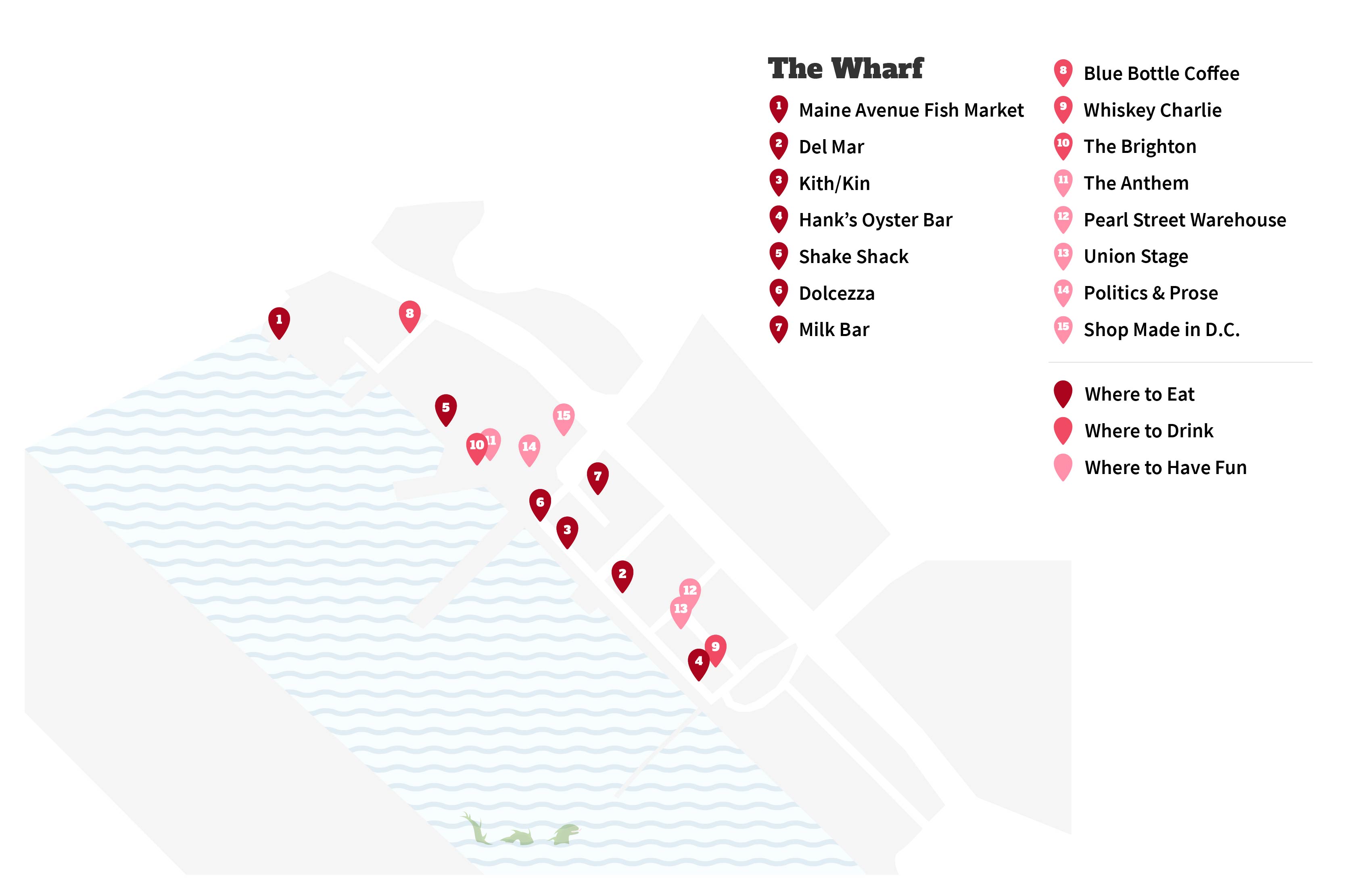 Where to Eat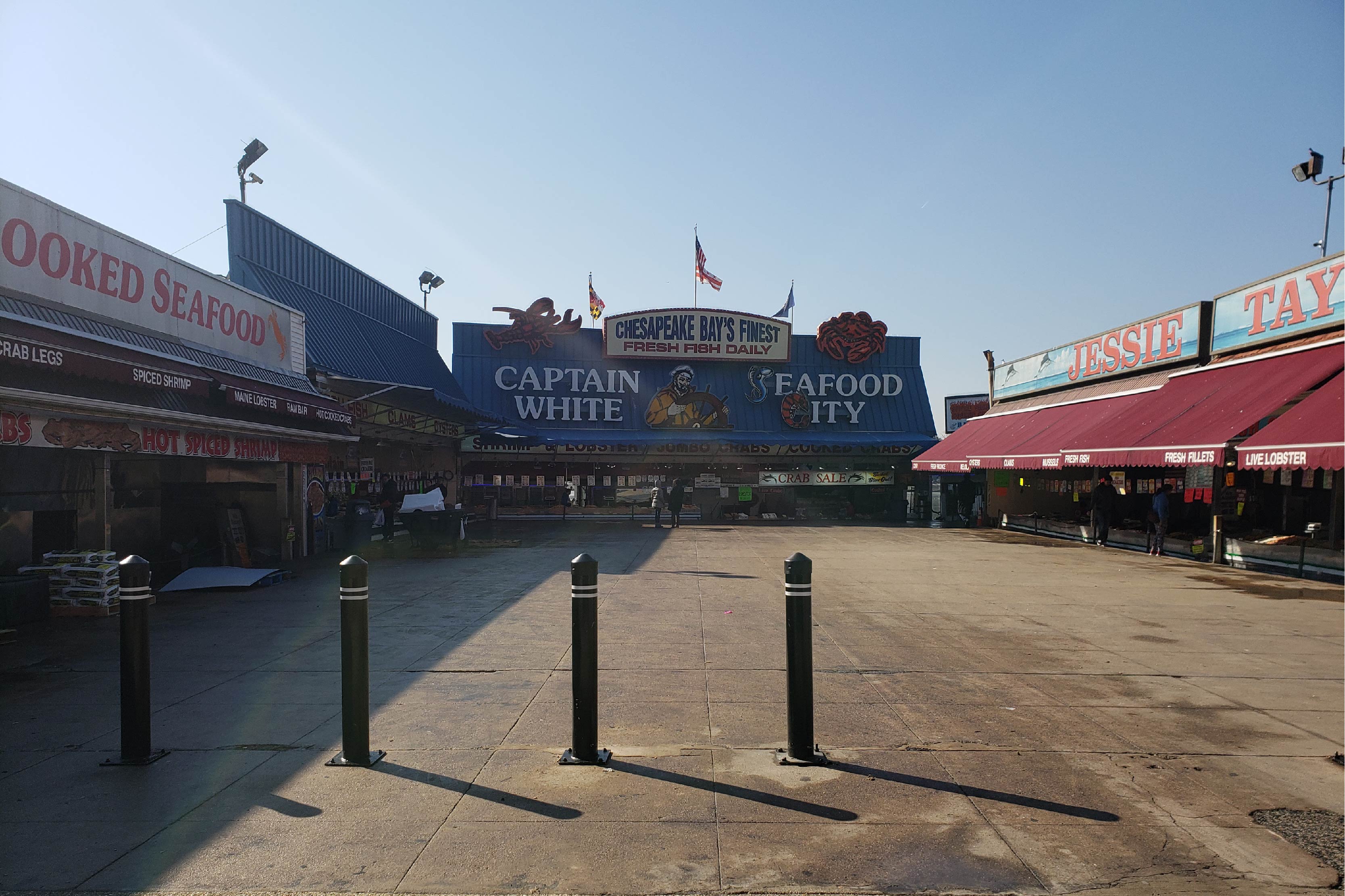 Maine Avenue Fish Market
This market, also known as Municipal Fish Market, is the oldest continuously operating open-air fish market in the nation. Dating back since 1805, it has offered the Southwest Waterfront neighborhood convenient access to fresh fish, oysters, and more.
Del Mar
This aesthetically pleasing luxury Spanish restaurant was designed by a team of interior designers from Barcelona. It's headed by James Beard Award-winning restaurateur Fabio Trabocchi, also known for the seafood restaurant Fiola Mare. The food here is on the higher-end of the price scale, but it's worth trying for its grilled squid, charcoal-grilled lamb, and various types of paella.
Kith/Kin
Restaurant owner and executive chef Kwame Onwuachi is known for his time on "Top Chef's" 13th season as well as his first restaurant, The Shaw Bijou, which closed within only a few months.
Despite this rocky start, Onquachi has seen better days with the Afro-Carribean-style Kith/Kin, which celebrates his Nigerian and Jamaican heritage. The high-end waterfront restaurant has been praised for its curry goat and wagyu short ribs, but you might find your own favorite.
Hank's Oyster Bar
Hank's Oyster Bar has a total of four locations in the D.C. area with each one promising a great brunch, lunch, or dinner. Starting off your meal is a bowl of Goldfish crackers (yes, the cheese ones). Afterwards, don't feel shy about trying the many varieties of oysters served here. Also worth mentioning are the lobster rolls and Old Bay-seasoned fries, which you won't want to miss.
Shake Shack
With its crispy crinkle cut fries and its handmade frozen custard milkshakes, Shake Shack has nostalgic favorites updated for the modern fast-casual diner. The national chain's Southwest Waterfront location offers ample outdoor seating space. It's an affordable, but still delicious, option at The Wharf.
Dolcezza
For something sweet, consider this locally based gelato chain that uses dairy from local farmers. Dolcezza has been featured everywhere, from The New York Times to Saveur to Bon Appetit. The rotating coffee and espresso served here is from Sey Coffee Roasters.
Milk Bar
Two-time James Beard award winner and former MasterChef judge Christina Tosi started the trend-setting sweet shop in New York, and it has since expanded to other cities, including three locations in D.C. Some of store's most popular desserts include confetti cake truffles, compost cookies, and cereal milk soft serve ice cream, which tastes like the sugary remnants after eating a bowl of corn flakes.
Where to Drink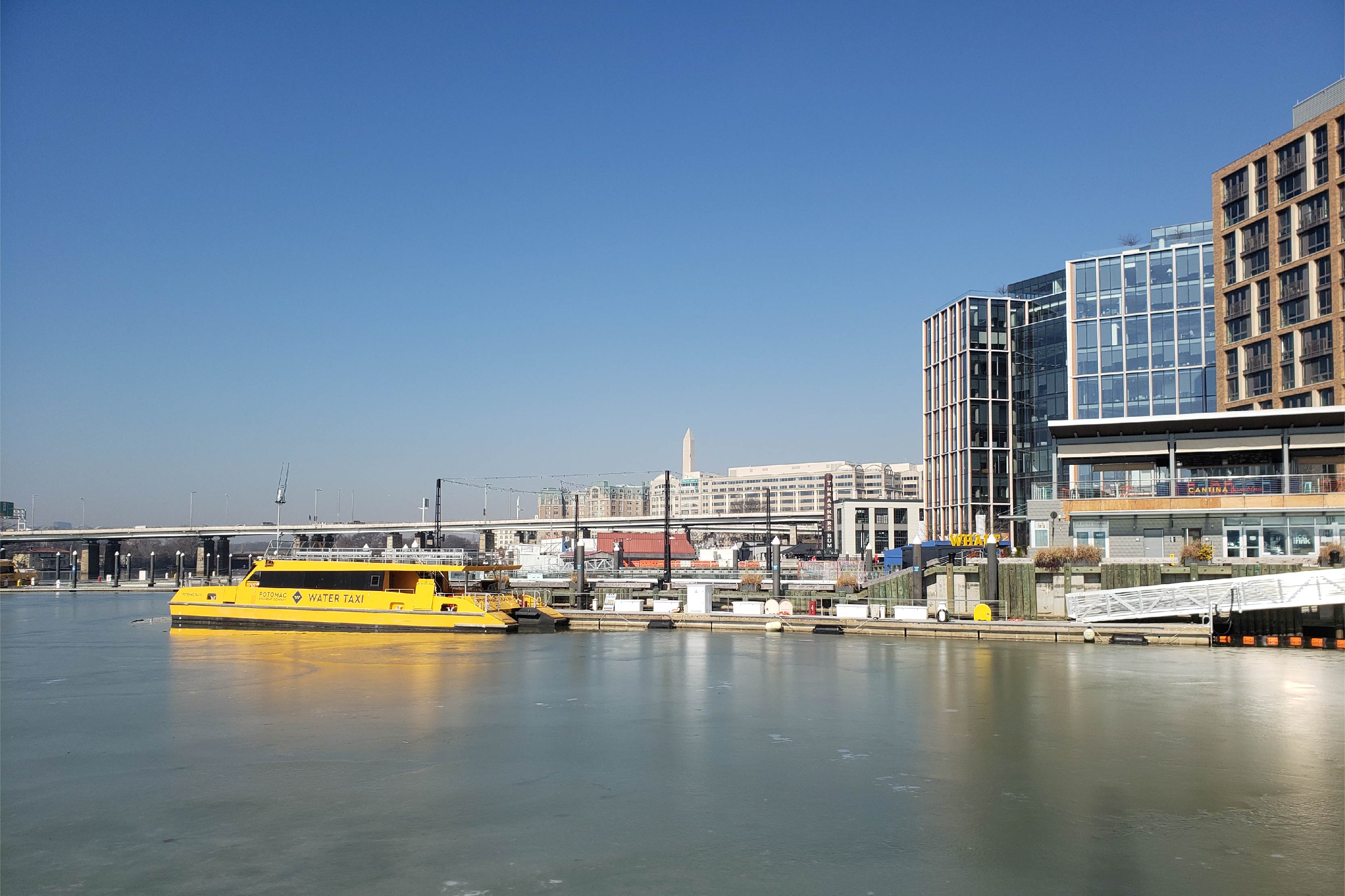 Blue Bottle Coffee
For a quick buzz, head to Blue Bottle Coffee and grab a latte, cold brew, or sweet, chicory-laden New Orleans iced coffee.
Whiskey Charlie
Don't miss out on your chance to perch on top of this rooftop cocktail lounge to drink some exceptional cocktails, wines, and craft beers, while taking in stellar views of the nearby river. Finger food is also available, including crab cake sliders, Jamaican jerk chicken, and lamb meatballs.
The Brighton
This two-story British pub is a perfect place for higher-end pub food, including bangers and mash and curry-spiced, fried calamari. The pub is headed by restaurateurs and siblings Ian and Eric Hilton, who are also known for The Brixton and El Rey.
Where to Have Fun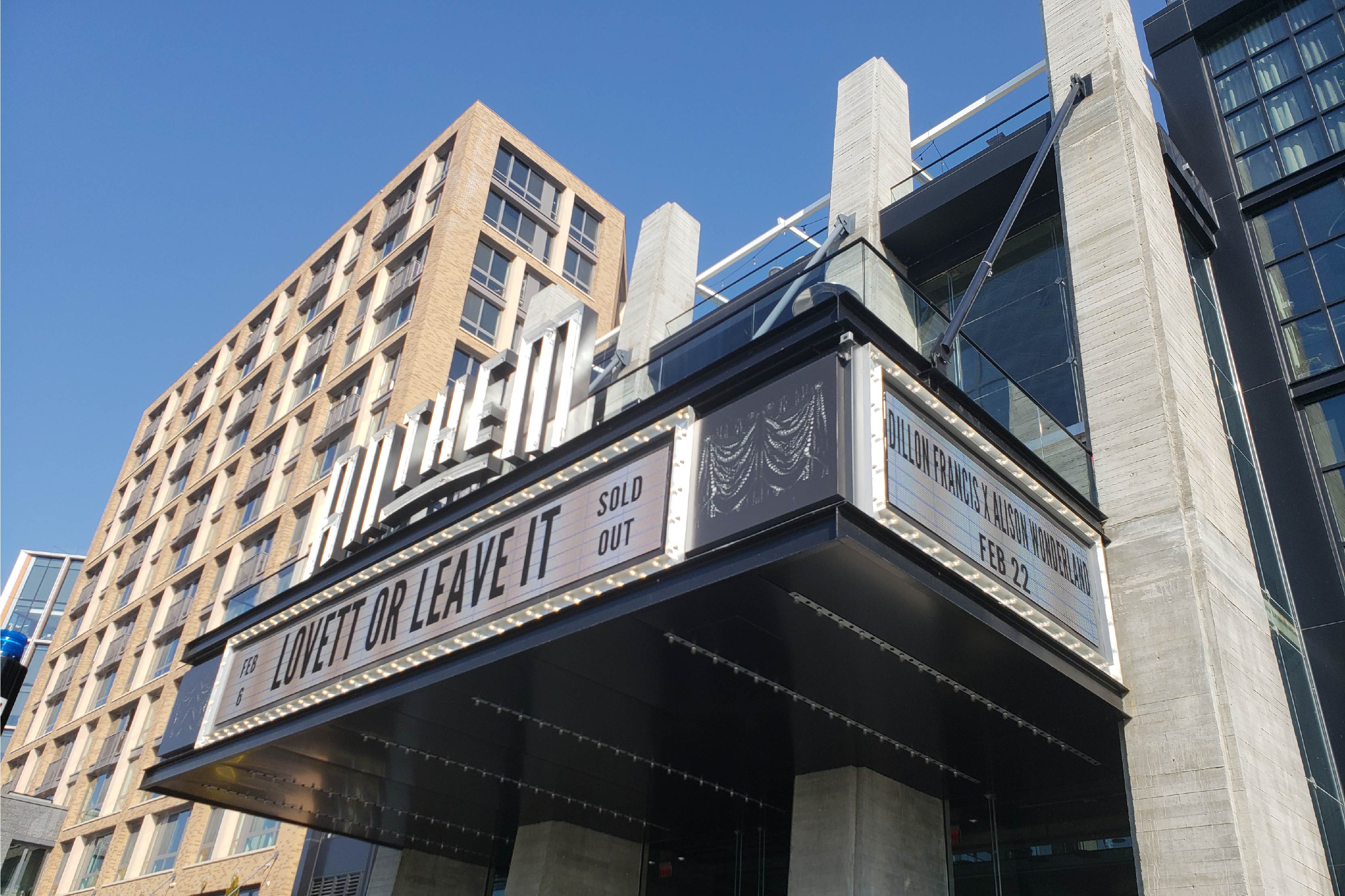 The Anthem
Costing $60 million, this music venue is a brand new space by I.M.P. Productions, the group that owns D.C. establishments like 9:30 Club and the Lincoln Theatre. Already, the site has made a splash by booking big-name acts like the Foo Fighters, Judas Priest, Bob Dylan, LCD Soundsystem, and Courtney Barnett.
Pearl Street Warehouse
Only a couple blocks away from The Anthem, this all-American live music destination features rock, country, folk, soul, and rhythm and blues acts from around the country.
Union Stage
Yes—another music venue. This venture is by the Brindley brothers, more specifically Daniel, Luke, and Jonathan, the same creators of Virginia's Jammin Java venue. This 450-capacity music venue offers rock concerts and acoustic shows.
Politics & Prose
Every month, this local bookstore—which has two other D.C. locations—offers myriad author talks and family-friendly story time activities, plus a collection of books spanning genres. If you're interested in getting more active in the community, Politics & Prose also hosts nearly 20 in-house book groups.
Shop Made in D.C.
If you're in the nation's capital and want to shop locally, the best decision you can make is to ditch the kitschy gift shops and instead head to Shop Made in D.C. This retailer is home to over 100 products made in the District, including artwork, home decor, jewelry and clothing, and also local coffees, teas, kombucha, beer, and wine.